AI Art Generator for phones continues developing since its rising popularity this year. These applications turn user entered texts and phrases into wonderful and distinct art styles. By simply entering an idea and concept, the AI Art Generator comes up with an image. Results are always surprising since no two images are the same.
This article lists down each of the different AI Art Generators capable of creating text to image art generation. Try them all out and find your go to AI Art Generator app on your device!

Dream by WOMBO Inc. is a text to image art generator. This means that it can turn lines of text to amazing and intricate pieces of art. The WOMBO Inc. team gives everyone the capability of unleashing their creative potential through cutting-edge artificial intelligence.
This AI Art Generator is one of the apps developed by WOMBO Inc. The company first developed the app "Wombo" in Canada. Wombo turns selfies to people moving their mouths and head to the tune of a song. The app started a beta period during January 2021 leading to its official launch only a month later in February. In an interview, WOMBO Inc. Ceo Ben-Zion Benkhin says he got the idea for this app in August 2020. Wombo.art also goes by the name "Dream". Dream's release was in late 2021 – only months later after the company's first app launch.
The Dream algorithm employs a CLIP-guided method. CLIP is an open-source neural network (a freely available algorithm that learns about data patterns) developed by the OpenAI research lab. The network underwent training on image-caption pairings found on the internet. This also made it capable of rating how well user-fed captions refer to images.
In generating images, the Dream model starts with a randomly-generated vector. This vector is a mathematical representation of a certain image. Each entry in the vector refers to one detail of the image. Some correspond to color, shape, and abstract ideas. The algorithm then uses CLIP in determining how well the current vector image corresponds to the user's prompt. The randomness of the process ensures that no two generated artwork is alike.
Creating artwork with Dream is very simple!
Just type in an idea in the text bar, hit enter, and watch the AI do its magic! It only takes a few seconds before the app shows an image from your input.

Wonder is also an AI Art Generator that utilizes text to image art generation. Users have access to this feature three times per day for free by simply watching ads every generation. This AI Art Generator offers memberships that removes ads and gives its users more features.
Having a Pro membership on Wonder gives you unlimited artwork creation. Aside from this, it also gives users fast processing, removal of ads, and 20 more styles for art generation. The membership is up for purchase either weekly or a one time lifetime payment.
The company behind Wonder is Codeway. Codeway has a reputation for developing apps on mobile devices both for productive and fun purposes. Their apps include Scanner+, Cleanup, Facemix, Facedance, PixelUp, Rumble Rivals, and Wonder.

starryAI is also an AI Art Generator that turns text to images. This AI Art Generator provides predefined art styles that accompany your prompt. This lets users apply their chosen style for the concept they have in mind. Every art style shows a sample art making it easier for users to visualize how their art will turn out. Some popular art styles presented to the user are Greg Rutkowski, Art Station, Kilian Eng, and Asad Hanuka among others.
A standard art generation costs 1 credit. Earn credits by completing different tasks such as watching ads and posting your AI Generated artworks on various social media platforms. The more tasks you complete, the more credits you obtain. Alternatively, users also have the option of purchasing credits.
starryAI : Neural Systems
An incredible feature that starryAI has is the choice of neural networks. It hosts Stable Diffusion under the name "Argo". Stable Diffusion is a text-to-image model capable of creating stunning art within seconds. It is a breakthrough in speed and quality for AI Art Generators. It can run on consumer GPUs which makes it an excellent choice for the public.
The AI Art Generator also showcases Orion which is a CLIP Guided Diffusion model. The way Diffusion works is it mathematically removes noise from an image. Whereas, CLIP, is primarily for labeling images. Thus, when the two interact, CLIP iteratively guides the diffusion denoising process via proper image identification. This makes the image close to the meaning of the text prompt.
Lastly, it also has Altair which produces dream-like images and are more abstract. Altair AI uses VQGAN-CLIP model in generating images. VQGAN generates the images, while CLIP observes & informs how well the generated image aligns with the inserted text prompt. This communicative method between the two networks ensure the best possible accuracy producing the images.

Craiyon is an AI model that generates images from text. The user enters a text prompt and Craiyon then applies algorithms in creating it. It started off as a lighter version of OpenAI's DALL-E, and was initially named DALL-E Mini.
The first developers of DALL·E Mini were Boris Dayma, Suraj Patil, Pedro Cuenca, Khalid Saifullah, Tanishq Abraham, Phúc Lê, Luke, Luke Melas, Ritobrata Ghosh. As of writing, Boris Dayma (who trained the current version of the AI model) and Pedro Cuenca (who worked on the backend) are the original developers that are still part of the Craiyon team.

The model used is called "DALLE mini", specifically the larger version also known as "DALLE mega" and is trained using Google TRC. Millions of internet photos and their accompanying annotations bacame sources of the Craiyon model training. The model became capable of replicating these pictures. However, it also underwent training for mixing ideas with images. This paved the way for creating new images with millions of reference images at its disposal.
Here are the steps for the AI Art Generator's process: First, an encoder converts the text input into numbers, with each number denoting a word or string. Second, the model then compared the results between this and its training data. The AI assigns a number to the image whether it saw the text input in a reference image. Next, Craiyon takes all of these notations into account and applies a quality filter. Lastly, Craiyon showcases the results in a 3×3 format with a total of 9 images.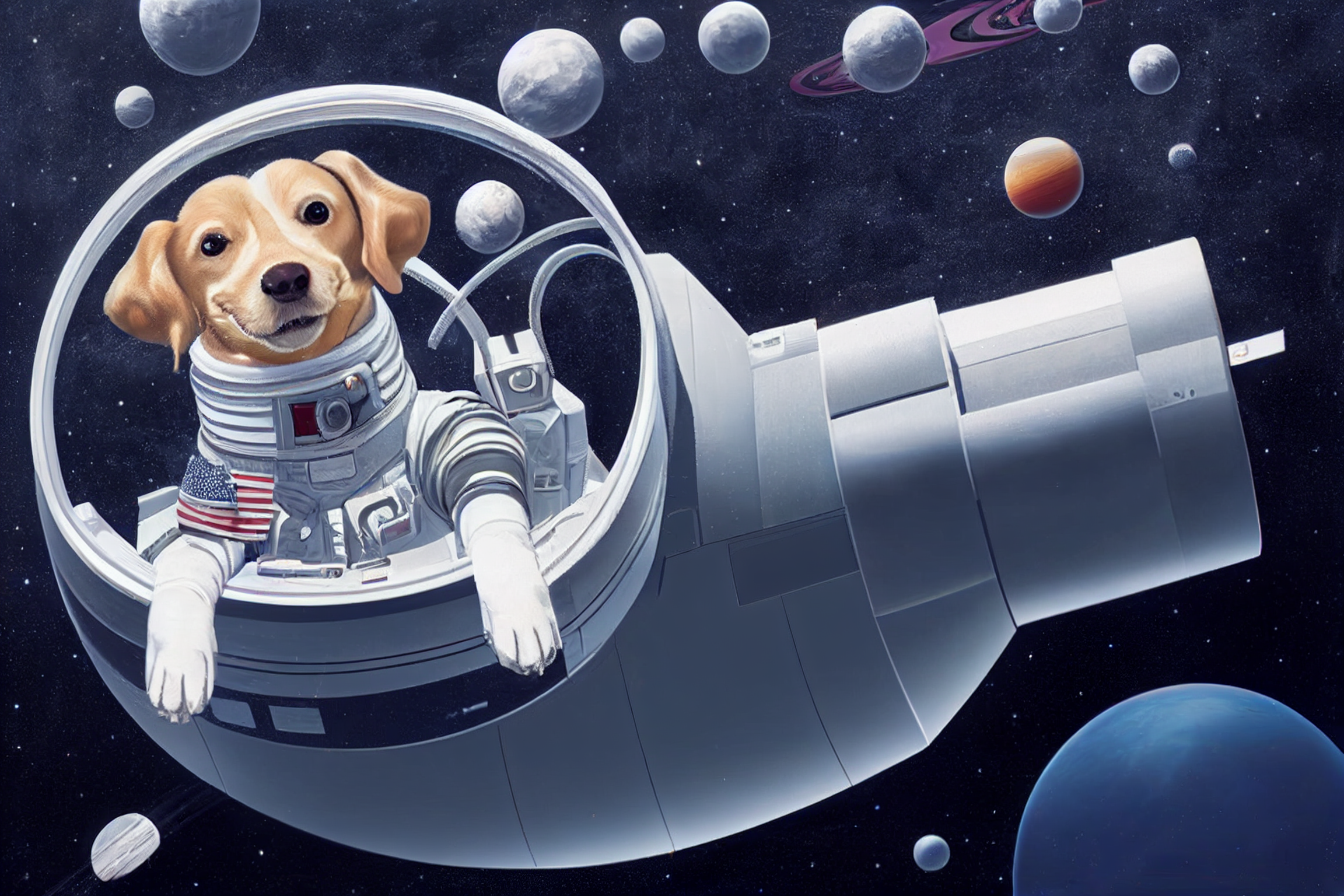 Midjourney is an independent research lab exploring new mediums of thought and expanding the imaginative powers of the human species. They are a small self-funded team focused on design, human infrastructure, and AI. They have 11 full-time staff and an incredible set of advisors.
Midjourney is accessible through the Midjourney Discord Server. Discord is a free online text and voice chat service that enables large numbers of users to communicate with one another. The developers of Midjourney have a dedicated Discord server for the AI Art Generator. Here, you can begin your adventure of using Midjourney for creating images. It's that simple! There are no installations or programs required.
Here's a quick note before creating your first image using Midjourney. Once you start using the AI Art Generator, you have access to creating a limited number of images before needing a subscription. You have around 25 free uses of the /imagine command or other queries (variations, upscales).
Aside from generating art, the Discord server for Midjourney is a place for its enthusiasts. The server hosts different channels for various niches. Notable channels are those under Showcase and Themed Image Gen.
Under the Showcase channels, users share their generated artwork and talk about the progress of their images. On the other hand, people do the same under the Themed Image Gen channels but for specified themes. Themes include abstract, environment, characters, and image prompts among others. There are also daily themes for the community to come together.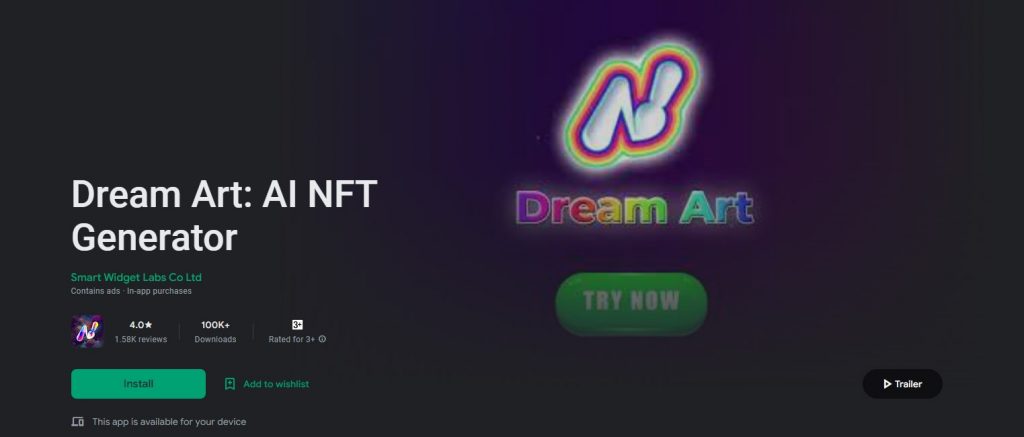 Next, Dream Art is a text to image AI Art Generator that brands itself as an NFT generating app. It also functions the same as the other apps wherein users enter prompts and the AI comes up with an image. While not costing credits, each generation requires watching an ad completely. Sometimes, ads come up on the screen even by just waiting for the completion of your render. To combat this, the developers offer a premium membership on a monthly or yearly subscription. The membership comes with unlimited artwork creation, high quality generated images, more art styles, and an ad-free experience.
Smart Widget Labs Co Ltd is the company behind Dream Art. Although they brand themselves as iOS app developers, they hopped in the Android market in 2021. Their most popular apps on the Android user base are Mobile Print: HP Smart Printer and Loveit. be real relationships both having over 1 million downloads.
Afterword
Art is a core part of society. It dates back in early signs of human life as seen on cave drawings and sculptures. Today, AI has the ability to create stunning artworks. Artificial intelligence uses algorithms from entered prompts by the user for generating artworks.
AI art generators provide an avenue for people where they can turn concepts into a reality. Every person has creativity within them. However, not all pursued the path of dedicating time and effort for art. AI Generated Art is a testament of how the human mind can come up with ideas that translate well into art forms.
The continuous rise in popularity of AI Art Generators opens more doors for creativity. Art always played an important role in society. It's mind blowing that in our generation today, humanity gained the ability of harnessing artificial intelligence for art generation.
These AI Art Generators are as accessible as ever! Having a phone throughout the day makes creating art within reach whenever and wherever. Also note that creating more detailed prompts yields to finer and detailed images. This helps the AI fill the frame with multiple elements from your prompt.
Lastly, thank you for reading this article. If you find this article interesting, consider checking out one of our recently published posts. A few of them showcase these AI Art Generators in extreme detail. A separate article introduces tips and tricks for Prompt Building. On the other hand, if you're looking towards Photography, we also offer great articles for your inspiration.
Find them here:
Stable Diffusion : AI Art Generator Spotlight
Midjourney : AI Art Generator Spotlight
Craiyon : AI Art Generator Spotlight
Wombo.art : AI Art Generator Spotlight
AI Art Generators : Prompt Building
Guide to Product Photography
Guide to Toy Photography
The Art of Editing Photos