Craiyon joins the spotlight for the AI Art Generator series. It is also capable of turning text into artistic and stylistic images. In the previous articles, we talked about the more recent AI Art Generators. Now, we are taking a step back and highlighting one of the first art AI's capable of doing text-to-image tasks. In this article, get to know the history, the how to's, and additional information regarding Craiyon.
The development of AI art generators significantly elevated their position in society. They are capable of creating art based on inputs from the user. The AI creates an output based on the descriptions that users enter. Dive in and learn more about this wonderful AI Art Generator – Craiyon.
What is Craiyon?
Craiyon is an AI model that generates images from text. The user enters a text prompt and Craiyon then applies algorithms in creating it. It started off as a lighter version of OpenAI's DALL-E, and was initially named DALL-E Mini.
History of Craiyon
The AI art generator is the proposal of Boris Dayma at the JAX/Flax Community Week. It is a competition of sorts that took place in June 2021 conducted on the Hugging Face forums in collaboration with Google Cloud. Before being named as Craiyon, its first name was DALL·E Mini. The AI underwent training for only 3 days on a single TPUv3-8 provided by Google Cloud during the program. Despite the short training time,  DALL·E Mini is 27 times smaller than that of OpenAI's DALL·E.
 DALL·E Mini became extremely popular in late May and June 2022. Having the same attribution to  DALL·E, it stirred up confusion among the internet community. This caused confusion among users of the OpenAI project DALL-E and DALL-E 2. Thus, after the request of Open AI,  DALL·E Mini now goes by the name of Craiyon.
Who are the Founders of Craiyon?
The first developers of DALL·E Mini were Boris Dayma, Suraj Patil, Pedro Cuenca, Khalid Saifullah, Tanishq Abraham, Phúc Lê, Luke, Luke Melas, Ritobrata Ghosh. As of writing, Boris Dayma (who trained the current version of the AI model) and Pedro Cuenca (who worked on the backend) are the original developers that are still part of the Craiyon team.
Where to Access Craiyon?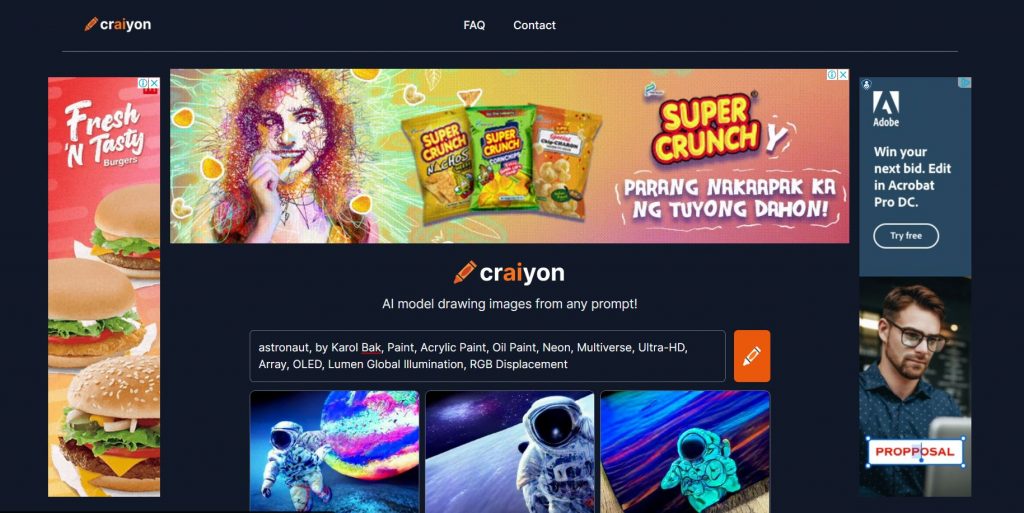 Craiyon is accessible on different websites. However, the best way of accessing it is through their official website. Craiyon.com is the official website for the AI Art Generator. Unlike any other AI Art Generators like Stable Diffusion and Midjourney, Craiyon is free to use. The main income of this AI Art Generator is through ads that run on their official website. 
Craiyon also developed an official Android app. Access Craiyon on your android devices using this link : Craiyon on the Google Play Store. Lastly, it can also be downloaded from Github for a much personal experience.
How does Craiyon work?
The model used is called "DALLE mini", specifically the larger version also known as "DALLE mega" and is trained using Google TRC. Millions of internet photos and their accompanying annotations bacame sources of the Craiyon model training. The model became capable of replicating these pictures. However, it also underwent training for mixing ideas with images. This paved the way for creating new images with millions of reference images at its disposal.
Here are the steps for the AI Art Generator's process: First, an encoder converts the text input into numbers, with each number denoting a word or string. Second, the model then compared the results between this and its training data. The AI assigns a number to the image whether it saw the text input in a reference image. Next, Craiyon takes all of these notations into account and applies a quality filter. Lastly, Craiyon showcases the results in a 3×3 format with a total of 9 images.
How to Create Better Images using Craiyon?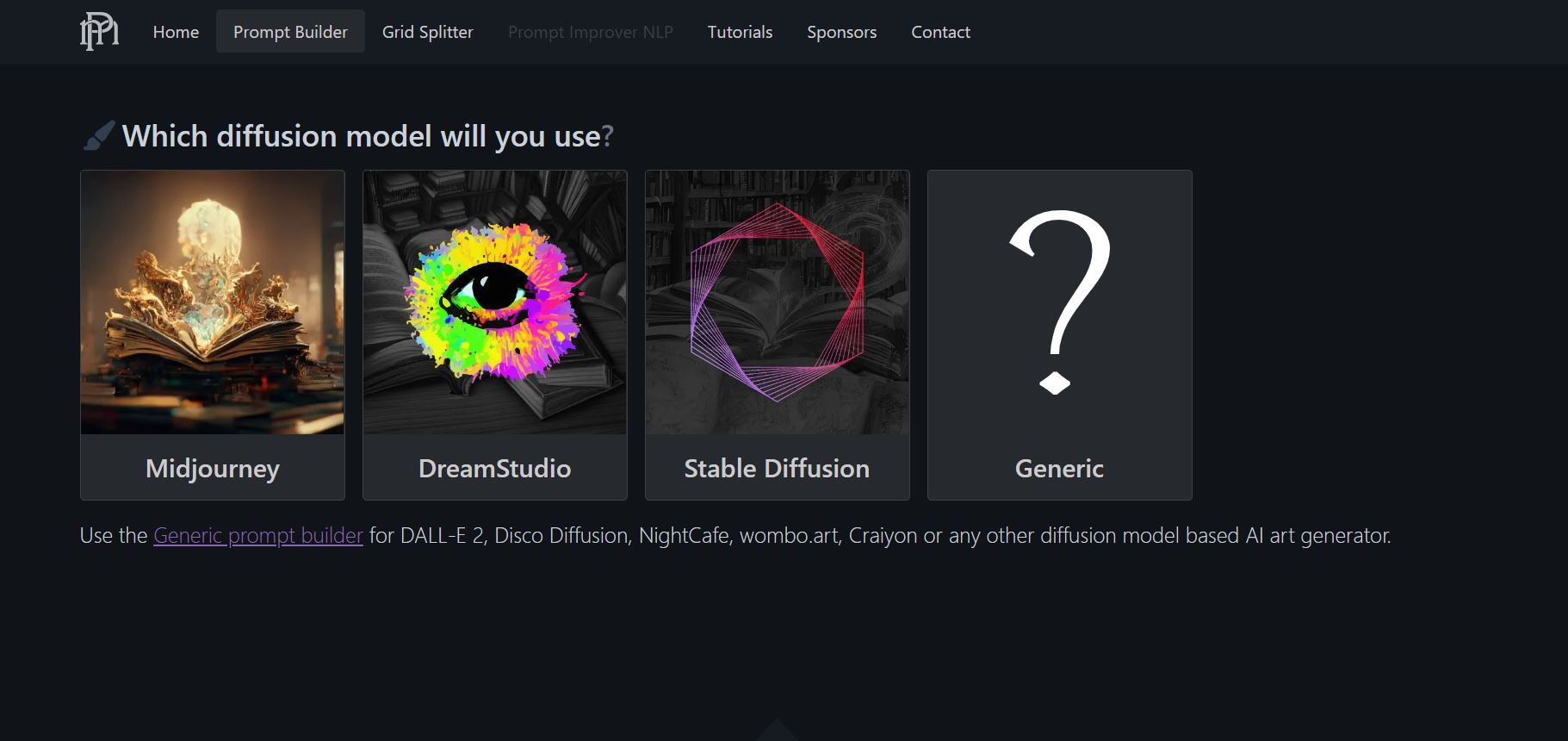 Just like the other AI Art Generators, Craiyon is capable of text to image generation. Simply type in an image of what you want to see and wait for the completion of the process. However you may notice that generated images look dull and not artistic. The most simple way of creating better images in Craiyon is providing detailed prompts. In order to understand how to create better prompts, one must know the anatomy of a prompt. There are also some useful tools for making this process easier.
Anatomy of a Prompt
A prompt is a user input for AI Art Generators. This is a phrase or line of text that details the elements which the AI uses in producing an image. Note that the more detail you put towards your prompt makes way for a sophisticated photo. A vague prompt results in a chaotic output which lacks detail and design elements.
First is the raw prompt. A raw prompt serves as the backbone of your full prompt. This is enough information for the AI in creating an artwork. In most cases, a raw prompt results in a chaotic and random image. Adding in a few more prompts helps solidify your concept.
Second, adding an art medium to your prompt dictates how the final output appears. Some examples for this prompt are: drawing, pencil, ink, pastels and chalk, digital art, photograph, and more. It's worth exploring all the different mediums as they yield distinguishable results.
Thirdly, the art style portion of the prompt provides the AI with styles from artists. By typing in an artist's name, the AI creates an image with the same style of the said artist. Browse through the internet and find world renowned artists in a specific genre and apply it in your prompts.
Prompt Building Websites
With my hours spent on AI Art Generators, I found prompt builders the most helpful. These websites automatically collect your chosen keywords and create a prompt for your project. All you have to do is click your desired prompts then copy the collected result.
Top of the list is Promptomania. It is an online prompt builder website designed for DreamStudio, MidJourney, and Stable Diffusion. It also offers a Generic option for generic diffusion model AI based art generators. These are DALL-E 2, Disco Diffusion, NightCafe, wombo.art, and Craiyon. 
Upon selecting which AI art generator you're using, the website offers you a wide array of possible details for prompt building. These include the three main key prompts as well as details for color, dimensionality, display, geometry, lighting, and material.
Simply click on the detail you want to add and it automatically builds your prompt. You can find your final prompt at the top of the page and copy it for entering in the AI art generator prompt box.
Craiyon Community

From its creation, Craiyon gained its popularity through memes. Majority of the Craiyon community uses this AI Art Generator for creating memes. While the AI is capable of creating artistic images, Craiyon skyrocketed in popularity through twitter.
The users of the AI Art generator mostly revolve around Reddit. Reddit is a network of communities where people dive into their interests, hobbies and passions. The Craiyon community is separated into three subreddits. This stems from the AI Art Generator changing its name from  DALL·E Mini to Craiyon. Thus the first notable subreddits are r/dallemini and r/craiyon. 
The most notable subreddit revolving Craiyon in r/weirddalle. It has a total of 122k members which is entirely larger than the total of 14.7k combined users of the two previously mentioned subreddits. The r/weirddalle community showcases the meme community using Craiyon as a medium of creating memes. Several prominent themes emerged during the DALL-E mini's rapid rise to fame in early June 2022, including those that focus on certain styles, occasions, and individuals. These include courtroom sketches, trail cam footage, characters with food, and characters with weapons among others.
Conclusion
Craiyon is among the list of AI Art Generators capable of turning text into images. However, this is free to use unlike the other AI art generators. With this being said, it is more difficult to achieve artistic images using Craiyon. This difficulty can be minimized by placing more detail towards user inputs. Add multiple modifiers and details towards your input and this results in a pleasing image. When dealing with AI Art Generators, always note that the more detail your prompt has, the more sophisticated and appealing the output becomes.
Craiyon rose to popularity in late May and June 2022. The people from the meme community came up with different themes using the AI Art Generator. It easily rose to popularity because of the laughs that the internet community had with it.
As of writing, Craiyon is accessible through their website and official android app. Support the developers by accessing the AI art generator through these mediums. Consider donating to them through https://www.craiyon.com/donate.
Afterword
Art is a core part of society. It dates back in early signs of human life as seen on cave drawings and sculptures. Today, AI has the ability to create stunning artworks. Artificial intelligence uses algorithms from entered prompts by the user for generating artworks.
AI generated art is continuously rising in popularity around the globe. Artificial Intelligence gathers inputs from users and comes up with stunning artworks. With how speedy the process is, it's no wonder that people are jumping in this worldwide craze.
AI art generators provide an avenue for people where they can turn concepts into a reality. Every person has creativity within them. However, not all pursued the path of dedicating time and effort for art. AI Generated Art is a testament of how the human mind can come up with ideas that translate well into art forms.
The continuous rise in popularity of AI Art Generators opens more doors for creativity. Art always played an important role in society. It's mind blowing that in our generation today, humanity gained the ability of harnessing artificial intelligence for art generation.
It also is a joyous moment seeing Craiyon used for meme generating. Memes provide laughable jokes through images. The model didn't go viral until June 4th, 2022, when @AliceAvizandum posted about it on Twitter. @AliceAvizandum submitted pictures created using the model in the thread. After three days, AI-generated pictures of Queen Elizabeth II received 330 likes and 30 retweets.
Lastly, thank you for reading this article. If you find this article interesting, consider checking out our recently published posts. They introduce the world of AI Art Generators as well as tips and tricks for Prompt Building. If you're looking towards Photography, we also offer great articles for your inspiration.
Find them here:
Stable Diffusion : AI Art Generator Spotlight
Midjourney : AI Art Generator Spotlight
AI Generated Art : The Creative Future
AI Art Generators : Prompt Building
World Photography Day 2022