Herb Ritts was one of the most respected and well-known celebrity and fashion photographers of the late 20th century.
Despite a career that lasted only twenty-four years, Ritts was remarkably prolific.
Ritts photographed everyone from supermodels Naomi Campbell and Cindy Crawford, to Hollywood legends Arnold Schwarzenegger and Tom Cruise to music icons Madonna and Michael Jackson.
You're trying to get to one moment with one frame that eventually may speak for your generation.

Herb Ritts
The LA-based photographer lensed campaigns for leading fashion designers such as Giorgio Armani, Calvin Klein, Valentino, and Versace and produced editorial and cover photos for Vogue, Harper's Bazaar, Elle, Rolling Stone, and Vanity Fair, and many others leading fashion and cultural magazines.
Later in his career, Ritts started directing motion and shot over 50 television commercials and 13 music videos.
His first music video was for Madonna's song Cherish in 1987, this was followed by Chris Isaak's Wicked Games and Janet Jackson's, Love Will Never Do (Without You).
His fine art photography has been the subject of exhibitions worldwide, with works residing in significant public and private collections. He also one of the most collected photographers around with his prints fetching anywhere between $40,000-$190,000.
Ritts revolutionized fashion photography, modernized the nude, and transformed celebrities into icons.

Paul Martineau (Getty museum)
Editor's Note: This is a long article, so feel free to skip ahead using the table of contents below to whatever section interests you. If you've enjoyed the article, then we'd be grateful if you could share it through the usual social media channels.
Related: 24 Herb Ritts Quotes to Level Up Your Photography
Herb Ritts Biography
Nationality: American
Genre/s: Fashion, Portrait, Nude, Fine Art, Advertising, Music Videos
Born: August 13, 1952 – Los Angeles, California
Died: December 26, 2002 (aged 50) – Los Angeles, California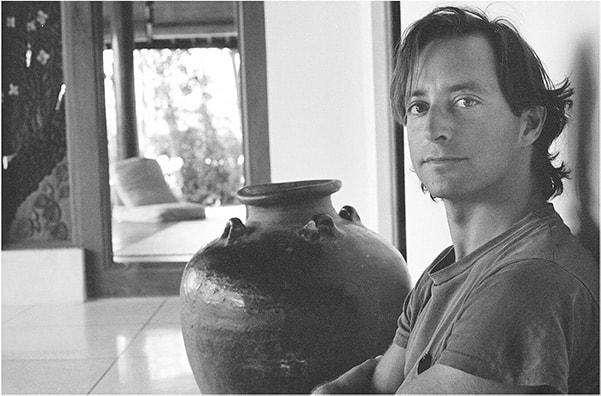 Early Life
Born in Los Angeles in 1952, Ritts grew up in a prosperous Jewish family. His father, Herb Ritts Snr., owned a furniture business, while his mother, Shirley Ritts was an interior designer.
Ritts and his brother and sister grew up in Brentwood, California. Their nearest neighbor was the legendary Hollywood star, Steve McQueen.
We grew up in Brentwood, in West L.A. At the time, when I was a young boy in the fifties and sixties, it was a very low-key place to grow up. It was upper-middle-class; not suburban, but not Hollywood, either. I did grow up next door to Steve McQueen, who was a very famous movie star at the time, but as a kid, it didn't impress me. We always had great fun with him. He would take us out on Sundays on his motorcycles, riding around in the desert; he was like a second father. My father was a furniture designer and manufacturer, and my mother worked with him in the sales and interior design side of the business. So they weren't in the film business at all – only through Steve McQueen and other people they knew. An Elvis Presley movie, Blue Hawaii, had a lot of the Ritts Company rattan furniture in it. It was very popular.

Herb Ritts
Ritts graduated from Palisades High School in Los Angeles in 1970 and then attended Bard College in upstate New York, where he studied economics and art history.
I was an economics major, which I enjoyed because I had a good business sense. Even though I didn't get a business degree, I enjoyed learning about economics. I dabbled in school. I always enjoyed art history because growing up in California, my exposure was limited, and it was a new experience. To learn the history of art opened up certain things to me, made me see. It intrigued me.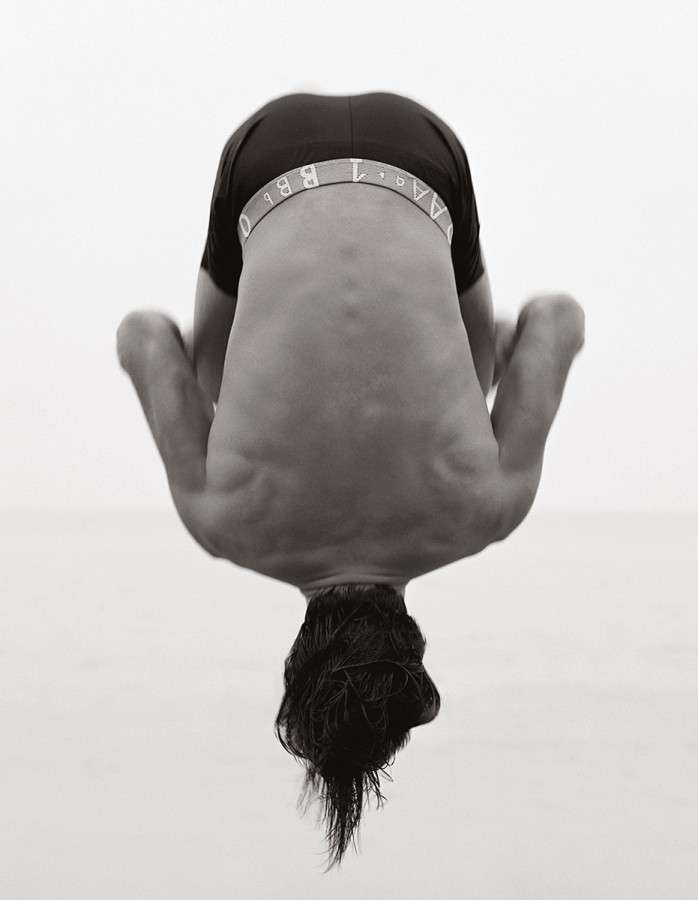 Moving back to L.A.
After a brief period living in New York, Ritts returned to Los Angeles, where he worked as a sales representative in the family's furniture business for the next few years.
In 1976, Ritts purchased his first camera (a 35mm Miranda for $152) and started to take portraits of his circle of friends – which was made up of young actors, models, and other artistic types.
Although Ritts was a good salesman, the job didn't satisfy him creatively, and he began taking evening courses in photography at the Art Centre of College of Design in Pasadena.
While Ritts promoted the idea that he stumbled upon a career in photography by accident, the truth is that he was actively looking for ways to become a professional photographer.
In 1978, Ritts managed to talk his way on to the set of the film, The Champ and took some of the film stills. When one of his photos of John Voight and Ricky Shroder was published in Newsweek, Ritts started to think that he might be able to turn photography into his full-time career.
Meeting Richard Gere
Ritts met the then-unknown actor Richard Gere through Gere's girlfriend at the time – their friendship would help launch the career of both men.
On a road trip in the desert, Ritts photographed Gere at a gas station, while waiting for a tire to be changed. These photographs, used by Gere's publicist two years later, played an important role in Gere's rise to stardom and gave Herb his big break.
I knew Richard's girlfriend, Penny, who was an actress, and she introduced me to Richard. Actually, when I first started dabbling in photography, I was still working for my parents as a salesman. Penny was supposed to come to my house to take a headshot, but she never showed. Richard arrived; he was going to meet her there. I asked if I could take a picture of him, and he said no-he was very shy and had very long hair-but finally I did. A week or so later, we were driving around in Penny's car and got a flat tire and ended up in a desert gas station, where we took pictures.

Herb Ritts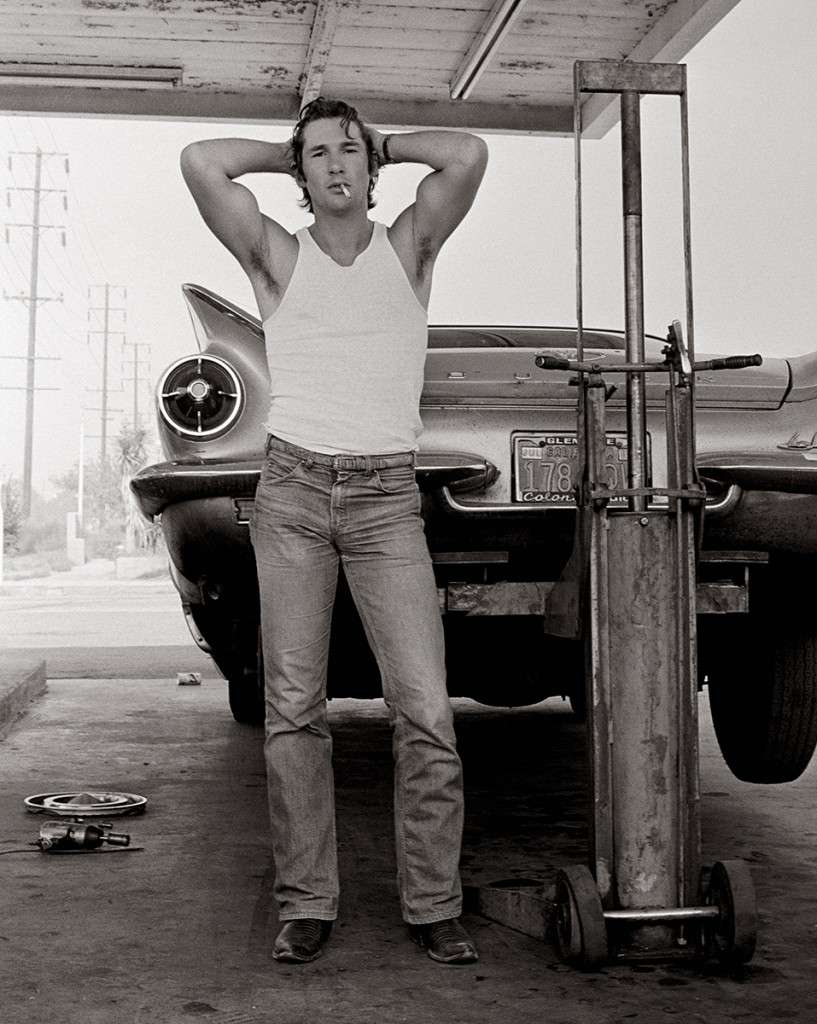 Ritts's Big Break
I think that the interesting thing about this first picture of Richard is that it's on a real location. I realized instinctively, even then; you have to go for that moment you're in. There's something compositional about the place where I was shooting Richard. This is an all-white background here; I crouched down to shoot upward, which gave a little more impact and drama. I can't honestly say if I told Richard to put his hands behind his head, or if he just did it to stretch and I caught it. And he would have been smoking a lot then anyway. A lot of this is really what he was: young, very handsome, sexy-one of those "rebel" actors, and it showed. At the same time, though, he had incredible vulnerability, and in some of the other pictures from that series he's very innocent, in his eyes.
Ritts's big break came in 1979, when his photos of the budding actor were published in Mademoiselle, Esquire, and Vogue – all in the same month.
He had well-known photographers shooting him already; it happened quickly for him. So, I sent the negatives and forgot about it. What did I know? I wasn't a photographer. Three months later, the pictures appeared in American Vogue, Esquire, and Mademoiselle. Big spreads. One day soon thereafter, Mademoiselle tracked me down and asked me to do Brooke Shields, and I said sure. I didn't say I wasn't a photographer.
Learning on the Job
The strength of the pictures, which present Gere as a new American hero was instantly recognized and job offers soon followed.
Shortly after his first photos were published, Ritts began to seriously collect photographs. His early purchases included prints from masters such as Man Ray, Paul Outerbridge, and Edward Weston.
Collecting photos helped Ritts develop his photography skills – specifically understanding framing and composition, as well as the importance of quality prints – these lessons on the craft would serve him well as he started his career as a photographer.
I exposed myself to museums. I suddenly saw, for instance, the vision of a Man Ray, discovered more and more the history of photography. It put things in perspective. But it was at least four years or more before I started feeling a sense of my own style.
Photography Career
Ritts purchased a home in the Hollywood hills and rented some of the rooms to help with the cost of the mortgage – top male fashion model Matt Collins was one of his housemates. Collins introduced Ritts to the New York photographer Bruce Weber, who gave Ritts advice when he was getting started.
In '78 I bought a house in California, the same house where I live now. I decided to rent rooms out to help with the mortgage, and one of the renters was Matt Collins. He was one of the top male models at the time-very refined-looking. I remember several red trunks of Italian menswear arriving at my house from Italian Bazaar on behalf of a girl I didn't even know. Someone had shown her a few snapshots, and she took a chance because she really liked what she saw. She turned out to be the fashion director of Italian Bazaar.
Fashion Photography
In an early fashion spread for Harper's Bazaar Italia, Ritts photographed Collins under the Santa Monica Pier. These images demonstrate Ritts's use of the golden Southern California light and strong cast shadows, two hallmarks of his photographic style.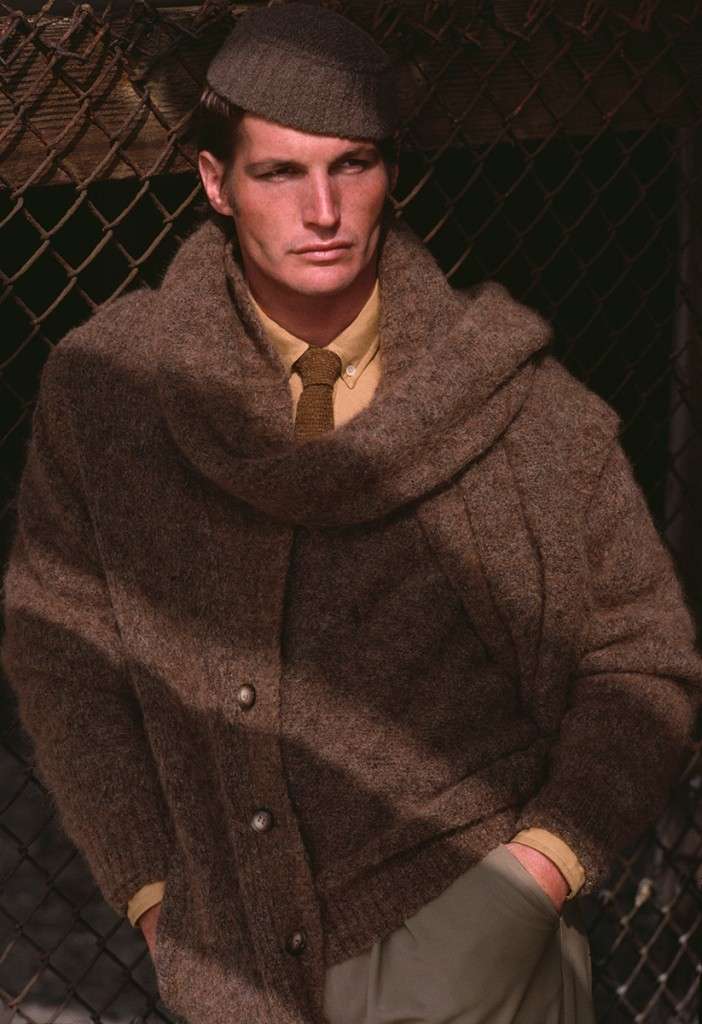 Matt and I went underneath the Santa Monica Pier and shot. He did his hair, he put on the clothes, I took the pictures, he held the meter. I shipped the photographs back with the clothes to Milan and next thing I knew they were the lead story in Italian Bazaar, twenty pages. That's where Ferre, and Franca Sozzani from Lei, saw my pictures. Matt was influential in that he'd already been in the business. He was very good friends with Bruce Weber.
While the project wasn't more than a straightforward fashion shoot, it gave Ritts the opportunity to hone his skills and raised his profile with Italian fashion magazine editors.
Finding his Style
Ritts made use of the bright California sunlight to produce images that play with light and shadow, and his preference for outdoor locations such as the desert and the beach helped to separate his work from his New York-based peers.
In a short period of time, Ritts became one of the world's most requested fashion, portrait, and advertising photographers.
In 1981, Ritts photographed Olivia Newton-John for her album Physical. Five years later he replicated that cover pose with Madonna for her album True Blue.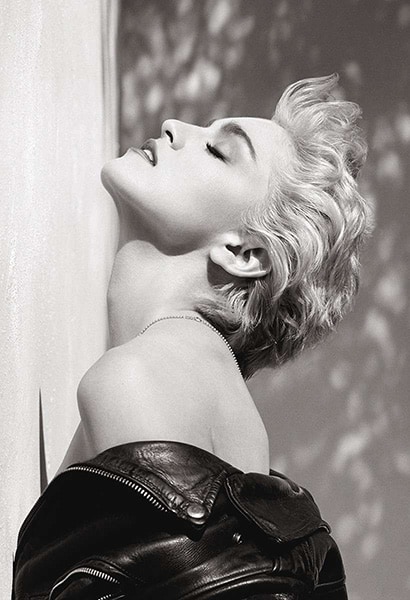 Ritts first met Madonna in 1984 on the set of Desperately Seeking Susan. This meeting would lead to many collaborations and a long-time friendship between the two.
In his sweet disarming way, he suggested that we work together again, and I agreed to it. And that was the beginning of an incredibly long and fruitful working relationship, but it was also the beginning of a great friendship.

Madonna
By 1984, Ritts was on fire. His creative output was non-stop, and he appeared to be able to switch gears effortlessly between personal and commercial work (fashion, advertising, and portraits).
In 1985, Ritts exhibited his photographs in a gallery setting for the first time in a three-person show titled, Working in L.A.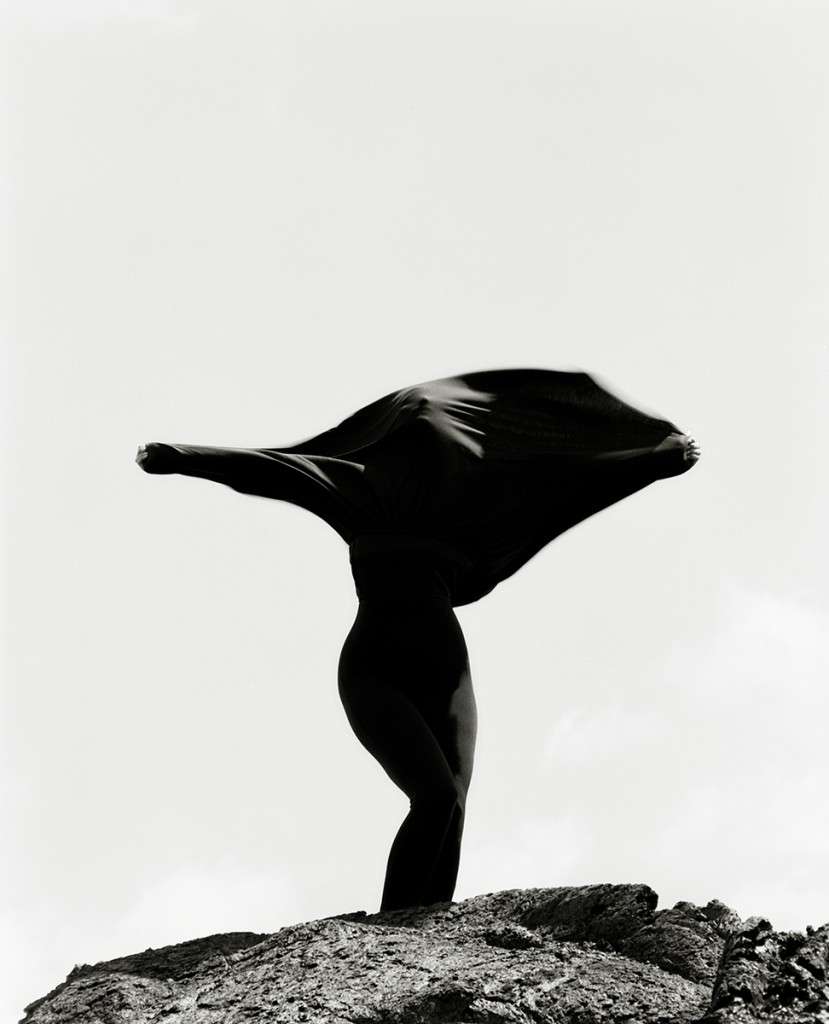 In Demand
Ritts's distinctive style was in demand, and the globalization of the media helped to export his photos around the world.
To accommodate his growing business, Ritts established a studio (formerly Gene Kelly's dance studio) on the corner of Hudson Street and Santa Monica Boulevard in Hollywood in 1987. Many of his iconic photos were created on the studios' flat roof, where Ritts had a rotating wall built that pivoted toward or away from the sunlight.
Ritts had a great business mind and knew how to direct people. He enjoyed what he was doing and assembled a crew of talented assistants and printers who worked hard to exceed his high expectations.
Ritts used both color and black and white film for his commercial assignments, although he tended to reserve the latter for his personal work or fine art photography.
Ritts rarely printed his own photos. From a financial perspective, it didn't make sense for him to spend his time in the darkroom. At the height of career, Ritts had a contract valued at $1 million a year with Conde Nast and could earn as much as $40,000 a day plus expenses on other projects.
Like all greats, Ritts wasn't afraid to take chances with his work and sometimes his clients didn't accept his decisions.
His fashion pictures of Naomi Campbell wearing nothing more than a pair of thigh-high leather boots were rejected by American Vogue. Ritts was confident that these photos were amongst his best work and arranged to have them published in Interview magazine instead.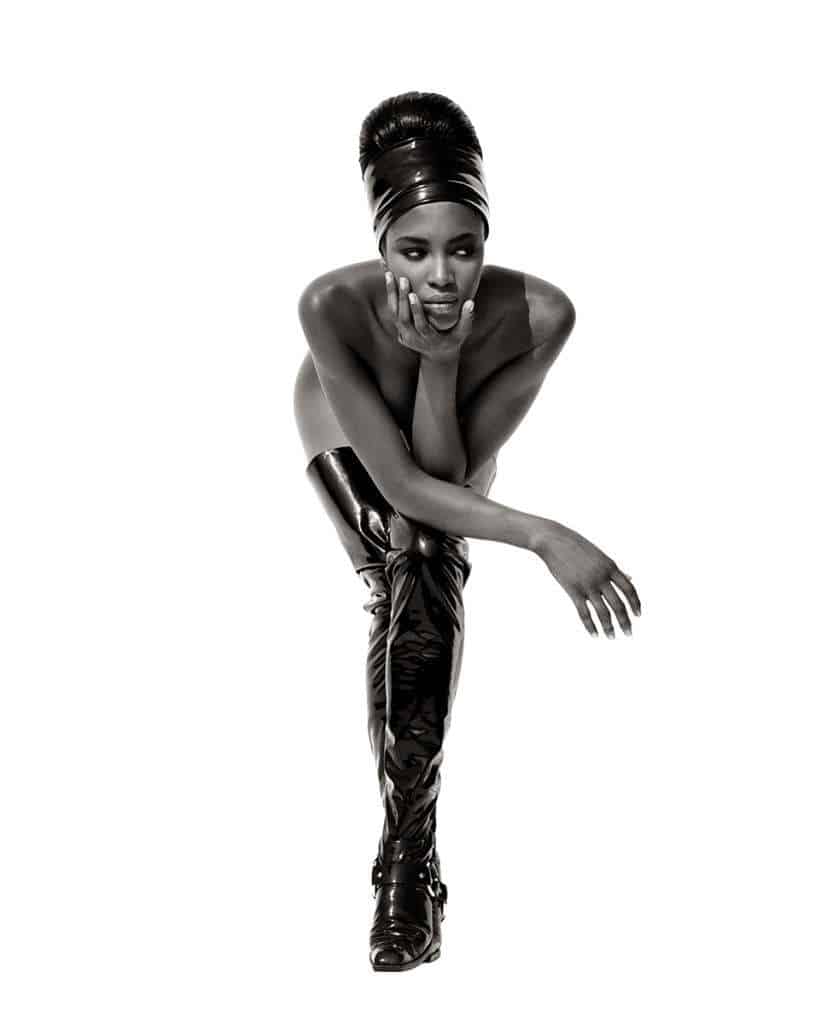 Finding a Publisher
While Ritts had a reputation as one of the best fashion and portrait photographers in the business, getting recognition for the artistic merit of his work was difficult.
Since he didn't have the backing he would later enjoy through the Museum of Fine Art, Boston, which published Herb Ritts: Work in 1996, he decided to take matters into his own hands.
Ritts negotiated a deal with Twin Palms Publishers to release his first book, Pictures in 1988. The book sold well and was the beginning of what would become a very profitable publishing program between the two, resulting in a total of seven books.
By the late 80s, Ritts had become a celebrity himself, largely due to his reputation as a shaper of fame as well as his role in ushering the era of the supermodel.
Leaving a Legacy
In 1989, Ritts's life was changed radically. That was the year he learned that he had AIDS; as a result, he became even more focused on his work and took on more and more projects including a major GAP campaign.
He just went into overdrive. I don't know if it was a sense of, 'If I've got something to do, I've gotta do it now and leave it as my legacy.' Or if it was, 'I'm going to keep working so I don't think about this.

Richard Gere
That year he also produced his iconic photo of the supermodels in Hollywood.
The shoot for Rolling Stones magazine initially included the cast of four models: Tatjana, Naomi, Cindy, and Stephanie. Christy was invited at the last minute to complete the photo. Ritts positioned the models so that they were intertwined and embraced effortlessly.
Music Videos
In 1989, Ritts was convinced by Madonna to direct his first music video for her song, Cherish.
She kept asking me, and I said I really didn't know the first thing about moving imagery. Finally, I practiced with a little super 8 camera when I was on a job in Hawaii and came back and said I could do it. Two weeks later, I was filming Cherish. I directed it and did the camera work as well. It was invigorating. I realized I could put my stamp on moving imagery, which some people have a hard time doing. The more you experience, the better you become, and the mix of working with varied visual mediums hones your eye even more so.

Herb Ritts
Cherish was shot at Paradise Cove Beach in Malibu, California. In the video, Madonna plays herself, while three men dressed as mermen swim in and out of the sea.
Ritts used a hand-held camera and shot it using color film, but the water was so cold that it drained the color from Madonna's skin, so they converted it to black-and-white instead.
Ritts enjoyed the creative challenge that motion presented and subsequently agreed to direct Chris Isaak's Wicked Game in 1990.
Wicked Game
For Wicked Game, Ritts paired Isaak up with model Helena Christensen and filmed the video in Hawaii on a black lava beach near an active volcano.
Isaak thought that the video was so steamy that MTV would refuse to air it. Not only did MTV air the video, but they awarded the video three awards at the MTV music awards in 1991: Best Male Video, Best Cinematography in Video, and Best Video from a Film.
We shot that video (Wicked Game) and we should not have been there. Some people think that behind me is a blue screen of smoke or something. That's volcanic flow going into the ocean causing steam to boil up about 30 feet behind me. And every once and a while, a ball of lava would shoot up into the air about 200 feet and we just kept shooting. You know Herb would just go 'OK, we'll just keep shooting.' It still breaks my heart that he's gone. If you saw it though Herb Ritts' eye the world was a much nicer place.

Chris Isaak
His next music video was Janet Jackson's Love Will Never Do (Without You).
Ritts chose the desert as the setting for the video and matched Jackson up with two of his favorite male models.
Ritts and his director of photography, Rolf Kesterman incorporated the photographer's signature style into the video: using graceful movements, bold contrasts, and wide-open spaces.
The work with moving images is all part of the same proposition. The filmmaking can feed off the fine art photography; the fine art photography can nurture a commercial project.

Herb Ritts
Love Will Never Do (Without You) won the "Best Female Video" category at the MTV Music Awards in 1991.
Video Production
Suddenly in demand as a director of music videos and commercials, Ritts co-founded a video production company with friend Bill Hayden. While Ritts focussed on the creative side, Hayden took care of the business end of the company.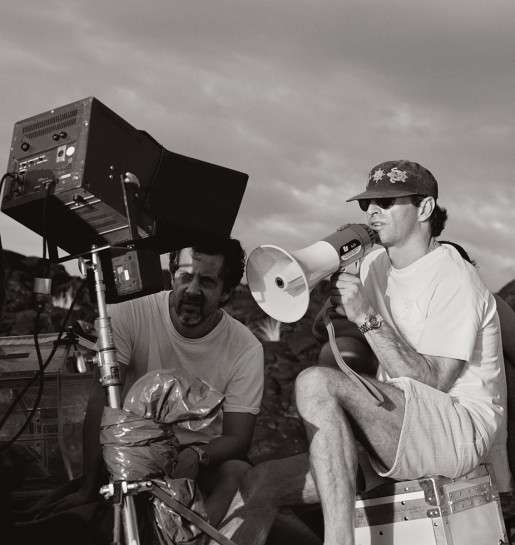 Ritts directed thirteen music videos over his career and more than fifty commercials. Some of his music industry clients were Michael Jackson, Shakira, Mariah Carey, and Britney Spears. His commercial clients were mainly fashion or personal product companies such as Cartier, Chanel, Estee Lauder, and Calvin Klein.
Ritts's commercials for Calvin Klein were so successful that the brand continued to use his stylistic formula long after his death.
The 1990s
In 1990, Ritts photographed two of his most striking and original fashion images for a Versace campaign.
Versace Dress, Back View, El Mirage was shot on location in a dry lakebed, ninety miles northeast of Los Angeles.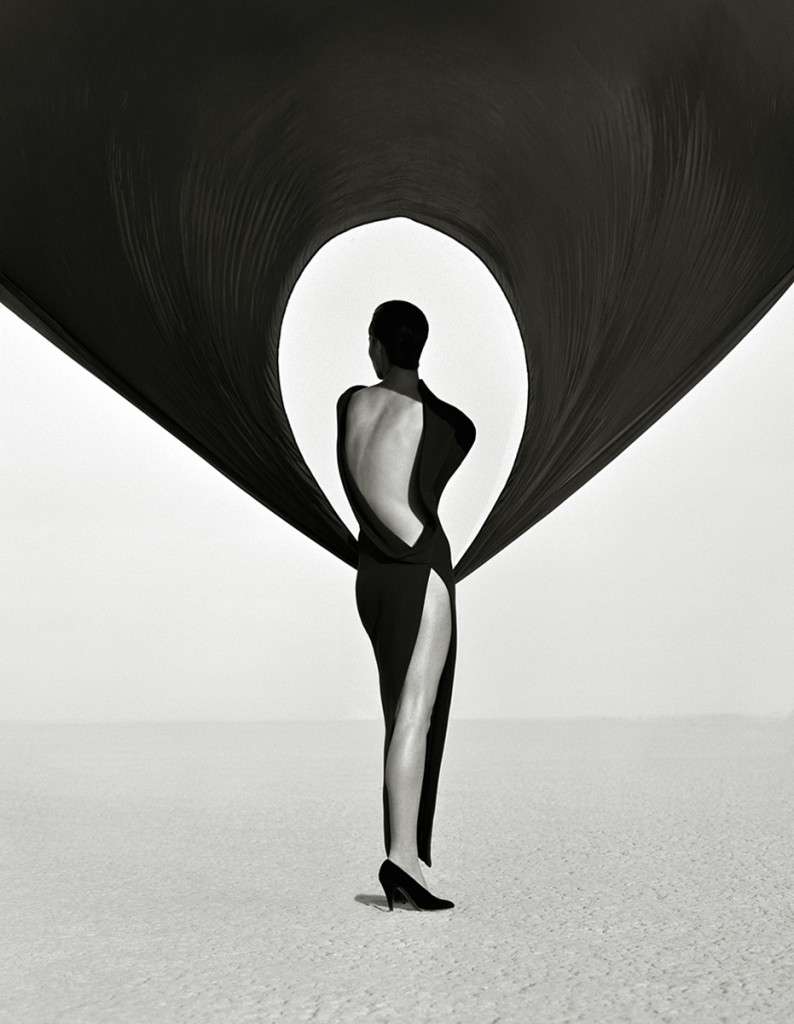 To create the black tunnel-like shape that surrounds the Christy Turlington, Ritts hung a tarp on a large metal frame and used wind machines to blow it out. The graphic quality of the image and the unusual oval shape created by the tarps recalls still life's made during the 1920s using eggs and light bulbs.
While this image was carefully planned and constructed, Versace Veiled Dress, El Mirage was the result of a happy accident and adapting to environmental challenges.
We were out in the desert, and this gale-force win blew up. You could hardly stand. And I just flipped the dress over her head, or it started to go that way and then I just let it do what it was doing… nature was happening. She [Naomi Campbell] just stood there very stoic, and it made such a classic image… it's a little unorthodox for fashion, but it made such an interesting photograph.

Herb Ritts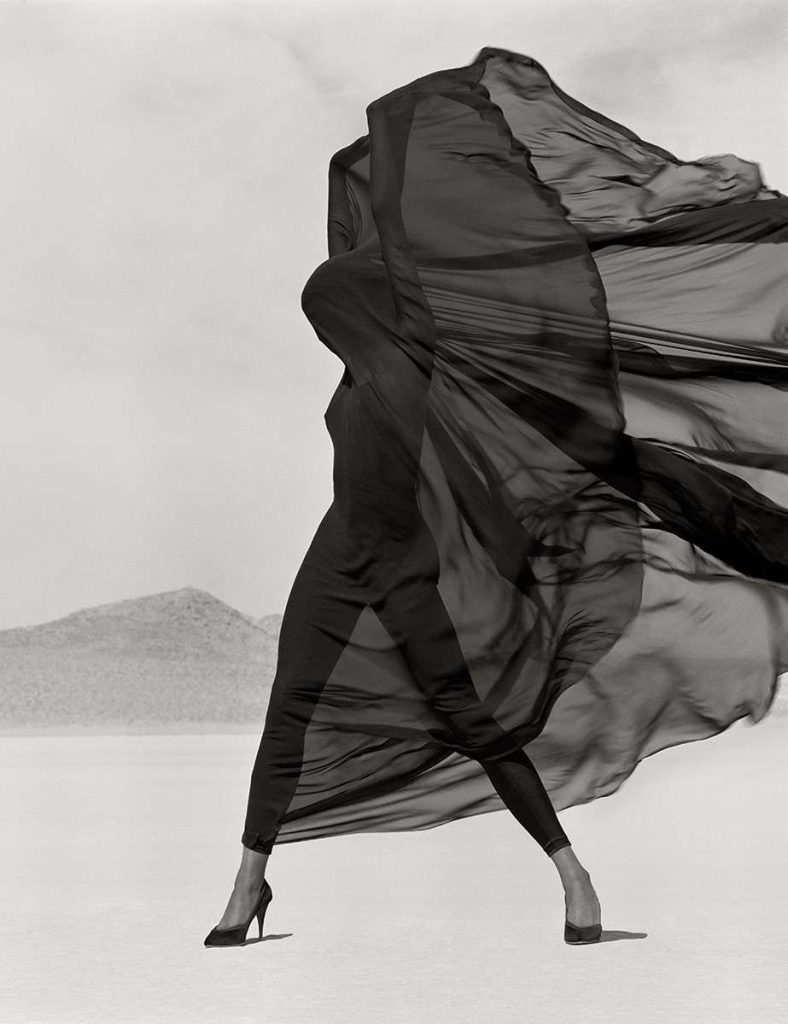 Like so many photographers before him, Ritts used nature to create two unforgettable images that portray feminine strength and beauty.
The statuesque poses of the models play off the harsh desert environment to give his majestic pictures a timeless quality, one which evokes images of stone monuments of ancient Egypt.
Mature Period
Ritts visited East Africa in January 1993, returning in summer to take pictures of daily life for his project Africa.
Generally, they were trusting and curious and they let me into their way of life. They are just what happened: daily life. I never knew what was going to come up day by day.

Herb Ritts
Later that year, Ritts's controversial photograph of Cindy Crawford and -the recently out of the closet lesbian singer – k.d. Lang was featured on the cover of the August 1993 issue of Vanity Fair.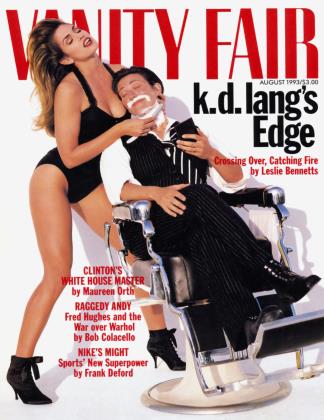 In 1996, Ritts hurt his back, limiting his ability to hold his heavy Mamiya RZ camera.
Rather than using a tripod, he charged his assistant Erik Asla with supporting the camera for him. This enabled Ritts to still enjoy the fluid movement of the camera without having to strain himself.
One of his most memorable commercial projects from the period was for the Swiss watchmaker, TAG Heuer.
To launch a new line of watches, the company invited Ritts to create a series of artistic nudes featuring top athletes from around the world – the executives in charge gave him complete freedom with the project.
In 1999, Ritts developed cytomegalovirus (CMW) and almost went blind. Despite the challenges he faced daily, he found ways to continue working: unable to drive, he had his assistants drive him to work, and during a shoot, they would double-check the focus on the camera lens for him.
Nevertheless, Ritts continued to receive numerous assignments. He accepted a major commission for Ralph Lauren, then worked on a substantial portrait project for HBO.
Last Project and Death
In December 2002, Ritts photographed Ben Affleck for the March 2003 issue of Vanity Fair. This would prove to be his final photo shoot.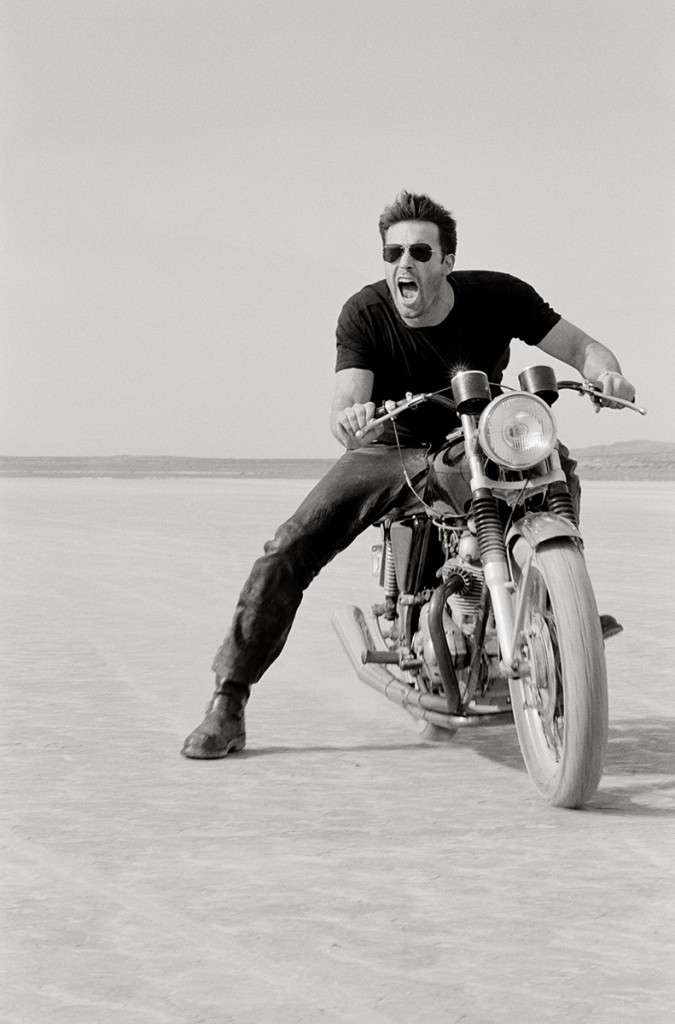 The location was one of Ritts's favorite, the dry-lake bed in El Mirage, California. On the day of the shoot, the wind was blowing hard, stirring up a tremendous amount of dust. Some of the crew involved became ill; Ritts was among them.
Due to his compromised immune system (weakened by AIDS), Ritts was unable to fight the infection and developed pneumonia. He died a week later, on December 26, 2002, at the age of fifty.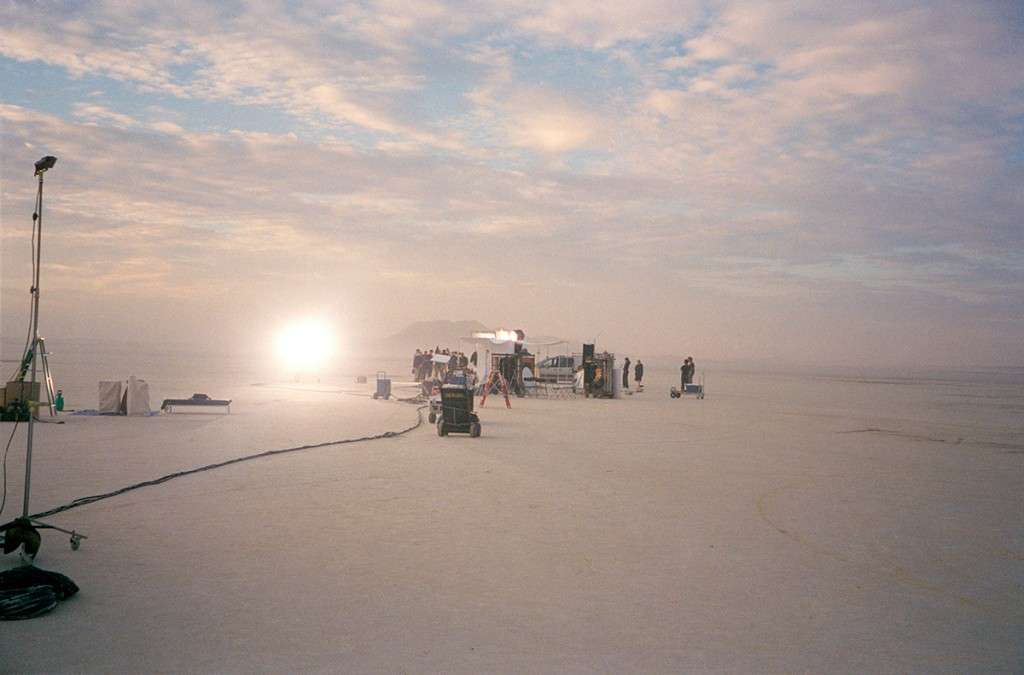 Legacy
Ritts published a total of 7 books in his lifetime: Pictures (1988), Men/Women (1989), Duo (1991), Notorious (1992), Africa (1994), Work (1996), and Herb Ritts (1999).
His books led to institutional backing from The Museum of Fine Arts in Boston in 1996. The release of Herb Ritts: Work was accompanied by an exhibition of Ritts's photographs at the museum, which was seen by over a quarter of a million people.
Ritts subsequently had many exhibitions worldwide and continues to do so many years after his death.
In 2012, the book L.A. Style was released alongside an exhibition of Ritts's work at J. Paul Getty Museum in Los Angeles.
Ritts was selected to photograph the Pirelli Calendar on two occasions: 1994 and 1999.
For the 1994 calendar, Ritts photographed supermodels: Cindy Crawford, Helena Christensen, Kate Moss, and Karen Alexander. The calendar titled, A Homage to Women set out to capture the women of the 90s.
In 1999, he photographed twelve top models, with each model representing a different decade of the 20th Century from the can-can girl of the Belle Époque (Chandra North) up to the year 2000 and beyond (Alek Wek).
Ritts was committed to HIV/AIDS-related causes and contributed to many charitable organizations including amfAR, Focus on AIDS, The Elizabeth Taylor AIDS Foundation, Project Angel Food, APLA, Best Buddies, and the Special Olympics. Ritts was also a charter member for The Elton John AIDS Foundation.
The Herb Ritts Foundation was formed in 2003 following his wishes to advance the art of photography and to support HIV/AIDs in the spirit in which he lived.
Ritts's Style
Clean, minimal aesthetic
Shape, form, and lines
Use of environment and landscapes
Natural light, bold contrast, and shadows
Mainly black and white
Influences
Ritts has gone on record to say he was influenced by the following:
Photography: Helmut Newton, Irving Penn, Martin Munkasci, Man Ray, Philippe Halsman, George Hurrell, Horst P Horst, Louise Dahl-Wolfe, Edward Weston, and August Sander
Art: Botticelli, Umberto Boccioni, and Salvador Dali
Ritts draws on many influences that are both photographic and from old Hollywood. He had a great appreciation of beauty and elegance and took inspiration from painting and sculpture for his fashion work. Ritts admired Salvador Dali and would often try to incorporate surrealist elements into nude and fashion shots.
To learn the history of art opened up certain things to me, made me see. It intrigued me.

Herb Ritts
Edward Weston's sleek modernist forms, Man Ray's experimental photographs… and the suggestive sensuality in Horst P. Horst's nudes… Herb's photographs… were inspired by a subtle blending of the best qualities of the photographers he admired. But Herb's work, made from his own vision, was undeniably unique and authentic.

David Fahey
What Camera Did Herb Ritts Use?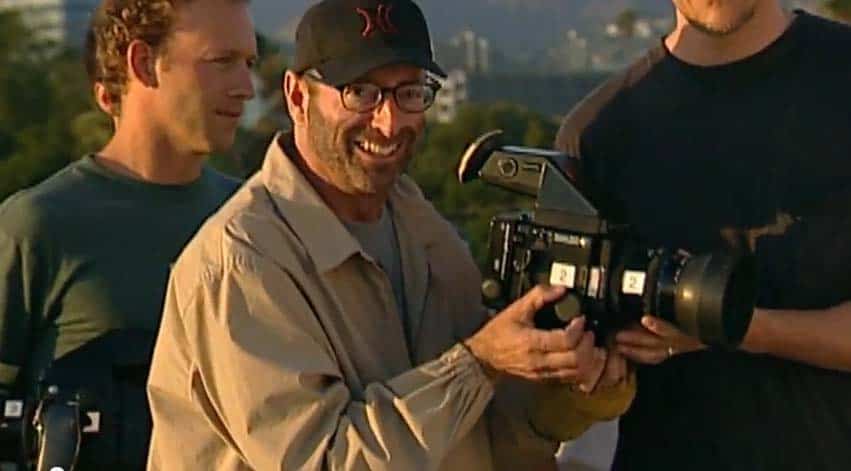 Mamiya RZ Pro II + Mamiya Z 150mm F3.5
Kodak Tri-X Pan Professional 320 (Rated at 250)
Nikon F3 + Nikon 85mm F2 AI-S
Ritts's main camera for his fashion and portraiture work was a Mamiya RZ67 Pro II medium-format film camera with 220 back and a Sekor 150mm f3.5 lens. He would typically shoot at F5.6 or F8.
Note: Some websites claim he used the 180mm lens, but this simply wasn't the case. He used the Sekor 150mm F3.5 (35mm equivalent of 75mm).
What's incredible is that all these photos in this article are shot using the focal range of 75-85mm.
I think a lot of the time these days people are so concerned about having the right camera and the right film and the right lenses and all the special effects that go along with it, even the computer, that they're missing the key element. That element is developing a style that's yours and experimenting with it until you eventually discover what makes sense to you.

Herb Ritts
His black and white film choice was Kodak Tri-X Pan Professional 320 (Rated at 250).
Ritts's worked with three identical cameras (all the same setup). Once he finished a roll of film, an assistant would hand him another camera, this would allow him to keep up the pace of his photoshoot and capture that all-important "moment" without having to concern himself with changing film.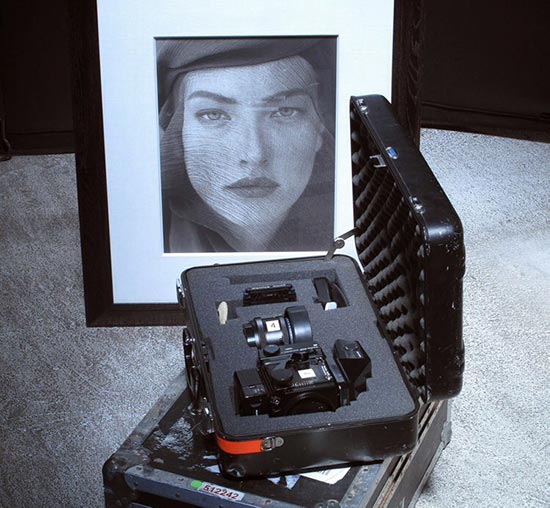 Ritts also used a Nikon F3 with motor drive and an 85mm F2 AI-S lens. He used the 35mm Nikon camera for work on the location when there was a lot of movement, such as his subject running towards him.
The first camera Ritts purchased was a Miranda for $152 in 1976. This is the same camera he used to shoot his now-iconic image of Richard Gere that gave him his first break in photography.
How to Shoot Like Herb
In 2002, Ritts was asked to give advice to young photographers, he replied:
Feel your surroundings. Try and develop a style. Don't get caught up in the technical side of things. Feel what is right in terms of light, subject, and composition. Dare to experiment, catch a moment.
Ritts was a gifted photographer who was highly creative, an excellent communicator and had an exceptional understanding of the technical side of the craft – especially his use of light and shadow – but his ability to bridge the gap between art and commerce is what set him apart from other photographers of the day.
In his early years, Ritts followed in the footsteps of Bruce Weber, but soon developed his own photographic style incorporating the golden California sunlight and his Hollywood environment in his work.
When he was not in the studio with a white backdrop, he set up his compositions in the desert or on nearby beaches where the model could connect with the natural surroundings.
As a master of light, he favored bright California sunlight because it achieved a strong contrast of bold shadows and warm tones.
He had a genius for lighting, he had a genius for shape, and when you get all that into something it makes Herb Ritts a very special person, and as a photographer one of the best of all time.

Eric Buterbaugh
To get a better understanding of Ritts's style and his approach to photography, I've pulled together the best quotes and excerpts from various interviews with Ritts over the years, along with comments from people that have worked with him.
I also recommend watching the short film documentary Herb Ritts: LA Style (below) produced by Getty in 2012.
Catching a Moment
I can have a given situation set up, but it's catching that moment – allowing them to be themselves – and capturing something that's special.

Herb Ritts
Ritts achieved a careful balance of glamorizing and humanizing his subjects within the same photo. Whether it was a movie star, musician, religious leader, or model, Herb Ritts had a way of getting to the "essence" of a subject.
When it came to the photoshoot, he never envisaged the final shot, preferring to find a rhythm together with the subject as they worked. This method created an opportunity for spontaneity and magic to happen between Ritts and his models.
You have to remember that the decisive moment is when you're shooting. I'm not sure how it was in the past, but think, for example, of the moment when Cartier-Bresson captured that picture of the man bicycling in silhouette: That's what he called the decisive moment, that's the picture.

With portraits, you know something is right from what your eye is telling you. If this bubble was here, or if it was down here, or if his head was too low or too high, or if the shadows vary, or if the body was away from the wall-these are all elements you're pondering when you're working. There can be surprises, especially with movement, that you can't predict. I'm open to surprises. I always leave room.

I remember once working all afternoon on a beach with Naomi Campbell, during a beauty shoot for Italian Vogue. After the shoot, we were walking up the steps on a cliff. It was twilight, the sun had set. We'd shot all day. I turned around, and she looked so gorgeous that I just stopped, took a few shots, and that's what was printed. I'm glad I was open to seizing the moment.

Herb Ritts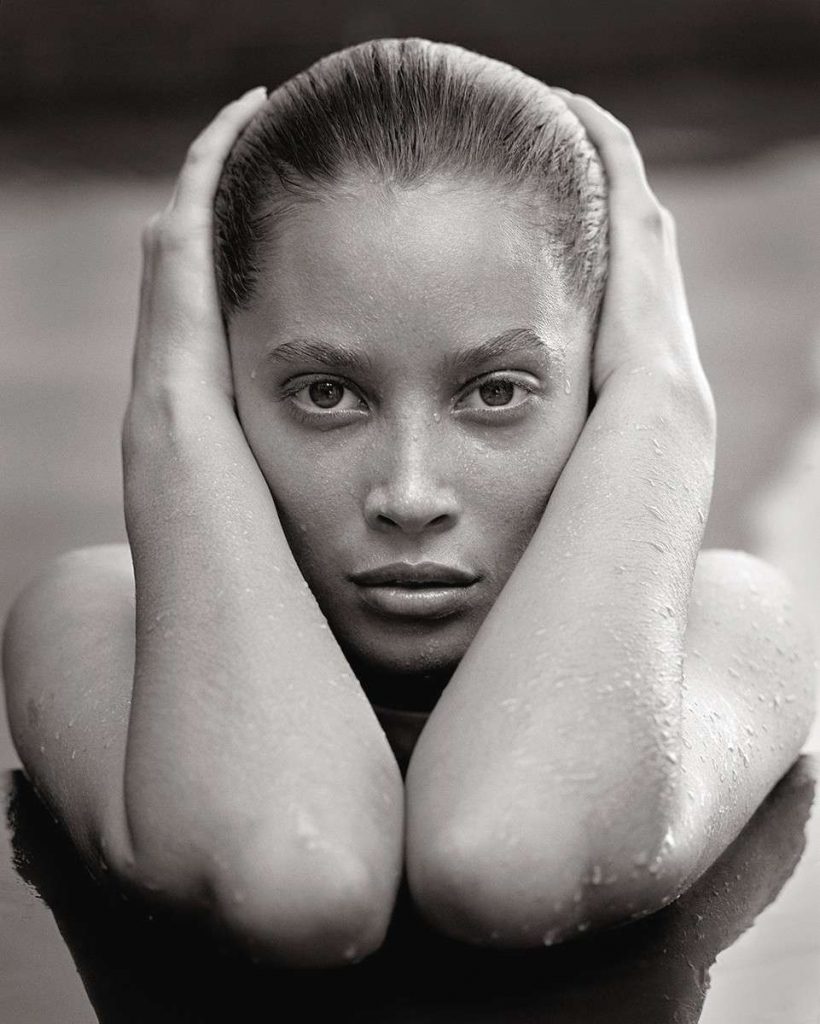 Working with Subjects
Madonna describes the experience as being "Herbified."
What does it mean to be Herbified: He talks you into going to the beach. Then, he talks you into taking off your clothes. He talks you into dancing and frolicking in the sand like an idiot. He talks you into getting into the freezing cold ocean, and before you know it, you have sunburn and you're freezing your ass off and you're sure you've just made a huge fool out of yourself.

Madonna
On the beach, Herb was incredible… the shoot that really stands out was the Playboy shoot. I almost didn't go… I was nervous… but we had the best time, and the pictures were so incredible. Half the time when we worked with Herb, we wouldn't even want to stop. Because once you get that rhythm going, you just don't want to stop. You don't want to break it.

Stephanie Seymour
It isn't surprising therefore that Ritts became such close friends with those he photographed.
Working with Herb was more like just hanging out with a friend. We'd joke, chatter and gossip and at the end of the day, he would have captured the whole thing in the lens. He was a great guy.

David Bowie
I say this kindly, but I don't see that many up-and-coming photographers with the same finesse, that understand the light so well, that understand film, that also understand how to communicate. But Herb was always so excited… You feel like you're actually creating things together, and the great photographers all have that… And it was magical. That's the best way I can describe Herb, it is always magical.

Tatjana Patitz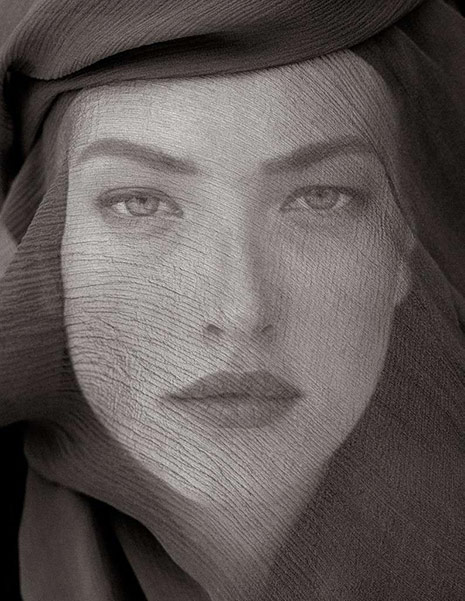 Portraits
When he was asked about his formula for success, Ritts replied:
It's not the celebrity quality of the person that makes the photograph interesting. It's letting the true person through which makes the photograph interesting and lasting.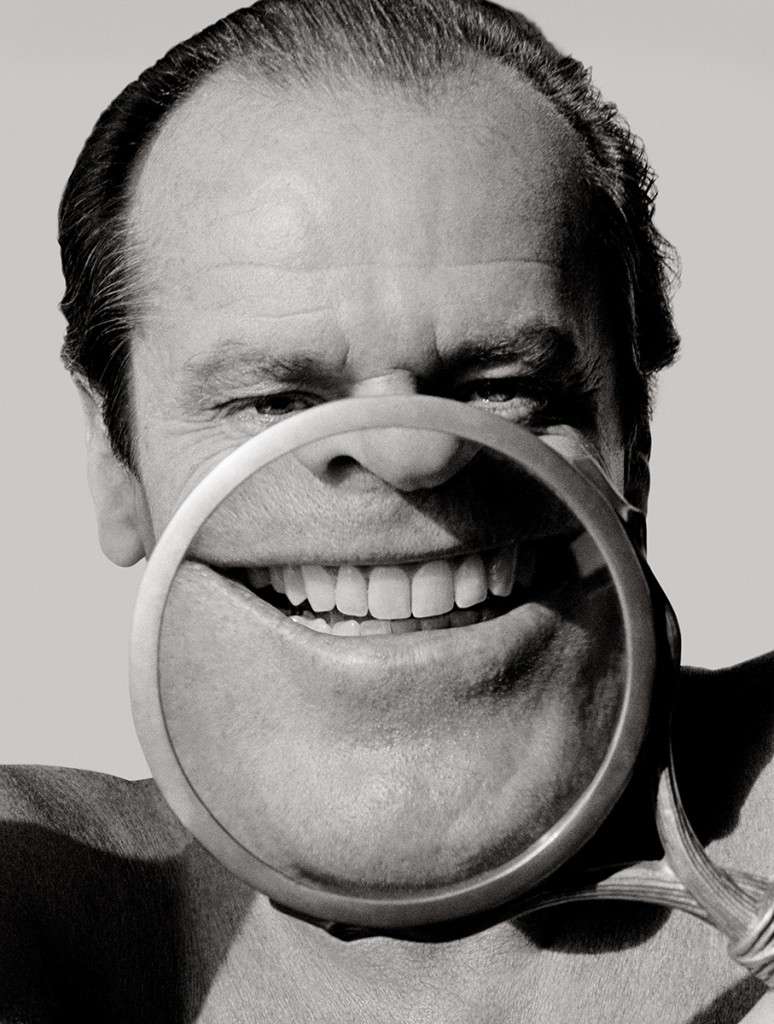 Ritts would often complicate his portraits by making celebrities less than instantly recognizable. The ambiguity of the sitter's identity gives his pictures a sense of mystery.
With Nicholson, for instance, what the magnifying glass did, quite by accident, was make even more of a caricature of him. He's such a larger-than-life person, anyway, that if you magnify the one thing, his smile, his grin, it makes for even more of an impact. As to the mechanical aspect, with Stephen Hawking I photographed the back of his unique wheelchair; with Prince I photographed the stark mannequin he form – fits all of his clothes on. These objects speak about the person without them actually being present.
Related Article: 150+ Portrait Photography Quotes
For me, a portrait is something from which you feel the person, their inner quality, what it is that makes them who they are. For instance, in the hand of the Dalai Lama donning his prayer beads in the window light; you feel his spirituality, his sense of presence. Frequently, the most interesting people to photograph are elderly. George Wallace, Bukowski, William Burroughs, Rauschenberg, Mandela. They've lived their lives. It's all in their face, and it shows.

Herb Ritts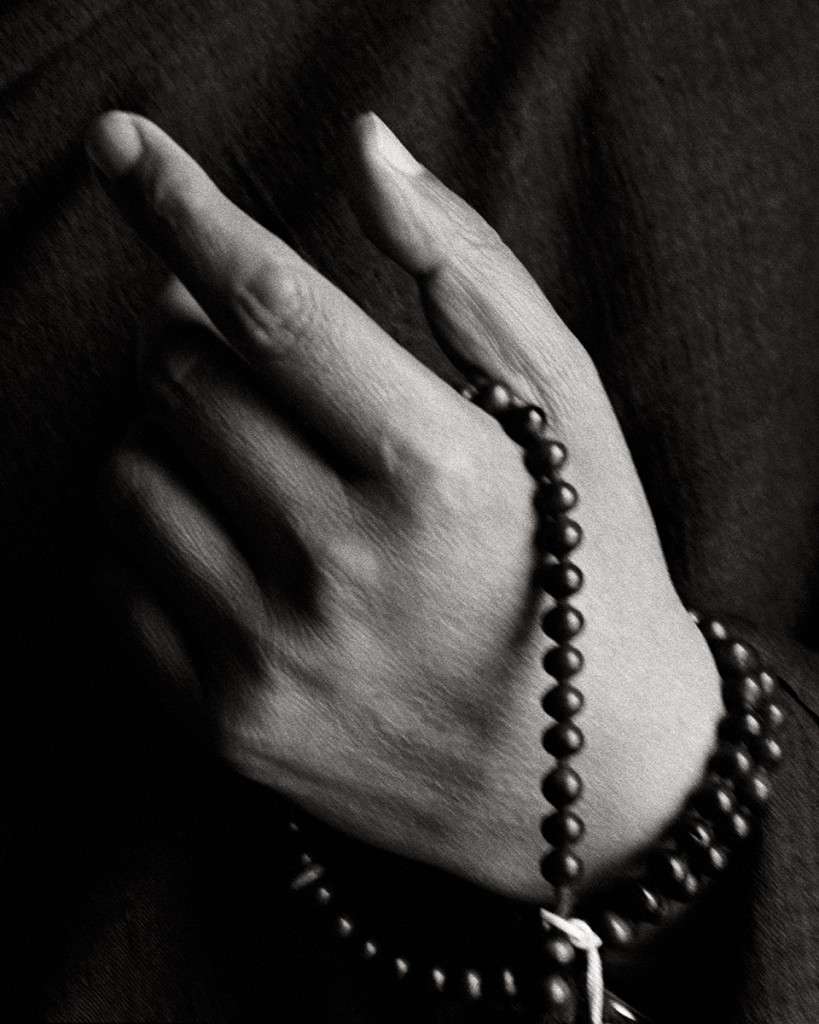 Herb derived a style that delivered the perfect irony: the planned and posed images showing the subjects' reality.

David Fahey
Herb's Light
Ritts preferred outdoor locations such as the desert and the beach, which helped separate his work from other photographers.
Ritts was drawn to the environment and would often use the sea, sand, and sky as a backdrop in his images. By shooting on an outdoor location, he was also able to use the elements to help shape the light.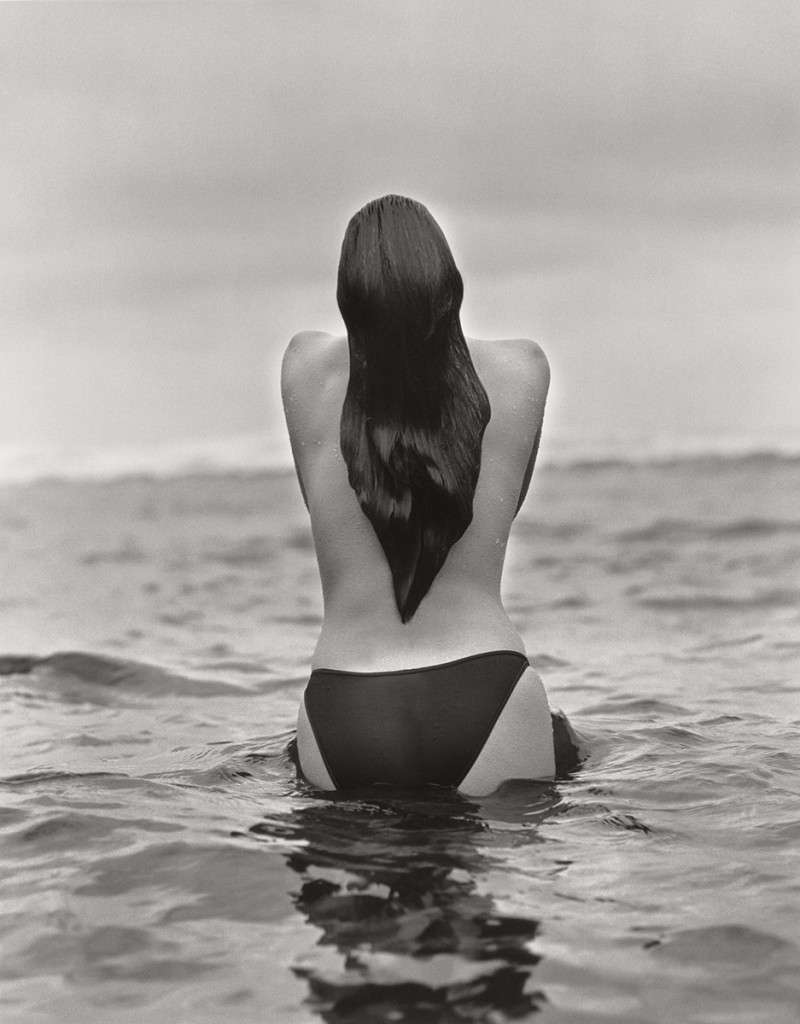 Herb had been raised with light, with the beaches, with the sun. Everybody before that was in the studio shooting and controlling everything. Suddenly he was able to take the same things outside and make people more natural and yet still have that glamour.

Charles Churchward
Ritts loved the golden California light. He liked strong contrast and hard light, which added more depth to his images and incredible texture and detail.
His lighting style was heavily influenced by Hollywood, and his method for lighting was more like a cinematographer than a photographer.
Herb Ritts's Lighting Method
You just fall in love with that light – it's Herb's light.

Naomi Campbell
Ritts's favorite time of day to shoot was between the hours of 3 and 6 PM when he was able to capture that magical California light.
His lighting was extremely simple: a single strong directional source, flags to block light and reflectors to fill in shadows.
Ritts used direct light with hard shadows. This can be accomplished in two ways: either by direct sunlight (Herb's preferred method) or by use of Fresnel lights (also known as hot lights).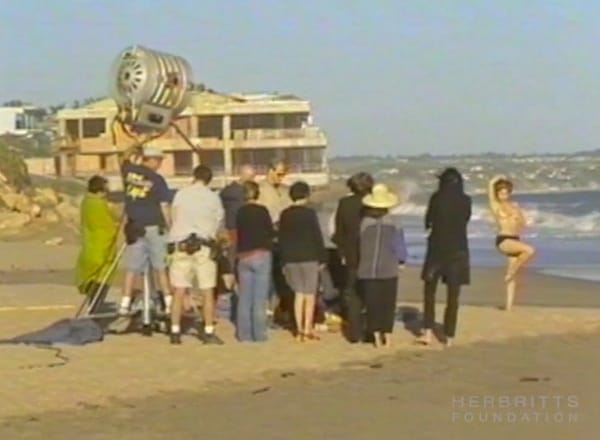 When I came on board as Herb's regular lighting director on still shoots, I quickly understood what made him different. Herb was into hot lights. This terminology is big in the still world. It means lights that do not flash and create heat. Herb hated strobes. He loved looking through the viewfinder and seeing the light. He was able to orient a model's face perfectly by being able to see the light, instead of taking a shot, then looking at it. He wanted to stay liquid. "Herb Liquid" was what we called it in the moment.

Shane Hurlburt
Use of Fresnel Lights
Ritts only used Fresnel lights to replicate the character of natural sunlight. Fresnel's emulate the look of direct sunlight because they create a hard-edged shadow like the sun.
Traveling all over the world with Herb was absolutely incredible. Some of my best jobs to date have been with him. He inspired me to light, to look at a woman's face and see which is the best side to light. I was blown away with how he would position his light, his HARD LIGHT. It became my mission to know where and when to position the light and from which side was best. Soon Herb did not have to say anything. We became so in sync as artists that he would show up, look at what I had set up and head back to make-up and hair.

Shane Hurlburt
Herb Ritts taught me how to light a face, how to make an actor comfortable, and how to deliver beauty with a unique look and feel.

Shane Hurlburt
Ritts also had plenty of fill light in his photographs:
When working with natural sunlight, Ritts's fill would come from reflectors held by assistants. With Fresnel lights, the fill would come from indirect fill sources such as bouncing the light off reflectors, or walls.
Ritts used different light modifiers to shape light for both his location and studio work. These modifiers include scrims, diffusers, reflectors, snoots, grids, and flags.
Herb's studio was large and well lit, with walls painted white. Ritts also had a folding wall built on the roof of the studio. The wall was on wheels, which meant it could be pivoted toward or away from sunlight as needed.
Shape and Form
Ritts's hallmark style was uncluttered frames and clean lines, utilizing light and shadow as form. Ritts often borrowed from classical sculpture, and his study of art history is apparent from many of his photos.
In an interview with Playboy, Cindy Crawford said that while Ritts "had no sexual interest" in her, he could not wait to remove the clothes from his models because of his obsession with "line and geometry".
That was evident in many of his pictures such as Backflip, in which the somersaulting body became an almost abstract, symmetrical design. The balance and order of his photographs were only enriched further by the contrasting element of mystery and spontaneity.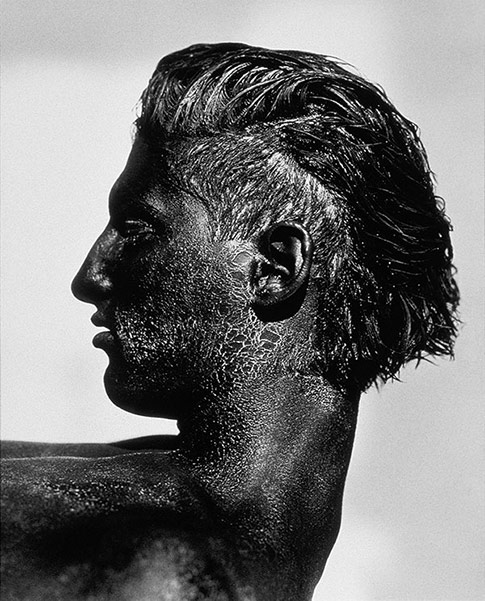 Take this Ritts' photo from 1986. Ritts used black mud to cover the model's face, hair, and torso, creating an image that's reminiscent of ancient Greek bronze sculpture.
Rather than make a profile photograph of the subject in a standing or sitting pose, he has the subject lie down and then raise his head at a 90-degree angle to the torso, adding tension to the photograph. There are many other examples where Ritts uses this pose.
Ritts believed that natural elements and subjects stripped to the barest form were the most difficult to capture, but he always seemed to do so in a sculptural way, defining the body's form and detailing lines and curves beautifully.
Other Herb Ritts Resources
Recommended Herb Ritts Books
Disclaimer: Photogpedia is an Amazon Associate and earns from qualifying purchases. All links to Amazon are affiliate links, which means we receive a small commission for any purchases you make. It doesn't cost you anything extra, but this commission keeps Photogpedia running and is the reason we're able to offer so much free content.
To learn more, read our Affiliate Disclosure page. Thank you for your support.
Herb Ritts Videos
Making of the Pirelli Calendar (1999)
The Making of Michael Jackson's In the Closet (1992)
Here's a full list of Music Videos directed by Ritts. You can watch all the videos on our Herb Ritts YouTube Playlist (opens in new window)
1989 – Cherish, Madonna
1991 – Wicked Game, Chris Isaak
1991 – Love Will Never Do (Without You), Janet Jackson
1992 – In the Closet, Michael Jackson
1994 – Please Come Home for Christmas, Bon Jovi
1996 – Let it Flow, Toni Braxton
1998 – My All, Mariah Carey
1999 – Baby Did a Bad Thing, Chris Isaak
2000 – Telling Stories, Tracy Chapman
2001 – Gone, N'Sync
2001 – Don't Let Me Be The Last To Know, Britney Spears
2001 – Ain't It Funny, Jennifer Lopez
2002 – Underneath Your Clothes, Shakira
More Herb Ritts Photos
You can view more of Herb Ritts's photos by visiting the Herb Ritts Foundation
Herb Ritts's Contact Sheets
Recommended Reading
Herb Ritts Interview, by François Quintin, 1999
Interview with Hermann Vaske (PDF, Google Drive)
Fact Check
We strive to be accurate and fair with all our photographer profiles. If you see something that doesn't look right, then contact us and we'll update the post.
If there is anything else you would like to add about Herb Ritts's work, then send us an email: hello(at)photogpedia.com
Link to Photogpedia
If you've enjoyed the article or you've found it useful then we would be grateful if you could link back to us or share online through twitter or any other social media channel.
The more links we have to us, the easier it will be for others to find the website and learn from master photographers like Herb Ritts.
Finally, don't forget to subscribe to our monthly newsletter, and follow us on Instagram and Twitter.
Sources
Herb Ritts: Official Site of Herb Ritts Foundation
Catalogue: Herb Ritts, ArtNet
Ritts Profile, American Photo, Jan-Feb 1999
Herb Ritts Interview, by François Quintin, 1999
Herb Ritts Obituaries, The Independent, 2002
The Photograph That Kicked Herb Ritts's Career into High Gere, The Getty, 2011
Herb Ritts, In Retrospect, Vanity Fair, 2012
L.A. Style at the Getty Museum, Telegraph, 2012
Herb Ritts Exhibit at the J. Paul Getty Museum, Shane Hurlburt, 2012
The glamorous eye of Herb Ritts, CBS News, 2012
Getty Museum Collection: Herb Ritts, 2012
Herb Ritts: Beauty and Celebrity, The Oklahoman, 2013
10 Iconic Photos of Herb Ritts, Harper's Bazaar, 2015
ASC Close Up: Shane Hurlburt, American Society of Cinematographers, 2016
Herb Ritts: L.A. Style, Getty Publications, 2012
The Golden Hour: A Photographer's Work and His World, Rizzoli Publishing, 2010
First Person with Maria Shriver, 1991
Herb Ritts on The Arsenio Hall Show, 1992
The Today Show with Bryant Gumbel, 1996
Herb Ritts at the MFA Boston, October 1996
The Making of the Pirelli Calendar, 1999
Herb Ritts: L.A. Style Short Film Documentary, 2012