In the last few years, numerous new metal photo prints companies have emerged. While more competition is always good, not all of these companies are delivering the same level of quality.
For consumers and professionals alike, finding the best metal photo prints company can be a long and difficult process. This of course involves trying out different companies. Thankfully, this is where my 10 years of experience working with the world's top metal print labs comes into play.
As the director of photo sales for a popular cruise line, I have personally tested over 36 different companies that offer metal prints at various price points. Today, I am going to share my top 5 companies for the best metal prints in the United States.
How I Ranked the Top Metal Prints Companies
Part of my job as the director of photo sales is to find the best quality prints for our guests. Thing is, different guests have different budgets and requirements. As a result, I have personally worked with 36 different metal print labs, from small, local businesses to large, multinational print companies. This experience is what sets this list in a league of its own.
Unlike many other "best of" lists on the Internet, this article is not driven through an affiliate program or anything of that nature. Most blogs get a financial incentive from companies to promote their brands and always rank them best. If you're wondering why Pictorem makes the number one spot on most of these lists, this is why. When a company is offering a whopping 15% affiliate commission, blogs tend to conveniently forget to mention the mediocre print quality.
Rest assured, this blog is not one of them. I've worked with most commercial metal print labs and a whole lot of smaller, privately owned businesses. This list is a true reflection of that experience, ranking print companies on the basis of:
print quality
price-to-performance ratio
ease of ordering
flexibility
The Top 5 Metal Print Companies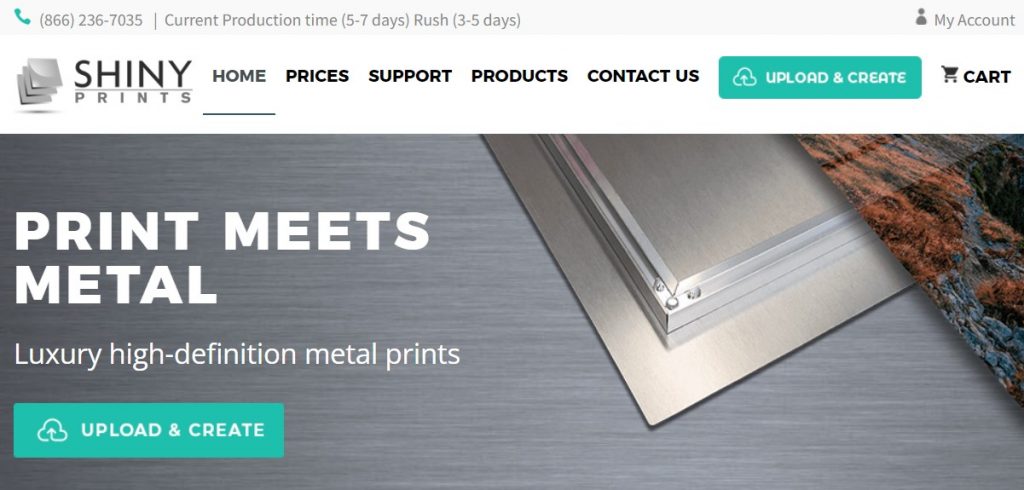 In the world of high-quality metal prints, there are two types of customers, those who use Shiny Prints and those who have not yet heard of Shiny Prints.
Shiny Prints is a South Florida-based Metal Prints lab that does Chromaluxe Metal Prints and nothing else. I discovered this lab after a price increase with my existing vendor (Bay Photo) for 4 years. This forced me to reach out to other labs to see if a more competitive agreement could be reached to avoid having to change our pricing. I discovered Shiny Prints while vacationing in West Palm Beach for a week visiting a local art show. I asked the artists who they were using for the prints. Everyone who was willing to share their lab, had just one name to say – Shiny Prints.
Needless to say, I immediately reached out to Shiny Prints. Upon receiving samples, I was blown away by their attention to detail, ordering system, and the fact that I can speak with one of the owners on demand. I always thought the difference between one lab to the next for metal prints was negligible until Matt at Shiny Prints showed me examples of their work. He explained why they are able to achieve sharper and wider range of colors than their competitors.
Shiny Prints is the lab Chromaluxe uses to fill orders and regularly refer customers to. Chromaluxe is the manufacturer of the state-of-the-art coating that absorbs the inks to create HD Metal Prints.
Editor's Note:
Always make sure your lab is using Chromaluxe Metal sheets, as currently, there are no close competitors in this industry but we are always keeping our eyes and ears open.
Shiny Prints also offers features that not many other labs do, such as Signature Backstamp which allows you to print your logo or branding information on the back of the print. They also have a good selection of mounting options and frames as well. They offer custom shapes but that's something you would have to contact them directly about.
Our Verdict
Shiny Prints isn't a large, commercial print lab (not yet anyway) so you get that small business feel with them in addition to a very easy-to-use and refined ordering interface that has a commercial lab feel to it. Along with their outstanding quality and product options, their pricing is probably the lowest in the industry even for non-professionals.
Pros

Highest quality in the industry
Best overall prices for Chromaluxe ("HD Metal") prints
Automatic white label dropshipping
Easy ordering process through their website
Print up to 48″x96″
Custom sizes
Backstamp signature option
10-year rating on their outdoor metal prints
Just $15 for image enhancement
Provided cleat hanger has a built-in hanger, making it easy for your customers to hang.

Cons

No expedited shipping option
Shipping to West Coast can take up to a week
Frames and Mounting options: float, edge mount, tuxedo mount, aluminum floater
Sample Sizes and Pricing
8×12 : $32.00
16×24 : $99.00
24×36 : $224.00
30×45 : $349.00
40×60 : $590.00
48×72 : $859.00
48×96 : $1,100.00

Based out of Rhode Island, Blazing Editions is a full-service print lab focused on the needs of professionals. It's the go-to option for many of the high-end galleries in the North East area for metal prints. Their quality is exceptional and they come very close to the quality of Shiny Prints, albeit with a much higher price tag (2-3 times more). They also do Chromaluxe Metal and they do it very well.
Blazing Editions' presentation is one of the things that separates them from just about any other print lab. When you look at their website or step into their studio, you instantly sense the premium experience they are trying to offer.
Unfortunately, this sophistication comes at a price as they do not have an easy-to-use website ordering system, meaning you will need to contact them to get your account set up and start placing orders.
Our Verdict
Blazing Editions is a great metal print company creating high-quality metal prints. The only thing that might turn away customers is the prices and the relatively difficult ordering system, especially for end customers. That said, if you run a gallery, Blazing Editions can definitely be a beneficial partner given their experience in the fine art industry.
Pros

High quality on metal prints as well as canvas and paper
Great gallery and pro support.
Custom displays
Offers signature backstamps
Custom sizes and shapes
Experience in custom installations and projects
Assistance and support for fine art galleries

Cons

Not practical for end consumers.
Long lead time
Lack of easy online ordering system
Expensive
Frames and Mounting options: float, edge mount, sintra mount, wood floater
Sample Sizes and Pricing
12×18 : $72.00
18×24 : $144.00
24×36 : $288.00
30×45 : $450.00
40×60 : $800.00
48×72 : $1,152.00
48×96 : $1,536.00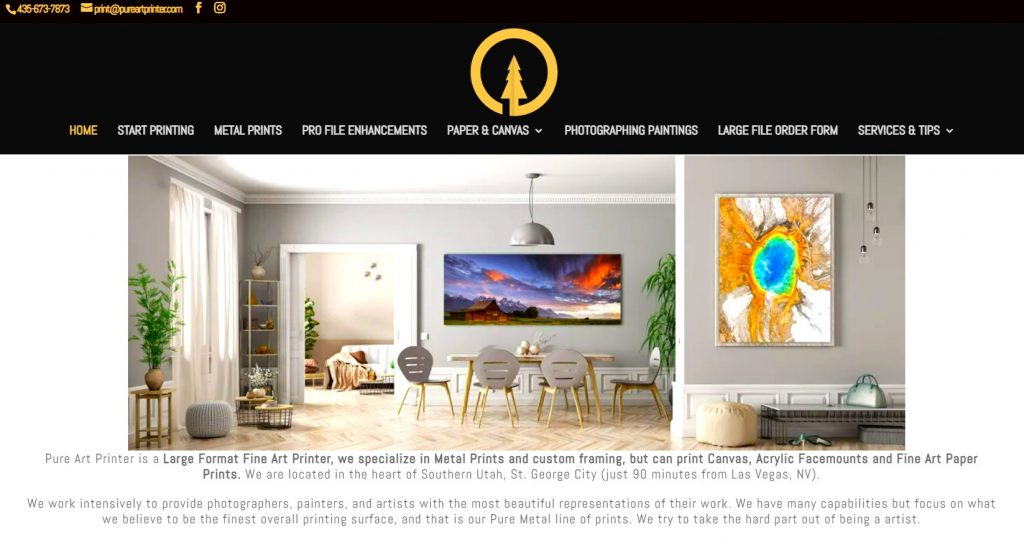 Located in St George, Utah Pure Art Printer is a hidden gem of the industry. Pure Art Printer is the closest thing you will find to Shiny Prints but on the West Coast. Their price-to-performance can only be matched by a handful of companies across the United States, offering great quality metal prints at some of the lowest prices in the industry.
I have had great results using Pure Art and would definitely recommend using them if they are nearby and you're looking to establish a relationship with a great local metal print lab. The West Coast, specifically California is highly saturated with print labs but not most are mediocre at best, prioritizing volume over quality and service.
This is what separates Pure Art Printer from the rest. They have one of the best file-enhancing systems in the industry with a very respectable rate of $25 per image and offer other options as well as add-ons to help you get what you're looking for. You can find a lot of their work on their website along with before and after examples.
Our Verdict
If you live on the West Coast and are looking for a high-quality print lab, Pure Art Printer is worth checking out. This metal print company is a small lab by one of the owners. You can expect high-quality work at very affordable prices.
Pros

Great pricing
Great quality
Custom sizes
Wide array of standard sizes

Cons

Poor online ordering system
Customer support can be spotty
Sample Sizes and Pricing
8×12 : $37.21
16×24 : $96.60
24×36 : $188.29
30×45 : $395.00
40×60 : $792.00
48×72 : $1,140.00
48×96 : $1,520.00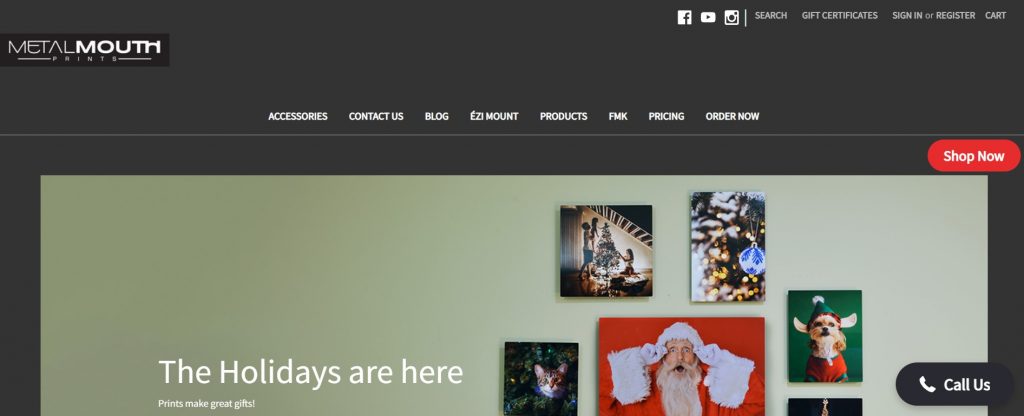 Run by photographer Ben Gasser, Metal Mouth Prints is a metal prints lab in Overland Park, Kansas, offering exceptional quality at reasonable prices.
Their flagship offering is the FMK Print (short for Facemount Killer). This is an HD metal print face-mounted to a sheet of Dibond aluminum with a foam core. This is comparable to Shiny Prints' Tuxedo option and Blazing Editions' Sintra option.
Another unique and interesting option from Metal Mouth is their "eZi Mount" option. This allows you to swap out metal prints quickly and easily by reusing the same frame over and over. I have not personally tried this option. It does not make sense for professionals who are reselling their prints. However, this could make it more affordable by not having to buy a new frame with every order and possibly save on shipping costs by just having to receive a bare metal print without the bulk and heft of a frame. If I ever test this eZi Mount system, I will be sure to update this page with my feedback and thoughts.
Our Verdict
Metal Mouth Prints is a great metal prints lab with unique and very useful types of mounts. They have relatively high lead times which make them less ideal for professional needs. However, they are still a great option for end customers, especially with their reusable mount.
Pros

Great quality
Craftsmanship is very good on their mounts
Unique framing options such as the eZi Mount
Free shipping for sizes up to 30×45

Cons

Only prints up to 40×60
Very long lead times
No backstamp option
Website can be a little tricky to use
Sample Sizes and Pricing
8×12 : $49.00
16×24 : $139.00
20×30 : $187.00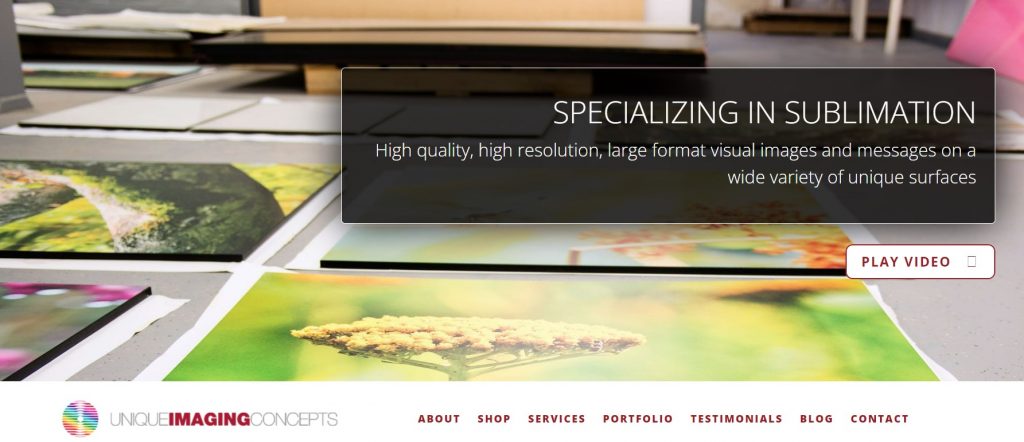 Located in Louisville Kentucky, Unique Imaging Concepts is located a stone's throw away from the manufacturer that makes the Chromaluxe Panels. Like the rest of the companies on this list, their metal prints are of very high quality but what truly sets them apart is their customer service.
Dan Rutledge, owner of Unique Imaging Concepts has been producing Metal Prints for over 8 years working directly with Chromaluxe. Dan is one of the nicest, if not the nicest person I have had the pleasure to meet in any print company. He will do anything and everything he can to get you the results you're looking for. He will also be completely honest with you about his limitations.
In addition to all of this, Unique Imaging Concepts is one of a select few companies that offers the 10-year outdoor Chromaluxe due to their close relationship with Chromaluxe.
Our Verdict
If you are located in or near Kentucky, it is worth reaching out to Dan to establish a business relationship. I am certain you'll be happy with the quality and especially happy with the way this company operates itself.
Pros

Over 10 years experience
Experience with commercial installations
Professional Owner Support

Cons

No easy online ordering
Must make a free account to see sizes and prices
Sample Sizes and Pricing
8×10 : $45.00
16×24 : $121.75
24×36 : $251.50
30×45 : $379.00
Avoid Using Print Mills When You Can.
A Print Mill is a larger print company that deals in high volume.  Print mills invest a lot of their money in marketing and advertising as well as a high converting, easy to use website.  These companies are great for ordering something very quick and easy due to their user friendly website design and layout.  These companies often employ many workers at minimum wage and have very high turnover rates for their staff.  Unlike Print Labs, Print Mills prioritize profits over quality and consistency.  The number one objective for a print mill is to lure you in to their system with an enticing deal so they can keep marketing to you with specials.
By there very nature, it is hard for a print mill to maintain consistency due to how many different printers they have and how many different workers they employ.  A minimum wage worker is not going to take pride in each print they are helping produce because they are not as invested in the company as a smaller print lab where the owners or loyal staff will be producing the prints.
The most popular and well known Print Mill is Bay Photo, which was acquired by Circle Graphics in 2020.  Bay Photo is the largest consumer print lab in America and offers the largest variety of print mediums and framing options.  They are a convenient, one stop shop for just about any kind of print you could want.  Bay Photo also owns MetalPrints.com, Aspen Creek, Black River and others.  Print Mills tend to offer more sales and specials, but be warned about their pricing as they will usually artificially inflate their prices so that their specials look very attractive.  Print Labs may be harder to find due to the lack of advertising and marketing, but they will almost always be the best bang for your buck.
Using ChromaLuxe To Find Metal Print Companies Near You
Chromaluxe is the standard for high-quality metal prints. That's what customers should be looking out for when finding the best print lab.
Thankfully, Chromaluxe makes this process incredibly easy with their Where to Buy tool. Simply enter your State and the lab type you're looking for and Chromaluxe will list authorized Chromaluxe vendors near you. This is a great tool to ensure that the vendor you go with uses Chromaluxe and follows their best practices for the highest quality.
Avoid Print Mills When You Can
Conclusion
Making out the quality differences between metal prints is not easy, especially for the untrained eye. Even professionals need to personally inspect the print to ascertain quality which takes time (evaluating customer service can take even longer).
One of the best ways to ensure great quality and great customer service is to look for smaller, privately owned businesses rather than large businesses that become too big for their own good. Once a business is corporately owned, quality control suffers as maximum profit is prioritized. Similarly, larger print labs by their very nature are difficult to maintain a consistent level of high quality. Large print labs have numerous amounts of printers and staff. This means you're likely to never receive the same results or quality from one order to the next.
The problem is finding these smaller companies as they're not spending hundreds of thousands on advertising budgets.
I am trying to remove this barrier by highlighting companies that offer a great balance between professional needs (price and quality) and end-customer needs (ease of ordering along with price).
We hope that you find this article helpful. Thank you for reading and you're always free to leave a comment. If you find this article interesting, consider checking out one of our recently published posts. A few of them showcase these AI Art Generators in extreme detail. On the other hand, if you're looking towards Photography, we also offer great articles for your inspiration. We also have multiple articles that talk about the various printing mediums for wall art. May these articles give you inspiration for your next print!
Find them here:
The 5 Best AI Art Generators
Why Choose Metal Prints using Chromaluxe?
Guide to Product Photography
Guide to Toy Photography
The Art of Editing Photos
Best Outdoor Print and Signage Options
Best Wood Printing Companies in 2022