Metal Prints using ChromaLuxe are the go to choice for these kinds of prints. We all know that image matters. ChromaLuxe metal prints have extraordinary clarity and archival quality not found on a regular metal print.
Metal Prints are a great addition to any home. They provide great detail as display pieces for any part of your house. Turn your plain old wall into a creative display gallery of your most precious photos. Metal Prints are the highest form of wall prints. They provide excellent quality, durability, and life span. It really is worth investing in for cherishing your most precious memories.
The objective of this article is to highlight the benefits and advantages of using ChromaLuxe as the medium for printing on metal prints. Multiple locations across America partners with ChromaLuxe giving you the ability to get hands on these metal prints easily.
What are Metal Prints?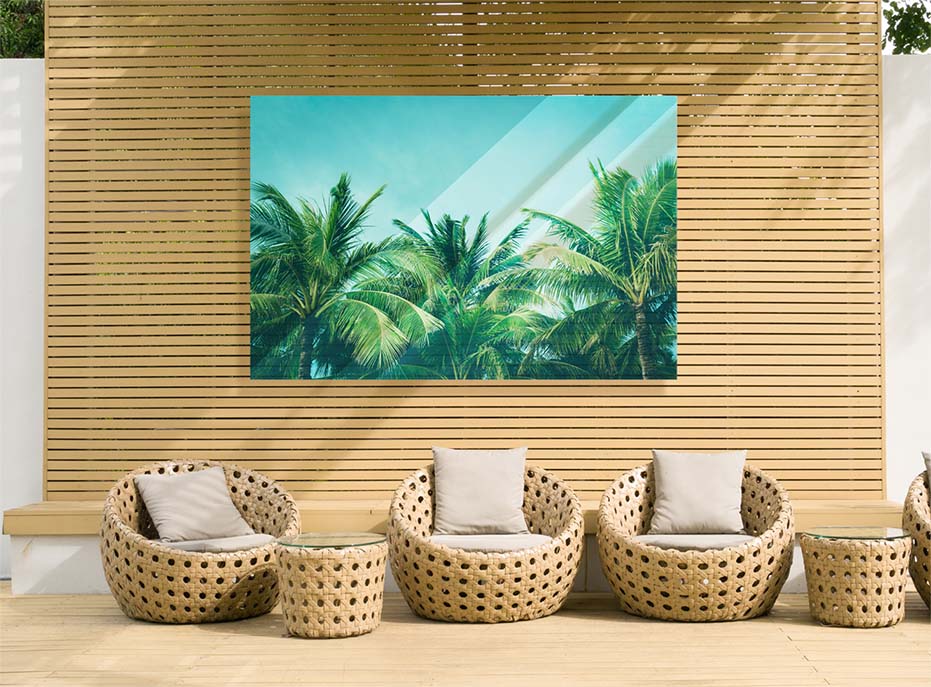 Metal Prints are modern and high definition pieces of wall art. These prioritize quality without compromising longevity. They are well known for being the toughest and most long lasting medium for Wall Art.
A metal print is a wall art piece that has a clean, modern, industrial, high-definition look. Metal prints utilize aluminum, with a variety of coats. This gives off vivid colors on any printed image. Metal prints are resistant to fading, moisture, and scratching. This makes metal prints the superior choice for both indoor and outdoor display.
These head-turning metal prints showcase your best photos in colorful hues. Printing photos on a metal piece gives your photo a striking industrial and modern touch to your walls. As a bonus, they do not require frames! Installation is a breeze, with a handy hanger attached to the back. This makes mounting these metal photo prints quick and simple.
These ultra-modern metal prints are the highlight of your wall art pieces and perfectly display your personalized photos. Make your wall art piece one of a kind with a variety of design options. Choose from a wide range of layouts, backgrounds, and custom texts.
What is ChromaLuxe?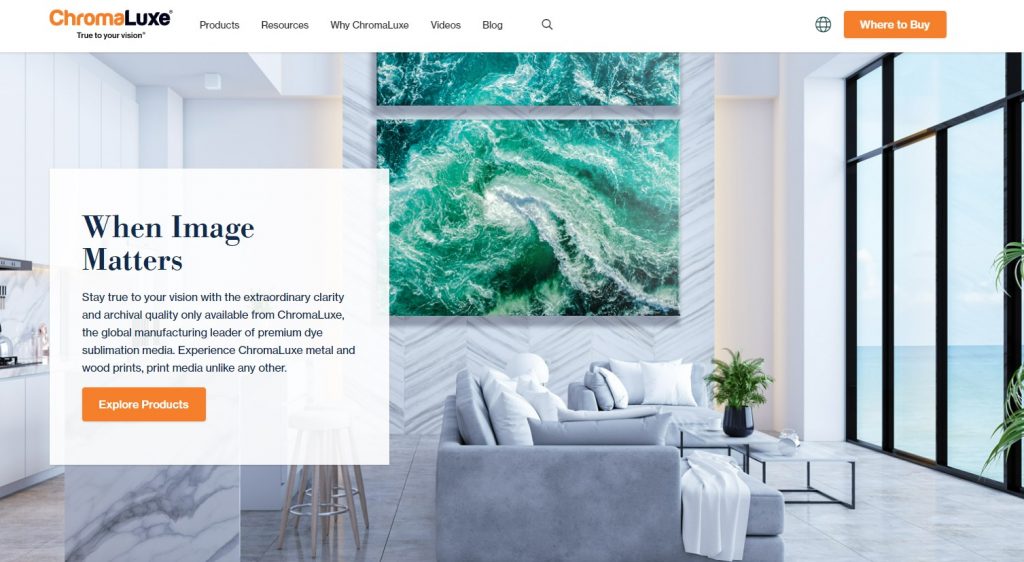 ChromaLuxe is the global manufacturing leader of premium dye-sublimation wood and metal prints for photographers and artists. They focus their time and manpower on perfecting the printing method of dye-sublimation. Their company created a state of the art coating that allows infusion of images directly onto sheets of metal or wood. This displays any form of fine art or photos in absolute vibrancy, clarity, and longer lifespan than other printing mediums.
ChromaLuxe is proudly made in the USA. From the heart of Louisville, Kentucky, ChromaLuxe ensures that their craft and products are the best that the industry has to offer. ChromaLuxe represents the finest in American craftsmanship and quality. All raw materials for their substrates come from the United States. This ensures that every ChromaLuxe product meets exacting standards.
ChromaLuxe expanded their operations across the world and have dedicated offices for all continents. ChromaLuxe is a proud member of Universal Woods. Universal Woods is the world's most exceptional manufacturer of hard surface sublimatable products.
Why Choose ChromaLuxe Metal Prints?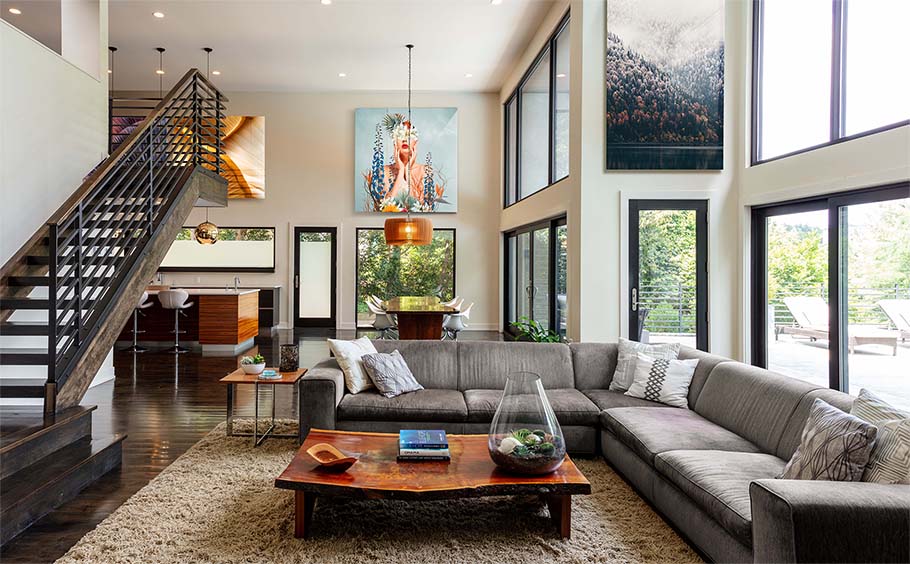 ChromaLuxe being a global company and manufacturer of metal prints already speaks volume. They are the top choice for metal prints as well as wood prints. The high definition and vibrant colors of ChromaLuxe are perfect for metal print applications. This, paired with superior fade, moisture, stain, and scratch resistant properties, make it an excellent choice for both residential and commercial applications.
ChromaLuxe holds superior durability compared to its competitor. Laboratory tests demonstrated ChromaLuxe has a significantly longer lifespan than the longest lasting photo papers. This ensures that ChromaLuxe metal prints retain their properties and appearance for generations to come.
ChromaLuxe champions their Paragon process. Their company defies even the highest expectations. This is the result of a time tested manufacturing system. Through the years, their system undergoes continuous quality and assurance checks. Their commitment to innovation makes them a true center of excellence for the industry.
Types of ChromaLuxe Metal Prints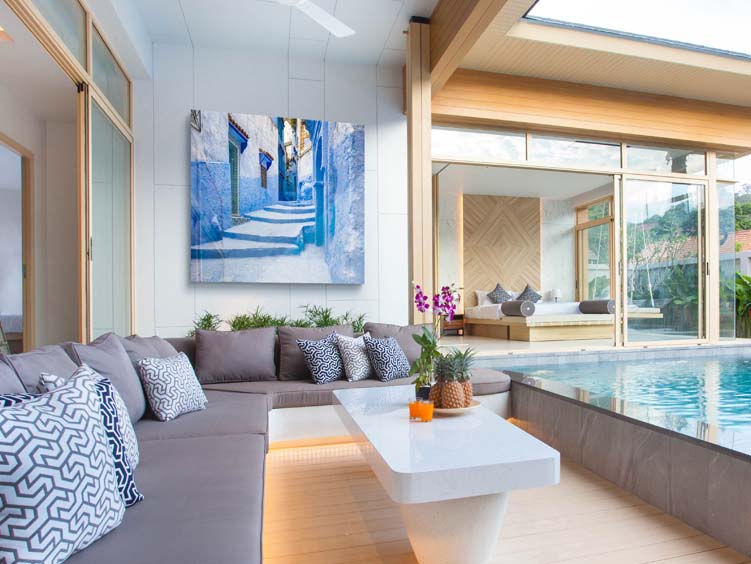 Just like the ordinary metal print, ChromaLuxe metal prints come in different styles. The three main types of ChromaLuxe Metal Prints are Interior Photo Panels, Outdoor Photo Panels, and Creative Borders.
Interior Photo Panels
When talking about interiors, a home is the first thing that comes to mind. A ChromaLuxe metal print beautifully serves as a stunning display piece for any home. However, the durability and appearance of ChromaLuxe prints make it the top choice for improving indoor spaces such as offices and lobbies.
Outdoor Photo Panels
Outdoors always pose threats to any form of print. The ever changing weather conditions affect the appearance of prints. However, due to the extended life and superior durability of ChromaLuxe metal prints, they serve as great outdoor photo panels. A regular ChromaLuxe metal print has a 5-year outdoor rating while ChromaLuxe metal prints with Kiian Inks provide the best results. The outdoor performance ratings of Kiian Inks stay consistent on a 10+ year rating. This ensures that outdoor print and signages using these inks will last a minimum of 10 years.
Finishes of ChromaLuxe Metal Prints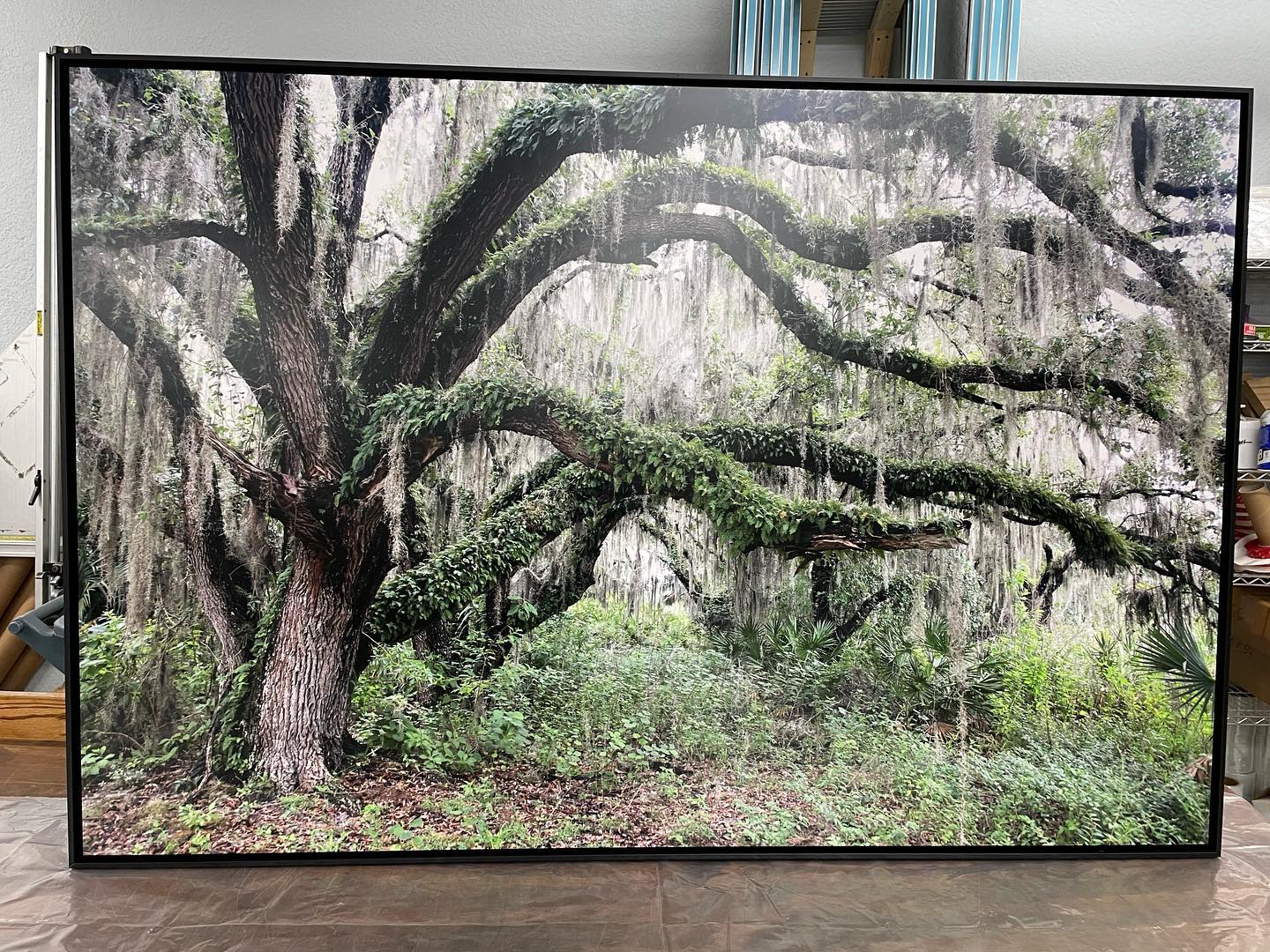 Make your ChromaLuxe metal prints personal and ideal through their range of finishes and coatings. Each of these have their own advantages over the other. All of these however, maintain the superior durability and longevity of a ChromaLuxe metal print.
Gloss White
Colors pop and details come to life with the white base and thick high-gloss coating. This is an excellent finish for any subject. Landscapes, nature, action photos, water scenes and other photos come to life with this finish.
Gloss Clear
High-Gloss finish applied without the white base allows the natural silver of the aluminum shine through. Detail and vibrant color still remain but with a unique effect. This effect favors all types of photography. Images in black and white or with strong color find new meaning on the Gloss Clear finish.
Semi-Gloss White
Intense color, crisp detail and reduced glare make the Semi-Gloss finish an exceptional choice. With a gloss level between the Gloss and Matte, Semi-Gloss provides you with the best of both worlds.
Matte White
Surface reflection is always a concern for vibrant prints. The Matte White finish is the optimal choice. The surface provides a rich, smooth finish where colors come alive with perfect subtlety.
Matte Clear
Avoiding reflection and bringing out the beauty of images with an aluminum base is exactly what the Matte Clear finish does. Display fine art or landscape images under direct light and watch images come to life.
Features of ChromaLuxe Metal Prints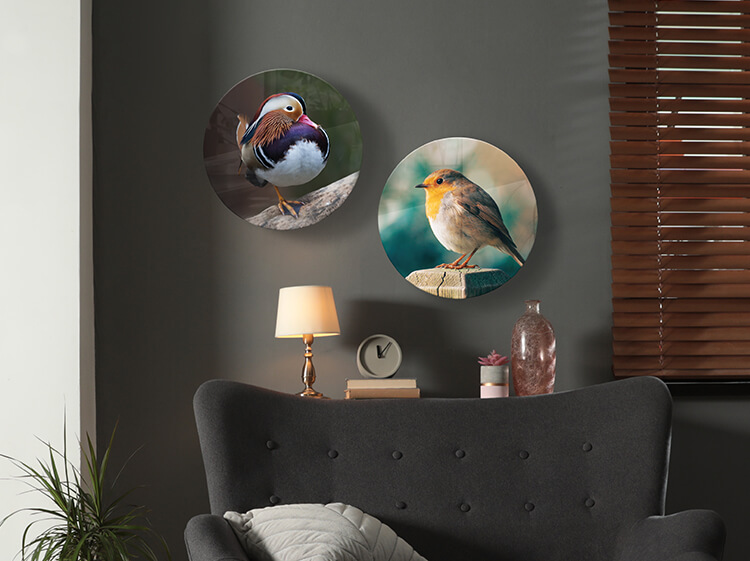 ChromaLuxe metal prints are in a class of their own. As previously stated, they are the top choice for dye-sublimation metal and wood prints. ChromaLuxe boasts exceptional brilliance and clarity in their products.
ChromaLuxe allows for images to be infused directly into coated metal sheets, meaning each and every detail is vividly and accurately displayed. Their substrates and coatings mean images are rendered in a virtually ageless medium that withstand environmental factors such as sun and rain.
ChromaLuxe metal prints offer personalized presentation and ease of display. These prints offer both wall-mount and easel configurations. This gives you the personalized choice of their display. ChromaLuxe photographic panels are easy to mount in both interior and outdoor environments. They do not require additional framing before hanging.
ChromaLuxe metal prints are lightweight and flame resistant. Every metal print from ChromaLuxe is lightweight and easy to carry, relocate or display without additional mounting hardware required. All ChromaLuxe products meet ASTM standards for flame spread and smoke development, making them exceptionally safe for every environment.
Metal Print After Care and Maintenance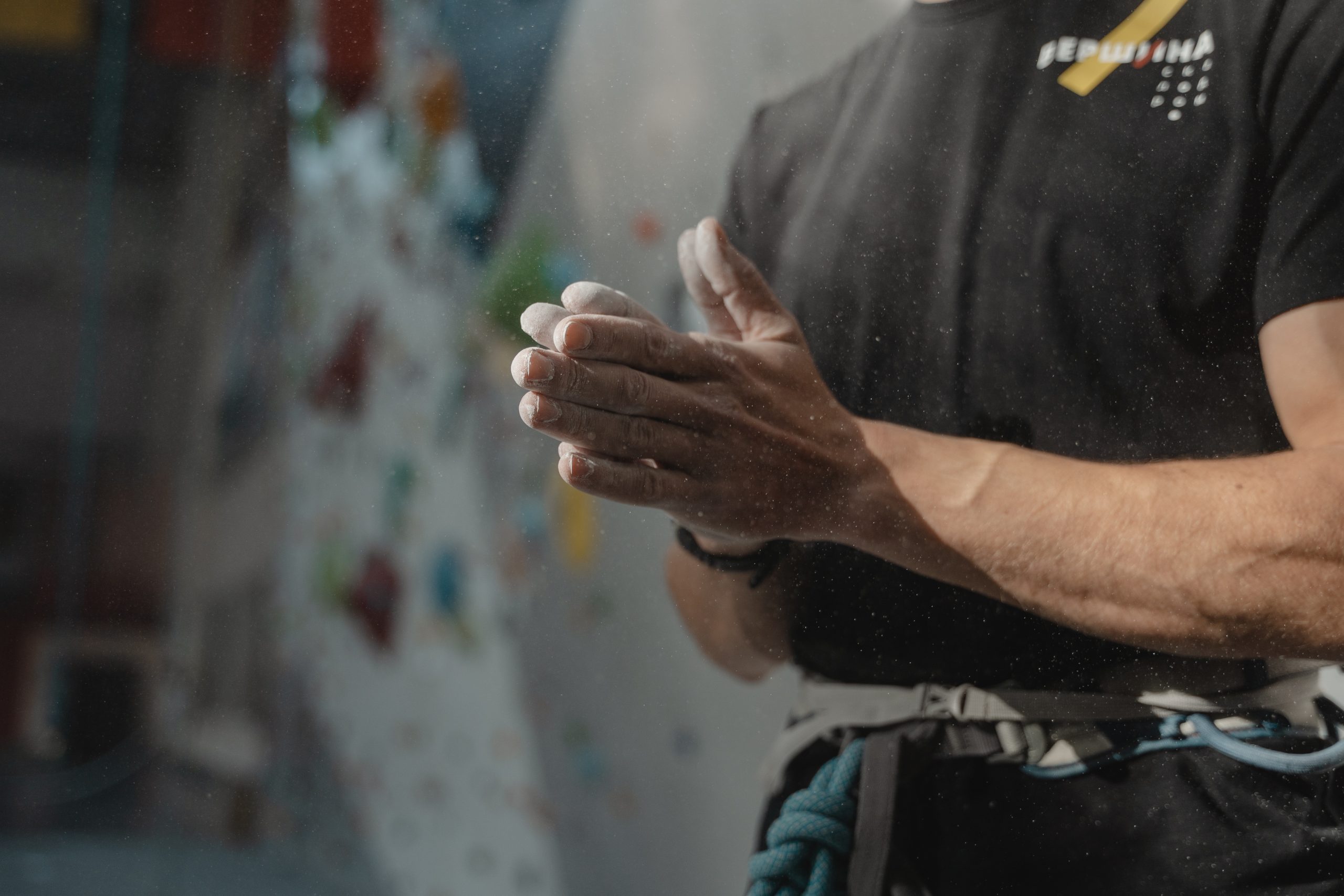 In the previous sections, we discussed the lifespan and longevity of a metal print. Nevertheless, after care for these wall art is still notable. Here are the main points to follow to ensure the longevity of your display pieces.
1. Avoid Direct Sunlight
Firstly, sunlight is harmful to any type of prints due to the UV exposure it causes. Direct exposure to sunlight causes changes in color particularly fading.
Proper lighting can bring out the colors of these display pieces. Indoor light sources are preferred rather than placing your prints in areas that are hit with direct sunlight.
2. Avoid Wet and Humid Areas
Secondly, humidity is another factor for wall art deterioration. Humidity causes your prints to be subjected to vapor. Wetness affects the surface of the printing medium and with time, also changes not just the durability but also the color.
General tip for this is to display these wall art in air conditioned rooms if possible. Air conditioners regulate not just the temperature of the room but also the room's humidity.
3. Avoid Rubbing
Next, when cleaning your wall art, it is of best practice to dust them instead. Rubbing the wall arts causes friction to its surface. Friction causes heat and at times, scratches. Heat also affects the paint applications on your chosen medium. Though most mediums are scratch resistant, it's still best practice to use a feather duster instead of a cloth.
4. Avoid using Chemicals
Lastly, we know that it's tempting to use cleaning chemicals to easily clean various surfaces. With regards to prints though, it is best to avoid them. The ink used on your wall art pieces may have certain reactions to cleaning products and affect their overall appearance.
If some areas of your prints are still unclean upon dusting, a wet damp cloth will suffice. If this fails, it would be best to take your display pieces to professional cleaners.
Conclusion
ChromaLuxe is the global manufacturing leader of premium dye-sublimation wood and metal prints for photographers and artists. The products they offer provide the best quality you're looking for in a print. The various options for display, coatings, and finishes make each print personalized and one of a kind.
Metal prints already are the most durable and long lasting form of wall print. Pairing them with ChromaLuxe enhances all their properties further. ChromaLuxe defies even the highest expectations. This is the result of a time tested manufacturing system. Through the years, their system undergoes continuous quality and assurance checks. Their commitment to innovation makes them a true center of excellence for the industry.
Afterword
We hope that you find this article helpful. Thank you for reading and you're always free to leave a comment. If you find this article interesting, consider checking out one of our recently published posts. A few of them showcase these AI Art Generators in extreme detail. On the other hand, if you're looking towards Photography, we also offer great articles for your inspiration. We also have multiple articles that talk about the various printing mediums for wall art. May these articles give you inspiration for your next print!
Find them here:
5 Best AI Art Generators
World Photography Day 2022
Guide to Product Photography
Guide to Toy Photography
The Art of Editing Photos
Best Outdoor Print and Signage Options
Best Wood Printing Companies in 2022
We enjoy reading your comments and insights with our posts! Should you have any questions or concerns, feel free to leave them below! -Mark