Steve McCurry needs little introduction. He has been one of the most important figures in photography for more than four decades.
The multi-award-winning photographer has taken some of the most recognizable images in the history of photography, including his iconic 1984 image Afghan Girl, arguably the most famous portrait of the 20th Century.
His photos have been featured in every major magazine in the world and he has been a member of co-operative photo agency Magnum since 1986.
McCurry began his career as a press photographer in Pennsylvania before traveling to India to work as a freelance photographer.
His coverage of the 1979 Soviet invasion of Afghanistan, which he slipped across the border from Pakistan to photograph, won him the Robert Capa Gold Medal.
Since then, he has gone on to take many iconic images that tell stories of people, places, and cultures around the world.
You could call him a photojournalist, documentary photographer, or even a portrait photographer, but McCurry shoots with the simple objective of capturing images that will stay with the viewer for a very long time.
When you look at a Steve McCurry photograph you simply don't just look at it, instead, you are drawn into it: there's a sense of mystery and timelessness about his photos that make them unique.
[He] brings you into the photograph… because of the shadow and lack of light perhaps, and also because of the color palette. And once you are in the picture you realize you are caught.

John Echaves, National Geographic
In this article, we'll look at Steve McCurry's background, photography style, and share his tips and advice for better photography.
Related: 57 Steve McCurry Quotes to Advance your Photography
As always, if you enjoy the article or find it helpful then we would be grateful if you could share with other photographers on social media, forums, or even your website.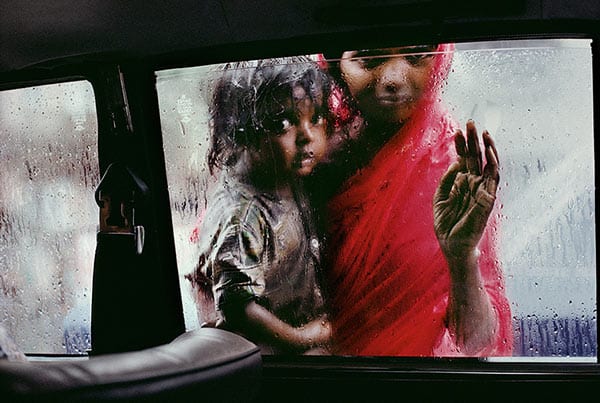 Steve McCurry Biography
Name: Steve McCurry
Nationality: American
Genre: Photojournalism/Documentary, War, Portrait, Travel
Born: April 23, 1950 (Philadelphia, USA)
Early Career
Steve McCurry began his photography journey whilst at Penn State University, where he studied cinematography and film. He started out wanting to be a filmmaker, but after working for the college newspaper, he developed a passion for still photography.
After graduating, McCurry looked for a job in the film industry but ended up getting a job at a local newspaper as a photographer, where he stayed for three years.
When I left I was torn between stills and movie making and could have gone either way. What decided it was that I couldn't get a job in the film industry, but did manage to get one on a newspaper. I've never regretted this decision.

Steve McCurry
In 1978, he left his job and set off for India for a short self-funded assignment, carrying just a small bag of clothes, another bag full of film, and 2 film cameras.
I researched story ideas before I left and I hit the ground running. I was fascinated with the colour, vibrancy, culture, people, geography and the monsoons in India.

Steve McCurry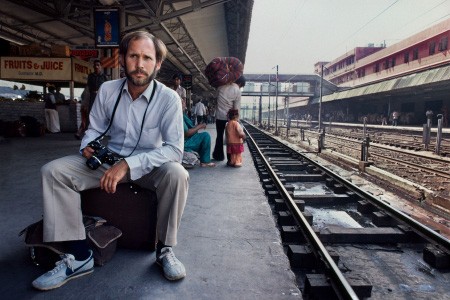 Conflict Photography
After eighteen months on the road, he found himself in Pakistan, where he came across Afghan refugees.
While I was up in the north of Pakistan, I met some Afghan refugees who invited me to go into their country and see what was happening…
The story they told him piqued his interest, and he followed them back across the border into Afghanistan to photograph the civil war. However, his journey to the rebel-controlled country was not an easy one.
He disguised himself by growing a full beard and wearing traditional Afghani attire, then snuck across the border through the mountains of Pakistan and into Afghanistan. The Russians invaded in late 1979, and McCurry found himself as the only working photographer on hand to shoot the invasion.
When he left the country, he hid his film inside his clothing – sewn into the folds of his turban and stuffed into his shoes and underwear.
As I was ready to leave, I got very nervous that when I crossed back into Pakistan, my film would be confiscated. So I put my film in my socks and my underwear. I sewed some of the film into my costume and into my turban, so that if I were arrested, I would at least keep my film safe. I wasn't arrested.

I got a few pictures published in The New York Times. And when the Russians invaded six months later, I had all these pictures that nobody else had. Suddenly major magazines around the world – Paris Match, Stern, Time, Newsweek, and LIFE — were using my pictures."

Steve McCurry
The resulting photographs – among the first photographic evidence of the conflict – were published in The New York Times, Time Magazine, and other newspapers around the world.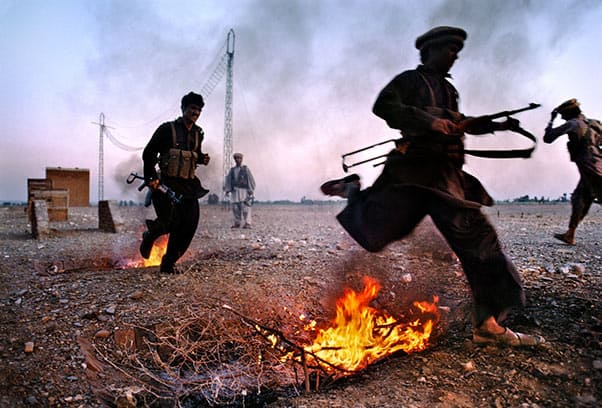 Recognition and Awards
The pictures opened the door for many other assignments and helped McCurry land his first National Geographic assignment in 1980.
When I crossed the border to Afghanistan in 1979, just in time to document the Russian invasion, I didn't dream that the country and her people, would have such a profound influence on my work and my life.
McCurry's Afghanistan photographs won him the Robert Capa Gold Medal in 1980 s – an accolade that commends photographers for their courage and enterprise.
After his critically acclaimed Afghan War coverage, McCurry continued to deliver regular photo reports from international conflicts – including the Iran-Iraq War, Yugoslav civil war, the Cambodian Civil War, the Gulf War and the Lebanese Civil War – while returning again and again to Afghanistan.
In contrast to the more conventional war photographers like Don McCullin, Larry Burrows, and to a lesser extent, James Nachtwey, McCurry's pictures highlight the human cost of conflict and the effect of war on innocent bystanders.
I look for the unguarded moment, the essential soul peeking out, experience etched on a person's face. I try to convey what it is like to be that person, a person caught in a broader landscape, that you could call the human condition.

Steve McCurry
The Afghan Girl
In the 1980s, while photographing at a refugee camp in Afghanistan, McCurry took his best-known photograph – "Afghan Girl" – a powerful portrait of a young girl with haunting green eyes (finally identified in 2002 as Sharbat Gula).
The image became one of the best-known covers for National Geographic and touchstone in his career.
McCurry snapped the image in a matter of minutes back in December 1984, inside a tent in a refugee camp in Pakistan during the Soviet occupation of Afghanistan; but he didn't record the girl's name, never imagining the power the picture would have.
One day in 1984, at the refugee camp very close to Peshawar (Pakistan), I heard voices coming from one of the tents. It was a makeshift school for young girls. I asked the teacher there if I could take photographs.

Her eyes were the first thing that struck me. What interested me in that classroom that morning was actually that particular girl. I photographed other girls, but that was more just trying to position myself so that I could photograph her. She seemed pretty shy, a little bit troubled. I shot a few frames of her.

I spent about five minutes photographing her and then she quickly ran off to play with her friends. It was one of those cases, where all the elements of the picture came together in a magical way.

Steve McCurry
McCurry shot the photo on Kodachrome 64 film using a Nikon FM2 and Nikon 105mm F2.5 AI-S lens.
In June 1985, the photograph appeared on the cover of the National Geographic magazine. It would later feature on the cover of the National Geographic 100 Best Pictures collector's edition in 2001. It is also named "the most recognized photograph" in the entire history of National Geographic magazine.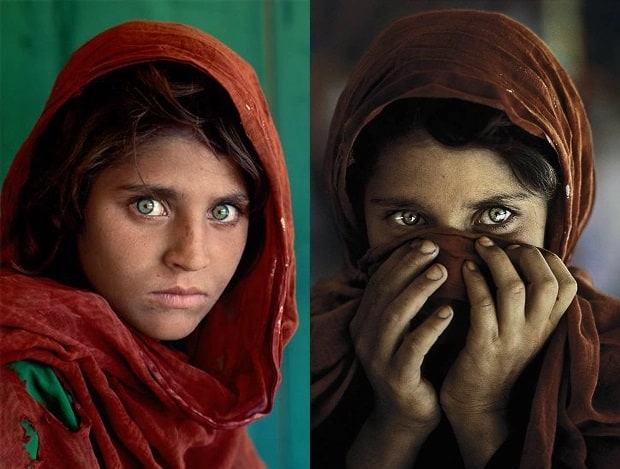 I can understand why it moves people: she's mysterious, ambiguous. She's beautiful, yet she's troubled. She's persevering, there's a fortitude in her. She's poor, but she's not timid. It's a picture you can come back to time and time again.

Steve McCurry
Incidentally, the photo editor at National Geographic chose another image of Sharbat Gula in which she was covering her face to run as the cover for the magazine. Just before the magazine was to go to print, the magazine editor vetoed the photo editor's choice and decided to run with the iconic photo we all know instead.
The photograph would later represent to the world the plight and courage of the survivors of the Afghan War in the 1980s.
The Afghan Girl Re-Visited
The image resonated so strongly that almost seventeen years later, in late 2001, with new turmoil in Afghanistan, the National Geographic Society and McCurry, launched an ambitious effort to find the long-lost girl who had become an icon in the West.
In January, she was found living in poverty in the war-torn country, and McCurry photographed her again. This time he learned her name: Sharbat Gula.
She was a striking little girl with an amazing look. I knew when I saw her it was going to be a powerful portrait. But her parents had been killed and life was difficult for her. When I began to search for her again I was told she had died in childbirth or been killed, but 17 years later we found her. It's a very conservative place there, but we were happy we found her and [I was] relieved she was alive. I think she was happy she came to represent Afghanistan.

Steve McCurry
Steve McCurry's Legacy
In his 40 year career as a photographer, Steve McCurry has traveled to the far corners of the earth to shoot conflicts, landscapes and cultures. But the one region that continues to occupy a special place in his heart is Asia.
The thing that fascinates me about this region is that we're all playing these different roles but we're all part of the same human race. We're the same, but we do things in different ways. We eat different foods, live in different houses, speak different languages.

Steve McCurry
Whatever the setting he happens to be shooting in, the emotional focus on his documentary photography invariably returns to the human factor. His affinity for photographing people has distinguished his work from others and has helped him earn countless awards.
McCurry has had several close calls – he was arrested in Pakistan, nearly drowned in a plane crash at sea in Slovenia, beaten up by a mob in India – and has been reported dead at least twice.
The part of my brain that's concerned with self-preservation is very large. I always try to work within a margin of safety. You have to be alert and careful – and hope for the best.

Steve McCurry
Pirelli hired McCurry to lens the 40th edition of their famous calendar in 2013. The tyre company headed to Brazil and in a break from tradition, the models were shot with their clothes on in the heart of Rio de Janeiro.
In 2015, McCurry was commissioned by Microsoft to take photographs in New Zealand, which were later used for their Windows 10 software.
Awards and Achievements
Aside from the Robert Capa Gold Medal in 1978, McCurry was awarded the Magazine Photographer of the Year award in 1984.
He also holds the distinction of having won four first prizes at the World Press Photo Contest and the Olivier Rebbot Memorial Award twice.
In 2002, he was named Photographer of the Year by American Photo Magazine and the PMDA (Photo-imaging Manufacturers and Distributors Association).
Steve McCurry founded ImagineAsia in 2004. The non-profit organization aims to work in partnership with community leaders and regional NGO's to provide educational resources and opportunities to both children and young adults in Afghanistan. You can learn more about the project by visiting the ImagineAsia website.
McCurry received two Honorary Fellowships in 2006, one by the Royal Photography Society of Great Britain and the other by the New Zealand Institute of Professional Photography.
His work has been widely published internationally and McCurry frequently contributes to the National Geographic. In 1986, he became a member of the prestigious Magnum photos.
In 2019, Steve McCurry was finally inducted into the International Photography Hall of Fame.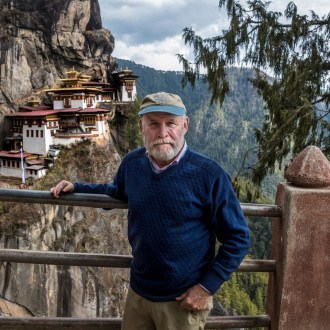 Style
Reportage, documentary
Capturing mood, human spirit
Use of color to create atmosphere and sense of place
Storytelling, narrative-driven
Simplicity, chance
Immersion into community, getting to know subjects
How to Shoot Like Steve McCurry
Steve McCurry's long association with National Geographic has afforded him opportunities to take months-long assignments in locations all over the world.
When on assignment, McCurry usually travels with locals who serve as assistants, guides and translators, he often wears native garb and tries to blend in with his surroundings.
A lot of what I do is just wandering and observing. I might see someone on the street and feel there is some story written on his or her face.
Like most photographers, he researches a country beforehand and draws up a list of locations, but once on location he lets the journey dictate what to shoot instead.
I always try to hit the ground running. I try to have a translator lined up as an assistant; this is the main thing. It's always good to have someone who can speak the local language, and who can navigate where to go and help if there's a problem. But as far as research goes, I don't ever want to do too much of it because, if you go with too many preconceived notions, it can spoil things.

Steve McCurry – Interview with Amateur Photography Magazine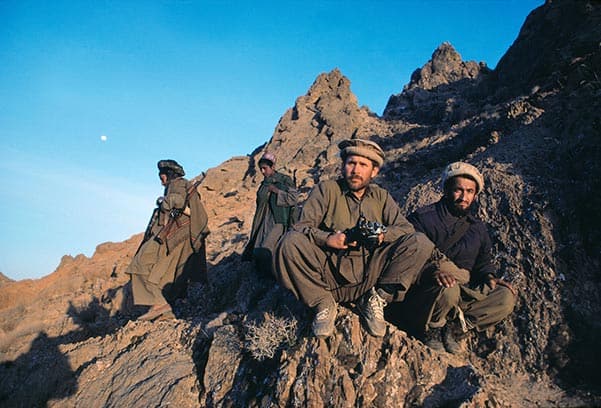 Preparation and Good Light
McCurry plans his shooting days around the light. He prefers to shoot in soft light and heads out in the morning or evening (magic hour) when the light is at its most flattering.
During the day when the sun is shining and the light is harsh, he'll head indoors and shoot temples, markets, shops, etc
I try and set up my shooting day to be in a place where there is favorable light the whole day. In the morning, I might be outside. In late morning, I might be inside, so I'm always in a place where the light is working with me.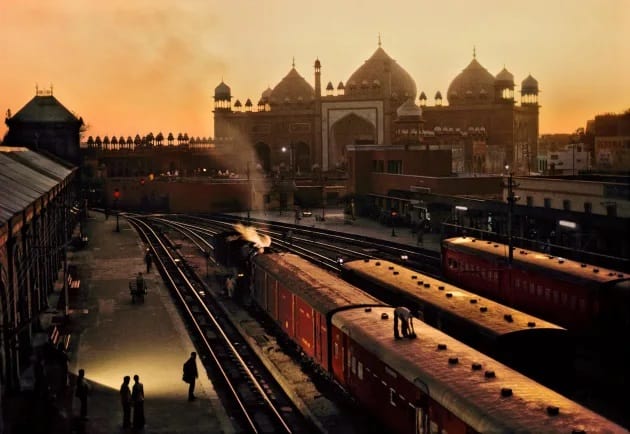 Working on Assignments
McCurry doesn't look for pretty landscapes to shoot but instead focuses on story and the people of the land he is covering. His greatest photos are never planned, instead, he relies heavily on chance and happy accidents to occur to get the perfect picture.
You can't get hung up on what you think your "real" destination is. The journey is just as important.
McCurry used to spend up to six months on an assignment for National Geographic but today his photo assignments tend to be much more focused, and over shorter periods.
You don't need to spend six months or a year photographing everything that moves. You're shooting stories, not novels. It's better journalism and it needs more thought. For instance, you wouldn't go to Brazil with the idea of shooting the whole country. You'd take less time and do a region, or maybe Rio.
What is important to my work is the individual picture. I photograph stories on assignment, and of course, they have to be put together coherently. But what matters most is that each picture stands on its own, with its own place and feeling.

Steve McCurry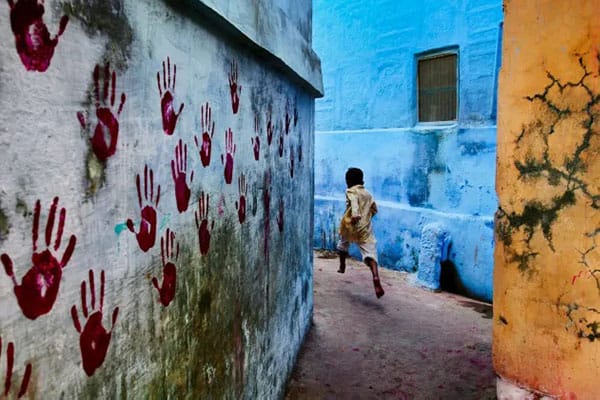 McCurry's Photography Philosophy
McCurry believes there are no shortcuts in photography and producing consistently great photos comes from hard work and dedication to the craft.
The unfortunate thing in life is that there is a lot of work involved, and often it's tedious work. Some people buy a camera and wait around to get assignments. It's wonderful they're that naive. It's like telling me you've got a first-aid kit so now you're a brain surgeon. You have to find your own way.
Even if you don't feel like it, you still need to get your photos on the assignment. The more photos you take, the more chance you have of capturing that great image.
Sometimes we're productive and sometimes we're not, but you really have to average it out. Some days are good, some days aren't, and you just have to understand that and relax. It's like playing roulette: eventually, 22 is going to come up. I mean, even Shakespeare probably had an editing process.

Steve McCurry
Don't be afraid of failure and making mistakes, even great photographers like Steve McCurry take bad photos – the difference is he doesn't show them to the rest of the world.
Yeah, not every picture is brilliant! A writer might write something that ends up just staying in the notebook, and for a photographer… you photograph some things that you know are just as a record or something that you know isn't brilliant, but you get the wheels moving. Am I going to wait for the perfect picture before I start shooting? Well, how many perfect pictures are there in a lifetime? Get out and start examining the world, start probing, and eventually…
Not all your photos are going to be keepers, the only thing that matters is the end result.
And in the end, you're just judged on the work. People look at the work – a poem, photograph, sculpture, whatever – and they don't think, 'How many drafts went into this, was it edited, how long did it take, how many revisions?' It's just the work that matters – you put it on the table, and either it speaks to you or it doesn't.

Steve McCurry
In his film days, McCurry would shoot on average 30 rolls of film in a day. That translates to 1,080 images per day or 30,000 images on a one-month assignment that need editing, scanning, archiving and retouching.
The Human Connection
McCurry crosses borders of language and culture, in search of interesting stories that make for great photography.
I always have a connection with the subject, whether it's in a refugee camp or in a suburb of Bombay. I always try and establish some sort of a personal relationship, however brief. There are also times when you may be walking down the street and you photograph people in a fraction of a second. Sometimes the image looks as though it was the product of a long interaction when in fact, it was very brief.

Steve McCurry
One of the reasons McCurry's work is so powerful is because it focuses on humanity and life, a subject that we can all relate to.
A perfect example of this is his post-September 11th coverage of Ground Zero.
McCurry pays a touching tribute to the hundreds who lost their lives, and also the many heroic policemen and firemen who worked tirelessly to get New York back on track.
It isn't necessarily about capturing the story but instead capturing the stories of the people affected by the tragic event.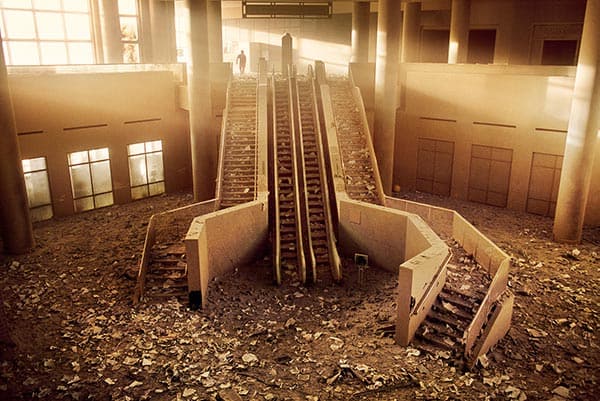 Capturing Portraits
When it comes to his street portraiture, McCurry takes very few candid photos. Working with an interpreter, his portraits are made with his subject's permission and typically from a close distance.
The one thing that all McCurry's portraits have in common is the focal point is the eyes of his subjects. He always tries to incorporate catchlights into the eyes of his subject too – this helps lift his images and gives them a certain spark/or pop.
This is achieved 99% of the time through his use of natural light (after many years of experience).
He never uses strobes but does carry small portable LED lights, which he uses to accentuate certain things in some situations.
Related Article: 150+ Portrait Photography Quotes
McCurry tends to isolate his subjects by shooting between f/2.8 and f/5.6 – just enough so his subjects stand out from their surroundings.
McCurry's portraits are simple, yet they possess a magical quality about them. I consider his portrait work more documentary than classic portraiture (think Yousuf Karsh and Richard Avedon).
I think people, when you first encounter them, they try and put on a particular mask. I don't want people to try and look a certain way. I want them to be completely natural and just themselves, without kinda grinning, or smiling, or putting on some kind of silly expression.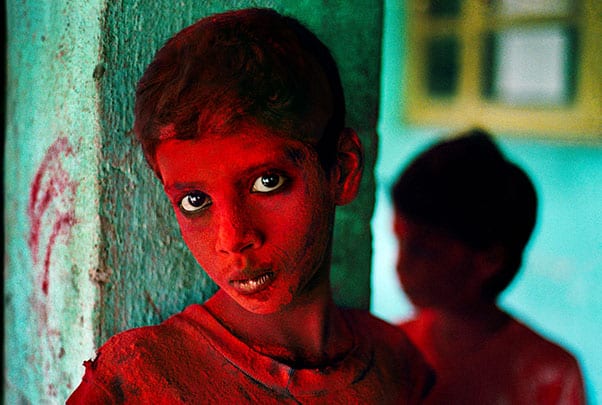 His best portraits portray his subjects in their environment and there is very little interaction between the photographer and the subject. The key is to have your subjects forget they're being photographed and to be patient.
In a portrait, you want something of that person to reveal itself. Some portraits look too controlled. I like to see the naked personality; I want to see something that is real and something that is raw. You don't see the hand of the photographer; you see the uniqueness of that person.

Steve McCurry
Take McCurry's most famous photo, The Afghan Girl. McCurry spent five minutes photographing the refugee camp before finally taking a few frames of the shy and curious girl with green eyes.
The portrait was essentially a grab shot. The candid image was taken more like a documentary photo, rather than a straight portrait.
If you wait, people will forget your camera and the soul will drift up into view.

Steve McCurry
In the video below, Steve McCurry talks to Huxley studio about portraiture and his process:
Good Photography and Storytelling
McCurry is known for his vivid color imagery and use of Kodachrome film. His reasoning behind this is simple: we see the world in color, so it makes sense to shoot it in color.
Below he explains how to make a good color photo:
I think the way to identify a good color photograph is to ask yourself if you convert it to black and white does it still have interest? Does it still have value? That would make a good story idea: let's look at a series of color photographs, let's just break it down, see how they work: the light, the design, the graphic quality. If it's a good picture, whether it's been shot in color or in black and white, then it's successful.
On what makes great documentary photography:
I think good documentary photography, on its highest level, gets into a realm where you've tapped into some archetype of human connection. You've struck a chord in people that has tremendous meaning beyond the event itself.
On the importance of storytelling in photography:
It's similar to when you hear a song on the radio. There are some songs you connect with and others you don't. It's the same with books and movies. Pictures that are memorable, that stick in the mind, are the best pictures. Sometimes I'm looking at pictures and there's nothing going on; there's no emotion.

For me, great pictures are about storytelling. I want to learn something from the picture or want it to evoke some kind of emotion. I want it to take me somewhere.

Steve McCurry
If you want to learn more about Steve McCurry's working process and the stories behind his most famous images then I highly recommend purchasing his book Steve McCurry Untold: The Stories Behind the Images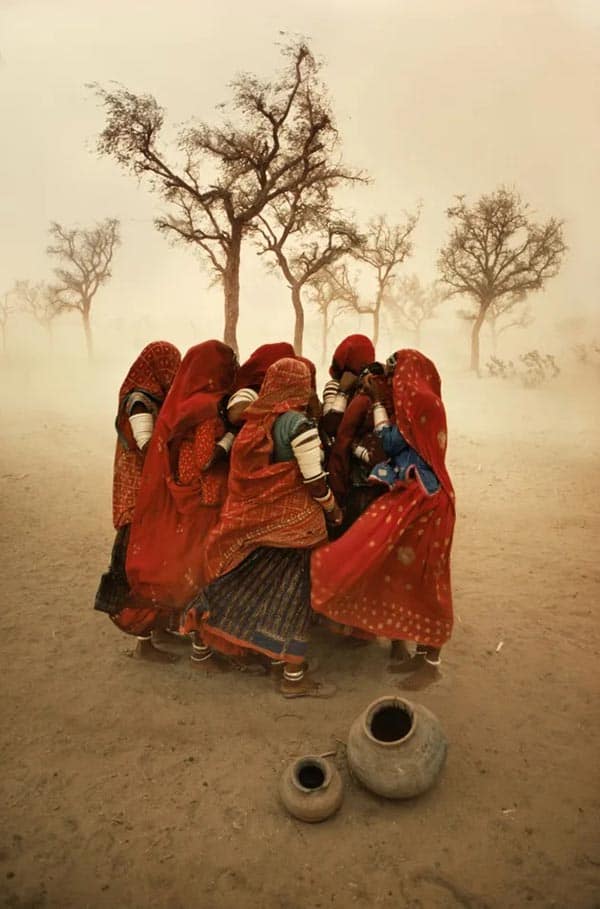 What Camera Does Steve McCurry Use?
Steve McCurry uses a Nikon D810, which he has called the best camera he has ever owned.
I completed a major assignment a couple of weeks ago and used just a D810 and a 24-70mm lens forir the entire job. I use that lens for about 98% of my work now. When I'm walking on the street, I'll take just one body and one lens. I'll have a back-up body and lens back at the hotel, just in case.
McCurry also likes to use a single prime lens when he's wandering the streets. Another favorite lens of his is the cheap and lightweight Nikon AF 35-70mm F/2.8D.
McCurry was an early tester of the Leica SL2 and did a promotional video for Leica in 2019.
[I have] virtually no interest in equipment – period. It's not what motivates me. I don't want to talk about gear. Any camera on sale today will give you wonderful results. It's how you do what you do, and whether you enjoy your photography. Manufacturers want to sell their cameras, and their ads are the same now as they were 30 or 40 years ago.

Steve McCurry
Other cameras he has used over the years include:
Digital: Nikon D810, Nikon D4, Nikon D3, Nikon D700, Nikon D2X
Film: Nikon FM2, Nikon N90S, Nikon F5, Nikon F4, Nikon F100, Olympus OM2N
My first camera was a Miranda. Then I switched to a Pentax and then an Olympus. When I went to India in 1975 with my girlfriend, she had a Nikon and some lenses. I thought we should just use the same camera system and share the lenses, so I switched to Nikon, and I've been using it ever since – different models, of course.
The Last Roll of Kodachrome
McCurry moved across to digital in 2003, but for over 20 years he used Kodachrome film. When Kodak announced that they would be discontinuing Kodachrome 64, McCurry wanted to pay homage to the film that he used to create his most iconic images.
Kodak agreed to provide him with the last roll of Kodachrome ever made. For the project, he wanted to photograph iconic people and places. He started off in New York and did a portrait of Robert de Niro. Then he went back to India where his journey began and photographed Bollywood film stars and village nomads.
To complete the project, he made one frame per subject, using his digital camera to check the exposure and composition, similar to using a polaroid camera.
The film was processed in July 2010 at Dwyane's Photo in Kansas. Many of the images were published on Vanity Fair's website. These images are now exhibited in the museum at George Eastman House, in Rochester, New York.
Note: See the recommended videos below to watch the full documentary.
Other Steve McCurry Resources
Recommended Steve McCurry Books
Disclaimer: Photogpedia is an Amazon Associate and earns from qualifying purchases
Steve McCurry Videos
The Last Roll of Kodachrome (2010)
In Search for the Afghan Girl (2002)
Behind the Scenes: Pirelli Calendar (2013)
For more Steve McCurry videos we recommend subscribing to his official YouTube channel.
Steve McCurry Photos
Looking for more Steve McCurry photos? Check out the image archive on Steve McCurry's website.
Fact Check
With each Photographer profile post, we strive to be accurate and fair. If you see something that doesn't look right, then contact us and we'll update the post.
If there is anything else you would like to add about Steve McCurry's work then send us an email: hello(at)photogpedia.com
Link to Photogpedia
If you've enjoyed the article or you've found it useful then we would be grateful if you could link back to us or share online through twitter or any other social media channel. This article took 7 days to research and write. Sharing the link takes less than 2 minutes and doesn't cost anything.
Finally, don't forget to subscribe to our monthly newsletter, and follow us on Instagram and Twitter.
Sources
Official Steve McCurry Website, Biography
PDN Gallery, Q&A with Steve McCurry
American Photo Jul-Aug 2006
Steve McCurry: The Iconic Photographs, 2012
Pirelli calendar turns over a new leaf, The Guardian, 2012
It's All Mixed: An Interview with Steve McCurry, GUP Magazine, 2013
Iconic 'Afghan Girl' Portrait Was Almost Passed Over by Editor, Peta Pixel, 2013
The Steve McCurry Interview, The Sartorialist, 2013
Leica Stories, Leica SL2, November 2013
N Photo Mag, March 2014
Steve McCurry: The interview, Australian Photography, 2017
Steve McCurry: The Iconic Photographs, 2012
The Stories Behind the Photographs, 2018
A Life in Pictures, 2018
The Last Roll of Kodachrome, 2010
In Search for the Afghan Girl, 2010
Magnum in Motion: Steve McCurry, 2011
Behind the Scenes of Pirelli Calendar, 2012
The Stories Behind the Photographs Promo Video, Phaidon, 2013
An Interview With Steve McCurry, TEDxAmsterdam, 2015
Steve McCurry on Portraiture, Huxley Gallery, 2020