Annie Leibovitz is one of the most influential photographers of our time and without doubt, the most famous photographer working today.
For over five decades, her culture-defining images and distinctive portraits have appeared on the covers of Rolling Stone, Vanity Fair, and Vogue among others, documenting modern society's preoccupation with celebrity and appearance.
Leibovitz is best known for her controlling eye, storybook style, and skill at coaxing unexpected behavior from her famous subjects.
Her body of work is beyond impressive: the photo of John Lennon curled up naked next to a clothed Yoko taken hours before his death; a roped up Clint Eastwood; Demi Moore pregnant and Demi Moore painted; Whoopi Goldberg in a tub of milk and Miley Cyrus topless.
When asked how she sees her job as a photographer she responded with:
To see people as they are, as they imagine themselves, as they wish to be. To be witness, the friend, the judge, the accomplice. To record their moment.

Annie Leibovitz
Fifty years after she first walked into Rolling Stone magazines San Francisco office with a modest stash of black and white pictures under her arm, Annie Leibovitz remains the standard against which other editorial and portrait photographers are judged.
Related: 80 Annie Leibovitz Quotes on Photography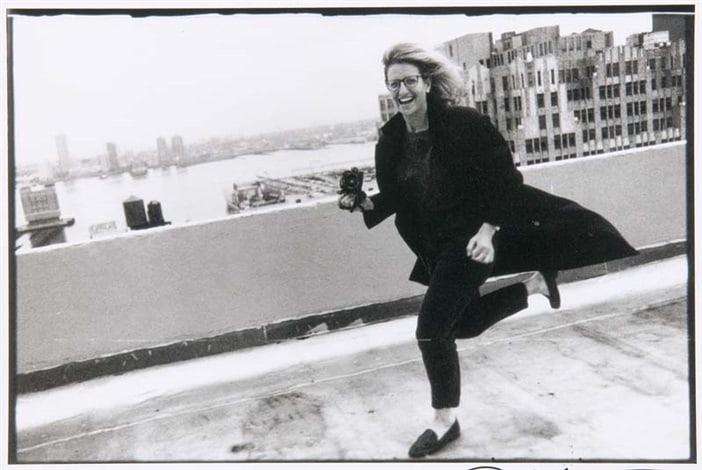 Annie Leibovitz Biography
Name: Anna-Lou Leibovitz
Nationality: American
Genre: Portrait, Editorial, Fashion, Advertising, Photojournalism
Born: 2 October 1949 (Westport, Connecticut)
Early Life
Annie Leibovitz was born in 1949 in Waterbury, Connecticut. Her father was a career Air Force officer, while her mother was a professional dancer.
Due to her father's profession, Leibovitz spent her childhood and youth in different states of the USA moving from one base to another.
In the fall of 1967, Leibovitz began her studies as a painting major at San Francisco Art Institute.
During the summer after her freshman year, Annie joined her parents at Clark Air Force Base in the Philippines, where her father was stationed. Her mother had the opportunity to visit Japan and took Annie with her.
On the trip, Leibovitz purchased her first real camera, a Minolta SRT101.
The first thing she did was take it on the climb up Mt. Fuji.
Climbing Mt. Fuji is a lesson in determination and moderation. It would be fair to ask if I took the moderation part to heart. But it certainly was a lesson in respecting your camera. If I was going to live with this thing, I was going to have to think about what that meant. There were not going to be any pictures without it.

Annie Leibovitz
That summer she continued to experiment with her new camera, and took photos around base, developing the film in the base's hobby shop.
Learning Photography
When Leibovitz returned to San Francisco she signed up for a night photography class. The following summer she took a photography workshop and that's when she decided that photography is what she wanted to do.
Photography suited me. I was a young and unformed person and I was impatient. Photography seemed like a faster medium than painting. Painting was isolating. Photography took me outside and helped socialize me. I felt at homes in the rooms where the photography students worked. There was a lot of angry abstract expressionists in the painting studios. I wasn't ready for abstraction. I wanted reality.

Annie Leibovitz
Leibovitz's earliest role models among prominent photographers were Henri Cartier-Bresson, Robert Frank, and Jacques Henri Lartigue.
We were taught that the most important thing a young photographer can do is learn how to see. It wasn't about equipment we were using. I don't remember being taught any technique. A camera was only a box that recorded an image. We learned to compose, to frame, to fill the negative, to fit everything we saw into the cameras rectangle. We were never to crop our pictures.

Annie Leibovitz
In the fall of 1969, Leibovitz took her camera with her on a trip to Israel, where she worked on a farm and studied Hebrew.
She returned to San Francisco at the beginning of the year and began printing her Israel pictures in the school darkroom and going out every morning to take more pictures.
One of her photos from an anti-war demonstration was used for the cover of a magazine devoted to campus riots and protests.
It was the beginning of my career. Seeing that image on the news-stand is a moment that will stay with me forever.

Annie Leibovitz
Rolling Stone Magazine
That year, she submitted her portfolio, which included a portrait of poet Allen Ginsberg to the art director of the newly launched Rolling Stone magazine, Robert Ingsbury, and scored her first success.
Jann Wenner, who was the publisher of the magazine, took Leibovitz with him to New York, where the young photographer took pictures during an interview with John Lennon.
One month later, Leibovitz's Lennon portraits were published on the cover of Rolling Stone.
…"Rolling Stone" started giving me assignments right away, which made me worry about having crossed over to the other side. I was selling pictures. The photographers I admired were not photographers who worked for magazines on assignment, but people who chose what they did from the inside – or so it seemed at the time. And I wondered if I was betraying something. And then I found out about what it meant to be published, especially what it was to have a photograph on the cover of a magazine, which is what happened a couple of months later.

I can never forget the sensation of being at a news-stand and seeing for the first time my photograph transformed into the "Rolling Stone" cover. It was a lot different from having a photograph floating around in the wash, or pinned on a bulletin board at school.

Annie Leibovitz
Leibovitz became the chief photographer of Rolling Stone in 1973, at the age of 23 and by 1974, had photographed most of the rock artists and many of the major political figures of the time.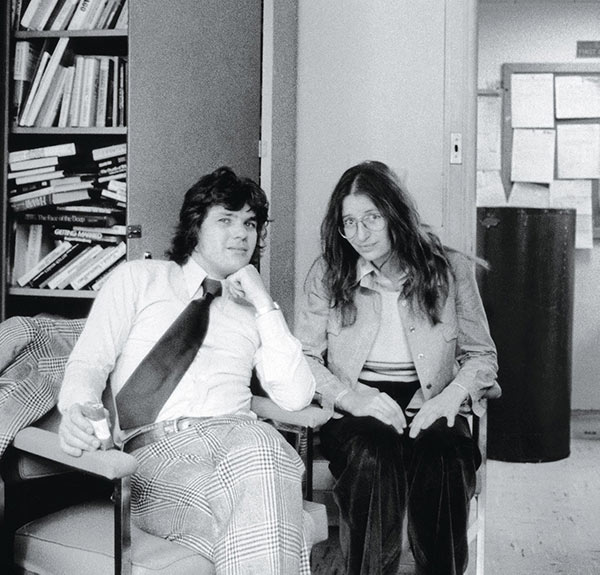 Working with Writers
She collaborated with writers including Tim Cahill, Hunter Thompson and Tom Wolfe, taking photographs as they gathered story material. Her initial work consisted of candid shots taken while following subjects.
Writers, particularly writers with newspaper backgrounds, are used to working with photographers who come along with them to illustrate their stories. But a photographer may see different things than the writer does. I don't think it matters whether the photos don't match in a literal way what the writer brings back. The story might be better – fuller – with different points of view. If it's a good story than the photographer and writer won't be that far apart.

Annie Leibovitz
Touring with the Rolling Stones
In 1972, Leibovitz first covered the Rolling Stones for three dates on their tour of America – she also had an opportunity to watch Robert Frank work, who was making a film about the band at the time.
Three years later, Leibovitz received a call from Mick Jagger asking her whether she wanted to serve as the band's official photographer for their 1975 tour.
I went to Jann and told him that I wanted to go on the Rolling Stones tour. He said he couldn't guarantee that there would be a job for me when I came back, but I thought it was too good an opportunity to miss. Robert Frank had photographed the Rolling Stones and now it was my turn.

Annie Leibovitz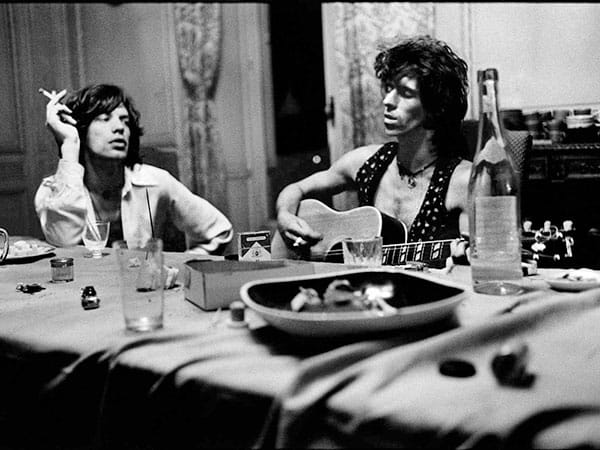 While on tour Leibovitz photographed the band on stage and behind the scenes, capturing life on the road and the isolation and loneliness that follows. With the rock and roll photographs also came a rock and roll lifestyle and Leibovitz ended the tour with a crippling drug addiction.
At the time, I thought the way to get the best work was to become a chameleon. To become so much a part of what was going on that no one would notice you were there. Of course, it was unbelievably stupid of me to pick that situation to become part of. I did everything you're supposed to do when you go on tour with the Rolling Stones. It was the first time in my life that something took me over.

Annie Leibovitz
The Famous John Lennon Cover
Following the tour, Leibovitz returned to Rolling Stone magazine and continued her role as chief photographer.
Leibovitz's best-known image from her Rolling Stone period is that of John Lennon embraced by the fully clothed Yoko Ono, taken on the day of Lennon's murder – the Polaroid was taken just a few hours before the former Beatle was murdered by a deranged fan.
I thought about how people curl up together in bed, and I asked them to pose nude in an embrace. They had never been embarrassed about taking their clothes off. There was frontal nudity on the cover of Two Virgins, the first record they did together. They were artists, John had no problem with my idea, but Yoko said she didn't want to take her pants off for some reason. So I said, "Oh, leave everything on." I made a Polaroid of them lying together and John looked at it and said, "You've captured our relationship exactly."

Annie Leibovitz
The picture looks like the last kiss now. Jann decided to publish it on the cover with no type on it except for the Rolling Stone logo.

Annie Leibovitz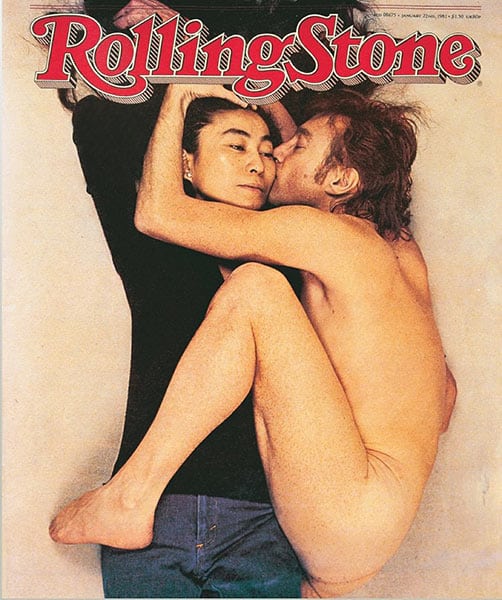 Set Up Portrait Photos
While with Rolling Stone, Leibovitz developed her trademark set up portrait technique.
The 1979 Bette Midler cover photo is a perfect example of a Leibovitz set up portrait. The idea of Midler laying on a bed of roses was inspired by the film The Rose which Midler starred in as a the lead character, Rose.
If I were preparing to photograph a dancer, I would watch them dance. I would listen to the musician's record. Somewhere in the raw material was a nucleus of what the picture would become. It didn't have to be a big idea. It could be simple. There's a case to be made that the simpler the better.

Annie Leibovitz
By the time Leibovitz left Rolling Stone in 1983, she had shot 142 covers for the magazine.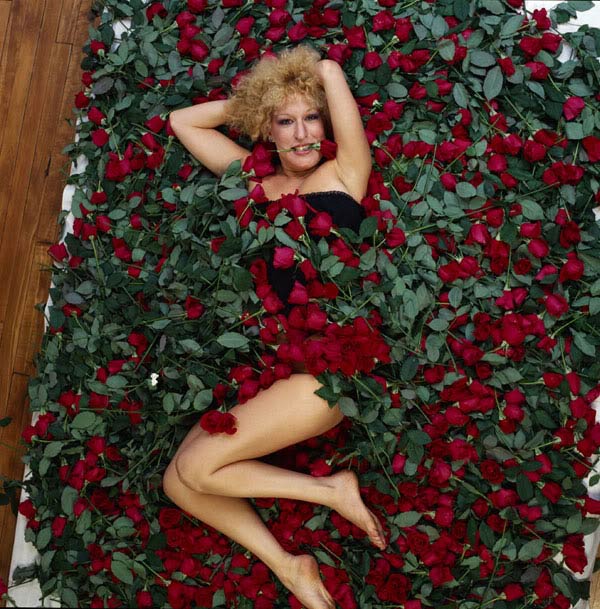 Moving to Vanity Fair
That same year, Leibovitz joined the newly re-launched Vanity Fair as a staff photographer. In 1998 she also began working regularly for Vogue.
One of the reasons that I went to Vanity Fair was that I knew I would have a broader range of subjects – writers, dancers, artists, and musicians of all kinds. And I wanted to learn about glamour.

I admire the work of photographers like Beaton, Penn, and Avedon, as much as I respected grittier photographers such as Robert Frank. But in the same way that I'd had to find my own way of reportage, I had to find my own form of glamour.

Annie Leibovitz
With a wider choice of subjects, Leibovitz's photographs for the magazine ranged from presidents to movie stars to literary icons and world-class athletes.
Leibovitz's shoots also became known for over-the-top budgets, with Hollywood film production levels. Her locations often looked more like a film set than a photoshoot.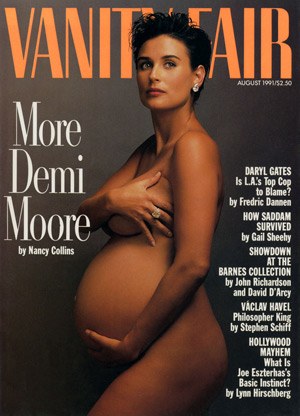 Advertising and Return to Photojournalism
In addition to her magazine editorial work, Leibovitz has created several award-winning advertising campaigns for the likes of American Express (1987) and Gap (1988).
In 1991, a collection of more than 200 of Leibovitz's photographs was exhibited at the National Portrait Gallery in Washington. She was the first woman to be so honored.
Leibovitz's mid-career work also saw a brief return to her early role as a photojournalist.
In 1986, she was worked with FIFA to design and shoot the poster campaign for the World Cup in Mexico, and in 1994, she documented the aftermath of the sieges of Sarajevo, Bosnia.
Leibovitz was commissioned by the Olympic Games Committee to take portraits of participating athletes leading up to the games in 1996. This assignment yielded both a book, Olympic Portraits and a traveling exhibition.
Leibovitz has also collaborated with many art organizations, including American Ballet Theatre, the Mark Morris Dance Group, the Brooklyn Academy of Music, and Mikhail Baryshnikov.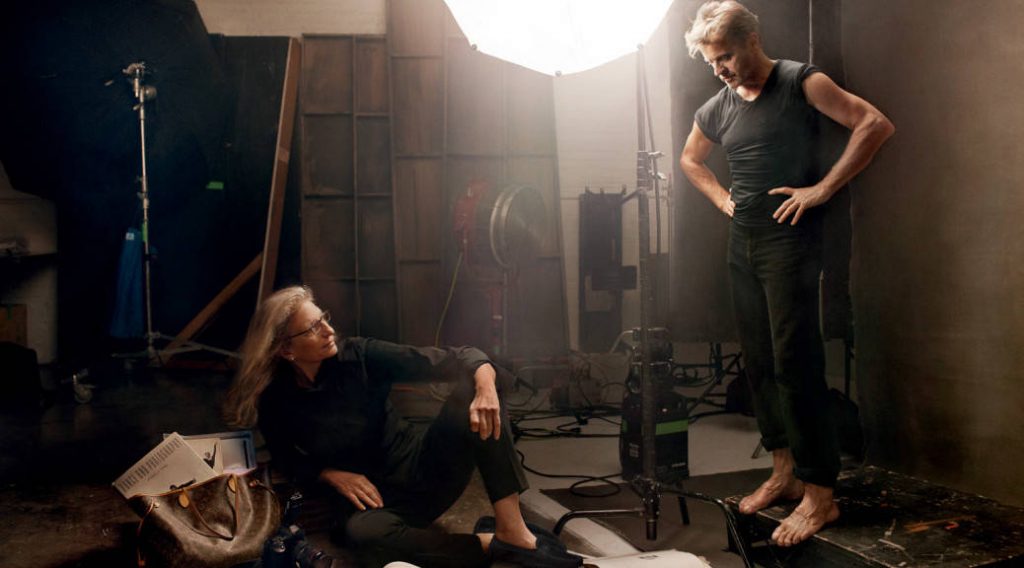 The New Millennium
In 2003, Leibovitz's partner of 15-years, Susan Sontag was diagnosed with leukemia, which ultimately led to her death at the end of 2004. Just weeks later, Leibovitz's father passed away.
Queensgate
In 2007, BBC caused mayhem when they misrepresented the portrait session that Leibovitz had held with Queen Elizabeth. The edited footage was made to look as though she had offended the Queen.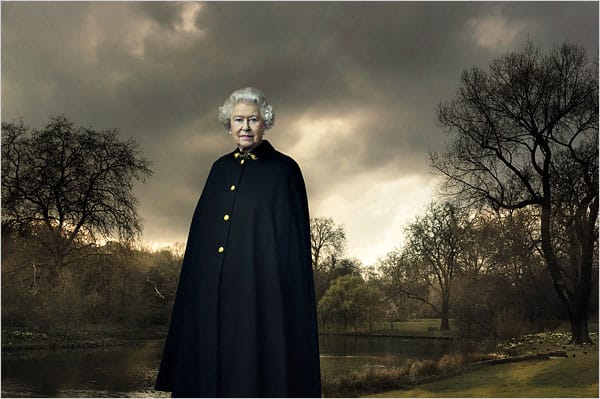 The controversy arose about two months after the pictures were published when the BBC claimed that the Queen had walked out while we were shooting. This was completely untrue, and although they retracted the claim and issued an apology to the Queen and to me almost immediately, the scandal had a life of its own. The story, which came to be referred to as "Queensgate", wouldn't die. Eventually, the head of the BBC resigned because of it.

Annie Leibovitz
Working with Disney
Also in 2007, Leibovitz was hired by Disney to produce images for their "Year of a Million Dreams" ad campaign. For the series, Leibovitz took photographs of several celebrities playing characters from classic Disney films – these include Kiera Knightly as Dorothy from the Wizard of Oz, Scarlett Johansson as Cinderella and Roger Federer as King Arthur. The resulting images are some of Leibovitz's best work.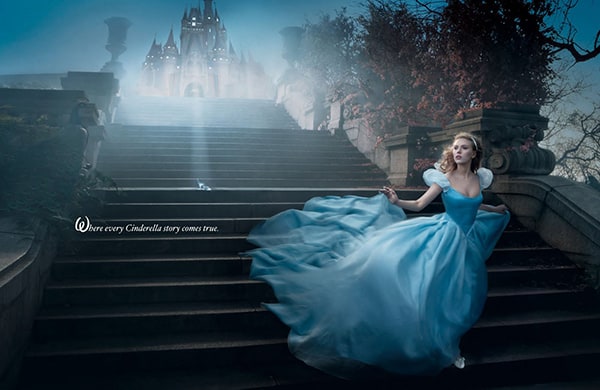 Leibovitz Today
Leibovitz is as busy as ever and continues to be in demand, working on projects that range from the 2014 Marks & Spencer campaign to the iconic Pirelli calendar in 2016.
To date, Leibovitz has published nine books: Annie Leibovitz: Photographs (1983), Photographs: Annie Leibovitz 1970–1990 (1991), Olympic Portraits (1996), Women (1999), American Music (2003), A Photographer's Life: 1990–2005 (2006), Annie Leibovitz at Work (2008), Pilgrimage (2011), and Annie Leibovitz (2014).
She has been the recipient of a number of awards for her work including Photographer of the Year of the American Society of Magazine Photographers in 1984.
In 1991, she was decorated as a Commandeur in the Ordre des Arts et des Lettres by the minister of culture in France for her contribution to Arts.
In 2009 she received The Royal Photographic Society's Centenary Medal in recognition of her contribution to the art of photography.
The New York-based Contact Press Images have looked after her archive and licensing since 1977.
Leibovitz lives in New York with her three children: Sarah, Susan, and Samuelle.
Leibovitz's Photography Style
Set up portraiture
Storytelling, narrative
Painterly quality
Composite images, subjects posed
Soft lighting, Rembrandt like
It's difficult to define Leibovitz's style of photography because she continually adapts her style to reflect the times and the demands of her clients.
Leibovitz today considers herself more of a visual artist who uses the camera as a tool for creating her narrative-driven images.
Her photos have helped popularize a storybook photographic style that playfully mimics reality rather than directly reflecting it – representation by way of fantasy and canny exaggeration.
Leibovitz doesn't shy away from her use of Photoshop to create some of her famous pictures. She even photographed the Queen against a grey backdrop and added a separate image of the palace gardens in post.
I think it's kept my career going for the last ten years, actually. It used to be, oh, you can't tell what's real and what's not anymore. It's not true. We're not stupid. We look at something, we know, oh, that's ridiculous, we know that's not real. I've always believed in the intelligence of us as people. So we know when something – it will go in cycles. It will be like everything looks crazy and cuckoo, and then people will be sick of that and want it to be real again. And it will be real again. But that's how we entertain ourselves.

Annie Leibovitz

How to Shoot like Leibovitz
To understand how Annie Leibovitz's iconic images are made, then we recommend purchasing her brilliant book, Annie Leibovitz at Work which provides an invaluable insight into her working practice.
The book also features a section dedicated to answering her most-asked questions, such as: 'what's your favorite photograph?' and 'how much direction do you give?'
Below we've listed just a few of our favorite Leibovitz excerpts from the book to get you started:
3 Leibovitz Tips for Better Photography
Editor Note: This Annie Leibovitz article took 14 days to research and write. Sharing the website or linking back to us takes less than a minute and costs you absolutely nothing. To show your appreciation, I would be extremely grateful if you could share the website through social media or photography forums, or even link back to Photogpedia on your own blog or portfolio website (every link counts). Thank you for your support.
Preparation and Planning
When it comes to preparation, Leibovitz is very meticulous and usually consults with clients or subjects many weeks (sometimes months) before the date of the shoot. Below Leibovitz explains where she gets her ideas from:
I do my homework. When I was preparing to photograph Carla Bruni, the wife of Nicolas Sarkozy, the president of France, in the Elysee Palace, I looked at pictures of the palace. I looked at pictures of other people who had lived in the palace. Pictures of couples in love. Pictures that other photographers had taken of Bruni. She had been photographed many times before. I thought Helmut Newton had seen something in her that other photographers hadn't. I knew she was a popular musician and I listened to her music.

Of course, I carry around with me, like a backup hard drive in my head, a vast memory bank of the work of the photographers who came before me. I'm a fan of photography. A student, if you will. I collect photography books. Something in the history of photography might contribute to the style I choose to shoot in. The style of the photograph is part of the idea.

Annie Leibovitz
Working with Subjects
By the time the shoot comes round, Leibovitz has already built a rapport with her subjects and put together a concept and often storyboards.
The below excerpt details how she persuades her subjects into the desired, frequently fun and humorous poses:
I've never asked anyone to do something which doesn't seem right to them. And I don't ask them to do something for no reason. There's always some thought behind my pictures. I throw out several ideas and see what they want to do. When I photographed the performance artisy Rachel Rosenthal, for instance, I gave her three or four ideas. The last one was about being buried in the sand in the desert. That's the one she got excited about. I always ask a subject if they have ideas.
Related Article: 150+ Portrait Photography Quotes
It's a collaboration. Especially if you're working with an entertainer, an actor or a comedian. I never make people do anything. But I'm a photographer. It's a photo session. A lot of it is play. Painting the blue brothers blue, for instance. Or giving a subject a role, a fantasy, to act out. I'm interested in getting something unpredictable, something you don't normally see. Even so, when the picture starts to happen, it's often a surprise.

Annie Leibovitz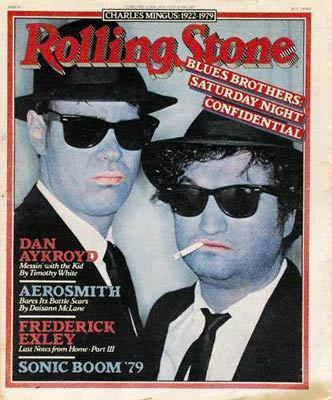 The Day of the Photoshoot
Leibovitz gives a lot of direction to her subjects leading up to the day of the shoot, especially when doing set-up portraits or cover-shoots.
By the time the subject arrives on location, they've worked out what they can do. Lights, fans and props have been moved and moved again ad everybody is ready to get down to business. Leibobitz also stresses the importance of being adaptable and responding to happy accidents.
You set the stage for them. Once they are there, they like to have some direction. They like to be at least told they're doing all right. I forget that from time to time. A lot of my work is post-decisive moment. It's studied. A kind of performance art. It would be nice to be more spontaneous, but circumstances don't always allow that. Nevertheless, as prepared as you are for one thing, you hope that something else will happen too.
As much as I love pictures that have been set-up, and as important as those pictures are to me, I'd rather photograph something that occurs on its own. The tension between those two kind of photographs is at the heart of what I do. It's not a conflict, but sometimes it's useful to remember that things are happening in front of you and you don't have to complicate the situation. You can take what's given to you. You just need your mind and your eye.

Annie Leibovitz
What Camera Does Annie Leibovitz Use?
Leibovitz's first camera was a Minolta SRT-101, which she replaced in the early '70s with a Nikon F. On her early assignments she would carry three camera bodies along with the following lenses: 35mm, 55mm and 105mm.
In the mid-80s she started using a Mamiya RZ67 medium-format camera – this became her principal camera until she made the switch to digital in 2003.
Leibovitz continued to use Nikon 35mm cameras for candid shots and her photojournalism work throughout the '80's and '90's. She also experimented with a Leica M6 for personal work in the '90s.
Around 2003, Leibovitz made the switch to digital and hasn't looked back.
I believe you are better able to capture what you really see in color with digital. There's a distinctive intensity in a digital file. Digital gives a more honest view of how things actually look, and with the advent of all these possibilities, I still want the pictures to look real. Whatever camera helps me do that is the camera I'm going to use. I'm not nostalgic about cameras.

Annie Leibovitz
Leibovitz first used the Canon 5D and 1DX series digital cameras. She now primarily uses a Hasselblad with a phase-one digital back and occasionally a Mamiya RZ Pro. She has also used various 35mm digital cameras: Nikon, Sony, Leica, and Canon. As of 2018, Leibovitz was shooting a Nikon D810.
When I talk about what the camera means to me, I mean the idea of the camera. What photography does. I'm not in to it because of the equipment, and I'm not concerned with the things that concern more technically acute people. I want to use whatever helps me take a picture in all kinds of light with faster speed and fewer problems. I changed my 35mm digital camera four times in one year. As soon as I hear there's a better one out, I try it.

Annie Leibovitz
Leibovitz's Favorite Focal Length
Leibovitz preferred field of view is 35mm, which allows for the inclusion of contextual and conceptual details.
My lens of choice was always the 35 mm. It was more environmental. You can't come in closer with the 35 mm.
For portraits, she has said she likes to use the 55mm (which is the first lens she owned) and 140mm on the Mamiya (the equivalent of 70mm in 35mm photography). She has called the Sekor 140mm F4.5 L/A Macro her favorite lens to use.
I enjoyed the sense of spontaneity I got from the 35mm digital camera, but after a while I missed the formality of the Mamiya 140mm lens. It's a beautiful lens that I used to to take some of my favorite pictures. It is a long lens but you can make it feel a little wide if you want to. It's similar to the 55mm on the Minolta. It is a graceful portrait lens.

Annie Leibovitz
Other Annie Leibovitz Resources
Recommended Annie Leibovitz Books
Disclaimer: Photogpedia is an Amazon Associate and earns from qualifying purchases. All links to Amazon are affiliate links, which means we receive a small commission for any purchases you make. It doesn't cost you anything extra, but this commission keeps Photogpedia running and is the reason we're able to offer so much free content.
To learn more, read our Affiliate Disclosure page. Thank you for your support.
Annie Leibovitz Videos
Annie Leibovitz: Life Through a Lens (2006)
The South Bank Show: Annie Leibovitz (1993)
The Making of the Pirelli Calendar (2016)
Charlie Rose Interview (1999)
View our Annie Leibovitz playlist on YouTube for the Leibovitz behind the scenes videos.
Annie Leibovitz Photos
Fact Check
With each Photographer profile post, we strive to be accurate and fair. If you see something that doesn't look right, then contact us and we'll update the post.
If there's anything else you would like to add about Leibovitz's work and life then send us an email at: hello(at)photogpedia.com
Link to Photogpedia
If you've enjoyed the article or you've found it useful then we would be grateful if you could link back to us or share online through social media or your own blog.
Finally, don't forget to subscribe to our monthly newsletter, and follow us on Instagram and Twitter to get our latest blog updates.
Recommended Reading
Annie Leibovitz on Nine Assignments that Shaped Her Career
Once upon a time in Vogue
Annie Leibovitz on the shots that made her
Sources
Life is pretty strange anyway: Annie Leibovitz, Fototapeta
Talking Pictures with Annie Leibovitz, The Independent, 1994
That Old Master? It's at the Pawn Shop, New York Times, 2009
Annie Leibovitz on Nine Assignments that Shaped Her Career, Racked, 2014
The Queen gave me career advice, The Telegraph, 2014
Jann Wenner, John Lennon, and the Greatest Rolling Stone Cover Ever, Vanity Fair, 2017
9 Smart Moves Annie Leibovitz uses to shoot great pictures, Phaidon, November 2018
Annie Leibovitz on the shots that made her, The Guardian, 2019
Annie Leibovitz at Work, Phaidon Press, 2018
A Photographer's Life: 1990-2005, Penguin/Random House, 2010
Annie Leibovitz. The Early Years, 1970-1983, Taschen, 2018
The South Bank Show: Annie Leibovitz, 1993
Charlie Rose Interview, PBS, 1999
Annie Leibovitz: Life Through a Lens, 2006
Leibovitz lecture at John F. Kennedy Presidential Library, November 2011
Charlie Rose Interview with Annie Leibovitz, PBS, November 2, 2017