Wood printing companies provide a one of a kind form of wall art. These wall arts are different from the traditional forms. Wood prints are creative display pieces that surely compliment your furniture.
In this blog post, learn about wood prints and the best wood printing companies to watch out for in 2022. May it be for personal or office use and even as a gift, these wood prints serves as a remarkable way to make your photos tangible!
Wood Prints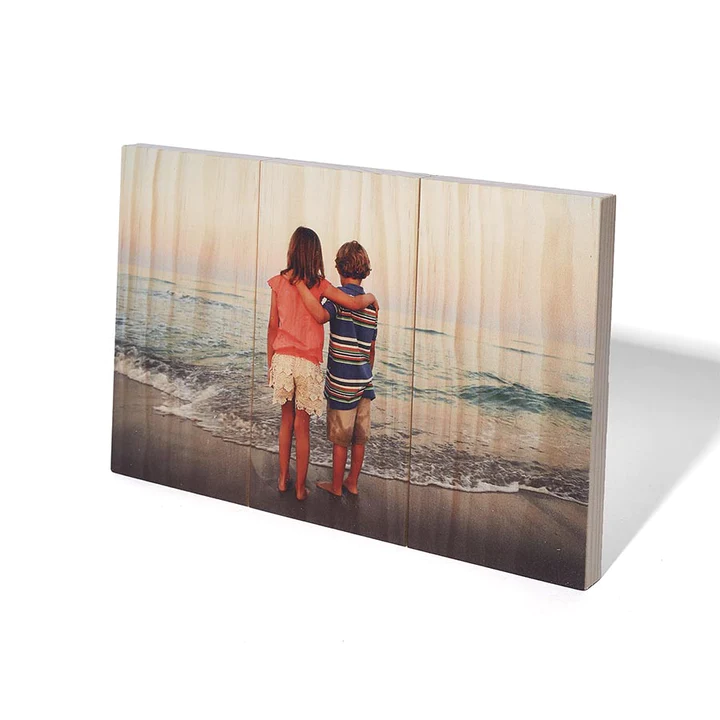 Wood prints are one of a kind wall art prints. No wood print is the same as the other because of the unique wood patterns every medium has. As art and nature are inseparable, wood prints take full use of this involving wood itself to this wall art medium.
Wood printing uses the process of dye-sublimation. Colors are infused to the wood grains to print out a photo. Aside from the striking grain patterns these wood canvases have, wood prints have a very distinct appearance.
Wood prints usually have a yellowish and warm hue because of the natural color of the wood. This adds more to their beauty and uniqueness. Wood prints are water and heat resistant thus making sure it would have long life spans. Ultraviolet light is the main cause of fading in Wood Prints. Typically, their lifespan is 100+ years.
Wood Printing Companies
Most wall art printing companies have multiple mediums they print on. In this section, we'll highlight new printing companies never mentioned on our website. A list with short descriptions of those previously mentioned companies follows.
Wood printing companies offer wood wall arts in different sizes just like other photo prints. Get to know the best wood printing companies there are in 2022.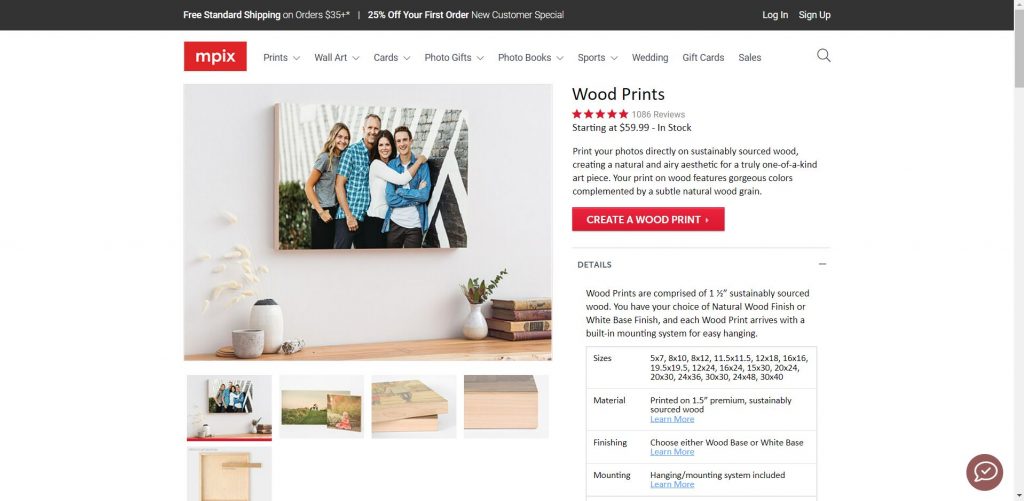 Mpix is a printing lab that focuses on unparalleled and quality service to create premium quality photo prints. Their locations are in Pittsburg, Kansas and Columbia, and Missouri. They are proud of their color expert gurus that ensure your photographs are of their best quality. They also highlight their fast shipping team that ensures every order is shipped within 24 hours.
Mpix provides wood prints in different types of finishes namely, natural wood finish or a white base finish and comes with a built-in mounting system for hanging. Their wood products come from sustainably sourced wood.
In their order page, they provide a complete rundown of what to expect from their products. They have tabs for sizes, material, finishing, mounting, retouching, processing time, and notes. Mpix is transparent with their order process and product quality.
Mpix provides an excellent description of wood prints in their note section. They explained that the wood grains and knot holes in the wood canvas accept the dye differently. At the same time, they inform the customer that due to these natural details, any request for remakes or credits receives no consent.
Verdict
Mpix provides great customer service from the get go. Just before starting your order, every detail about their product and service is available. Their price point for a standard 12×18 wood print stands at $99.99. Processing time of orders takes 2-3 business days + shipping. They have multiple shipping options at different rates – $9.99 for Standard shipping that take 2-7 days, $19.99 for Expedited shipping that takes 1-2 days, and $21.99 for Expedited shipping with Signature that also takes 1-2 days. Overall, Mpix provides excellent quality in their products and customer service.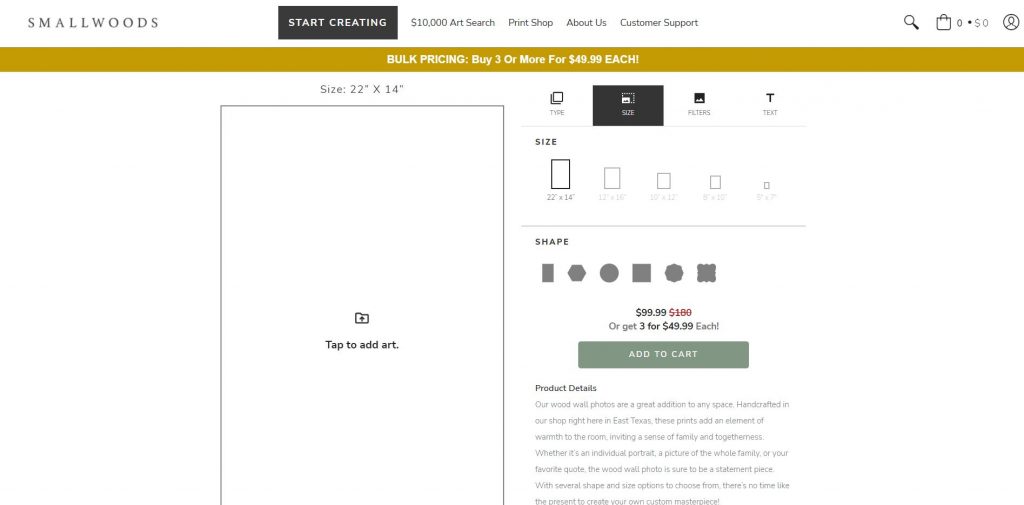 Smallwoods started their business building wood photo frames and transitioned to creating custom home decors. They give your photos their utmost respect by using the most advanced printing technologies. They make sure that your prints pass their quality control so that when they arrive, you are greeted with exceptional quality.
Wood prints from small woods are very customizable. They offer multiple shapes and sizes for the wood canvas. Those prints in small sizes (5", 11", 5×7, 8×10, 10×12) come with a stand for easy table top display. Their 3" option comes with a magnet making a perfect fridge addition. Lastly, their bigger sizes come with a keyhole for easy hanging.
All Smallwoods products take 3-7 business days for completion prior to shipping. Their website interface for creating an order is easy to understand.
Verdict
Smallwoods offer a variety of wood products aside from wood prints. The price point for their standard 12×16 wood print comes at $89.99. Smallwoods offer express production which gives your orders priority and ensures delivery within 2-7 business days. Overall, the Smallwoods team provides excellent quality in wood products. Being their main focus in their business, you can expect the mastery in their craft not only in wood prints but also with other wood home decor.
Plak That is a wood printing company founded in 2012 and is one of the best choices in the market today. They value sustainability and this can be seen with their fixed dimensions on their products.
Plak That offers two variations for their wood prints. The standard wood print uses one wooden canvas as the printing medium. On the other hand, the planked wood print uses multiple planks combined. They offer multiple sizes for their wood prints and also offer small sizes under the wooden ornaments tab.
Plak That has a fun team working on your orders! If you check out their About Us page, You are greeted by a story of their beginnings as well as their team that has three cute dogs! "It's just two humans and three dogs trying to print pictures on wood and make cool signs."
Verdict
Plak That cares for sustainability and donates a certain amount from your orders to environmental organizations. Plak That provides quality both in their products and customer service. The price point for their standard 10.5×16.5 wood print comes at $84. Plak That also offers rush production for $15 per item on checkout. This ensures that your order will take 5-6 business days to process prior to shipping. Overall, Plak That shows fun and commitment to your orders. They ensure quality and sustainability with every order.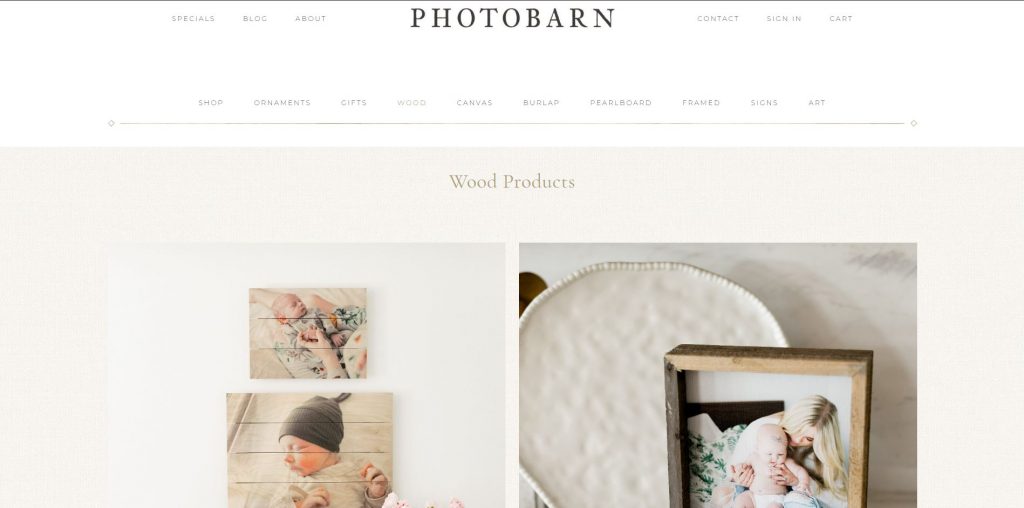 Photobarn is a printing company that started out with wood prints. They built their business exploring multiple possibilities with prints and made them one of the best choices to date.
Photobarn has a huge array of wood prints to choose from. They have photo pallets, photocrates, photoboards, collage boards, photoblocks, photo block puzzles, framed woodprints, standout wood prints and more! This stunning collection of wood prints is a perfect gallery for wood print enthusiasts!
Photobarn is committed to creating and has a separate website, PhotobarnPRO, which tends to professional photographers and artists. This shows their dedication to their craft, giving importance to the high standard of quality that artists have.
Verdict
Photobarn places their years of experience in creating the highest quality wood prints. The huge array of mediums they offer wood printing is astounding. This is the best choice for you who look into wood printing on multiple types of sizes and dimensions. Their price point for a standard 12×18 wood print comes at $39. This is the cheapest among the other wood prints so far! Their shipping costs are $9.99 for standard shipping and $4.99 for small item shipping. Photobarn is a great choice not only for their array of options but also for their low prices!
Honorable Mentions
The following printing companies are featured in our previous articles. They also print on wood so give them a visit before making a choice of which wood printing company is best for you!
Pictorem uses UV cured inks providing an incredible high quality printed image which is scratch resistant with colors that will not fade overtime. Their wood prints are on 3/8″ (9mm) thick and strong and durable Birch wood which is ready to hang and enjoy!
Shutterfly is a leader in personalized photos and services. They allow customers to create lasting keepsakes in different mediums such as canvas prints and photo books.
Printique's durable, eco-friendly, wood photo prints use wood certified by the Forest Stewardship Council, which regulates impact on the environment. The photo-onto-wood process reveals the natural grain, with a soft matte finish in beautiful tones providing heirloom-quality appeal.
Bay Photo Lab's Maple Wood Prints are printed directly onto 1/2″ thick maple surfaced wood board, for a warm and natural-looking print that is also eco-friendly.
Conservation of Wood Prints
Wood prints are water and heat resistant thus making sure it would have long life spans. Ultraviolet light is the main cause of fading in the colors of Wood Prints but this is unlikely due to the technologies wood printing company uses.. Typically, the life-span of Wood Prints run from 100+ years if preserved correctly.
The after care for all wall arts are the same. Avoid placing your wooden prints on areas with direct sunlight. Also stay away from wet and humid areas. The sun and water causes deterioration of these over time.
When cleaning your wood prints, dusting them is the way to go. Avoid harsh rubbing of their surface as wood grains can be disoriented. If dusting is not enough, just use water and avoid the use of chemical products.
Conclusion
Wood prints are great additions to your home decorations. Their unique surface of wood grains provide stunning photographic results. Compared side by side with traditional wall art mediums, wood prints stand out the most because of the details they possess.
Although wood prints come off as yellowish in their hue, this doesn't hinder the color quality of it. This adds to the uniqueness that wood prints are best known for. Once you've decided to add these pieces to your home, office, or as gifts; this article showcases the best wood printing companies in the market for 2022.
Photobarn offers the cheapest wood prints. They also print in a variety of wooden products such as blocks and crates. The other wood printing companies also execute high quality prints. They are known for their dedication and care to their products and all are great choices as well.
To ensure that your wood prints stand the test of time, make sure to follow proper storage and cleaning measures for them. Wood prints are extremely durable and adding more care in keeping them ensures that these lasts for a lifetime!