Man Ray was a central figure in avant-garde art of the early 20th century. He is best known for his contribution to fine art photography and is considered as the pioneer of Surrealist photography.
His much-celebrated photograms (also known as Rayographs) were created without a camera, arranging found objects onto sheets of photosensitive paper and exposing them to light.
Together with Lee Miller (then his assistant, lover, and muse), he reinvented "solarization", a photographic process where the image recorded on a negative is reversed in tone.
Born Emmanuel Radnitzky in 1890, the artist began to sign his name Man Ray in 1912, although he didn't officially change his last name to Ray until the 1920s.
Man Ray initially taught himself photography to reproduce his own works of art, which included paintings and mixed media.
In 1921 he moved to Paris and set up a photography studio to support himself.
Ray became famous during this time-period for his portraits of his artistic and literary associates including Ernest Hemingway, Pablo Picasso, and Gertrude Stein.
He also developed a successful career as a fashion photographer, working for the likes of Vogue, Harpers Bazaar, and Vanity Fair.
From the mid-1930s, he returned to painting, although his paintings are generally less highly regarded.
In the 1940s, to avoid the German occupation of Europe, he returned to America and settled in Hollywood. Disappointed that America only recognized him for his photography work, he returned to France in 1951.
He continued to focus on both photography and painting until his death in 1976 at the age of 86.
Ray was the very first artist whose photography was more valuable to collectors than his paintings, therefore making a significant contribution to the evaluation of photography as a form of art. Today his photos sell for millions of dollars.
Man Ray's work was known for continually blurring the boundaries between artistic disciplines and his process-oriented art-making has gone on to influence many modern and contemporary artists.
Though he is often overshadowed by his friend and collaborator, Marcel Duchamp, Ray played a major role in Dada and Surrealist movements in America as well as in Europe in the early 20th century.
Related: 46 Classic Man Ray Quotes on Photography and Art
It has never been my object to record my dreams, just the determination to realize them.

Man Ray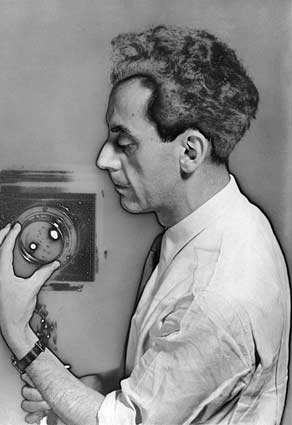 Man Ray Biography
Name: Emmanuel Radnitzky (Man Ray)
Nationality: American
Genre: Experimental, Fine Art, Conceptual, Nudes
Born: August 27, 1890 – Philadelphia, Pennsylvania
Died: November 18, 1976 – Paris, France
Man Ray's Style
Surreal, mysterious
Minimalism, simplicity
Experimental
Conceptual, photographic illusion
Often humorous or absurd
Photography Career
Man Ray became famous as a portrait photographer in Paris in the 1920s. He was also one of the earliest fashion photographers, taking photos for the likes of Vogue, Vanity Fair, and Harpers Bazaar.
In the late 1920s, he experimented with Surrealist themes in photography, which were very successful.
Although many of Ray's famous works are in the field of photography, he also worked in other mediums, including painting, sculpture, writing, and film.
Between 1923 and 1929, Ray directed several short films and also worked with Marcel Duchamp and Fernard Léger on various avant-garde film projects, many of which have since become classics of the surrealist genre.
He collaborated with Paul Eluard to make the books Facile and Les Mains Libres.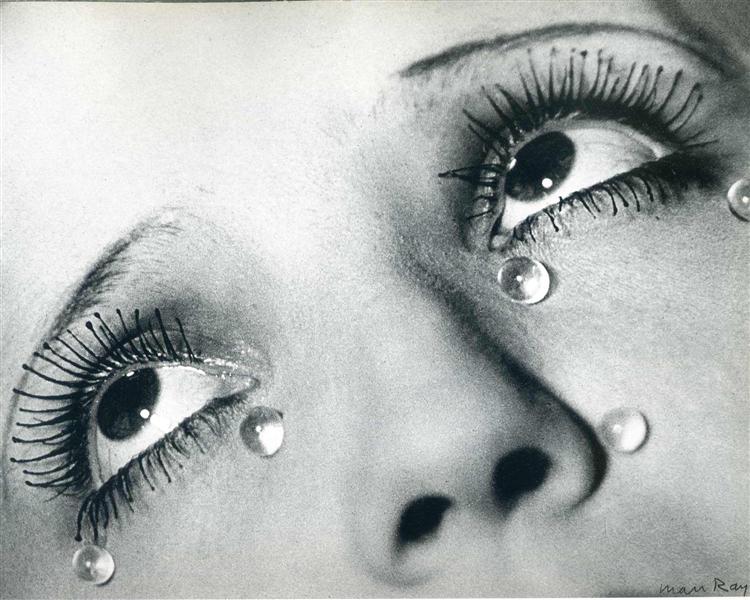 Rayograph
In 1922, six months after moving from New York to Paris, Man Ray made his first Rayograph image.
A Rayograph (or photogram) is an image that is produced without a camera by placing items directly onto sensitized paper and exposing them to light.
Ray discovered this new form of pictorialism – what he dubbed the Rayograph and what others called the photogram – by accident whilst printing in the darkroom.
To create the Rayograph, Ray would often expose the paper to light at least three times. Each time, a different set of objects (materials, sometimes his own body, or the models) acted as a stencil.
The shadow of the object produces the image, and with every exposure the paper darkened, giving the final image a moody and mysterious effect.
Man Ray embraced the possibilities for combinations and chance arrangements of objects to create unique abstract imagery unlike anything seen before.
I have finally freed myself from the sticky medium of paint, and am working directly with light itself.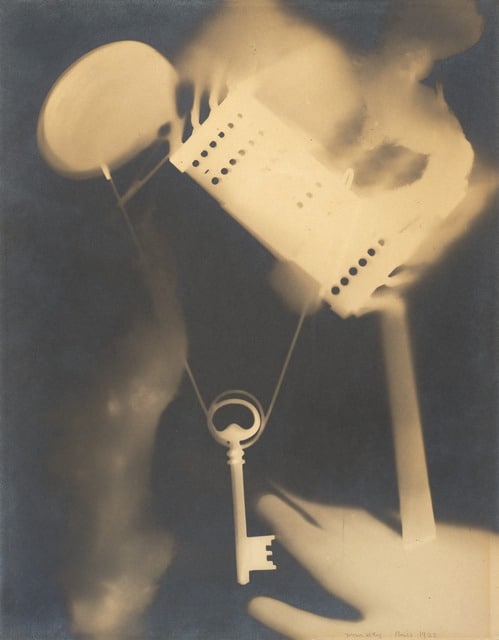 His Rayographs have an autobiographical quality to them and Ray often included his own body or his lovers in them.
Man Ray explored the technique for more than 40 years and created many of his most important works using this method including two portfolio books Champs delicieux and Electricite.
In his 1923 film Le Retour à la raison (The Return to Reason), the artist extended the Rayograph technique to moving images.
How to Make a Photogram
Check out this video from Ilford Photo which explains the process used to make a photogram.
Man Ray's Famous Photographs
The Kiss, 1922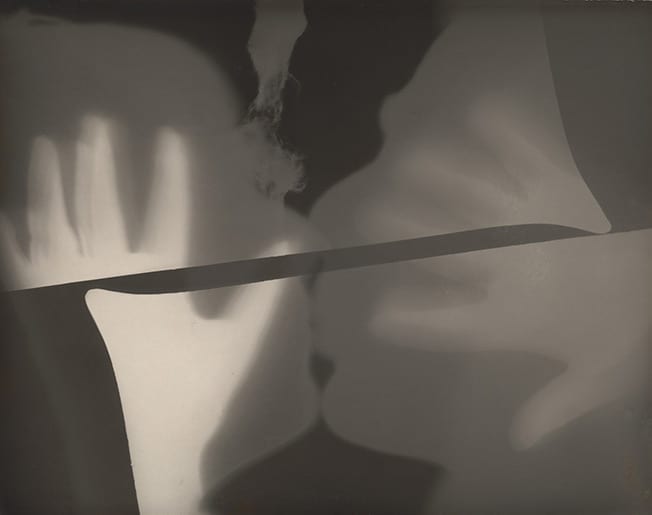 The Kiss is one of Man Ray's earliest Rayograms. To make this particular picture, Ray transferred the silhouette of a pair of hands to the photographic paper then repeated the process with a pair of heads kissing (his own and his lover, Kiki de Montparnasse) and then two darkroom trays.
Le Violon d'Ingres (The Violin of Ingres), 1924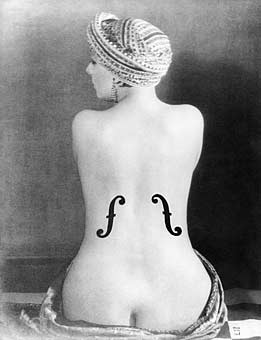 This photograph featured the naked back of his lover, Kiki de Montparnasse, styled after the painting by a French artist called Jean Auguste Dominique Ingres.
In a humorous twist, Ray adds two black shapes to make her back look like a musical instrument, playing with the idea of objectification of an animate body.
Throughout his career, Man Ray was fascinated with juxtaposing an object with the female body.
Observatory Time is one of Man Ray's most memorable pieces of art.
The top part of the image features a black-and-white photograph of the lips of his departed lover, Lee Miller, filling the sky above the Paris observatory.
The nude completes the composition: the female figure is lying on her side on a sofa underneath the picture, with a chessboard at her feet.
The chessboard appears in many of Man Ray's works and he considered a grid of squares "the basis for all art… it helps you to understand the structure, to master a sense of order."
Observatory Time hints at what the woman might be dreaming: a nightmare or an erotic fantasy.
The lips in the picture inspired many iconic images in popular culture including the logo for The Rocky Horror Picture Show.
Other Man Ray Resources
Recommended Man Ray Books
Disclaimer: Photogpedia is an Amazon Associate and earns from qualifying purchases.
Man Ray Videos
Man Ray – Prophet der Avantgarde
The Best Surrealists – Man Ray
Man Ray Photos
Looking for more Man Ray photos? Check out his profile at MoMA or visit the Man Ray Trust
Fact Check
With each Photographer profile post, we strive to be accurate and fair. If you see something that doesn't look right, then contact us and we'll update the post.
If there is anything else you would like to add about Man Ray's work, his life, and how he has had an impact on you (or other photographers) then send us an email: hello(at)photogpedia.com
Link to Photogpedia
If you've enjoyed the article or you've found it useful then we would be grateful if you could link back to us or share online through twitter or any other social media channel.
Finally, don't forget to subscribe to our monthly newsletter, and follow us on Instagram and Twitter.
Sources
Man Ray Trust Website
MoMA Profile, Man Ray
Wikipedia Profile, Man Ray
Icons of Photography: The 20th Century, Prestel, 1999
Man Ray, Skira Editore, 2011
Encyclopedia of Twentieth-Century Photography, Routledge, 2005
Man Ray: Prophet of the Avant Garde, 2005
Self-Portrait, Penguin Classics, 2012
Man Ray Portraits, Design Week, 2012