Artbreeder is not your ordinary AI Art Generator. AI Art Generators are capable of creating art in seconds. It takes away the time spent by artists in creating intricate pieces of art. In the past articles, you got to know the text to image art generators. These previous AI art generators turn user entered prompts into stunning images. Artbreeder is different since there is another option for creating artworks aside from user entered prompts.
In this article, get to know all things Artbreeder. How do you create images in Artbreeder? Is it difficult since there's no option for prompts? Learn about these and more in the following sections.
What is Artbreeder?
Artbreeder is an AI Art Generator that uses neural systems for enhancing base images. Artbreeder offers a wide array of stock photos for editing. However, users have the option of uploading their own base photos for art generation. Users alter the values of different parameters and properties of an image. Take portraits for example. Users have the option of changing the facial expression, hair color, eye color, and gender among others.
Artbreeder also offers a text to image generator. This option is named "Collager" on their website. Users have the ability to add elements in the frame of the photo, then add prompts that the AI renders.
Artbreeder aims to be a new creative tool empowering user creativity. This is by making it easier for collaborations and exploring art. Previously, Artbreeder went by the name Ganbreeder. It started as an experiment using breeding and collaborative methods of exploring high complexity spaces. Artbreeder adapts its name from Picbreeder. Picbreeder investigated the role of exploration in the optimization process of the AI Art Generator. The AI Art Generator also took inspiration from Facebook Graffiti which demonstrated the creative capacity of crowds. Artbreeder is created by Joel Simon and Studio Morphogen. Find all this information and more on the About Page of Artbreeder.

How does Artbreeder work?
Artbreeder uses General Adversarial Networks or GAN for its neural system. Specifically, it uses BigGAN and StyleGAN models. There is an open source version of this AI Art Generator available that solely uses BigGAN.
How to Create Images using Artbreeder
In this section, a detailed guide for starting with Artbreeder follows. Learn how to create images using Artbreeder. It's simple and fun which surely leaves you wanting for more creations!
Account Creation on Artbreeder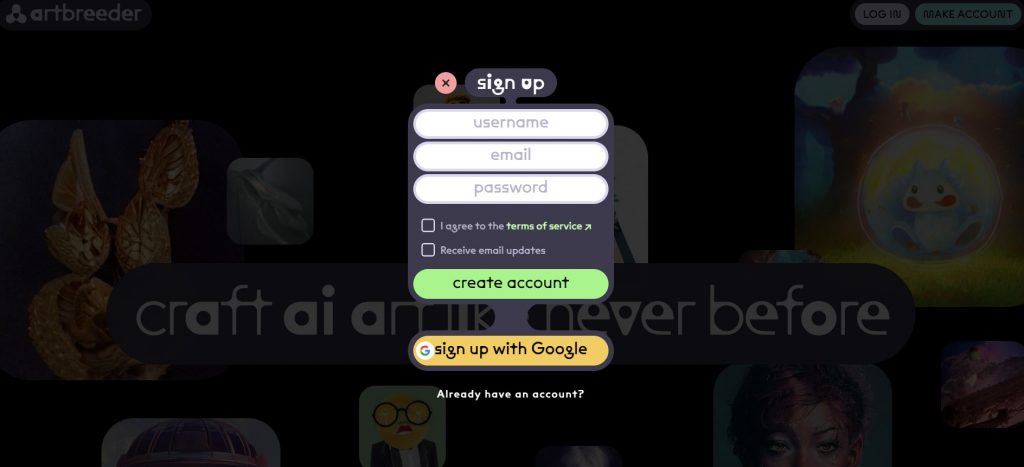 First, create an account on Artbreeder. Upon visiting their website, you have two options. These are Log in or Make Account. Click on Make Account and enter the required details (username, email, and password). Click on the check box for agreement with their Terms of Service. Alternatively, make an account by signing up with a Google account. 
Starting a New Creation on Artbreeder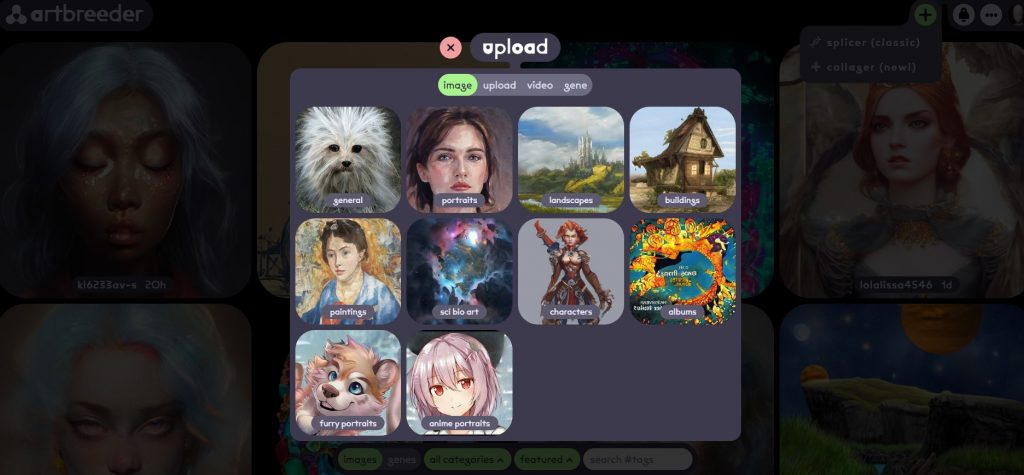 Upon successful login, users are directed to Artbreeder's browse page. Here, a display of community generated artworks are on full display. On the upper right corner, click on the plus icon. A dropdown menu shows two options – Splicer or Collager. The Splicer option lets you manipulate images by adjusting values of different parameters. On the other hand, the Collager option lets users apply text prompts for their creation.
Choose Splicer and begin your new creation. After doing so, there are four options for your creation. These are Image, Upload, Video, and Gene. First, the Image option lets Artbreeder provide a base image for you to enhance. Second, Upload lets users pick from their own photos for image manipulation. Next, Video lets users create transitions for their generated art. Lastly, Gene lets users explore the application and combination of multiple references.
As of publication, Artbreeder offers 10 art styles for their users. These are General, Portraits, Landscapes, Buildings, Paintings, Sci-Bio Art, Characters, Albums, Furry Portraits, and Anime Portraits. The most noteworthy among these is the General Option. Here, any type of photo even outside the offered styles can be used as a reference. The following is a question answered by the Artbreeder team regarding uploads.
Why does my uploaded image not look like the original?
All images get encoded into a representation that the neural networks find understandable. The image being uploaded should generally resemble the images the network already produces. For portraits, it should be facing the camera, with the full face in focus and good resolution on the face.
Modifying your Reference Image in Artbreeder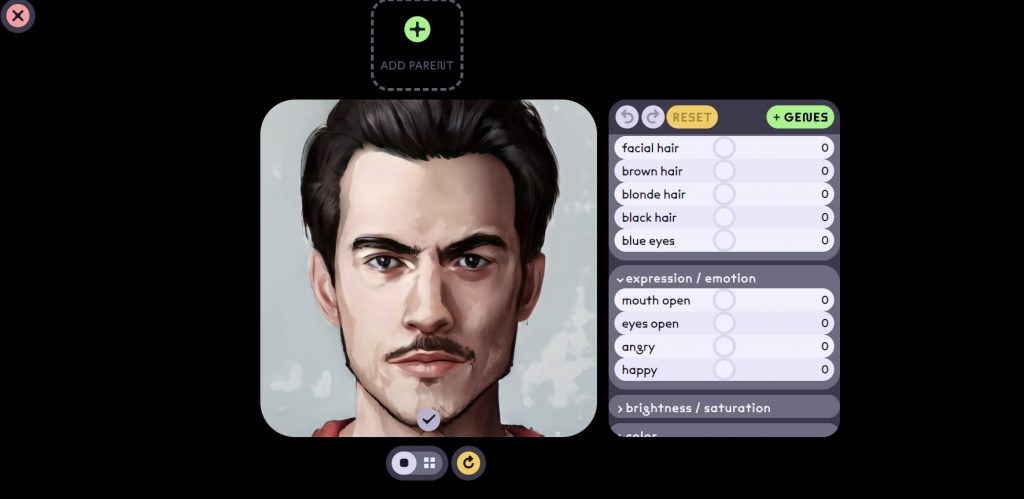 Next, let us talk about the different options for your image manipulation. In every art style, there are various parameters available for changing. Change these parameters by dragging them left or right. Dragging them left decreases the likelihood of that parameter in your image. On the other hand, dragging them right increases the prospect of that parameter to show up in your image. Mix and match all the available parameters to create your own unique artwork!
Saving your Progress on Artbreeder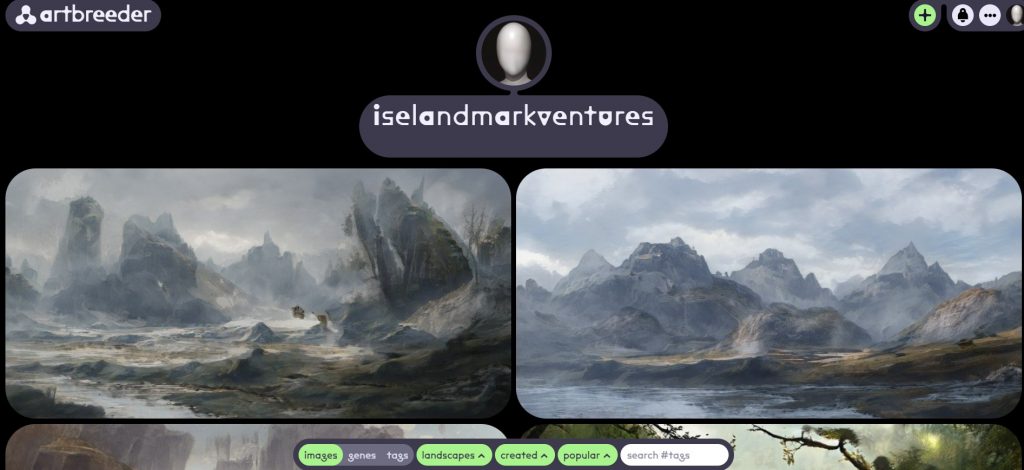 Lastly, simply save your progress on Artbreeder by clicking on the generated image. This adds that photo in your account. You can save these images later by clicking on your profile in the Artbreeder home page. You can either save them unlimitedly in standard resolution or with a limit as high definition images.
Tips for Creating Better Images in Artbreeder
Artbreeder's vision for collaboration and exploration is the main concept for creating better images. When starting with every creation, an "Add Parent" option is available for users at the top of the screen. This applies the look and style of an image for your creation. You can then alter the parameters for distinct looks. Develop more unique artworks by combining more than one "parent" image.
Second, the Grid Option (noted as four squares below the image) during creation helps a lot! A random combination of values for parameters lies within each image. This makes the most out when generating images since you generate four images at once.
Moving forward, the Collager function that Artbreeder offers is extremely powerful. One must know the anatomy of a prompt and basic prompt building to unleash its full potential.
Firstly, prompts are the backbone for AI Art Generation. Work with online prompt builders and create highly detailed prompts. This helps the AI really narrow down the art it creates. From lighting, art style, and subject, a detailed prompt consistently gives the best results.
Promptomania is an online prompt builder website designed for DreamStudio, MidJourney, and Stable Diffusion. It also offers a Generic option for generic diffusion model AI based art generators. These are DALL-E 2, Disco Diffusion, NightCafe, wombo.art, and Craiyon.
Upon selecting which AI art generator you're using, the website offers you a wide array of possible details for prompt building. These include the three main key prompts as well as details for color, dimensionality, display, geometry, lighting, and material.
Simply click on the detail you want to add and it automatically builds your prompt. You can find your final prompt at the top of the page and copy it for entering in the AI art generator prompt box.

Artbreeder Community
Artbreeder is mainly focusing its community on Twitter and Discord. They have two accounts for Twitter – @artbreeder and @artbreeder_bot. The first account posts curated content by admins while the other posts random creations hourly. On the contrary, Discord acts as a space of communication for the users of Artbreeder. Discussions include suggestions, reports, tips and tricks, and announcements among others. Join their Discord server by clicking on this link.
Conclusion
Artbreeder is a game changer among other AI Art Generators. This provides users the ability of easy manipulation of existing images or artworks. Users have no limit with the amount of artwork they're able to create. This is another advantage it holds among existing AI Art Generators. Most AI Art Generators cost credits for creation and somehow limits the creativity of users.
Artbreeder uses General Adversarial Networks or GAN for its neural system. Specifically, it uses BigGAN and StyleGAN models. This helps both of the systems available in Artbreeder – Splice and Collager. Splice lets users enhance existing images by alteration of various parameters such as hair color, eye color, facial expression, and skin color among others. On the other hand, Collager acts as a text to image generator but with improvements. Users can add images and make collages then let the AI render a final output.
Utilize all the features in each AI art generation AI by Artbreeder to create better images. These include the multiple canvases and add parent functions. Mix and match different values for the parameters and you'll be creating unique and magnificent art in no time!
Lastly, share your experience and suggestions about the AI through their Discord server. The Artbreeder team monitors this server and tends to the inquiries of their users. Explore Artbreeder – a breath of fresh air for AI Art Generators and engage with a brand new community.
Afterword
Art is a core part of society. It dates back in early signs of human life as seen on cave drawings and sculptures. Today, AI has the ability to create stunning artworks. Artificial intelligence uses algorithms from entered prompts by the user for generating artworks.
AI generated art is continuously rising in popularity around the globe. Artificial Intelligence gathers inputs from users and comes up with stunning artworks. With how speedy the process is, it's no wonder that people are jumping in this worldwide craze.
AI art generators provide an avenue for people where they can turn concepts into a reality. Every person has creativity within them. However, not all pursued the path of dedicating time and effort for art. AI Generated Art is a testament of how the human mind can come up with ideas that translate well into art forms.
The continuous rise in popularity of AI Art Generators opens more doors for creativity. Art always played an important role in society. It's mind blowing that in our generation today, humanity gained the ability of harnessing artificial intelligence for art generation.
Artbreeder provides more creative options for AI Art Generator enthusiasts. It is a breath of fresh air to the conventional text to image art generation of other AI. At the same time, the unlimited number of creations with this AI Art Generator makes it one of my top choices. The functions available in this AI Art Generator really make it worth trying out!
Lastly, thank you for reading this article. If you find this article interesting, consider checking out our recently published posts. They introduce the world of AI Art Generators as well as tips and tricks for Prompt Building. If you're looking towards Photography, we also offer great articles for your inspiration.
Find them here:
Stable Diffusion : AI Art Generator Spotlight
Midjourney : AI Art Generator Spotlight
Wombo.art : AI Art Generator Spotlight
Craiyon : AI Art Generator Spotlight
AI Generated Art : The Creative Future
AI Art Generators : Prompt Building
World Photography Day 2022