Boudoir photography captures the intimacy and sensuality of a person, usually women. This photography niche rises in popularity in recent years for multiple reasons. It serves as a form of self-expression as well as a celebration of the beauty of the human form. Ultimately, boudoir photography empowers the subject and boosts their confidence.
This blog post explores the world of boudoir photography. We provide the essential tips and tricks for creating beautiful and intimate images. Whether you are a photographer or a model, this blog helps you understand all there is to know about boudoir photography.
Let's get started!
Planning Your Boudoir Photoshoot
When planning a boudoir photoshoot, there are several key elements to consider to ensure the shoot is successful and produces beautiful, intimate photos that you'll treasure for years to come. As a model, it's important to be comfortable with multiple factors. This includes choosing the right photographer, location, and outfit.
Choosing the Right Photographer
First and foremost, look for a photographer with a portfolio of boudoir work that you admire and feel confident in. Additionally, consider the photographer's personality and communication style to make sure they are someone you feel comfortable working with. Schedule a consultation or phone call with potential photographers to get a better sense of their style and approach.
Finding the Perfect Location
The location of your boudoir photoshoot is also an important consideration. Some people prefer to shoot in a hotel room or rental property, while others prefer the privacy and intimacy of their own home. If you're shooting in a hotel or rental property, be sure to choose a location that has plenty of natural light and a comfortable and stylish atmosphere. If shooting in your own home, consider the spaces that are most meaningful to you and have the best lighting.
Choosing the Right Outfit and Accessories
When choosing your outfit and accessories for a boudoir photoshoot, consider your personal style and what makes you feel confident and beautiful. Lingerie, robes, and other intimate wear are common choices for boudoir shoots. However, the most important factor is to be comfortable. Choose something that you feel comfortable and confident in.

Using accessories such as jewelry, scarves, and other items are also helpful! They add extra interest and depth to your photos. When choosing your outfits, bring a variety of options as well. This allows your photographer to help you choose the best looks for your body type and the overall style of the shoot.
Creating a Comfortable and Relaxed Atmosphere
Creating a comfortable and relaxed atmosphere is crucial to capturing stunning boudoir photos. To achieve this, it's important that you are mentally and emotionally prepared before the photoshoot. Here are some tips to help you get into the right state of mind for your boudoir session:
Take care of yourself: Leading up to the photoshoot, make sure to get plenty of rest, eat well, and exercise regularly. You want to feel confident, energized, and comfortable in your own skin.
Set your intention: Take some time to reflect on why you want to do a boudoir photoshoot. Think about what you hope to gain from the experience. Is it to capture a special moment in your life? Or maybe simply to treat yourself to something fun and empowering?
Get into the right mindset: Before the photoshoot, spend some time meditating, doing yoga, or engaging in other activities that help you relax and feel confident.
During the photoshoot, your photographer should work with you to create a relaxed and comfortable atmosphere. Ultimately, the photographer is in charge of the whole process. Here are some tips to help you feel at ease during the shoot:
Communication is key: If you're feeling uncomfortable or nervous, don't hesitate to speak up. Your photographer should be open and receptive to your needs and concerns, and should be able to help you feel more relaxed and confident.
Play music: Having some light background music playing during the photoshoot can help you feel more relaxed and comfortable. Choose a playlist that you love and that helps you feel confident and empowered.
Take breaks: If you start to feel overwhelmed or tired, take a break. Take a deep breath, stretch, and give yourself a moment to recharge. The right photographer will be understanding and supportive during this process.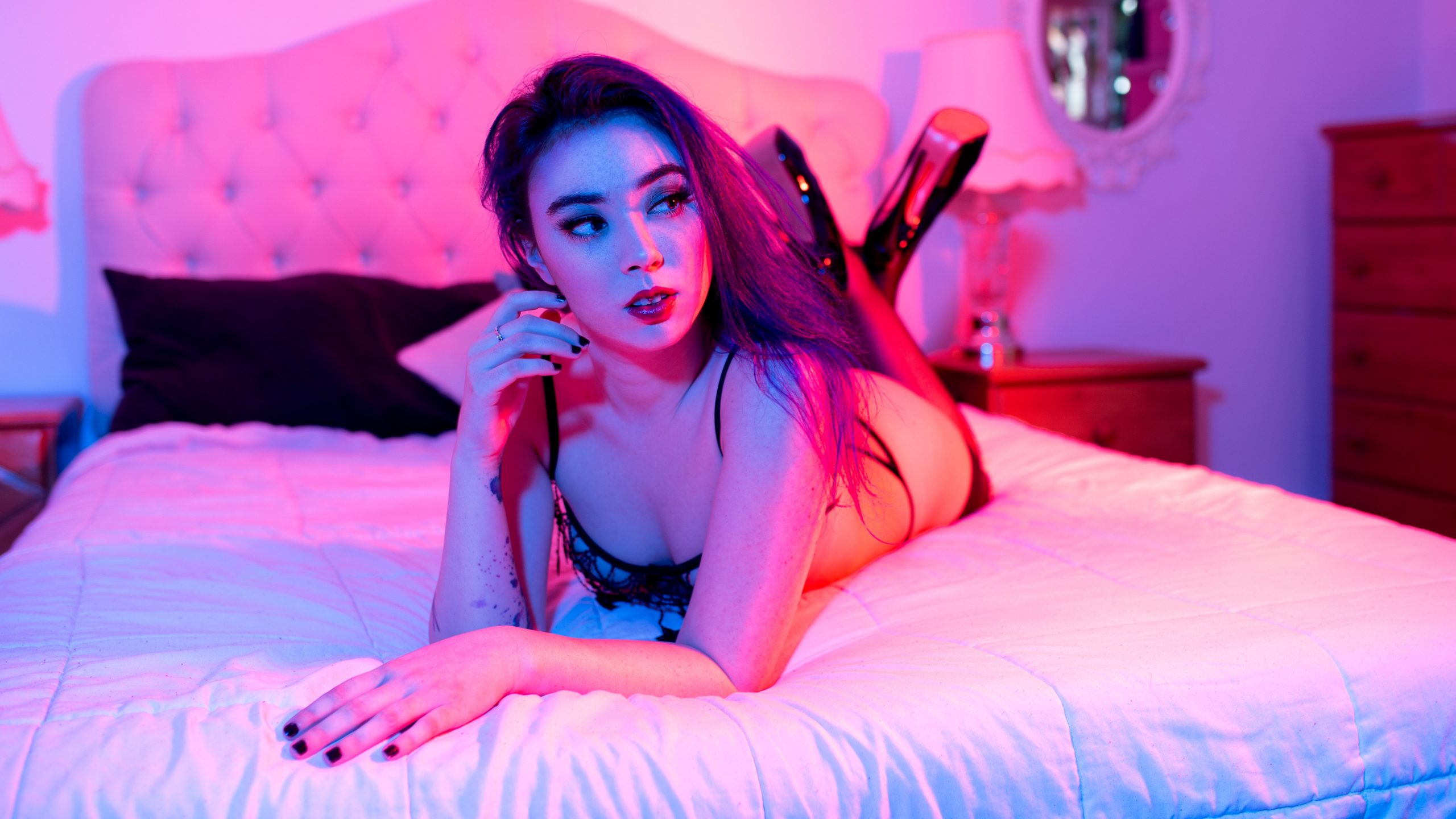 Posing and Movement in Boudoir Photography
Boudoir photography is all about capturing the essence of sensuality and intimacy. Poses and movement help in achieving this. Practice beforehand and prepare your best poses! Know how to pose and move in a way that is both comfortable and flattering. In this section, we provide some tips for creating beautiful and sensual photos.
Tips for Posing
Find your best angle: Everyone has a side that is more photogenic than the others. Experiment with different poses to see which one flatters your features the most.
Use props: Props can add an extra layer of sensuality to your photos. Try using items like scarves, fur, or lace to create more interesting compositions.
Embrace your body: Boudoir photography is all about celebrating your body, so don't be afraid to embrace it. Be confident in your own skin and show off your curves.
How to Use Movement and Gestures
Make eye contact: Eye contact is a powerful tool in boudoir photography. Use it to connect with the camera and create a more intimate feel.
Use fluid movements: Fluid movements are more sensual and elegant than stiff poses. Practice moving gracefully and try to incorporate this into your photoshoot.
Play with your hair: Hair is an important part of boudoir photography, and playing with it can add an extra level of sensuality to your photos.
Tips for Working with the Photographer
Communication is key: Good communication between you and your photographer is essential. Share your vision and work together to create the perfect poses.
Trust your photographer: Your photographer is there to guide you, so trust them and their expertise. They will help you feel comfortable and confident in front of the camera.
Have fun: Boudoir photography should be a fun and empowering experience. Don't be afraid to let loose and have a good time during the photoshoot.
Capturing Intimate Moments
Capturing intimate moments is a fundamental aspect of boudoir photography. Just like any photography niche, one must know its fundamentals. It's important to consider the use of light, shadow, and accessories to create the perfect mood and atmosphere.
Consider incorporating props and accessories that are meaningful to you. For example, you may want to incorporate a special piece of jewelry, a favorite book, or a piece of lingerie that you feel particularly confident in. These props and accessories can add an extra level of intimacy and romance to your photos.
Light and shadow also play an important role in creating a moody and sensual atmosphere. For example, shooting in soft and diffused light creates a romantic and intimate mood. On the other hand, the use of dramatic lighting highlights your curves and features.
Next, prioritize thinking about your poses. It's important to be mindful of your body language and movements. Gentle gestures and movements can add an extra level of sensuality to your photos. Meanwhile, more dramatic poses create a bold and confident look.
Ultimately, you can create truly intimate and romantic boudoir photos by working with your photographer. Be open to creative ideas but make sure that you're comfortable throughout your boudoir session.
Enhancing Your Images
Editing and retouching always play important roles in achieving the perfect look for your images. In boudoir photography, this can be anything from removing blemishes and smoothing out skin tones. Moreover,  adjusting lighting and color balance is also part of this process.

It's important to work with your photographer to determine the level of retouching you desire and what look you want to achieve. Here are some tips for enhancing your boudoir photos:
Communicate your desired level of retouching with your photographer.
Don't be afraid to ask for specific adjustments or changes to be made.
Consider using professional editing software to achieve the perfect look for your images.
Remember that editing and retouching should enhance your natural beauty, not completely change it.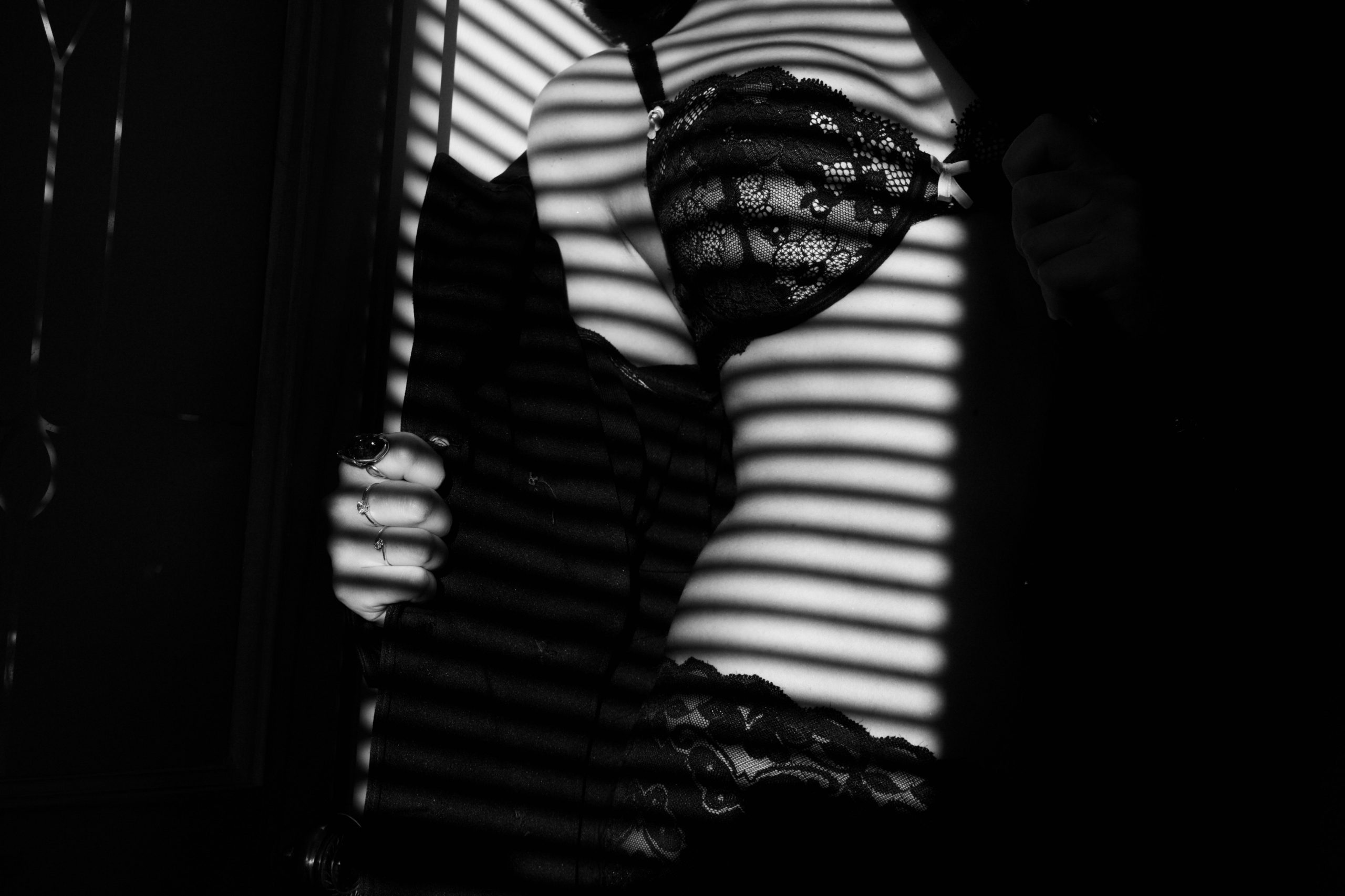 Celebrating Your Beauty
As we finish this blog, remember that boudoir photography is a celebration of beauty. Not only this, boudoir photos also celebrate sensuality and romance. Therefore, it's important that you showcase your photos reflecting this.

There are various options for displaying photos. These include creating a photo album, printing them on canvas, or as wall art displays. Each of these have their own unique advantages so keep that in mind!
First, photo albums keep your photos organized, protected, and a little bit private. Choose from a variety of sizes and styles. Most importantly, have fun as you create your very own boudoir photo album.
Next, canvas prints are a beautiful way to display your boudoir photos. What's interesting about canvas prints is their texture. The texture and depth of a canvas adds an extra level of sophistication to your photos. What's more, canvas prints also come in a variety of sizes! You can choose one that fits your space perfectly.
Lastly, wall art is another popular option for displaying boudoir photos.  This allows you to create a focal point in your home. Choose from a variety of styles, including framed prints, mounted prints, or metal prints. Wall art is a great way of showcasing your photos in a way that celebrates your beauty and sensuality.
Conclusion
In conclusion, boudoir photography is a beautiful and empowering form of photography. It allows you to celebrate your sensuality and capture intimate moments. We encourage you to embrace your sensuality and try out boudoir photography. Whether you book a photoshoot or try out some of the tips presented in this guide, we hope you find the experience to be empowering and fulfilling. Finally, we invite our readers to share their own boudoir photography experiences and tips with us in the comments below.
Check out our other blogs:
The 5 Best AI Art Generators
Why Choose Metal Prints using Chromaluxe?
Guide to Product Photography
Guide to Toy Photography
The Art of Editing Photos
Best Outdoor Print and Signage Options
The Best Metal Print Companies
The Printing Mediums of Wall Art
We enjoy reading your comments and insights with our posts! Should you have any questions or concerns, feel free to leave them below! -Mark