Photographers have the goal of sharing their work to the world to inspire and captivate people around the globe by using a photo sharing app. In today's era with the help of technology and the internet, it's easier than ever. There are multiple photo sharing apps that serve this purpose. Photographers get to be involved with their audiences as well as other photographers in the field through these social media apps.
With the numerous photo sharing apps available, which is the best option? There are many variables in consideration when picking the social media app to use. Is your purpose to connect, interact, and simply share? Do you have a goal to earn money with your work by posting them on the internet?
In this article, we'll discuss the current state of the photo sharing community on the internet and tackle various alternatives for a new photo sharing app. (Some tips and tricks for posting on Instagram are on here too!) Buckle up and enjoy the ride!
What's going on with Instagram?
Over the past months and weeks this 2022, Instagram's users are pleading for the return of a photo centric platform. The photo sharing app by Meta continues in pushing recommended videos to its users in the form of Reels. Reels are short videos by content creators displaying various content highly similar to Tiktok.
Video Content
More and more video content by suggested profiles keep popping up on people's feeds. Instagram which was a photo sharing app developed in 2010. Users get to choose and connect with people they are personally attached to. May it be friends, family, or celebrities; their newsfeed consists of photos published by their following. Instagram has an Explore tab where suggested content pops up for every user. But today, Instagram seems to push their ideas of change by recommending posts not only in the Explore tab but also in the newsfeed.
Advertisements
Instagram incentivices its users who go for paid advertisements. As of writing, Ads are rampant on the platform. They get shown on the Newsfeed, Stories, and Explore tab. With this said, Instagram moved from being an app where you can interact with close friends to an app to get monetized. While being monetized is good, it still harms the original purpose of the app. Instagram moving this direction also makes it difficult to get attention.
Algorithm
Instagram's algorithm hinders the growth of content creators. As of writing, a number of the photo sharing app's users find it difficult to be seen on the platform. Photos and videos do not show on their used hashtag and with this, even harder to be seen on the Explore page. This leaves the users displeased because their main goal of sharing their work with the world is unachievable.
Dealing with the Issue : First Hand Experience
My personal experience using the app stays true to most of Instagram's users. There are ways to combat the unpredictable algorithm of the photo sharing app and I'm here to share it with you all! It's not a 100% effective plan of action, but it helped me out a lot. Upon using these methods, my posts get the traction and attention I hoped for. The three main points to follow are consistency, variety, and interaction.
1. Consistency
Firstly, I changed my posting times from thrice a week to daily. I know how difficult it is to come up with fresh ideas and concepts for a photo. Once you get through this dilemma, it definitely pays off! When posting thrice a week, I noticed that my photos didn't appear in any of the hashtags I used. Reaching the audience I want to share my photos with was unreachable.
Upon posting consistently, the number of interactions on my posts skyrocketed! It felt awesome to finally reach the people who have the same interests with what I'm posting. For a while, it felt like the photo sharing app I knew was back.
2. Variety
Next, let's discuss hashtags and how using a variety of them helps you get noticed! Using repetitive hashtags makes the platform see you as a "bot". This leads to your posts not appearing on the hashtags you use. I noticed this on my posts since for a long time I use the same general hashtags over and over again.
I changed my hashtag placements – some in the caption and majority in the comments. This worked and my posts started appearing on all the hashtags I used! Also, learning about hashtag research can help your account grow. There are multiple websites that provide the trending and most used hashtags for a certain topic or niche.
Best-Hashtags is an example of a free website that showcases the most popular and most liked hashtags for a specific topic. The website offers the data for how many posts on the photo sharing app uses each hashtag too! It's best practice to mix popular hashtags with specific hashtags in your posts to reach a much targeted audience.
3. Interaction
What other way to get attention than interacting first hand with people that have similar interests with you? This is a foolproof action and it provides great results. It can be tiring at first scrolling through the top and recent posts on a specific hashtag, but it gives you the chance to build authentic audiences.
I started tapping on the hashtags I used and posted comments on photos that peak my interest. Also, I took the time writing thoughtful and genuine comments on others and did it consistently. I allotted specific times in the day where I'd browse through the recent and top posts on these hashtags to share my thoughts.
The authenticity of this approach is one of the best experiences I had. With almost three years using Instagram, this provided the most satisfaction. It's a joyful moment meeting and making new connections with people in the same field. I highly recommend you try this out too!
On another plus side, interaction lets the algorithm of the app see you as a genuine person and then recommends your posts to others! Continue interacting with your followers and new people to stay ahead over the photo sharing app's unexplainable algorithm.
3 Alternative Photo Sharing Apps
Even after finding alternate methods to battle Instagram's algorithm, it takes a lot of work to keep pushing through with content everyday. It also looks like Instagram will continue in the direction of pushing videos forward. This really makes it difficult for photographers to have a space in the platform to showcase their work.
The good thing is, there are a lot of other photo sharing apps that are community focused and value the opinion of their users. Let's talk about other options for sharing our work and connecting with people with the same interests!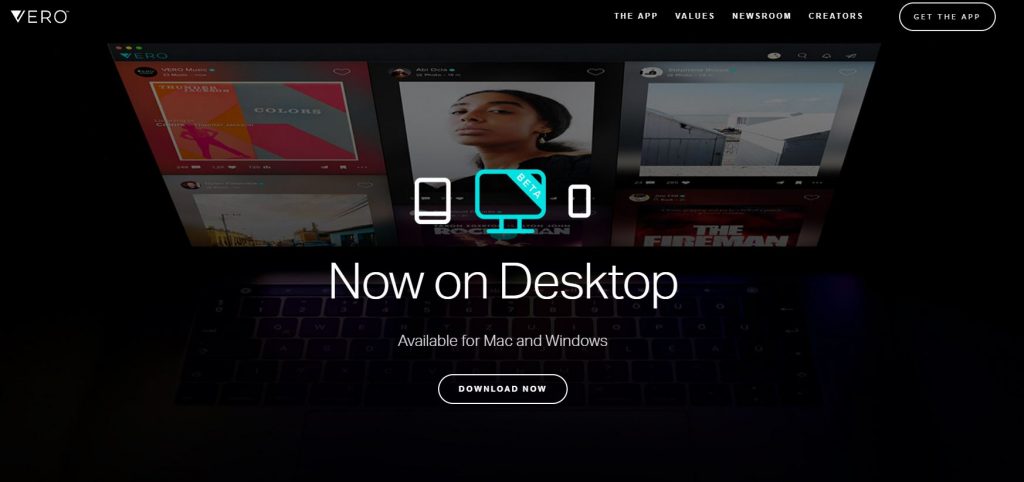 The top 1 and my personal favorite is VERO! VERO is an ad-free and algorithm-free app launched worldwide in 2015. Users can scroll through the app in chronological order; no recommendations and no ads!
VERO is a great space for photographers to share their craft. Their team is continuously featuring artists around the globe and even has a section in the app dedicated to photography. This photo sharing app is a breath of fresh air because of its interface. A lot of my colleagues and friends enjoy the app and describe it having a "classy" interface.
Aside from being a photo sharing app, users can also share their thoughts about music, movies, tv shows, and many more! VERO stays true to its identity of "true social" by providing its users the service they want. Users have no need to focus on researching hashtags since all posts are sorted chronologically. Posts are separated into different sections like Photo, Video, Music, and Links which makes browsing the app a breeze. You get to choose what you want to see and never be bombarded by recommended posts.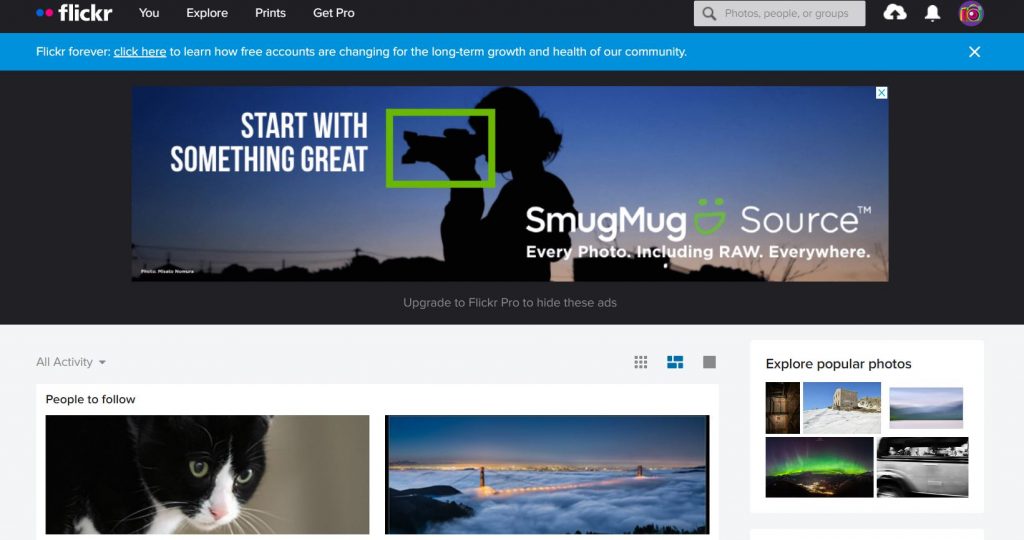 Flickr is a true photo centric platform where users can upload, share, and interact with other photographers around the globe launched in 2004. They offer paid membership but is still accessible for free. A free account can upload a maximum of 1,000 photos, all of their editing tools, and smart photo management tools. On the other hand a Pro account gives you access to advanced stats, ad-free usage, and their Desktop Auto-Uploadr Tool.
The Flickr community also is very active. It has a group section where you can search for topics and communities who share the same likes as you do.
On Flickr's Explore tab, popular photos are given the showcase. There are also tabs for the current trending hashtags and events. In the events tab, browse through a number of upcoming and past events that include workshops, photowalks, and discussions with photographers internationally.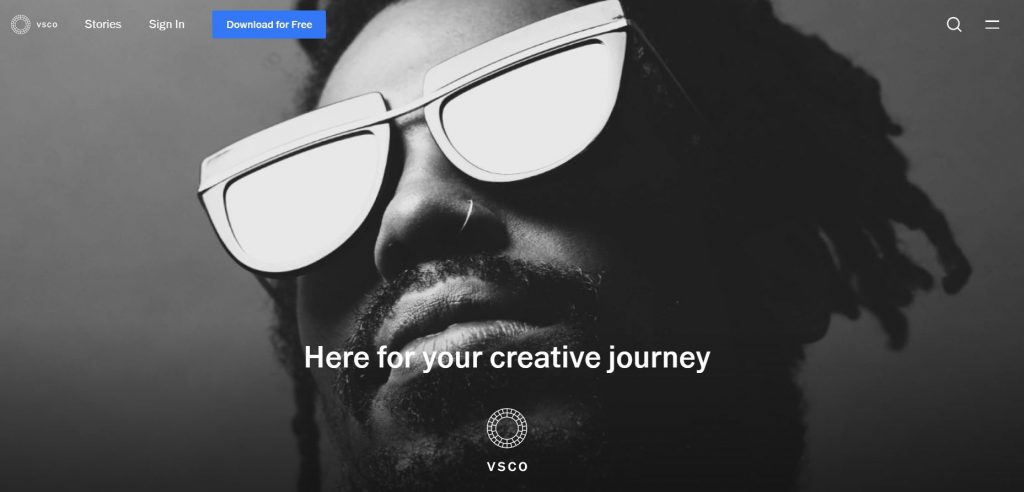 VSCO is a photo editing app launched in 2012. It's long been in the Google play store and Apple Appstore and is still relevant to this day. Aside from being a photo editing app, it also functions as a photo sharing app where you can find, interact, and connect with photographers and other creatives.
Aside from this, people can also browse to the filters you applied in your photo and use them in their own work with the "Try Filter" option. VSCO utilizes hashtags and a discover page; similar to the Explore tab of Instagram.
VSCO is a photo centric app. There are no videos, stories, or reels on this platform. Scroll through your feed knowing that only photos take up your data usage.
Social proof refers to the number associated with your account and posts. It is the number of followers and interactions you have. No number is displayed on this photo sharing app. The amount of followers or likes is hidden so there's no need for social proof.
Conclusion
The changes implemented by Instagram on their app led to people finding ways to stand up against their algorithm. Instagram which was a photo sharing app transitioned to involving stories and videos to their platform. As of writing, Instagram continues to push forward Reels as a recommended medium for posting content on their app. With this, photographers look for alternative photo sharing apps.
Lastly, VERO is on top of my list and I highly recommend giving it a try. It makes me worry-free knowing my photos reach the people and audiences I share my passion with. Its interface is really beautiful plus the VERO Team continues to involve themselves with their users.
As an afterword, if you enjoyed this article, I suggest you check out the other posts I published. Thank you and have a nice day!
Photography Styles:
1. Portrait Photography
2. Landscape Photography
3. Macro Photography

Photography Tips:
1. Aperture in Photography
2. Lighting in Photography
3. Mobile Photography

Turn your digital photos to prints:
1. Printing Mediums of Wall Art
2. Wood Prints
3. Canvas Prints
4. Acrylic Prints