Turning a memory into art and display is within reach with the best canvas prints. Create and display your photograph in your home with the help of the best canvas print companies. If you're in search of awesome display pieces instead, these companies also have an extensive gallery of artworks to choose from.
Decorate your home with photographs of your best work, heartwarming memories, and eye capturing art with the help of the best canvas print companies on the market.
What are Canvas Prints?
Canvas prints are images printed onto a canvas with an inkjet printer. These are often stretched and gallery-wrapped then displayed. Canvas is a final output of an art piece – reproducing other forms of art tangibly.
The Best Canvas Print Companies
The best canvas print companies dedicate their resources in producing excellent products and customer satisfaction. As consumers, we look at the value for money. In this section, a brief introduction to the companies and the prices for the popular canvas print sizes will be highlighted.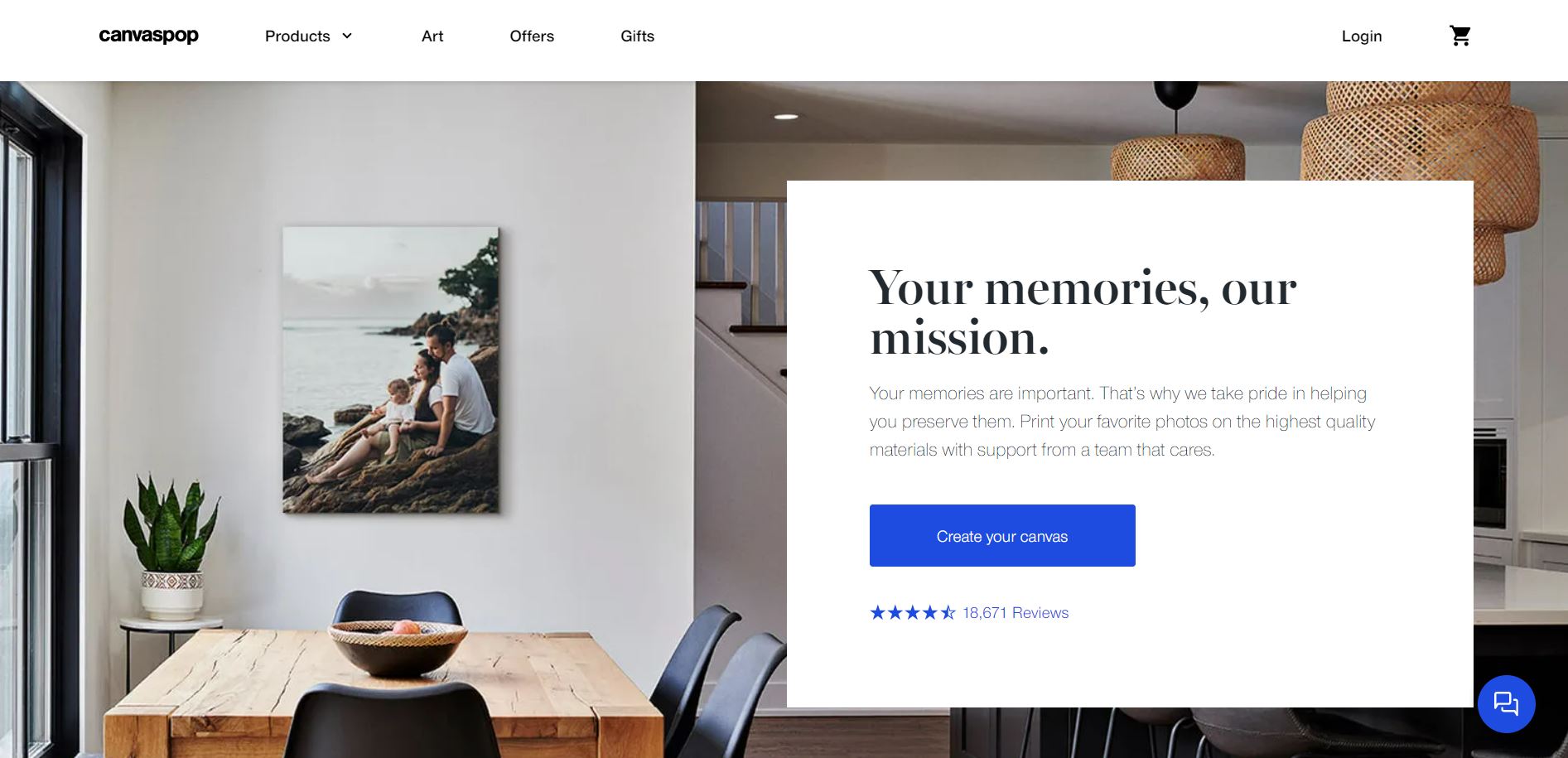 Canvaspop is a team that understands how important preserving cherished memories are. They are obsessed with providing the best customer experience. This is instantly visible with their easy to use website, world-class customer service, and top quality products. Their support team is made up of talented designers, photographers, and artists.
They offer free digital proofs with every purchase so that the consumer can approve the design before it goes to print. They also offer a 100%, no-hassle, Love It for Life guarantee. If the customers are unhappy with their order, they make it a point to make it right or they get their money back.
Pricing:
8" x 10" – $76.00
12" x 16" – $90.0
18" x 24" – $128.00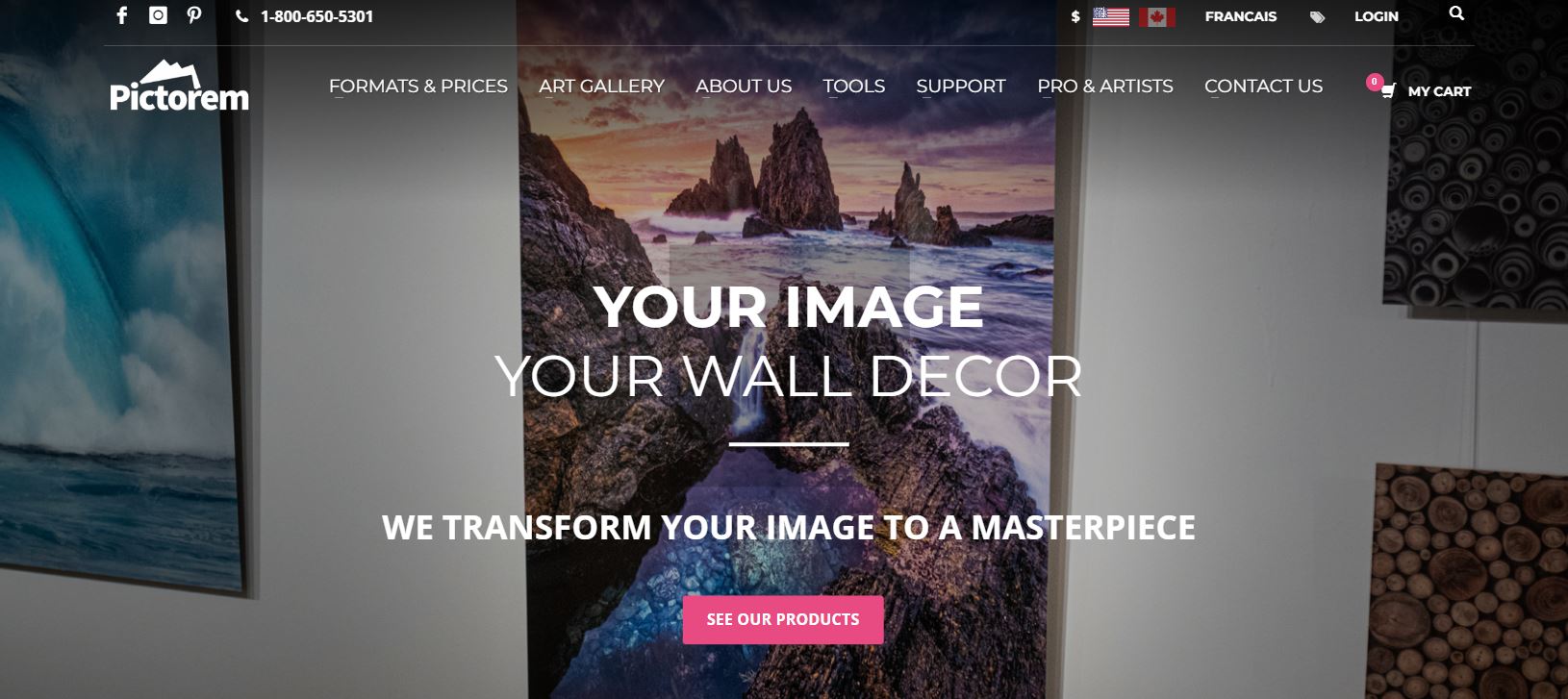 Pictorem is based in Montreal, Canada and has a deep passion for art and photography that translates to making the highest quality wall art. They are dedicated to utilizing craftsmanship, innovation, and perfection.
They show value in their prints with their image enhancement process. Their process allows them to make almost every picture into amazing photo canvas prints. They also provide a 100% Satisfaction 30 Day Money Back Guarantee. If unsatisfied with their product due to factors under their control, they will either replace or fully refund the purchase.
Pricing:
8" x 10" – $62.00 (due to custom sizing on their website)
12" x 16" – $61.00
18" x 24" – $109.00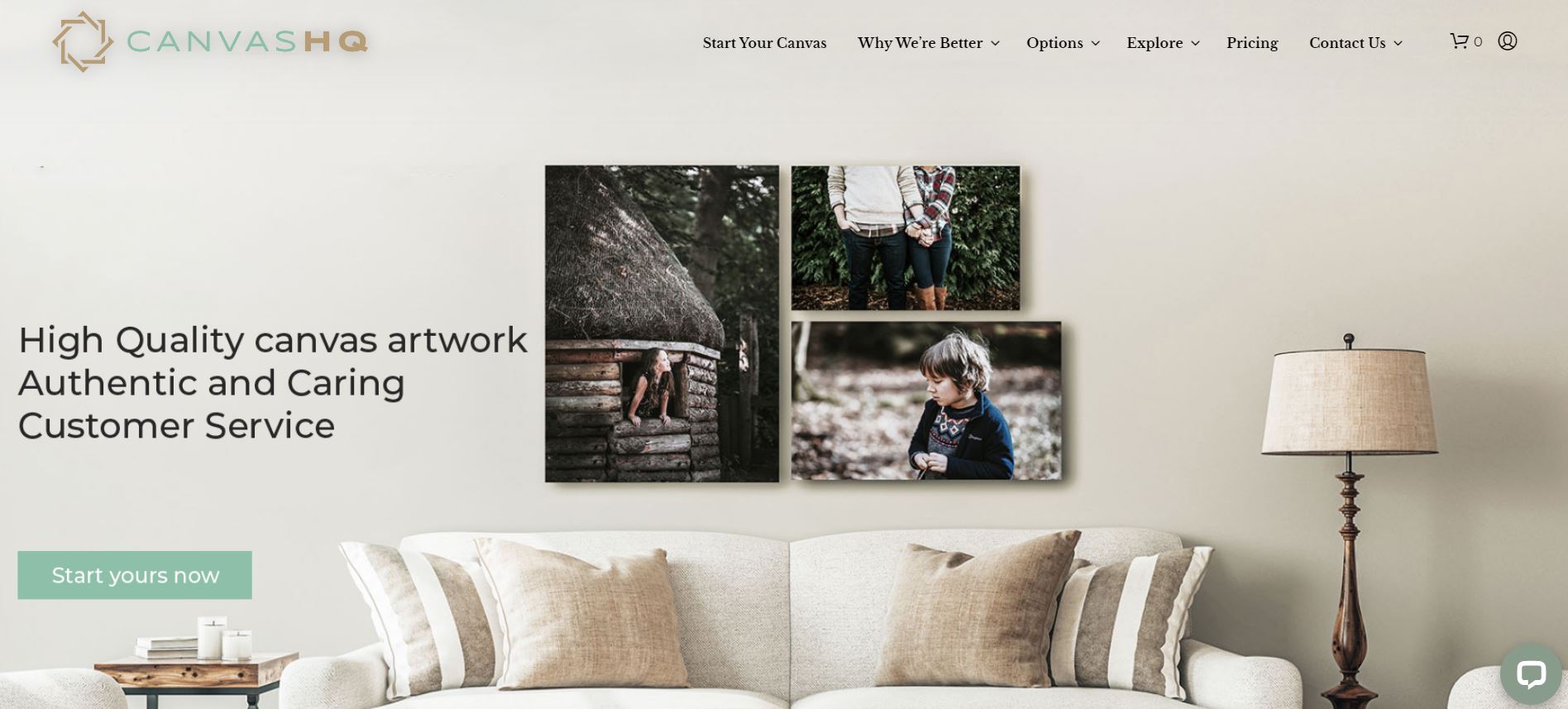 CanvasHQ takes pride in their high quality canvas artwork and authentic and caring customer service. They provide a digital proofing system where the customers are able to see exactly how the desired image will appear on the canvas.
They keep a list of points in their customer service. The thing that stands out the most is their hands-on monitoring of a customer's order. They spend extra time with graphics work such as removing unwanted objects in the image and noise reduction. They also offer a 100% Satisfaction Guarantee for the first 30 days that offers a remake or full refund of the purchase. Their canvas prints also have a lifetime guarantee that they will not fade, crack, or bubble.
Pricing:
8" x 10" – $44.00
12" x 16" – $67.95
18" x 24" – $111.95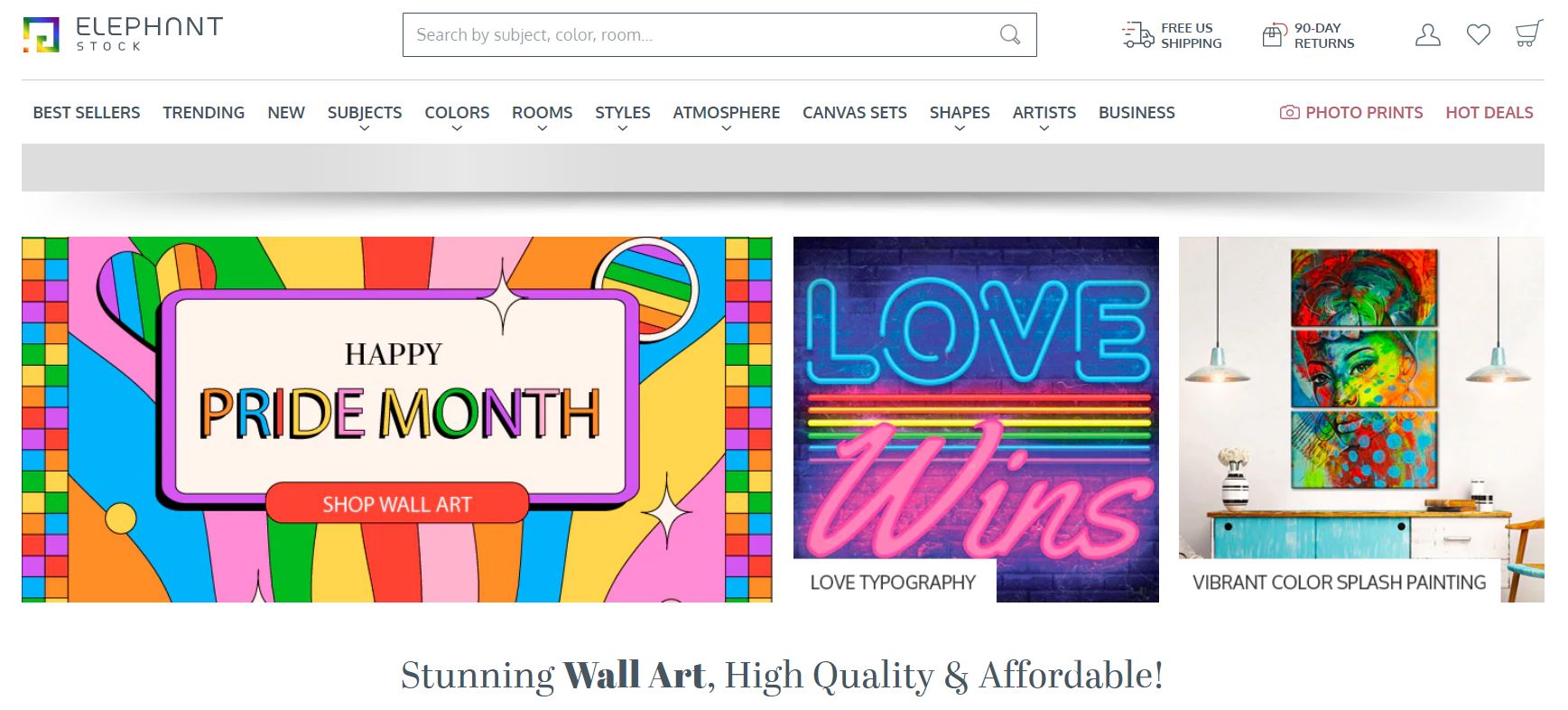 ElephantStock appeals to its customers through high-quality products, excellent service, and affordable prices. They team up with world-renowned artists to support their unique artworks and bring them to people's homes.
ElephantStock puts their customer satisfaction as a metric of their success. They offer their high-quality products as well as prompt and thoughtful customer service. They also provide a 60 day money back guarantee which is extended to 90 days due to the pandemic.
Pricing:
*9" x 6" – $53.25
*12" x 8" – $86.65
*16" x 24" – $136.99
*take note of the size difference with the other best canvas prints companies in this article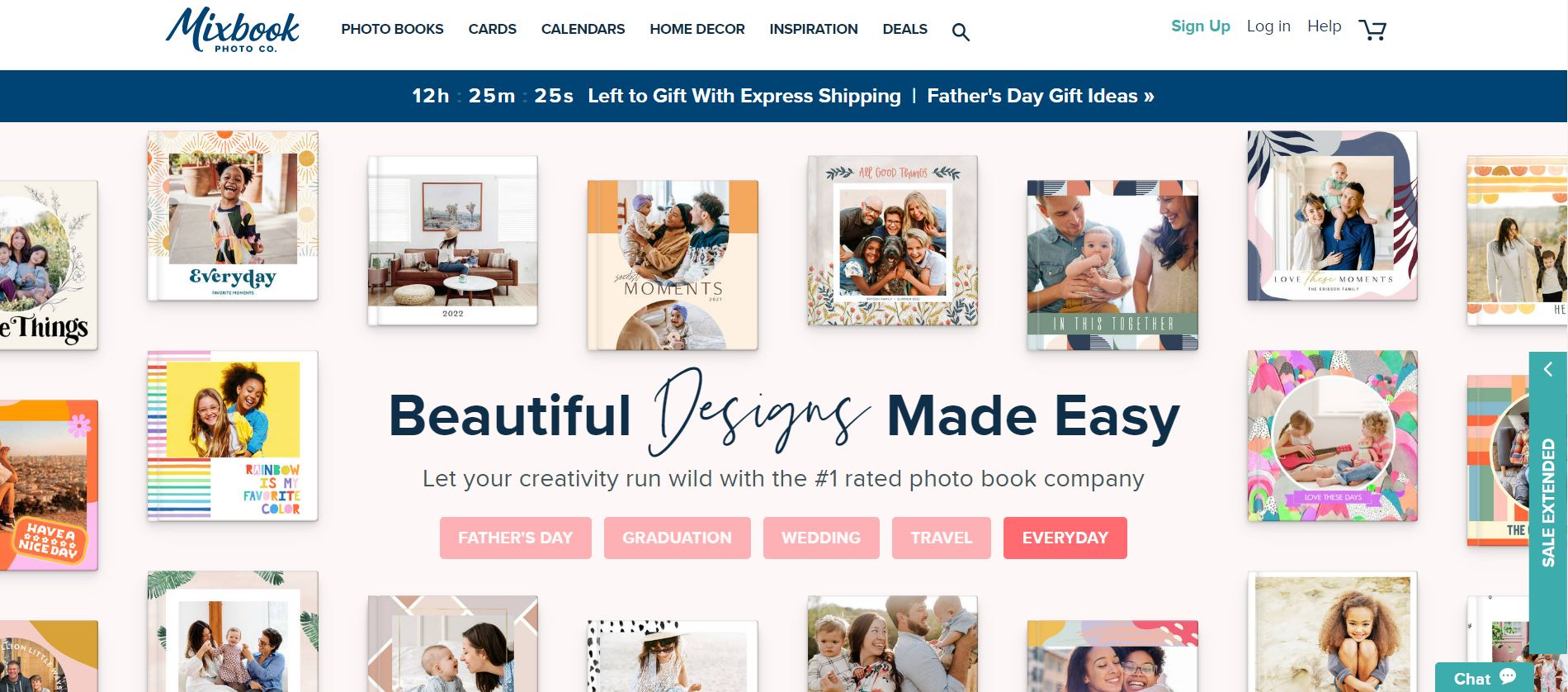 Mixbook allows its customers to create one-of-a-kind photo goods that reflect their personal style. They were founded in 2006 and have been consistently improving their production process.
Mixbook takes pride in its ordering process. It's easy to create – customers can upload their photos from anywhere then place them in the design with simple and intuitive controls. It's completely customizable – designing is not constrained to templates meaning customers can change layouts, backgrounds, add graphics, and upload their own.
Pricing:
8" x 10" – $49.99
*11" x 14" – $69.99
*16" x 20" – $89.99
*take note of the size difference with the other best canvas prints companies in this article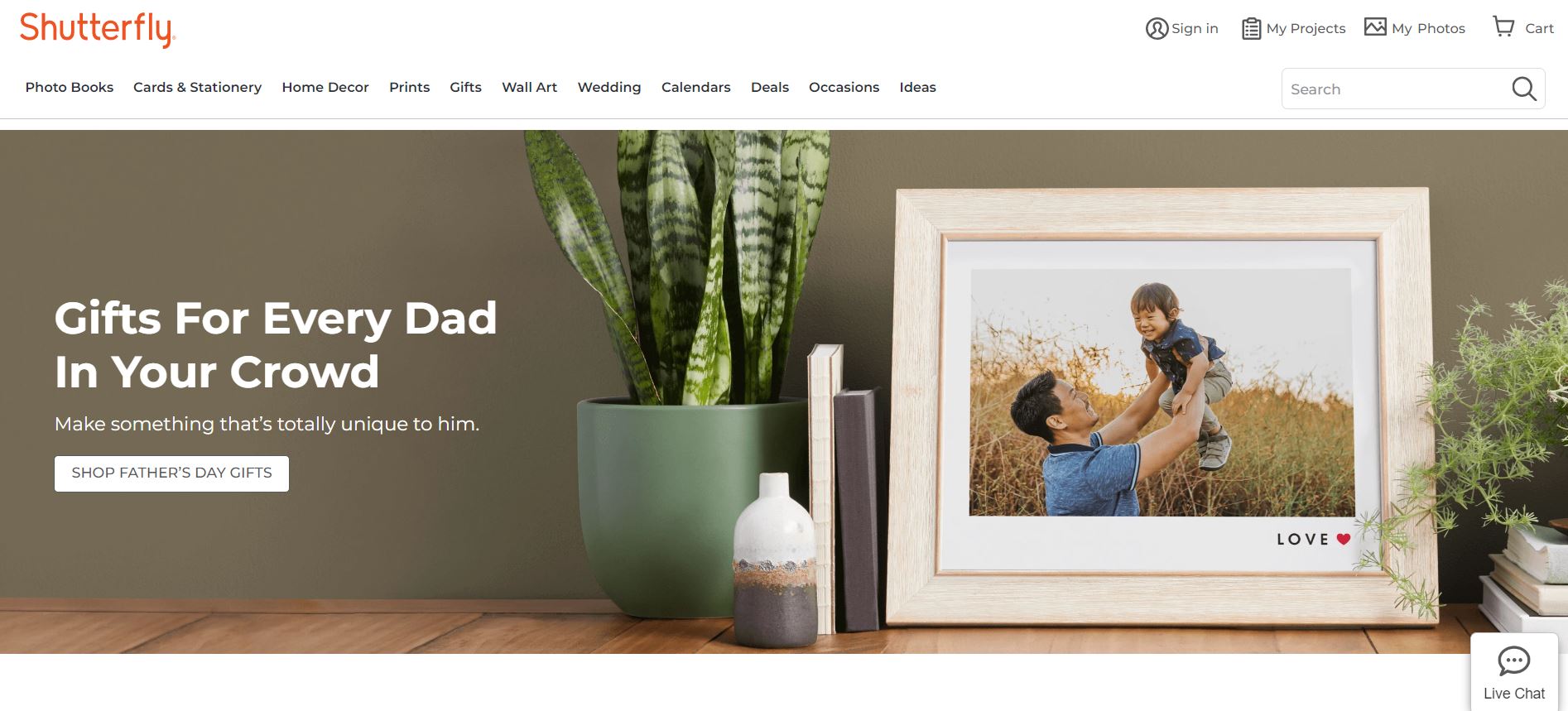 Shutterfly is a leader in personalized photos and services. They allow customers to create lasting keepsakes in different mediums such as canvas prints and photo books.
One thing that sets Shutterfly above the rest is their Shutterfly guarantee. They let customers store an unlimited amount of photos for free. They'll securely store and never delete all those photos in the same resolution they were uploaded in.
Pricing:
8" x 10" – $69.98
*10" x 14" – $89.98
*20" x 24" – $129.98
*take note of the size difference with the other best canvas prints companies in this article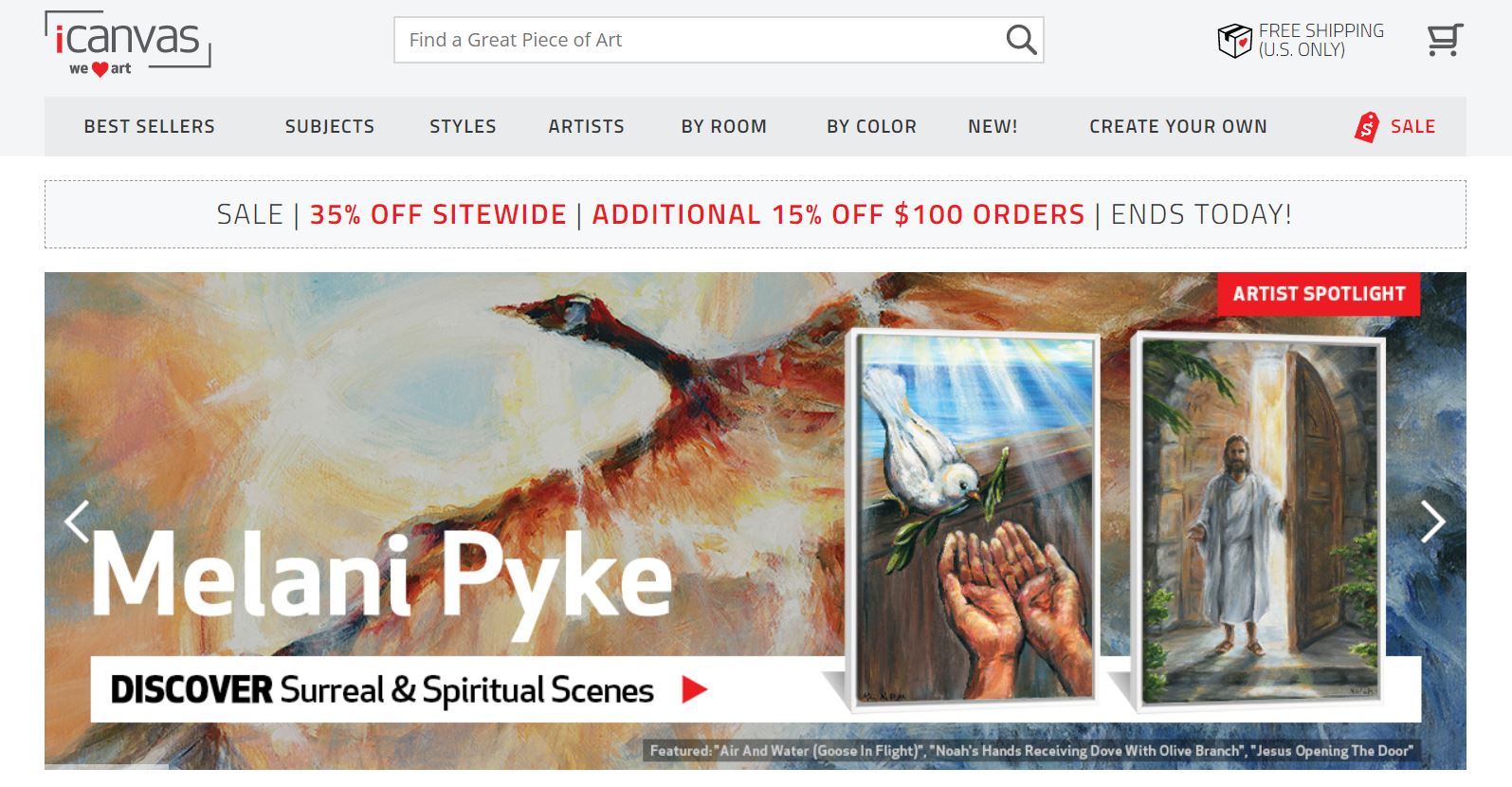 iCanvas takes pride in their love for art. They prioritize doing everything and beyond to make sure that customers find their piece. iCanvas wants its customers to find something that will make them feel happy, inspired and think. iCanvas works with hundreds of leading artists to curate their selection of all styles of art.
iCanvas brings passion to their business. They create art where quality and inspiration unite. They live art, finding themselves in an ecosystem run by art. Lastly, they give art. iCanvas organizes and participates in yearly school events to contribute artworks.
Pricing:
*8" x 12" – $43.99
*12" x 18" – $59.99
*18" x 26" – $69.99
*take note of the size difference with the other best canvas prints companies in this article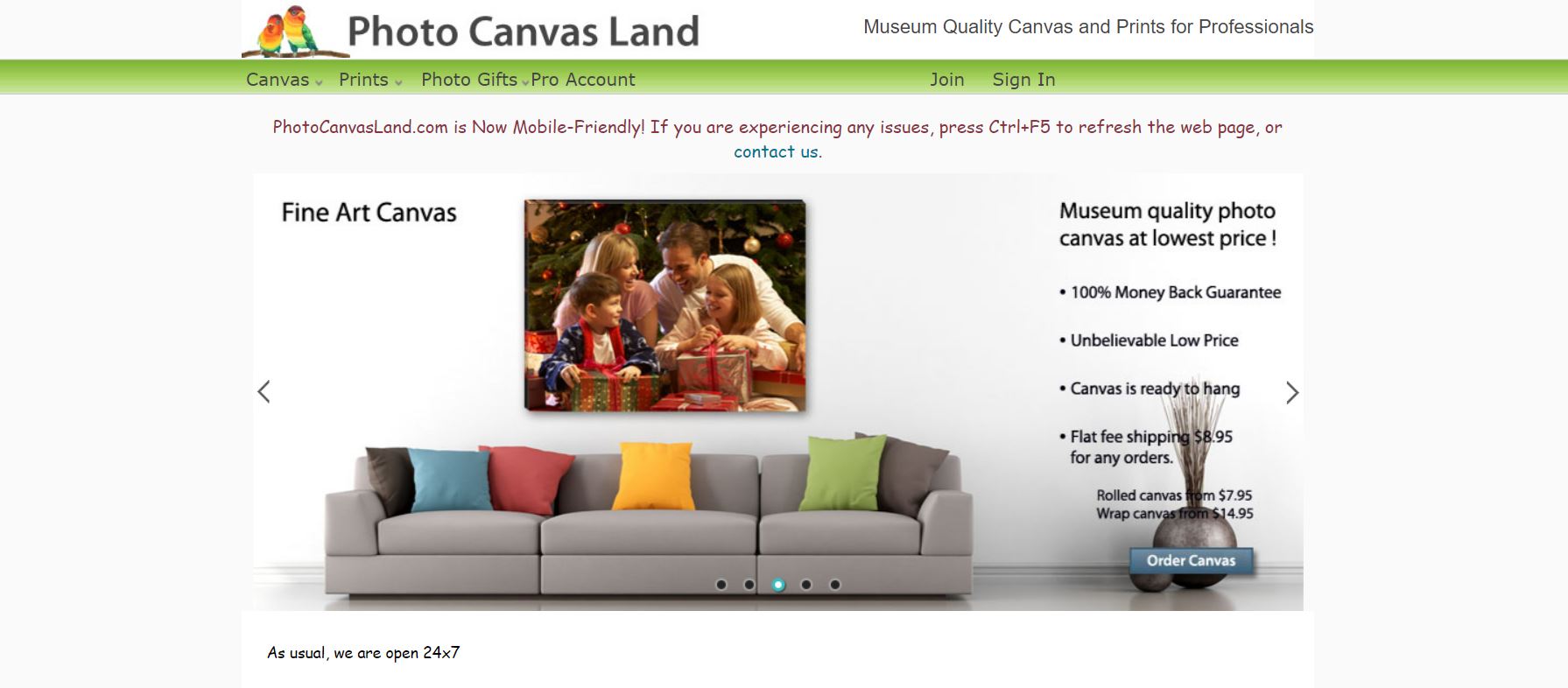 Photo Canvas Land brings high quality photo canvas prints to mainstream consumers. They use emerging technologies in devoting innovative photo canvas processes and products that help people complete tasks efficiently with better results.
Photo Canvas Land offer a unique real-time previewing software so customers can view the canvas before buying. They provide free features in a purchase such as image enhancement, image quality checking, and gallery wrapping. They also advertise their unbelievable low prices.
Pricing:
8" x 10" – $18.95
12" x 16" – $36.95
18" x 24" – $68.95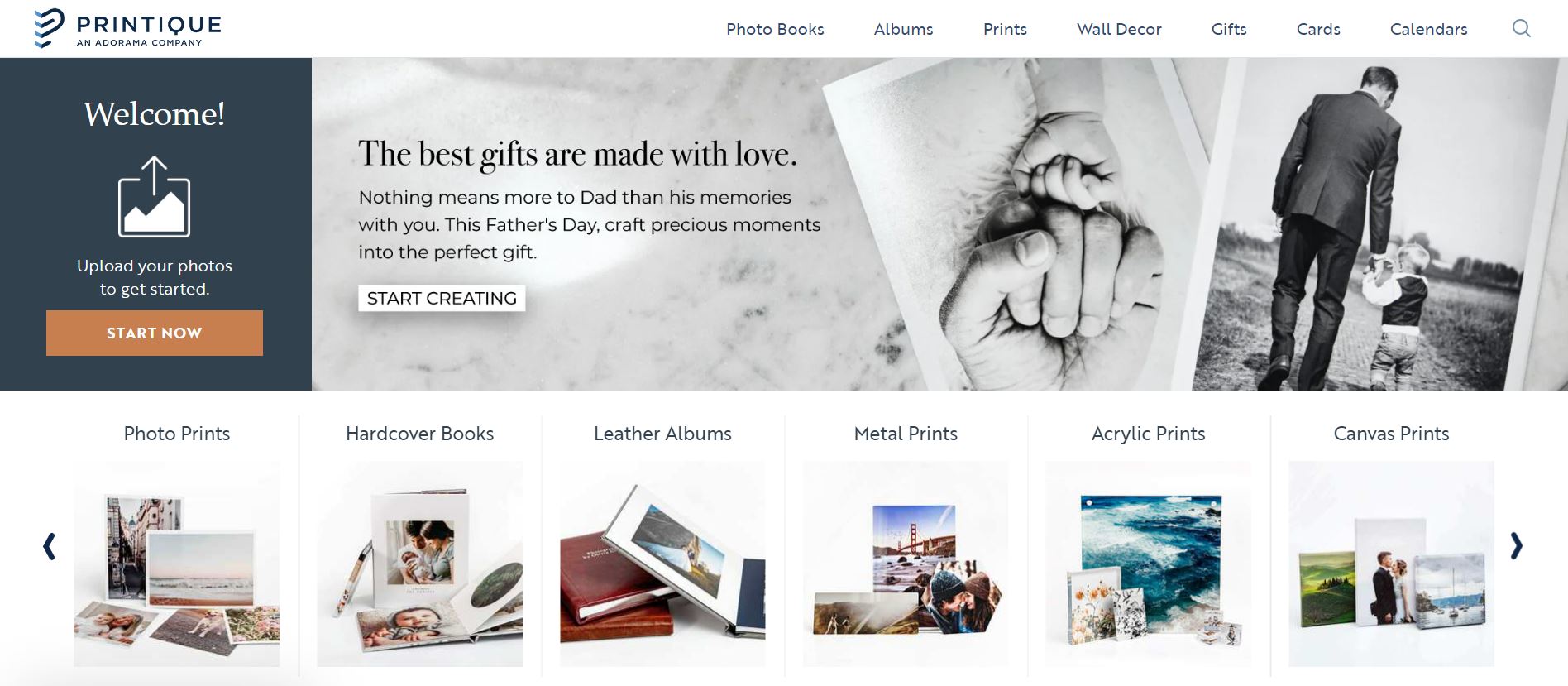 Printique has been a go-to source for highest-quality printing, preserving, and transforming photographs. They put their passion to perfection from their customer service team to their printing and finishing labs.
They advertise The Printique Promise, their service guarantee. Every order goes through their rigorous quality process to ensure the perfect condition of an order. If the order does not meet the quality expectations, customers can reach Printique to resolve any issues.
Pricing:
8" x 10" – $29.99
12" x 16" – $104.00
18" x 24" – $224.00
Conclusion
The market and amount of businesses for canvas prints is large. If on a budget, this article can help choose the best canvas print company for you.
In conclusion, Photo Canvas Land offers the cheapest canvas prints. Their customers attest to how quality is not sacrificed even with the cheap pricing. Most are surprised by the quality of their products. Consider this canvas print company when on a tight budget.
The best balance for quality, price, and customization is Canvaspop. Most customers prefer Canvaspop because of their easy to navigate website, high-quality products, and top notch customer service.
Also check out our guides to making that perfect photo for your canvas prints with these articles:
1. Phone Photography Tips & Tricks
2. Understanding Lighting
3. Editing Softwares : Picsart & Snapseed