Finding the best acrylic printing company can be tedious. Acrylic prints bring your photos to a tangible display piece for your home. Acrylic prints are also wonderful gift ideas for friends and family. The thought that comes with a photo is highly important. With this, finding the best printing company for transitioning this memory to a physical form is also of great importance.
Here at PhotogpediA, we value photography in all of its forms. From the basics, actual craft, as well as turning them into tangible art forms. This article gives you the rundown of the best of the best acrylic printing companies in 2023. 
Acrylic Prints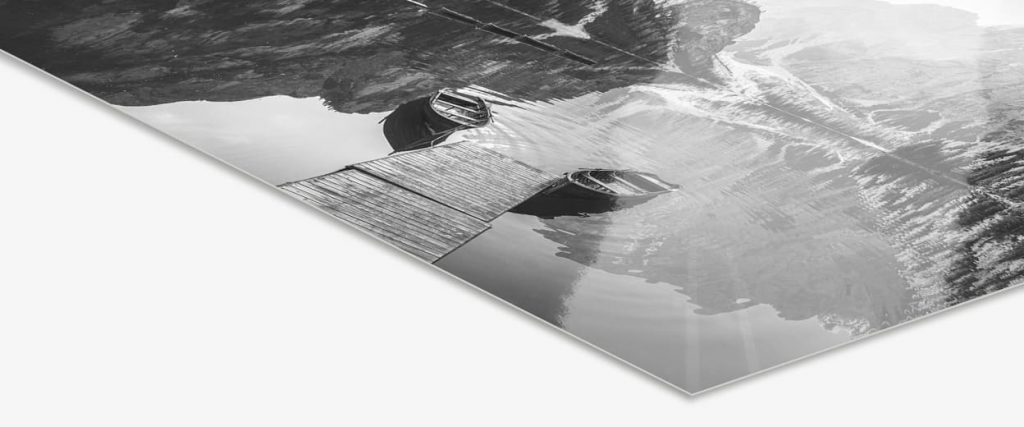 Acrylic prints are premium prints that come at a slightly higher price point than other wall art printing mediums. These prints stand out above the rest in terms of color. Colorful photos with great tonal contrast make the most out of these prints. Nonetheless, black and white photos that possess great contrast also are stunning in acrylic prints. Needless to say, any photo of your choosing surely will look good in acrylic print.
Appearance and Lifespan
Acrylic prints are printed in photo paper and then pressed between plexiglass or acrylic sheets. They provide the best value for color and portray highly vivid images. Due to the use of plexiglass or acrylic sheets, acrylic prints sometimes transmit glare. When light reaches its surface, a glare reflects from it just like with any glass.
With regards to lifespan, acrylic prints are minimally scratch and wear resistant. Strong scratching forces damage the surface of the glass but not the print. They are also moisture and light resistant because of the acrylic sheets protecting the print. On average, acrylic prints last for 70 years.
Best Acrylic Printing Companies
Moving forward, through research and surveying, here are the best acrylic printing companies to look out for. Main criteria for this list are their history, customer service, and quality of prints.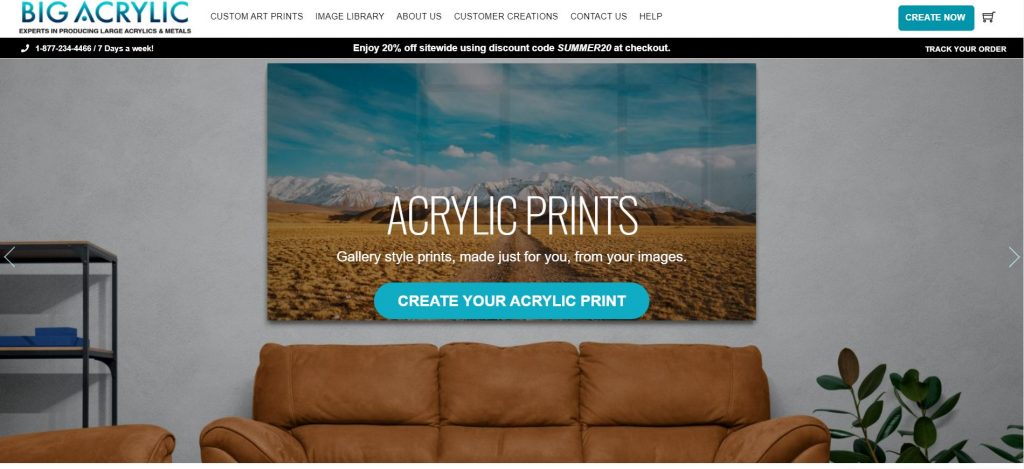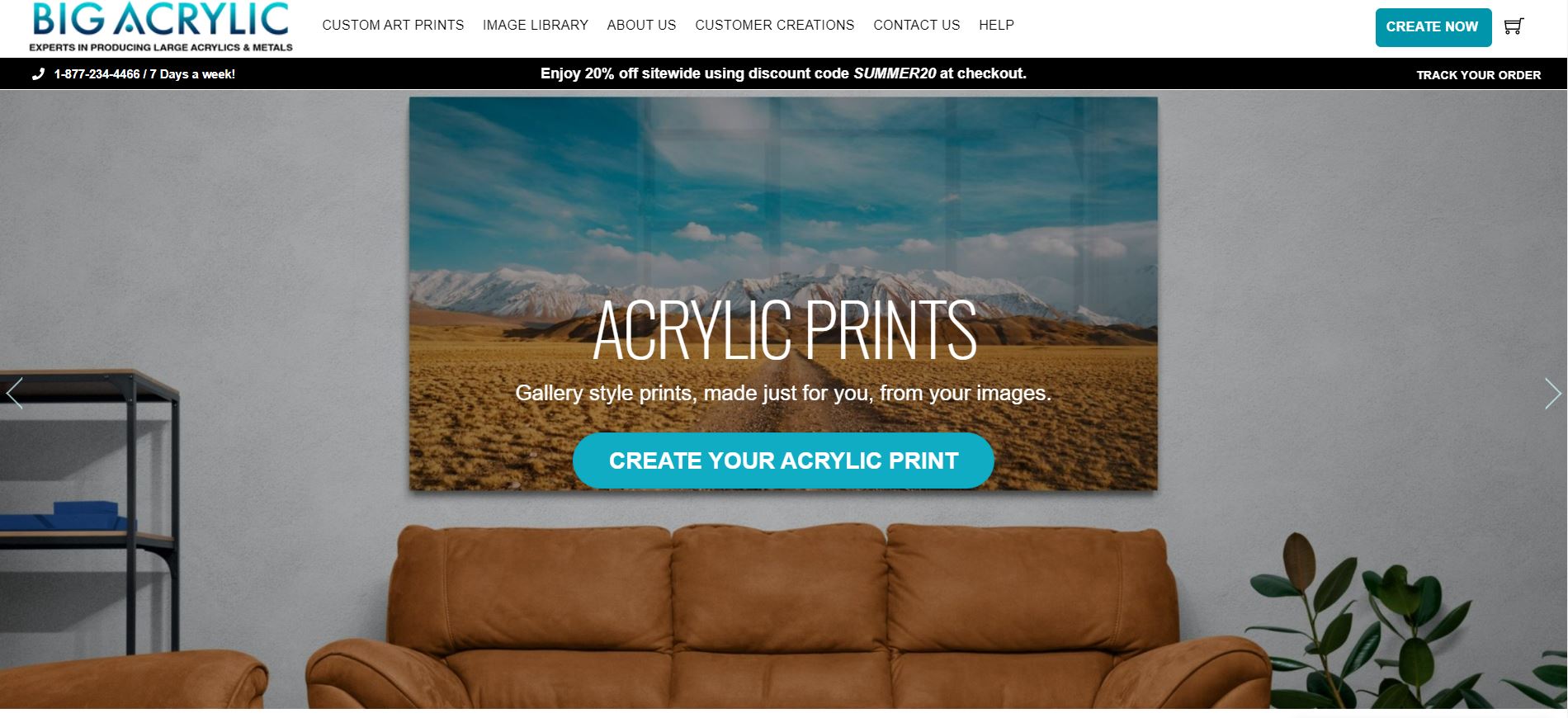 Big Acrylic is a leader in custom acrylic prints. They are a small group of creative professionals passionate in their craft. Pricewise, they provide boutique services without boutique prices.
Most of their transactions and clients are international. However, if you opt to visit their Montreal gallery, they'll assist you in knowing their vast array of products.
Big Acrylic offers four types of acrylic prints – standard acrylic prints, anti-glare acrylic prints, backlit acrylic prints, and acrylic tabletop prints. Anti-glare acrylic prints remove the glare caused by the reflective surface of standard acrylic prints. Backlit acrylic prints use a backlight to enhance the colors and quality of the standard acrylic prints. Lastly, acrylic table top prints are acrylic prints that are smaller in size and stand neatly on desks and tabletops.
Verdict
Big Acrylic has a lead time of 6-7 days before shipping. Their prices for a standard 16×12 inches acrylic print stands at $76.23. They offer a redo for damaged products at their own expense. Overall, the creative options for acrylic prints stand out the most for Big Acrylic. If you're looking for extraordinary customizations for your prints, this is the one for you.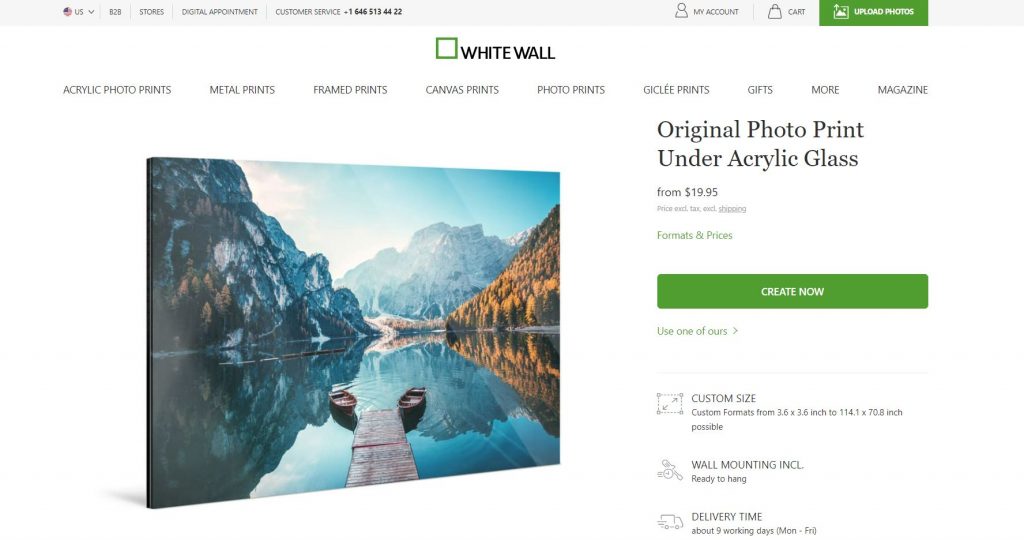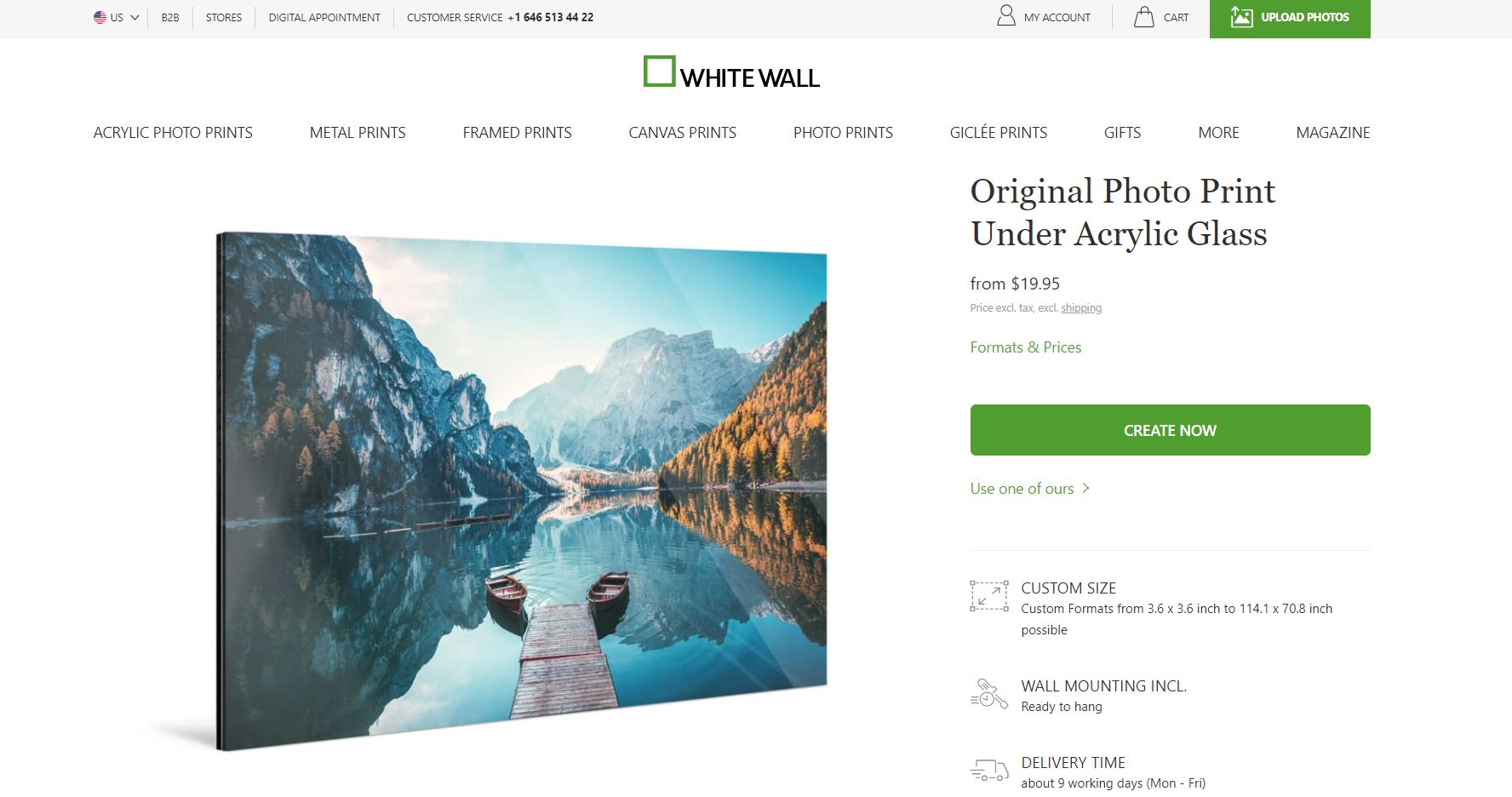 White Wall combines state of the art technologies with traditional printing methods. They have physical stores around the world such as New York, London, Paris, Berlin, Munich, and Hamburg.
White Wall offers multiple types of acrylic prints, each having their own trademark. First, the gallery standard uses the original photo print under acrylic glass. Next, the best in class utilizes ultraHD photo print using Fuji Crystal Professional Archive Maxima Paper under acrylic glass. Lastly, they have two specialized products – the acrylic ultraHD metallic print and the original photo print under matte acrylic glass. The acrylic ultraHD metallic print doubles the resolution of your metallic photo – bright parts have a metal sheen under 2mm acrylic glass. Meanwhile, their second specialized product uses matte acrylic glass to reduce glare from the standard acrylic print.
Verdict
White Wall shipping takes up to 8 working days. The price point for a standard 16×12 acrylic print is $106.30. Undoubtedly, White Wall provides a high standard of printing but it comes at a higher price point. The range of variations they offer for acrylic prints utilizes distinct state of the art technologies. If choosing a world renowned company is your priority, go for White Wall. TIPA (Technical Image Press Association) awarded White Wall as the best photo lab of 2021.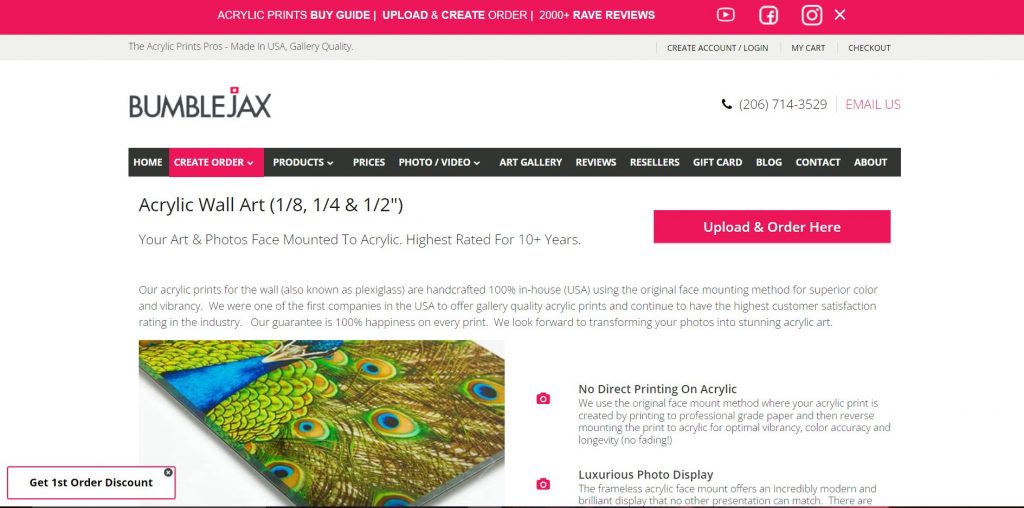 BumbleJax has nearly a decade's worth of experience in the acrylic printing industry. They are one of the first companies in the USA that creates world class acrylic prints using a process that achieves exceptional vibrance compared to the traditional direct to acrylic printing.
BumbleJax takes pride in their prompt customer service that ensures a 30 minute response rate during business hours with the same agent to talk to during the entire process. They also offer three types of acrylic print products namely, standard acrylic prints, acrylic block prints, and the new acrylic design series.
Firstly, The Acrylic Designer Series is only found at Bumblejax. The acrylic print is accented with a white or black acrylic on the back providing a sleek & modern look. Next, their standard acrylic prints are handcrafted 100% in-house (USA) using the original face mounting method for superior color and vibrancy. Lastly, their acrylic blocks are 1″ thick and diamond polished that serve a vibrant and 3D effect.
Verdict
The price point of Bumble Jax's standard 16×12 acrylic print stands at $133.Bumble Jax shipments take 1-3 business days for the West Coast, 3-4 days for the Midwest, and East Coast 4-5 days. Among the previous acrylic print companies, BumbleJax has the highest priced service. However, their perfect 5-star rating on both Google and Facebook reviews is a testament of their quality of service.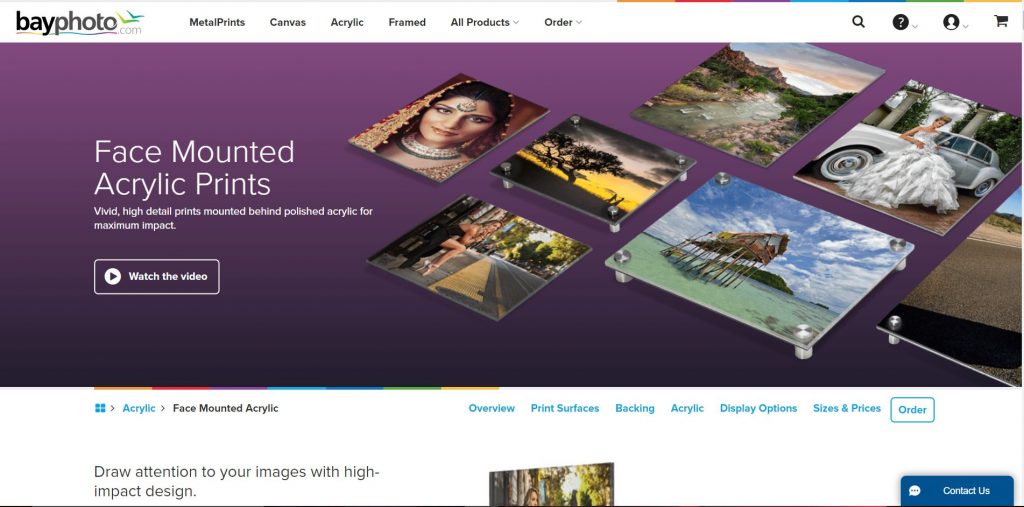 Bay Photo Lab has a great reputation and a long history with photo printing and finishing services. For over 40 years, Bay Photo Lab continuously provides the highest quality prints for professional photographers.
Bay Photo continues to innovate the techniques and technologies involved in photo prints. In 2009, Bay created ThinWraps™: a contemporary, frameless new way to mount and display images in style.
Environmental wise, Bay Photo received the "Green Business Certification award for Exceeding Environmental Regulatory Requirements, Preventing Pollution, and Conserving Natural Resources."
Verdict
BayPhoto's price point for a 11×16 acrylic print is at $90.60. Their production time for a standard acrylic print takes up to 8 days. They provide a rush charge that halves or quarters the time it takes for production. 50% rush charge corresponds to ½ of the normal production time while 100% rush charge corresponds to ¼ of the said time. Overall, Bay Photo Lab provides a great service for standard acrylic prints. Their long history in the industry testifies to how great their service compares to others.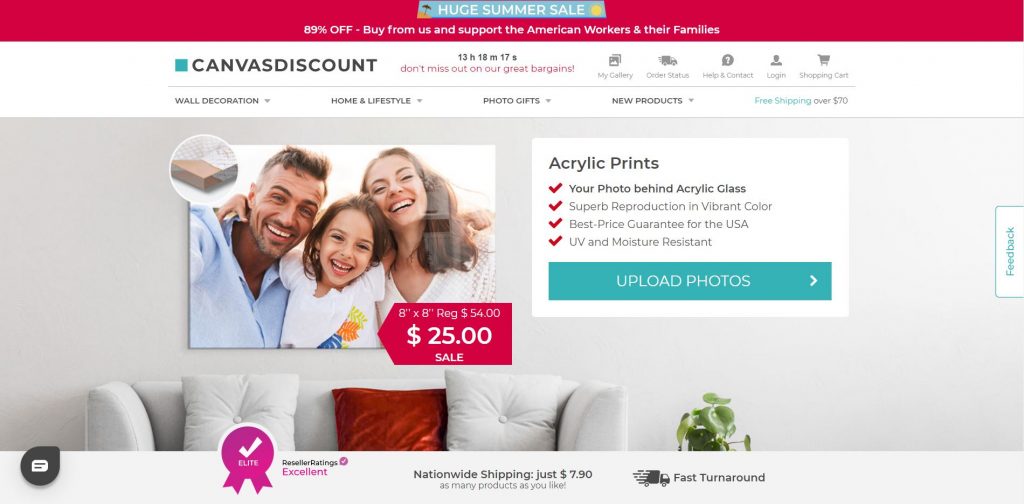 CanvasDiscount maintains passion for the craft in their business and assures a satisfaction guarantee with their orders. Compared to other acrylic printing companies, CanvasDiscount only offers the standard acrylic print.
What sets CanvasDiscount above the rest is their remarkable prices. They offer the cheapest options among the companies in this list. They manage to maintain and stay true to their focus on quality with their products even with their low prices. The customer reviews on their website testifies to this.
Verdict
CanvasDiscount ships within 24 hours (for wall decors) while it takes 2-6 business days for delivery completion. CanvasDiscount follows a factory direct pricing. Their price point for a standard 12×16 acrylic print stands at $40. This is way cheaper than any other acrylic printing company and is the best choice if you're on a budget!
Honorable Mentions
The following acrylic printing companies are already featured in our website. You can find out more of them by browsing through The 9 Best Canvas Printing Companies in 2022. The following are the essential snippets to take note of prior to clicking on this link.
Pictorem operates in Montreal, Canada and has a deep passion for art and photography that translates to making the highest quality wall art. They are dedicated to utilizing craftsmanship, innovation, and perfection.
Shutterfly is a leader in personalized photos and services. They allow customers to create lasting keepsakes in different mediums such as canvas prints and photo books.
Printique is a go-to source for highest-quality printing, preserving, and transforming photographs. They put their passion to perfection from their customer service team to their printing and finishing labs.
Relish your Acrylic Prints
Like any other form of wall art, acrylic prints require proper after care. By using incorrect methods in maintaining them, their lifespan and overall appearance will deteriorate.
With regards to placement, make sure that they are placed in areas without direct sunlight. Even with the protection of glass or acrylic, UV rays can cause discoloration of your prints. Also note to avoid humid and wet areas. Just like how sunlight can discolor your prints, the quality of your display pieces are affected by water. Generally, acrylic prints are water and sunlight resistant. However long exposure to these environments surely causes harm to it.
When cleaning your acrylic prints, avoid rubbing them and avoid using chemicals. Constant friction applied to the surface of your prints will cause scratches to their surface. Cleaning chemicals also have numerous interactions to different surfaces. It is best to use a damp cloth if dusting isn't enough when cleaning your prints.
Conclusion
Acrylic prints are wonderful decorations for your home or office. There are numerous acrylic printing companies in the market. The ones listed in this article are known for their excellent customer service, mind-blowing low prices, and reputation in the industry.
In choosing the best acrylic printing company for your needs, take note of the following. Consider the budget that you have. Look out for the array of product customization they offer. Lastly, note of their varying lead times and shipping times for different orders.
All of these websites have excellent online customer service that tend to your queries. Aside from most questions being answered on their F.A.Q.s, a customer service representative will be available for you to consult with your order from beginning to shipment.
If this article spikes your thirst to know more about wall art, check out these following articles on our site.
The Printing Mediums for Wall Art
The 9 Best Canvas Printing Companies in 2022