Gregory Crewdson is an American photographer who is known for his staged and surreal color images of American suburbia.
His psychological allegories, which often tackle the themes of solitude and isolation, are elaborately constructed studies in what he calls, "hyper-realism."
With a budget similar to that of an independent movie, Crewdson transforms his real, suburban settings into entirely fictional worlds.
His work is set up, lit and acted in old-Hollywood fashion: houses are demolished, rooms are flooded and babies cry between shots. And his subjects are often residents of the small town he's shooting in.
In a career that spans more than three decades, Crewdson has produced several widely acclaimed bodies of work including Natural Wonder (1997), Twilight (2002), and Dream House (2008).
His work has been exhibited at The Museum of Modern Art, The San Francisco Museum of Modern Art, The Metropolitan Museum of Art, and The Whitney Museum of American Art.
In this article, we will provide an introduction to the career and photography style of one of the most important fine-art photographers today.
Related: 57 Gregory Crewdson Quotes on Staged Photography and Storytelling
To learn more about Gregory Crewdson's remarkable work, we recommend watching the 2012 feature documentary film, Gregory Crewdson: Brief Encounters (see recommended videos section).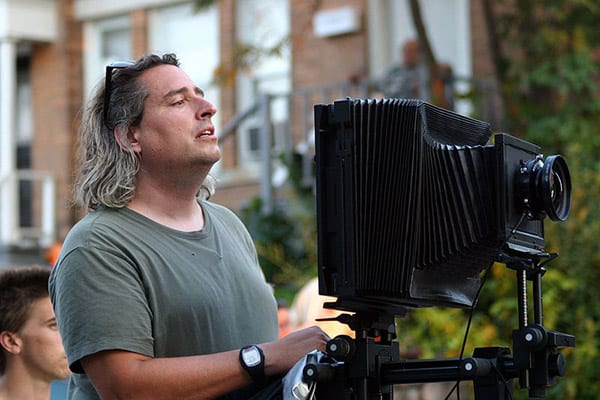 About Gregory Crewdson
Name: Gregory Crewdson
Born: September 26, 1962
Nationality: American
Genre: Fine-art, Conceptual, Still Life, Landscape
Gregory Crewdson Biography
Gregory Crewdson was born in Brooklyn, New York in 1962. He was first introduced to photography at the age of ten when his father took him to see the 1972 retrospective exhibition of Diane Arbus at the Museum of Modern Art.
When I was 10, my father brought me to a Diane Arbus exhibition. He was a psychoanalyst and those pictures have a certain psychological quality, so somehow I made a connection between what he did as a job and Arbus looking for secrets. It wasn't like I decided I was going to be a photographer exactly then. But that was the first time I understood the power of photographs and so I probably filed that away somewhere as a defining memory.
I didn't start taking pictures until I was in college. I had a crush on a girl who was photo major, and followed her into a photography class. My Photography teacher was Laurie Simmons, and my crush went from the girl to my teacher. As soon as I took my first pictures, my crush shifted from the teacher to photography.

Gregory Crewdson
As an art student at State University of New York at Purchase from 1981 to 1985, Crewdson studied photography in a suburban community, an environment that would later be the focus for the majority of his images.
During this time, Crewdson worked at Aperture magazine and also did an internship at the Daniel Wolf Gallery in Manhattan.
It was at this point that he met Joel Sternfeld, whose photographs of the American landscape he greatly admired, along with those of Robert Frank, William Eggleston and the paintings of Edward Hopper.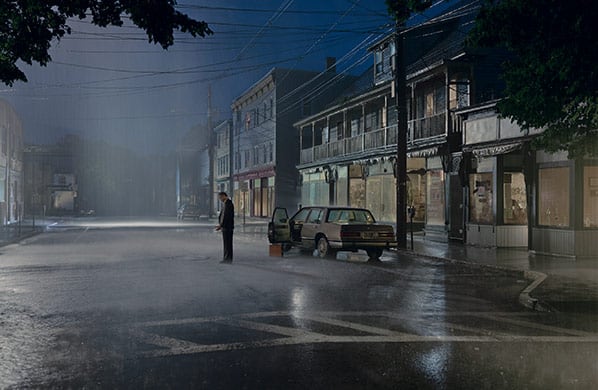 A primary source of inspiration for his work is the natural landscape of western Massachusetts where his family purchased land on which to build a log cabin when he was a teenager.
This area of pristine terrain has served as a retreat for Crewdson throughout his career and provided him with a model of American life.
Finding his Style
Crewdson first began to photograph suburban life while working on his Master of Fine Arts thesis at Yale University between 1986 and 1988, asking residents from the nearby town of Lee, Massachusetts to participate in a series of theatrically composed genre scenes.
By the late 1980s, Crewdson had abandoned real-life situations to create still life and dioramas of natural environments, which he built in his studio and then photographed.
In the late 1970s, Cindy Sherman began taking a series of photographs in which she re-created the promotional stills from Hollywood B-movies.
Crewdson expanded on Sherman's concept in the 1990s, creating extensive and elaborate staged tableaux (living pictures) in which he too created a new fiction by combining everyday reality with the extraordinary.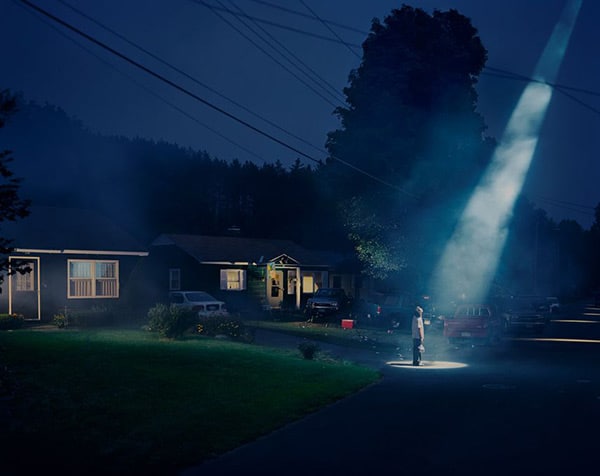 Gregory Crewdson Photography Style
Theatrical, staged
Narrative driven, conceptual
Tableau, hyper-realism, often fantasy
Multi-layered, scene within a scene
Mysterious, ambiguous
Cinematic, painterly
Photography Technique
Crewdson actively creates a world as he imagines it and photographs it for us to see.
I'm interested in the question of narrative, how photography is distinct from, but connected to, other narrative forms like writing and film. This idea of creating a moment that's frozen and mute, that perhaps ultimately asks more questions than it answers, proposes an open-ended and ambiguous narrative that allows the viewer to, in a sense, complete it. Ultimately, I'm interested in this ambiguous moment that draws the viewer in through photographic beauty, through repulsion, through some kind of tension.
Staged Photography
His photography is elaborately staged and composed, presenting a complete yet ambiguous narrative within one photograph.
Left open to interpretation, his photographs exist in a realm of metaphors influenced by cinema and in particular the films of Alfred Hitchcock, David Lynch and Steven Spielberg.
I always loved movies and the look of movies. I'm also a huge student of movies – but could never make one. Working in a linear fashion is foreign to me. I was always interested in using aspects of film production towards a single image – the relationship between movie making and still photography – and blurring the lines between the two. I'm fascinated with telling a story in a single image rather than through time.

Gregory Crewdson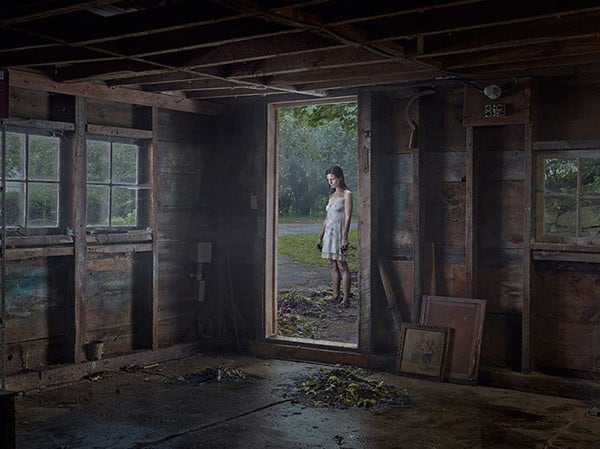 Single Frame
Crewdson's working method is often compared to a movie director, but instead of telling a story in 130,000 frames, he condenses the story into a single frame.
I'm only concerned with that particular moment, the moment of the picture. I really don't have any interest in what happens before, or what happens after. In a certain way, it's a privilege that I don't have to think about plot, or storyline, or character development, that I can just focus on that moment, and how to make that moment as beautiful and as mysterious as possible.
The Stills Director
The difference between Crewdson and other photographers is that he directs his vision/or concept and hires technicians to help serve that vision.
Crewdson regularly works with crews of 30 or more people to construct complicated sets and lighting setups. He has his own director of photography, storyboard/concept artists, photo editor and he doesn't even operate the camera himself.
It's important to remember though that he didn't always work this way. When starting out he either worked solo or with a tiny team.
The thing that people just don't quite ever completely understand is that the process started off very organically. It started off slowly, and the small group became a larger group. Then slowly but surely, we put together a team over the years, and suddenly you're working with a crew. For me, this is the way I know how to make pictures.

Gregory Crewdson
Despite the large scope of his productions, Crewdson's carefully composed scenes and controlled lighting recall the intricate arrangements of early still life photography.
Crewdson maintains this traditional approach to photography but magnifies it to the largest possible scale. In this way, he turns the real world into a fictional stage, creating complex images of a choreographed reality.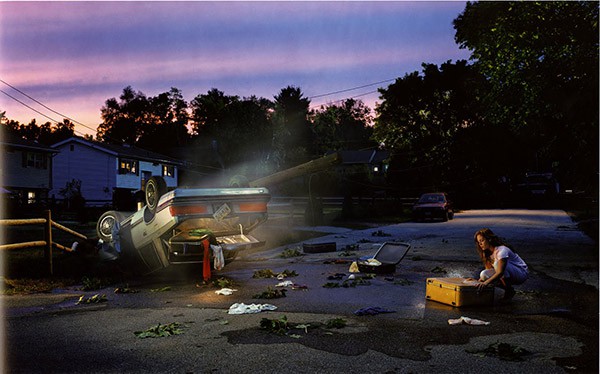 What Camera Does Gregory Crewdson Use?
Crewdson now uses a Phase One camera, set up like a view camera.
Previously he used a large format Sinar 8×10 view film camera with a 210mm lens.
The 210mm is a wide lens and is roughly the equivalent of 28mm in 35mm photography.
The large-format camera helps capture all the detail for his huge 7ft gallery prints. His images are enhanced digitally in photoshop and sometimes stitched together before printing.
We print these images in large format at this size because it's like… Well to me it's like a picture window.
Use of Light
Crewdson works very closely with his DP, Director of Photography and only uses continuous lights on his projects.
If there's one characteristic that separates my work from other artists, it is the light. And to me it's the most important thing about the entire enterprise – the light. It's how you tell the story in photography, through light. We started working more dramatically in this way with the Twilight series.

Gregory Crewdson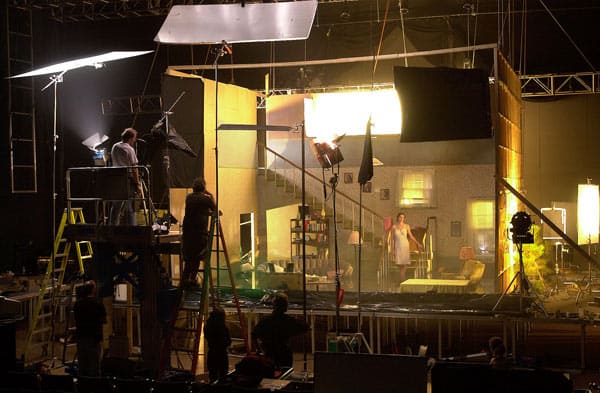 Fine Art Prints
Crewdson prints his work with an Epson printer on luster paper (normally) with white borders. He now prints in editions of only three (for his Twilight series it was 10). The print is mounted and framed, and his signature is on a sticker that's part of the frame. His C-Type prints are generally sized at 48 x 60 inches.
Other Gregory Crewdson Resources
Recommended Books
Disclaimer: Photogpedia is an Amazon Associate and earns from qualifying purchases
Recommended Videos
Gregory Crewdson: Brief Encounters (2012)
There But Not There: Gregory Crewdson Documentary (2017)
Gregory Crewdson Photos
Fact Check
With every profile post, we strive to be accurate and fair. If you see something that doesn't look right, then contact us and we'll update the post.
If there is anything else you would like to add about Gregory Crewdson's work then send us an email: hello(at)photogpedia.com
Link to Photogpedia
If you've enjoyed the article or you've found it useful then we would be grateful if you could link back to us or share online through twitter or any other social media channel.
Sources
Bomb Magazine Interview, October 1997
American Photo, May-Jun 2003
Interview: Gregory Crewdson, Mystery in Everyday Life, Popular Photography, March 2014
ArtNet, Experience the Suburban Beauty and Isolation of Gregory Crewdson, 2016
An Interview with Gregory Crewdson, PetaPixel, May 2016
Studio International Interview, July 2017
Gagosian Website, Gregory Crewdson profile
Sotheby's, Gregory Crewdson Biography
The Times, How Gregory Crewdson captured the dark heart of America, June 2017
Huck Magazine, Gregory Crewdson spends years crafting photos on a cinematic scale, 2017
Gregory Crewdson: 1985-2005, Hatje Cantz, 2005
Twilight: Gregory Crewdson, Abrams 2002
Gregory Crewdson: Brief Encounters, 2012
There But Not There: Gregory Crewdson Documentary, 2017