One of the greatest photographers of the late 20th century, the American Cindy Sherman made taking selfies an art form before the rest of the world knew the word even existed.
Throughout her career, the influential photographer has experimented with costume, makeup, prosthetics, and digital photography to create highly exaggerated and sometimes grotesque character studies.
Her work focuses on reality and raising challenging questions concerning the representation of women in society and the media, as well as the creation and meaning of art.
Sherman's most famous work, her series Untitled Film Stills, caused intense debate about voyeurism, the roles women play, and the increasing commercialization of art.
Her rise to stardom in the 1980s helped move creative photography, which previously held second class status, into the upper echelon of the art-world.
In 2011, Sherman's work Untitled #96, 1981 (see image below) was auctioned for a staggering $3,890,500 making it one of the most expensive photographs ever sold.
To label Cindy Sherman as just another successful artist (or photographer) is to wildly understate her achievements.
A contemporary master of the cultural zeitgeist, Sherman is now known as one of the most groundbreaking and influential photographers of her generation.
While there's a lot of information available documenting the life, career, and artistry of Sherman, this profile will provide a quick overview of her incredible work and iconic images.
Related: 56 Cindy Sherman Quotes to Inspire the Creative Photographer in You
Editor Note: If you enjoy the article or find it informative then we would be grateful if you could share through social media or your own blog.
I feel I'm anonymous in my work. When I look at the pictures, I never see myself: they aren't self-portraits. Sometimes I disappear.

Cindy Sherman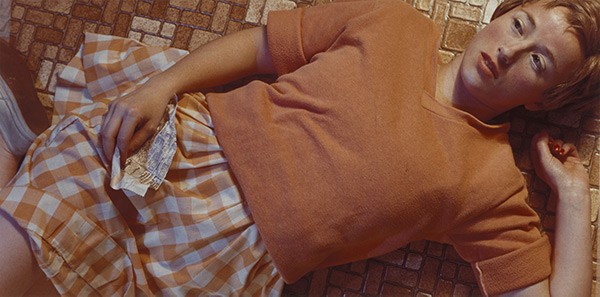 Cindy Sherman Biography
Name: Cynthia Morris Sherman
Nationality: American
Genre: Fine Art, Conceptual, Fashion
Born: January 19, 1954
Early Life
Cindy Sherman was born in Glen Ridge, New Jersey, and studied at the State University of New York at Buffalo, receiving her Bachelor of Arts in 1976.
She started in painting and began experimenting with photography in the mid-'70s.
Sherman took an introductory photography course and almost failed because she couldn't master printing, but that didn't stop her from becoming one of the medium's greatest photo artists.
In 1977, she was awarded a National Endowment for the Arts grant and moved to New York City.
Untitled Film Stills
Sherman's breakthrough came in the late 1970s with her series, Untitled Film Stills.
Although many of the images from the series look like frames from a B movie or scenes from a long-forgotten television show, they are entirely Sherman's creation.
I didn't want to make what looked like art in terms of painting; I wanted to make something that looks mass-produced and I didn't want it to have anything to do with art theory. I wanted it to look like anybody would understand it because it's from a movie and maybe I saw that movie.
I found that at least through the film stills it was European movies that the women looked more blank… in a way the character in the face is not really reacting, it's like in-between a reaction. Either they've just screamed or they're about to scream. You don't know as a viewer what has just happened or what is about to happen.

Cindy Sherman
Sherman began the pioneering photo series in 1977, at the age of 23 and completed the project in 1980.
The Museum of Modern Art paid more than $1 million for all sixty-nine black-and-white photographs from the series in December 1995.
Making an Impact
As her career progressed, Sherman increasingly turned to theatrical lighting, props, and costumes, as her scenes became more elaborate and complex.
People assume that a self-portrait is narcissistic and you're trying to reveal something about yourself: fantasies or autobiographical information. In fact, none of my work is about me or my private life.
Despite her physical presence in the images, Sherman's work is never autobiographical; yet, the theme of self-transformation runs throughout much of her work.
Her early photo series about the mass media's stereotypical presentation of women also address the issue of women's identification with these stereotypes and their own "self-transformation" by adopting the characteristics and style of those figures.
We're all products of what we want to project to the world. Even people who don't spend any time, or think they don't, on preparing themselves for the world out there – I think that ultimately they have for their whole lives groomed themselves to be a certain way, to present a face to the world.

Cindy Sherman
By leaving her work untitled, Sherman refuses to impose any form of descriptive language – instead, her images rely on the viewer's ability to develop narratives, as an essential component of appreciating the work.
The reason I wasn't titling them besides the fact that I never felt very much like a wordsmith is… I didn't want people to have a preconceived notion of what they're supposed to imagine this character to be.

Cindy Sherman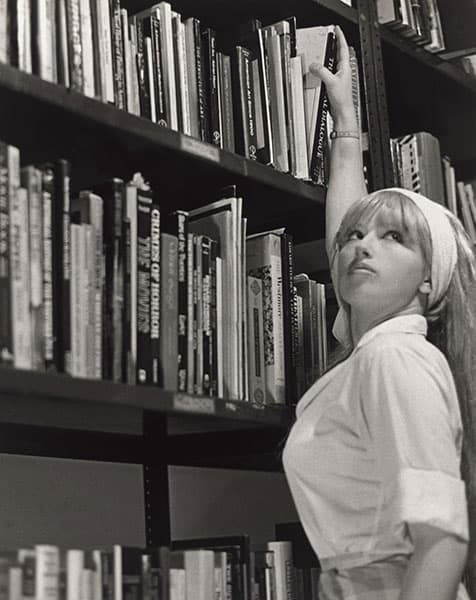 Other Work and Legacy
Other important photographic series from Sherman include Centrefolds (1981-4); History Portraits (1989-91); and Sex Pictures (1992-2000).
As you would expect, Sherman has received many awards, most notably the Hasselblad Foundation International Award in Photography in 1999 and a MacArthur Foundation fellowship in 1995. In 2013, she received an honorary degree from the Royal College of Art in London.
Her work is exhibited at the Museum of Modern Art, the Tate Gallery, London; and the Metropolitan Museum of Art, among others.
Sherman's Photography Style
Fine Art
Conceptual, social commentary
Self-Portraits, role-play
Narrative, fictional
Often theatrical
Voyeuristic
How to Shoot like Cindy Sherman
Sherman uses photography as an artistic tool to deceive and captivate. She's not interested in photography, she's interested in what she can do with photography.
I don't think of it as real photography because I don't think people who like real photography think of it that way. People who are real photo fans like the early film stills, the black and whites that seem like real vintage photography, or there are people who complain about how big they are, like, "Who does she think she is?" It's just the medium I chose to work with….

Cindy Sherman
Sherman's images feature a variety of costumes and theatrical sets in scenes that mirror film and fashion and the creation of artificial worlds and appearances.
I am always surprised at all the things people read into my photos, but it also amuses me. That may be because I have nothing specific in mind when I'm working. My intentions are neither feminist nor political. I try to put double or multiple meanings into my photos, which might give rise to a greater variety of interpretations…
She alters her appearance beyond recognition and draws her personas from a range of sources, including movies, fairy-tales, magazines, art history, and fashion.
I didn't want to make what looked like art. Film has always kind of been more influential to me than the art world.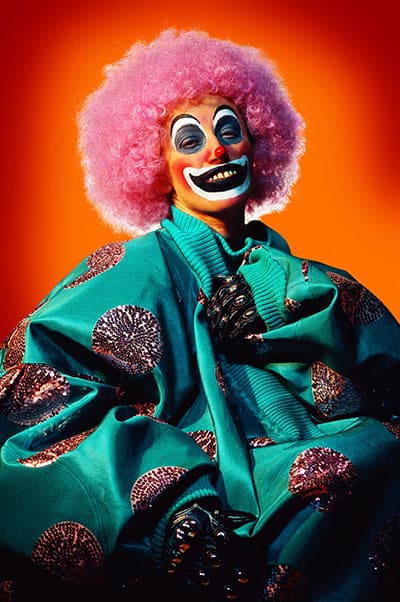 Going It Alone
Sherman typically shoots solo in her New York studio and oversees all aspects of the image-making process herself: author, director, set designer, photographer, and model, etc.
As the series progressed I would make lists of things I thought were missing to round out the group. I made lists of what kinds of shot (full figure, close-up, etc.) and location I wanted to use.

When I needed more outdoor shots I made notes whenever I was going around town, of certain archways, stairs, or architectural details that would be good backgrounds.

Besides working in my studio and on these planned outdoor shoots, whenever I was traveling I'd turn it into a work trip, buying costumes and wigs at the local thrift stores and bringing my camera and tripod with me.
It's just me, and a mirror and a camera and a backdrop, and that's about it. I've always felt that I'm able to be a little more experimental because no one is around if it doesn't go well.

Cindy Sherman
Although she starts with a basic idea for the image/or series, she has no definitive plan or knowledge of what she was trying to say but eventually arrives at some form of social critique.
I also realized that I myself don't know exactly what I want from a picture, so it's hard to articulate that to somebody else – anybody else. When I'm doing it myself, I'm really just using the mirror to summon something I don't even know until I see it.
Today she uses digital and green screen technology to capture her images.
Digitally editing her work has given her the same kind of license a painter would have, allowing her to selectively remove elements from the composition.
In the past, I would shoot, say, two rolls of film, and then I'd take all my make-up off, get out of character, bring it to the lab, and then wait a couple of hours for it to be developed.
I can start without really any idea in my mind and just be fooling around in front of the camera, take a few shots and look at them on my computer and say, "Well that's a good direction to go in, let's work with that kind of character."

Cindy Sherman
Check out the 20-minute documentary Cindy Sherman in Transformation by Art21 to learn more about Sherman's process and watch the photographer at work (including her digital workflow.)
Other Resources
Recommended Cindy Sherman Books
Disclaimer: Photogpedia is an Amazon Associate and earns from qualifying purchases. To learn more, read our Affiliate Disclosure page.
Cindy Sherman Videos
Cindy Sherman – Nobody's Here But Me (1994)
Cindy Sherman Photos
View more Cindy Sherman photos on the MoMA website
Fact Check
With each photographer profile article, we strive to be accurate and fair. If you see something that doesn't look right, then contact us and we'll update the post.
If there is anything else you would like to add about Cindy Sherman's work, life, and how she has had an impact on you (or other photographers) then send us an email: hello(at)photogpedia.com
Link to Photogpedia
If you've enjoyed the article or you've found it useful then we would be grateful if you could link back to us or share online through twitter or any other social media channel.
Finally, don't forget to subscribe to our monthly newsletter, and follow us on Instagram and Twitter.
Related Articles
Annie Leibovitz: Life Behind the Lens
Hiroshi Sugimoto: Capturing the Transience of Time
Helmut Newton: The King of Kink
Sources
Art in review, Cindy Sherman: Centerfolds, New York Times, 2003
Interview with a Chameleon, San Francisco Chronicle, 2012
The Cindy Sherman Effect, The Art News, 2012
Cindy Sherman: Me, myself and I, The Guardian, 2012
The Ugly Beauty of Cindy Sherman's Instagram Selfies, The New York Times, 2016
An Interview with Cindy Sherman, Apollo Magazine, 2019
Cindy Sherman at the National Portrait Gallery, The Times, 2019
Britannica website, Cindy Sherman Biography
Your Ultimate Guide to Cindy Sherman, Dazed Magazine, 2016
The Museum of Modern Art Website, Cindy Sherman Biography
The Art Story, Cindy Sherman Biography
The Essential: Cindy Sherman, 1999
The Complete Untitled Film Stills, The Museum of Modern Art, 2003
Encyclopedia of 20th Century Photography, Routledge, 2005
Cindy Sherman: Retrospective, The Museum of Modern Art, 2012
'We Are Family', Genius of Photography, BBC, 1978
Nobody's Here But Me, Cinecontact, 1994
Cindy Sherman in Transformation, Art21, 2009