Artificial Intelligence (AI) is quickly becoming a major trend in the business world. AI is a form of computer programming that enables machines to think and act like humans. It can be used to automate mundane tasks, process large amounts of data, and interact with customers. For new business owners, incorporating AI into their operations can provide a huge advantage over their competitors. In this blog, we'll discuss the benefits of AI for businesses and provide tips on how to implement it on your own.
Introduction to AI in Businesses
AI has become an integral part of many businesses, from large corporations to small startups. It has a variety of potential uses in business, such as automating tasks, processing data, and interacting with customers. AI has the potential to save businesses time and money while providing them with valuable insights into customer behaviour and trends. Additionally, it can help businesses stay competitive by providing them with an edge over their competitors.
The benefits of AI for new businesses are numerous. For starters, it can help reduce costs by automating mundane tasks and streamlining processes. Additionally, AI can help businesses stay ahead of the curve by providing them with valuable insights on customer behaviour and trends that would otherwise take months or years to acquire. Finally, it can provide businesses with a competitive edge over their competitors by helping them identify opportunities for growth or improvement.
Top AI Tools for Growing Your Business
In this article, we list down the top choices and our favorite AI tools beneficial for business owners. These can help with everyday tasks, branding, content creation, and even hiring! Read through and be amazed of what AI is capable of. We also list down the pricing for these tools and spoiler alert : most of them are free to use!
ChatGPT : Conversational Assistant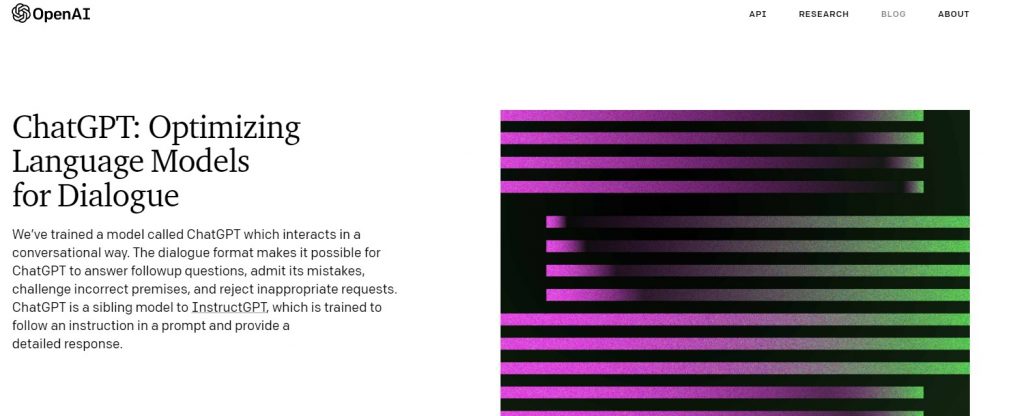 ChatGPT is a product of the great minds of OpenAI. OpenAI trained the ChatGPT model which interacts in a conversational way. The dialogue format makes it possible for the AI to answer follow up questions and admit its mistakes. Aside from this, it also is capable of challenging incorrect premises and rejecting inappropriate requests.
Methodology
OpenAI trained ChatGPT using Reinforcement Learning from Human Feedback (RLHF). Human AI trainers provided conversations in which they played both the user and AI assistant. Next, a reward model is implemented for reinforcement learning. The creators collected comparison data consisting of two or more responses ranked by quality. Using these reward models, they fine-tuned the model using Proximal Policy Optimization. This process is repeated multiple times.
Limitations
First, the AI is sensitive to tweaks of user entered queries. For example, a phrasing of one question may be unanswered but rephrasing it can result in a satisfying answer. Next, the model overuses certain phrases such as restating that it's a model trained by OpenAI. Lastly, the current model guesses answers to ambiguous questions or instructions.
Pricing
As of December 15, 2022 ChatGPT is free to use. This may change in the future as all OpenAI tools come with various pricing.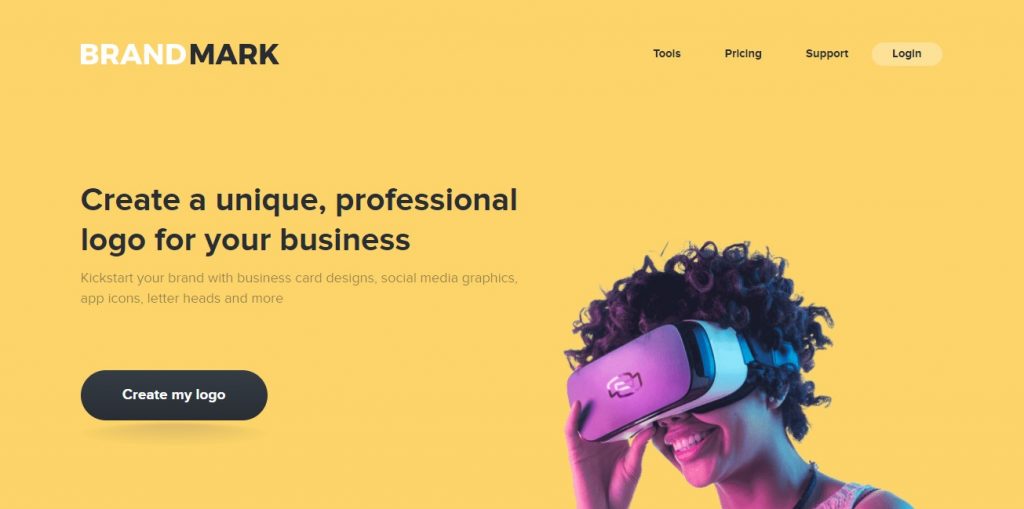 Looking for a logo for your business? Brandmark.io provides creative and artistic options for all your logo needs. They also offer business card designs, social media graphics, app icons, letter heads and more!
Brandmark.io lets users build a beautiful brand on time and on budget. They have a wide variety of assets from logos, animated designs, social profile icons, and many more. It is the only logo maker offering free customization. They'll personally help in customizing your logo with the purchase of any of their packages.
There is no software installation needed. Instantly customize their assets and export your logos and more straight from your browser. Users are able to export to all major file formats such as SVG, EPS, PNG, and PDF.
Benefits
By using Brandmark.io, you get to enjoy the following benefits. You get your logo instantly – fast and easy. They personally help in tweaking your design. There are no monthly charges, just a one time payment. You also get full copyright of your creations. Lastly, you are entitled to unlimited revisions – modify your logo any time even after the purchase.
Pricing
There are three packages that Brandmark.io offers. First, the $25 Basic package allows you to create and save logo files in PNG format.
Next, the $65 Designer package offers logo source files, brand style guide, business card designs, facebook cover, profile and app icons, and letterhead designs.
Lastly, the $175 Enterprise package comes with everything in the designer package with 10 fully original concepts created by their design team.
Namelix.com : Business Name Generator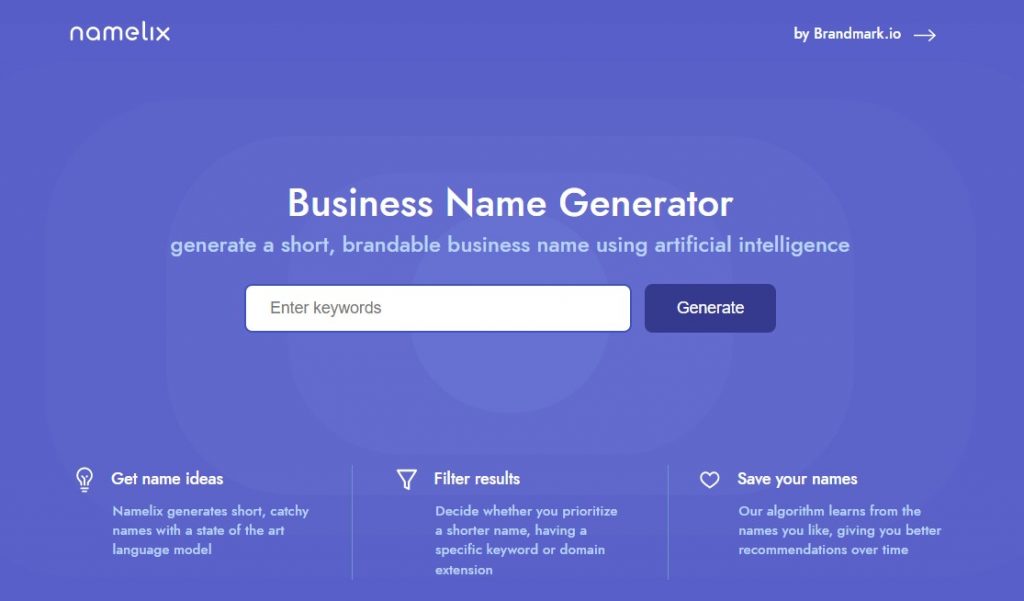 Namelix is a business name generator. Are you an up and coming entrepreneur? Struggling to find that catchy and witty business name? Namelix.com generates short and brandable business names using Artificial Intelligence.
Users get name ideas with a state of the art language model. You can also filter results by either prioritizing a shorter name, a specific keyword, or a domain extension. By saving names you like, the algorithm learns and gives you better recommendations over time. The more you spend on generating names, the more appealing the results become.
Pricing
Namelix is free to use! Generate any number of witty business names for no cost. This is great since the more you use the tool, the higher the chance of finding that unique business name for your brand.
Moonbeam : Writing Assistant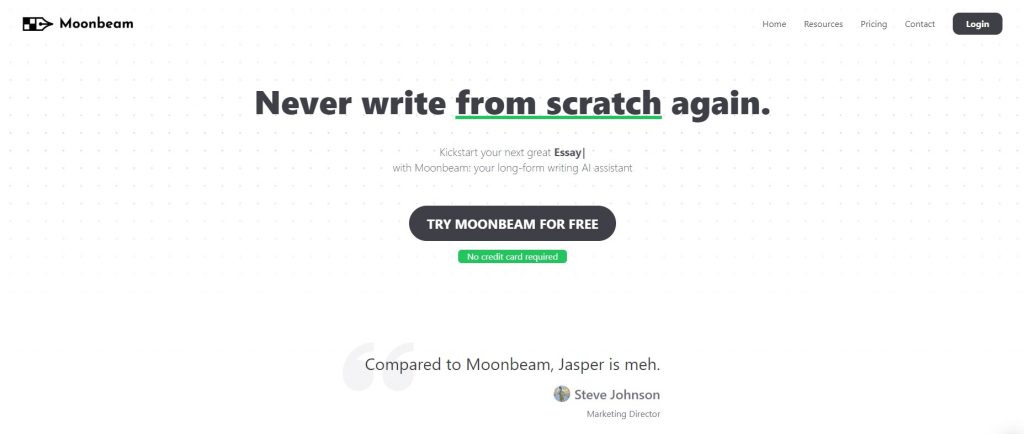 Moonbeam is your long-form writing AI assistant. It is capable of writing any form of content such as blogs or social media posts. This AI tool is specifically trained to help write essays, stories, blogs, and other long form content.
Moonbeam also champions Luna. Luna is the AI behind Moonbeam and is capable of writing a well-written first draft.
Moonbeam has an honest and transparent team. The success of Moonbeam depends on the user's success. Their honest opinion policy means they'll recommend the AI tool if its a great fit for you. They have a 100% money-back guarantee. If you sign up for a paid plan, try it for 30 days, and decide it's not for you; they give you a full refund.
Pricing
They offer a $15 per month Pro membership that comes with unlimited long form writing, social media posts, and a custom style generator. They also offer a $30 per month per seat Team plan that is best for enterprises and startups. You can try Moonbeam for free for up to 30,000 words.
Hume : Hiring Assistant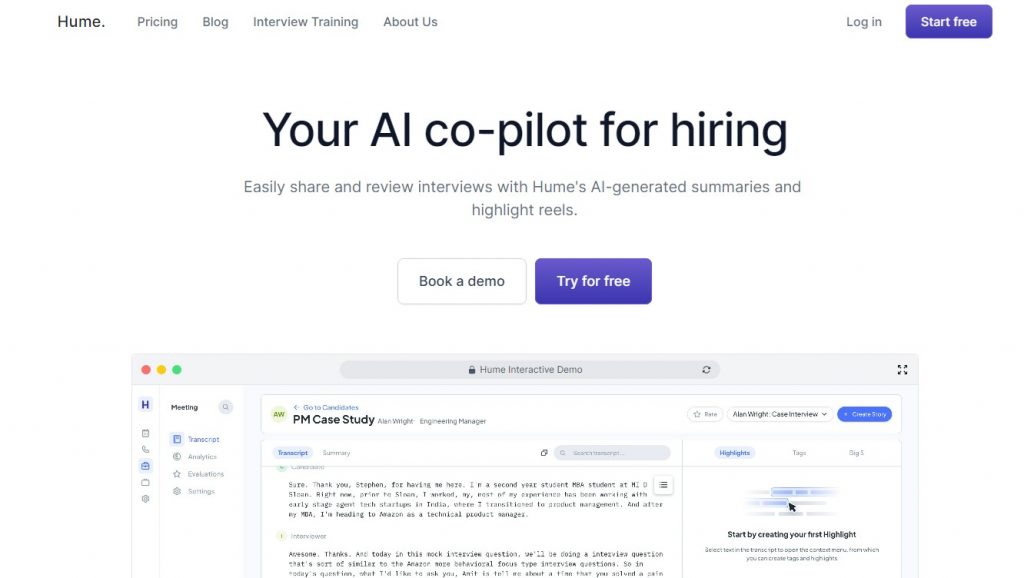 Hume is your co-pilot for hiring. They help businesses understand who and how to hire employees. Hume provides a consistent and effortless approach to hiring. Aside from hiring, they also have an Interview Coaching Platform. Hume lets users share and review interviews with AI generated summaries and highlight reels.
Pricing
Hume offers a $99 per user monthly Basic plan and a $59 per user monthly Business plan. This includes all the basic features, unlimited transcription hours, AI notes and summaries, and many more.
Postwise : Social Media Growth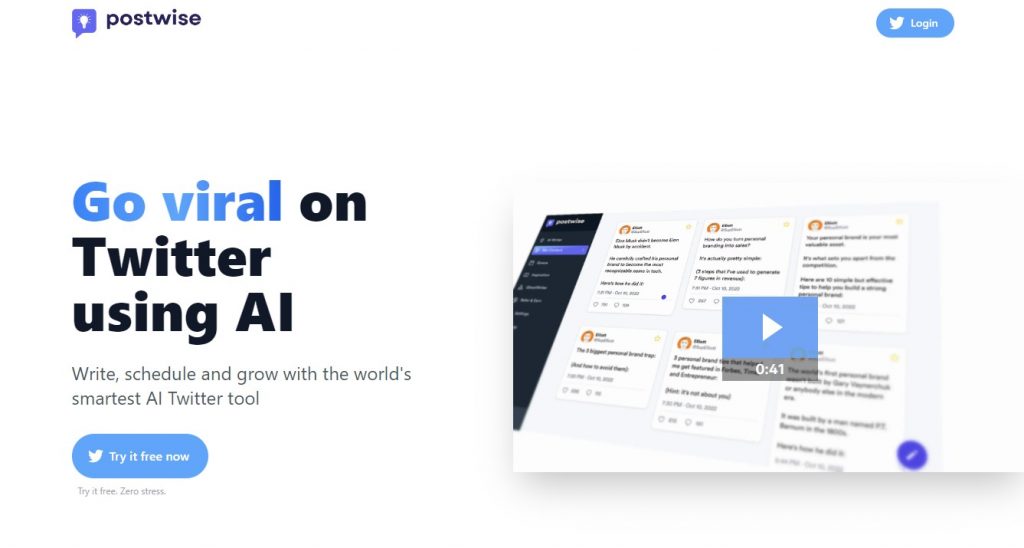 Postwise is a software tool designed to help organizations track, manage, and optimize their social media content. It helps brands save time, manage campaigns, and maximize their social media reach. They mainly help with managing Twitter posts and scheduling.
Pricing
Postwise offers a range of pricing plans to meet your needs. The $29 monthly Basic Plan offers all growth tools on unlimited accounts with 6 months scheduling. On the other hand, the $49 monthly Boss plan offers everything in the Basic Plan with additional 20,000 AI credits for 800 tweets, unlimited scheduling, and the GhostWriter feature.
Other AI Tools for Businesses
In addition to the above tools, there are other AI tools available for businesses to use such as autonomous chatbots, AI-driven customer segmentation, and automated marketing. Autonomous chatbots are computer programs that simulate human conversations and provide customers with prompt answers to their queries. AI-driven customer segmentation uses ML algorithms to analyse customer data and segment them into different categories based on their behaviour or preferences. Lastly, automated marketing enables businesses to create campaigns that target specific audiences and deliver tailored messages at the right time.
Implementing AI in Businesses
When it comes to implementing AI in your business, there are a few things you should consider. Firstly, you should assess whether or not AI is a good fit for your particular business model or industry. Secondly, you should invest in AI technology such as software and hardware that will enable you to make the most out of it. Finally, you should establish an AI-driven strategy that outlines how you plan on using it in your business operations.
Conclusion
In conclusion, incorporating AI into your business operations can be extremely beneficial for new business owners. It can help reduce costs by automating mundane tasks and streamlining processes. Additionally, it can provide businesses with valuable insights on customer behaviour and trends that would otherwise take months or years to acquire. Finally, it can give businesses a competitive edge over their competitors by helping them identify opportunities for growth or improvement.
When it comes to implementing AI in your business, there are several steps you should take such as assessing its fit in your business model and investing in the necessary technology and tools. Additionally, you should establish an AI-driven strategy that outlines how you plan on using it in your operations. With these tips in mind, you'll be well on your way to incorporating AI into your business operations successfully!
Afterword
We hope that you find this article helpful. Thank you for reading and you're always free to leave a comment. If you find this article interesting, consider checking out one of our recently published posts. A few of them showcase AI Art Generators in extreme detail. On the other hand, if you're looking towards Photography, we also offer great articles for your inspiration. We also have multiple articles that talk about the various printing mediums for wall art. May you find these articles entertaining!
Find them here:
The 5 Best AI Art Generators
Why Choose Metal Prints using Chromaluxe?
Guide to Product Photography
Guide to Toy Photography
The Art of Editing Photos
Best Outdoor Print and Signage Options
Best Wood Printing Companies in 2022
We enjoy reading your comments and insights with our posts! Should you have any questions or concerns, feel free to leave them below! -Mark