Astrophotography is a magnificent field of photography. The advancement of lenses today gives us a glimpse of heavenly bodies. Thousands of years ago, astronomers worked with primitive tools for viewing the moon and the stars. With today's wide array of lenses, taking a snapshot of the moon is extremely simple. It really is an amazing feat for our generation. The world of astrophotography brings us closer to the wonders of the universe.
Here at PhotogpediA, we champion all forms of art. In the previous articles we published, we gave the spotlight to the world of AI Art Generators. Today, join us as we dive back into the world of photography once again. This time, we'll join the heavens as we capture the stars through astrophotography.
What is Astrophotography?
Astrophotography is the photography of astronomical objects, celestial events, or areas of the night sky. Firstly, astrophotography can be as simple as capturing the moon. The moon is a heavenly body that revolves around the earth. There is always a chance for capturing it, making it a popular subject in astrophotography.
Next, meteor showers and eclipses do not happen as often as the waning of the moon. These celestial events make it more astounding because of their rarity. It also adds a challenge for astrophotography enthusiasts since they're essentially digging for gold. These celestial events only come once every few years and decades.
Lastly, amazing scenery in the night sky also makes way for great astrophotography. Heavenly phenomena such as auroras or just a plain view of the galaxy are awesome subjects too. All you need are the proper gear and photography knowledge and you're set to jump right into taking jaw dropping photos of the universe.
Equipment for Astrophotography
It's true that phone cameras are capable of capturing the night sky. However, nothing compares to astrophotography with the correct gear for the job. In this section, we give you options for the best cameras and lenses for astrophotography in 2022.
Cameras
A camera captures a subject it faces. For this guide, the subjects are the stars, the sky, and other heavenly bodies. Read through and find what camera best fits your astrophotography needs. Once again, these are only suggestions. What you best need for astrophotography are knowledge of the fundamentals and mastery of it. Lenses also play a major role here so keep that in mind.
Nikon D850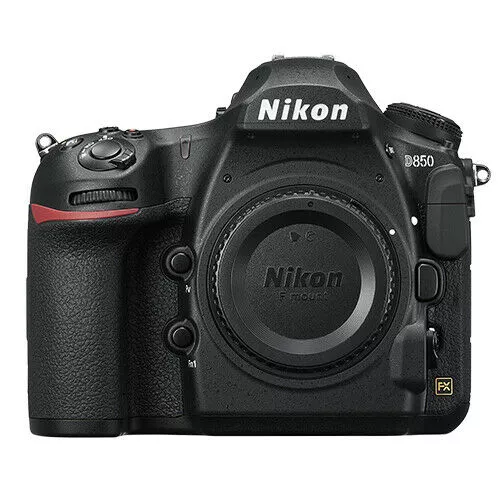 The Nikon D850 DSLR released almost five years ago but still keeps up with the current camera models released recently. The 45.7-megapixel image sensor on the D850 produces ultra-detailed photos while keeping image noise to a minimum. It also shoots 4K UHD 30 frames per second video for those who want to make movies of the stars.
It is heavier, bigger and bulkier than astro-specific cameras or its mirrorless competition. Still, due to its rugged construction and excellent weather sealing, it lasts for many years. No matter what environment you choose to shoot in, the D850 will surely stand above it strong.
Like all DSLRs, it has an optical viewfinder. This makes it a little challenging with regards to composition and focus. However, the rear tilting touchscreen fixes this problem. It has two card slots for SD and XQD/CF Express cards ensuring it can record all that incredible detail at speed.
The D850 utilizes full button illumination, making it simple to operate in the dark without needing a headlamp. Although a very high ISO will drastically reduce image quality, it can be helpful just to help you frame your composition.
Fujifilm X-T4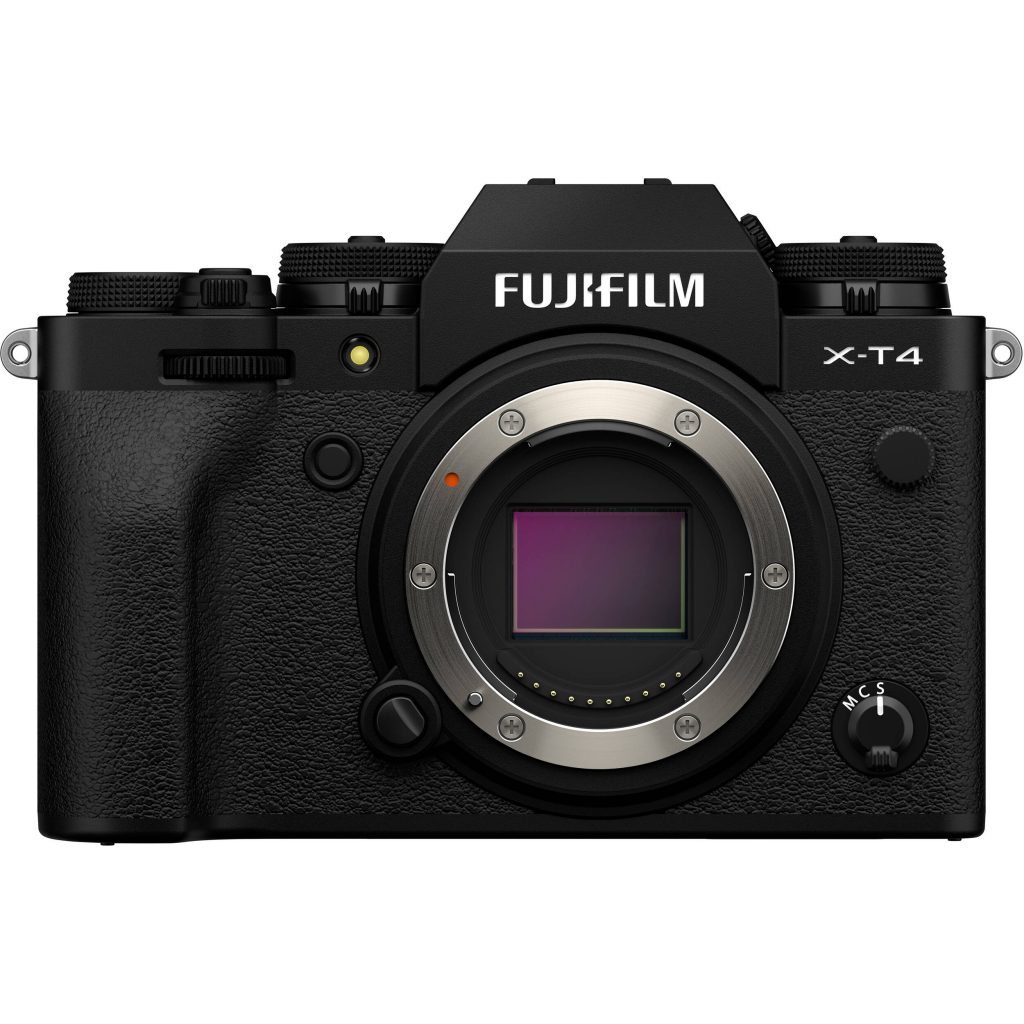 The X-T4 is Fujifilm's flagship mirrorless camera and the most powerful in the X-series. It is an excellent option for astrophotography enthusiasts. All the time, the camera points at the sky in astrophotography. The vari-angle screen makes composing shots much more comfortable. The classic look of the camera makes it stylish. The body-mounted dial controls make it easier to use in the dark provided that you remember which dial does what.
The 26.1MP APS-C sensor creates excellent image quality. There are plenty of lenses available to fit this model, enhancing them further. The Fuji X-T4 uses the NP-W235 battery with a CIPA rating of around 500 shots per charge in an everyday performance mode. When shooting the night sky, the long exposures sap the battery more, so expect slightly fewer shots than shooting at daylight.
This camera is a versatile option for other types of photography. It has 6.5 stops of in-body image stabilization, excellent low light performance, and a high-speed processing engine. This makes it ideal for action or sports photography. It is also a top choice when it comes to time lapse photography.
Sony A7 III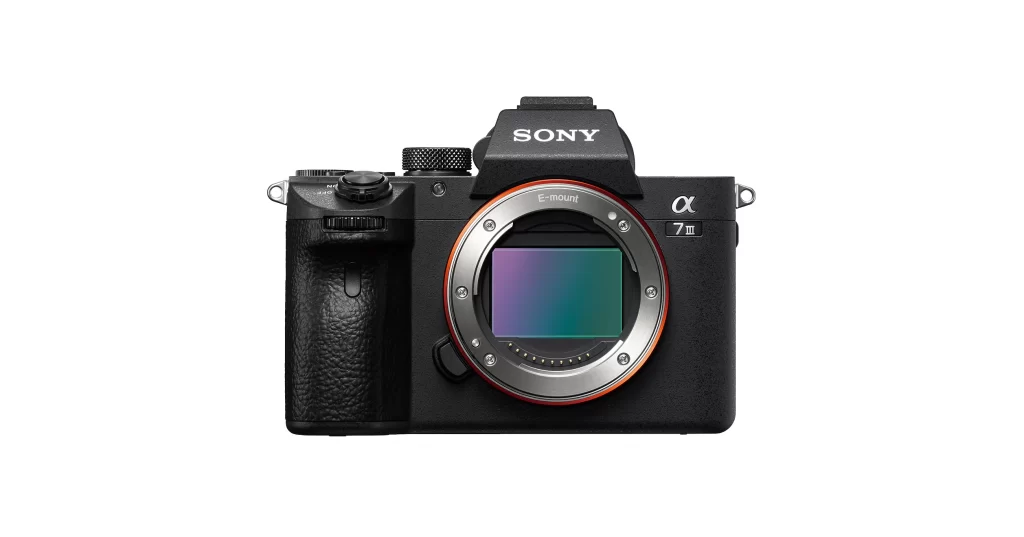 The Sony A7 III is a favorite among astrophotographers. Especially for those who like to shoot mirrorless, this is one of the go to cameras for astrophotography. Though its electronic viewfinder isn't as detailed as others, it still provides a beneficial exposure-ramped view providing aid with composing astrophotographs.
Low light autofocus detection, while not as sophisticated as some in this list, still performs well by working in -3 EV. Even when ramped up to a massive ISO 51200, this camera handles image noise well. It also produces excellent image results.
Shooting for hours at night can drain the battery quickly, especially when you consider it has to run power both to the rear screen and the EVF. However, this camera is CIPA-rated well above average for a mirrorless of this type. It is a touch more expensive than others in its class, but if you're after a natural low light performer and is versatile for other photography styles, the A7 III might be the one for you.
Canon EOS 6D Mk 2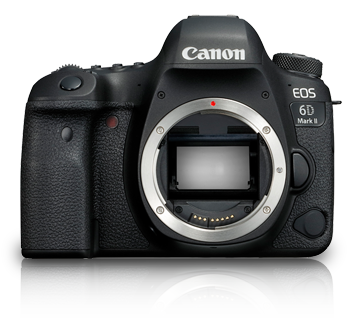 The Canon EOS 6D Mark 2, is an affordable DSLR. It does lack some modern features, but this is a brilliant full-frame option for its price point.
Its handy vari-angle touchscreen display makes it bode well for framing even if the camera is pointing skyward. For astro-shooters into moving images, the EOS 6D Mark II can shoot 4K time-lapses (in timelapse mode), making it perfect for detailed videos of the night sky.
Sadly, it only captures regular video footage at full-HD 1080p, but it records this at 60FPS for smooth results. Its dynamic range also leaves something desirable. However, by combining this with calibration frames, this shouldn't make much difference after image processing.
A single SD card slot might pose a problem. However it has 102400 expandable ISO and 26.2MP stills capture. Relax, knowing the results will be clear and crisp every time.
Lenses
Next, we talk about the proper lenses fitting for astrophotography. Each of the cameras outshine each other in terms of ISO and time lapse capabilities. In this section we give you lens suggestions for your astrophotography journey.
Sigma 14 mm f/1.8 DG HSM Art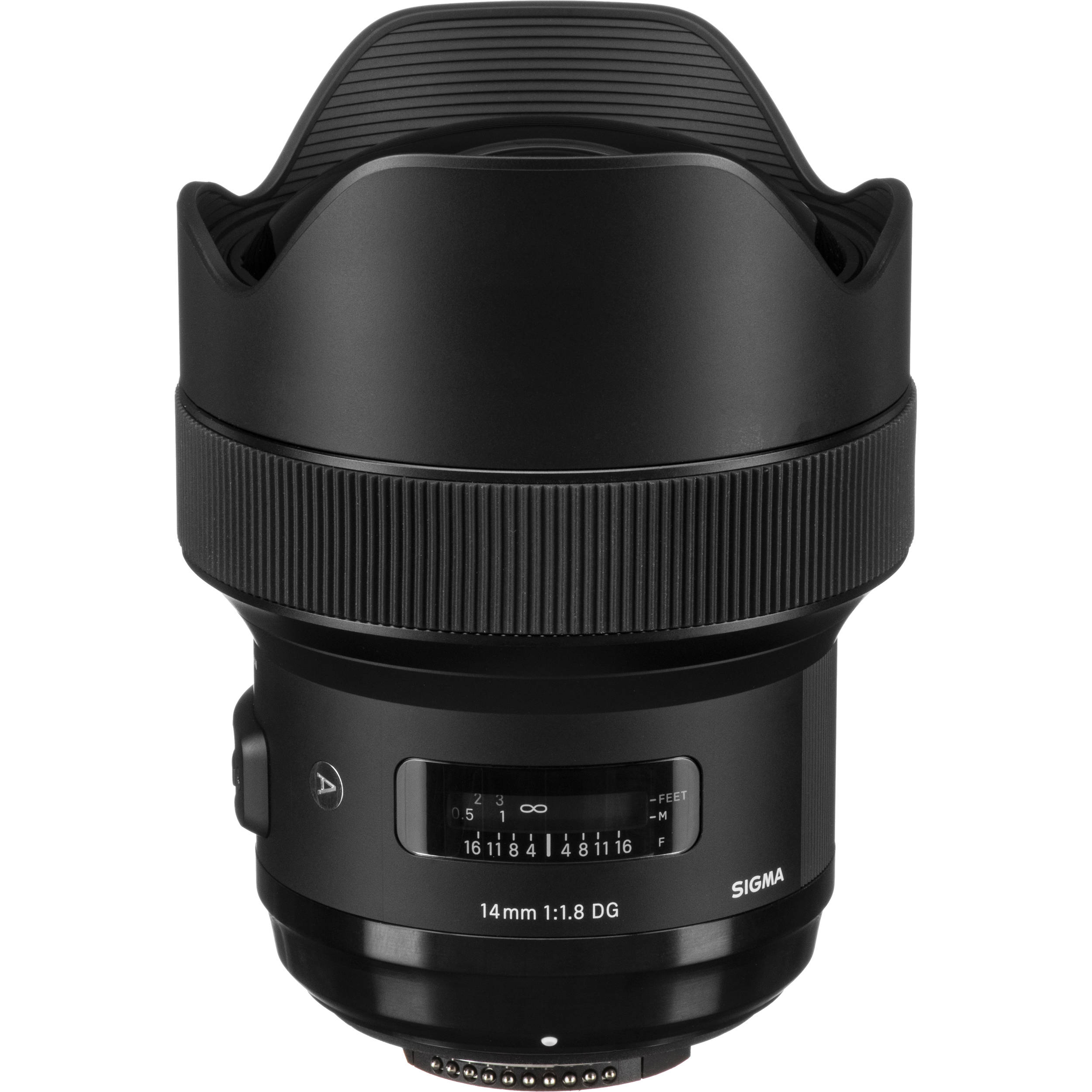 The Sigma 14mm f/1.8 DG HSM is heavy compared to other lenses. At 2.58 lbs, it's on the heavier side. However, with this weight comes astounding optical quality. The build quality is exceptional and the lens is also weather-sealed. The fixed focal length and extra-wide field of view are ideal for capturing expansive views of the landscape and night sky.
This lens is extremely capable. Stars appear pin-sharp even when the aperture is opened to its impressive f/1.8 maximum. Chromatic aberration (color fringing) is at minimum when shooting at wide apertures. Image distortion also is at minimum which is extraordinary for all ultra-wide lenses.
The lens doesn't have a filter thread due to the bulbous nature of its front element. For an ultra-wide lens, the performance of the Sigma 14mm f/1.8 DG HSM Art is top class.
Canon RF 15-35mm f/2.8L IS USM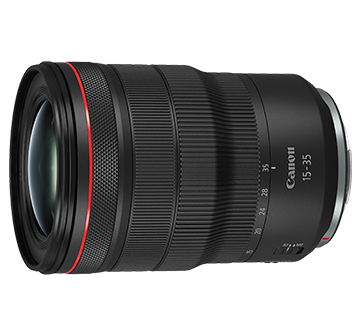 The Canon RF 15-35mm f/2.8L IS USM uses Canon's highest quality L-series glass. This lens comes with a clean uncluttered design. The lens boasts 5 stops of optical stabilization which is a huge bonus for handheld photography.
At 15mm, the lens has a 1mm wider viewing angle than the existing 16-35mm incarnations from Canon's DSLR range of lenses. Images are razor sharp throughout. However there is some edge sharpness drop-off when shooting wide open at f/2.8.
In comparison to other ultra-wide zoom lenses featured on this list, the 15-35mm covers a broader and more useful focal range. This gives you the ability of cropping images more tightly. The Milky Way is visible at 35mm in glorious detail.
This lens is a wonderful, high-performing tool for astrophotography. It is an expensive lens, but the Canon RF 15-35mm f/2.8L IS USM is one of the best lenses from Canon.
Sony FE 14mm f/1.8 GM – Premium G Master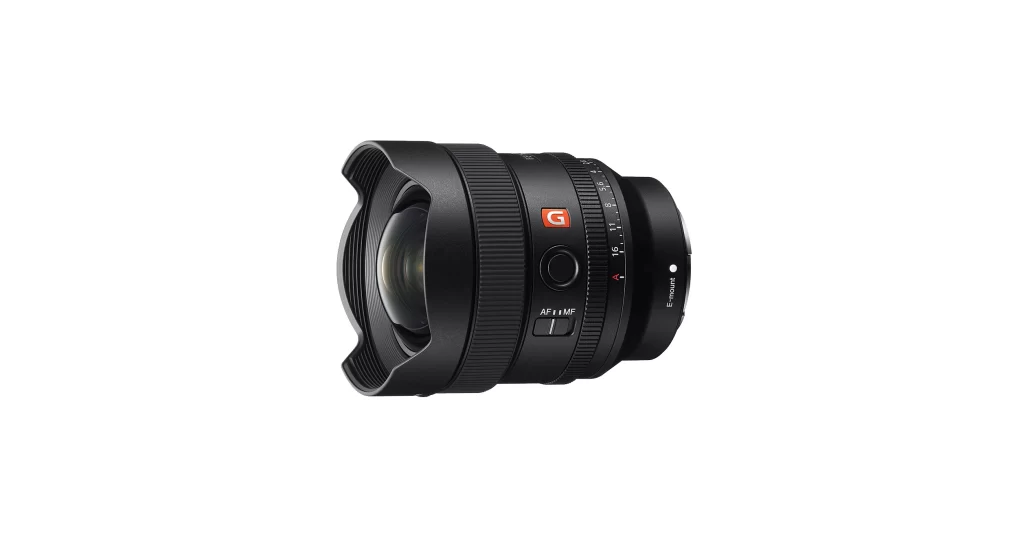 his bright, ultra-wide 14mm prime lens is Sony's answer to Sigma's 14mm f/1.8 DG HSM Art lens. Both lenses offer the same fixed focal length and maximum aperture. However, there's a marked difference between the two.
The Sony FE 14mm F1.8 GM is specific to its mirrorless system. This means Sony engineered a much smaller and lighter lens. For comparison, the Sony weighs in at 1.02 lbs while the Sigma weighs 2.6 lbs. This translates into a much better balance when the native Sony lens pairs with a Sony camera.
The Sony FE 14mm f/1.8 GM is the widest Sony prime lens. It has the usual high-resolution, weather seals and smooth focusing like all the lenses in Sony's G-Master range. The lens also incorporates a dedicated aperture control ring for manual control. With minimal distortion and vignetting, star sharpness maintains all throughout the frame and towards the corners.
At a similar price to the Sigma 14mm f/1.8 DG HSM, it's hard to see why a Sony user would choose something else for an ultra-wide astrophotography lens.
Techniques for Astrophotography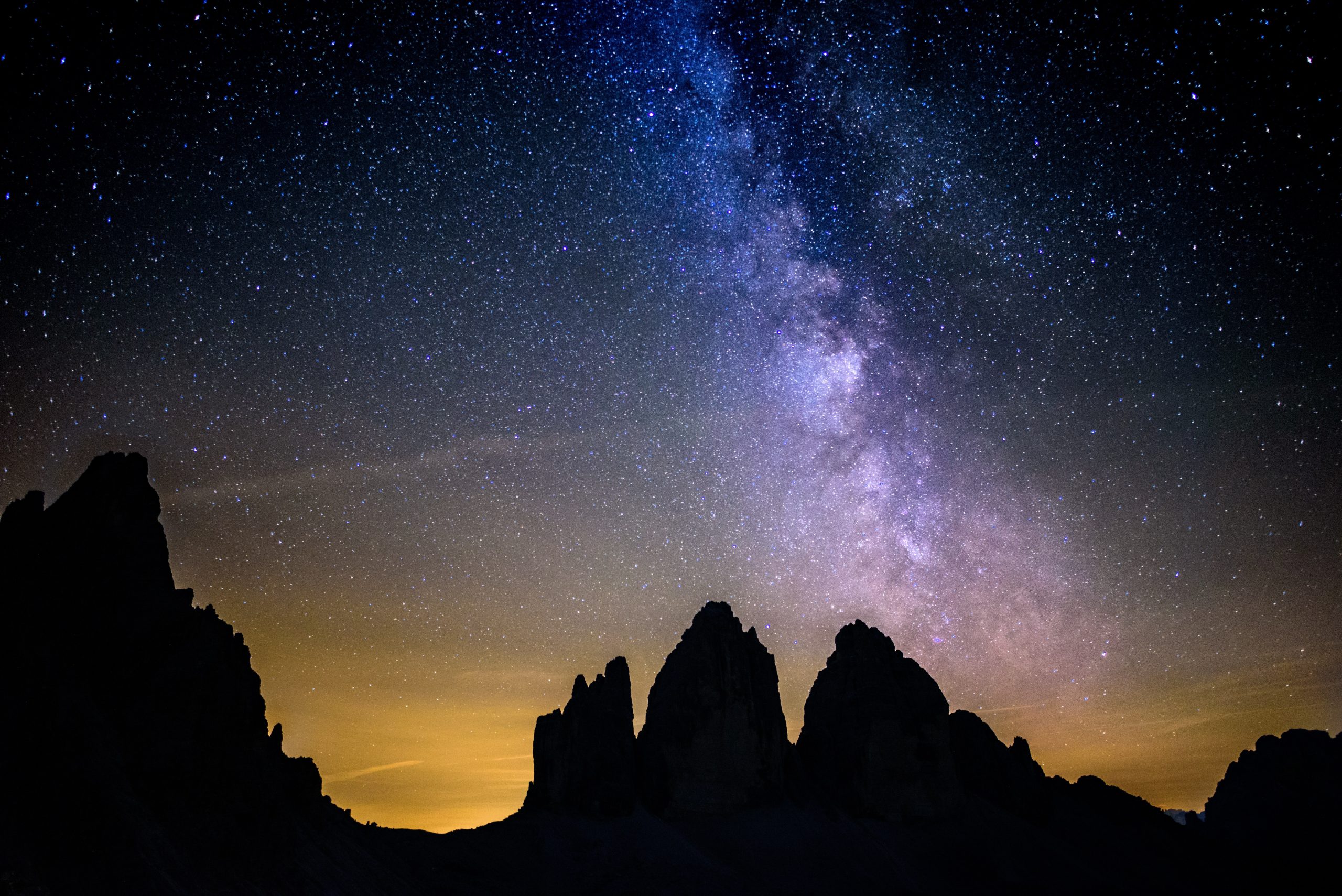 First, it is necessary that the camera stay still during its shutter. Astrophotography uses long exposure in capturing images. This means the shutter speed takes seconds. A remote button that triggers your shutter is perfect for this scenario. However, the timer delay is also a great alternative for this.
Secondly, location is greatly important in astrophotography. Be in an area that has a dark sky. This gives you the ability of taking detailed images of the stars and night sky. Stay away from urban areas which have light pollution.
Next, the night sky changes constantly as the earth rotates and revolves. This, unfortunately, is uncontrollable. The better way for tackling this is mastery of the fundamentals which are controllable. The following are tips for capturing stunning astrophotography.
Manual Mode
First, shoot in manual mode. Give yourself full control of the shutter speed, aperture, and ISO. For your aperture, set it as wide as possible. Go for f/2.8 or lower; or the lowest your lens and camera offers.
RAW Files
Second, have your camera record raw images. Astrophotography utilizes post-processing techniques in achieving the best results. The RAW file type retains as much data as possible. This is extremely helpful in post processing as increasing the brightness shows unseen details from the original.
Focus
Next, use manual focus for astrophotography. Use the Live View feature of your camera and identify a bright star. Adjust the focus until the star is as small as possible.
Composition
Utilize foreground when framing. Enthusiasts often use multiple exposure techniques in post processing for their photos. They capture photos an hour earlier and merge the foreground from this to the actual astrophoto.
Afterword
Thank you for reading this article. If you find this article interesting, consider checking out one of our recently published posts. A few of them showcase AI Art Generators in extreme detail. On the other hand, if you're looking for more photography articles, we also offer great reads for your inspiration. Also, turn your astrophotography into prints with some of our published articles.
Find them all here:
Stable Diffusion : AI Art Generator Spotlight
starryAI : AI Art Generator Spotlight
World Photography Day 2022
Guide to Toy Photography
Best Outdoor Print and Signage Options
The Printing Mediums of Wall Art