Did you know that proper acrylic prints care and cleaning can make a significant difference in maintaining the quality and appearance of acrylic items? Acrylic is a versatile and durable material used in a wide range of applications, including home decor, signage, and even medical equipment. However, without proper care and cleaning, acrylic items can quickly lose their clarity and shine.
Introduction: What is Acrylic Printing?
Acrylic printing involves creating a special type of art piece from either digital or analogue photos using layers of transparent polymer plastic. This photo printing process is growing in popularity due to its ability to create a high-quality image with vibrant colors and saturated textures like metallic or pearlescent finishes. Its thinness can also be advantageous when it comes to hanging an image on the wall because it's lightweight so there is no need for excess hardware that would make the overall look too bulky.
The advantages of acrylic are plenty, however how do you ensure that your print remains in excellent condition after you hang it up? Read on to learn how best to take care of your acrylic print so that its beauty lasts through many years.
Cleaning and Taking Care of Acrylic Prints
When considering how to best care for an acrylic print, there are some general tips worth bearing in mind. Firstly, store the print away from direct sunlight as this can cause fading to occur over time
When it comes to caring for your acrylic prints, there are a few general tips you should keep in mind to ensure they remain in top condition for years to come. Firstly, it's important to store your prints away from direct sunlight, as prolonged exposure to UV rays can cause fading over time, which can significantly impact the look of your artwork. Additionally, you should make sure to keep the area around your artwork clean by regularly removing any dust or debris before it has a chance to settle on the surface.
To maintain the clarity and vibrancy of your acrylic print, it's also essential to clean the surface regularly using a soft cloth dampened with water and mild detergent solution. Avoid using anything abrasive, as this can cause irreversible damage to the surface of the print.
When framing your acrylic prints, it's crucial to use acid-free white core mat boards to prevent any potential corrosion over time due to exposure from light and air, which can result in discoloration around the edges and corners of your artwork. Additionally, ensure that you provide adequate space between the frame backing surface and the artwork, allowing air to circulate freely behind them and preventing any potential condensation buildup.
By following these simple tips, you can maintain the beauty and integrity of your acrylic prints, ensuring that they remain a stunning addition to your home or office decor for years to come.
Decorative Techniques To Enhance Your Prints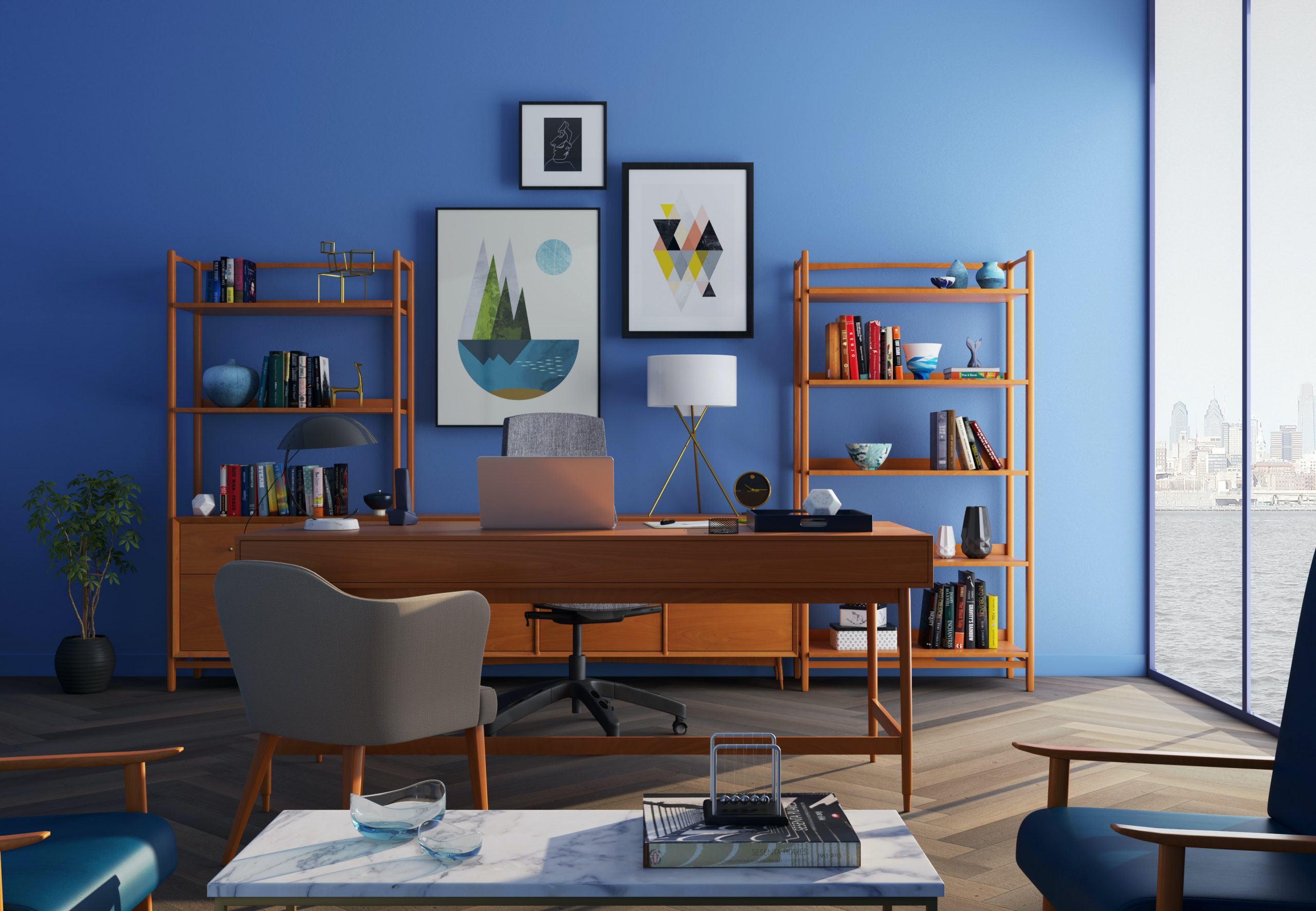 If you want to enhance the appearance of your acrylic prints, there are a variety of decorative techniques you can use to add interest and depth. Here are a few options to consider:
Backlighting: Backlighting your acrylic prints can add a dramatic effect, making the colors appear more vibrant and the image seem to glow. This technique works especially well for prints with darker backgrounds or areas of high contrast.
Mounting: Mounting your acrylic prints on a backing board or substrate can provide a more finished look and help protect the print from damage. Consider using a contrasting color or texture to add visual interest.
Framing: Framing your acrylic print can provide a more traditional look and help protect it from damage. Choose a frame that complements the colors and style of your print.
Printing on Metallic Paper: Printing your image on metallic paper can add a shimmery, reflective quality that can make the colors pop and add depth to the image.
Adding Textures: Adding textures to your acrylic print can add depth and dimension, giving it a more tactile quality. Consider using materials like sand, glitter, or paint to create interesting effects.
These techniques can be used alone or in combination to create a unique and eye-catching display. Experiment with different options to find the look that best suits your style and the image you are working with. With a little creativity and some careful attention to detail, you can take your acrylic prints to the next level and create a stunning display that will be sure to impress.
Challenges Faced on Acrylic Prints Care and Cleaning
Acrylic prints are a popular choice for those who want to display their favorite photos or artwork in a modern, sleek format. However, acrylic prints care and cleaning can present unique challenges that are different from caring for other types of artwork.
One of the main challenges of caring for acrylic prints is avoiding scratches and scuffs. Acrylic is a relatively soft material, and it is prone to scratching if it comes into contact with rough or abrasive surfaces. To prevent scratches, it is important to handle acrylic prints with care and to avoid stacking or sliding them against each other.
Another challenge is keeping acrylic prints clean without damaging them. Dust and fingerprints can quickly accumulate on the surface of acrylic prints, making them look dull and dirty. However, cleaning them improperly can cause damage or leave behind streaks or smudges. To avoid this, it is best to use a soft, lint-free cloth or a microfiber cloth specifically designed for cleaning acrylic surfaces. Avoid using paper towels or rough fabrics, as they can scratch the surface of the acrylic.
Finally, another challenge of caring for acrylic prints is preventing discoloration or fading. Acrylic can yellow over time, especially if it is exposed to direct sunlight or heat. To prevent this, it is best to display acrylic prints in a location that is out of direct sunlight and away from heat sources. If you must display acrylic prints in a brightly lit area, consider using UV-blocking film or window shades to help protect them from the sun's harmful rays.
Bonus: Best Acrylic Printing Companies
Moving forward, through research and surveying, here are the best acrylic printing companies to look out for. Main criteria for this list are their history, customer service, and quality of prints. Find the full list here: Best Acrylic Printing Companies in 2023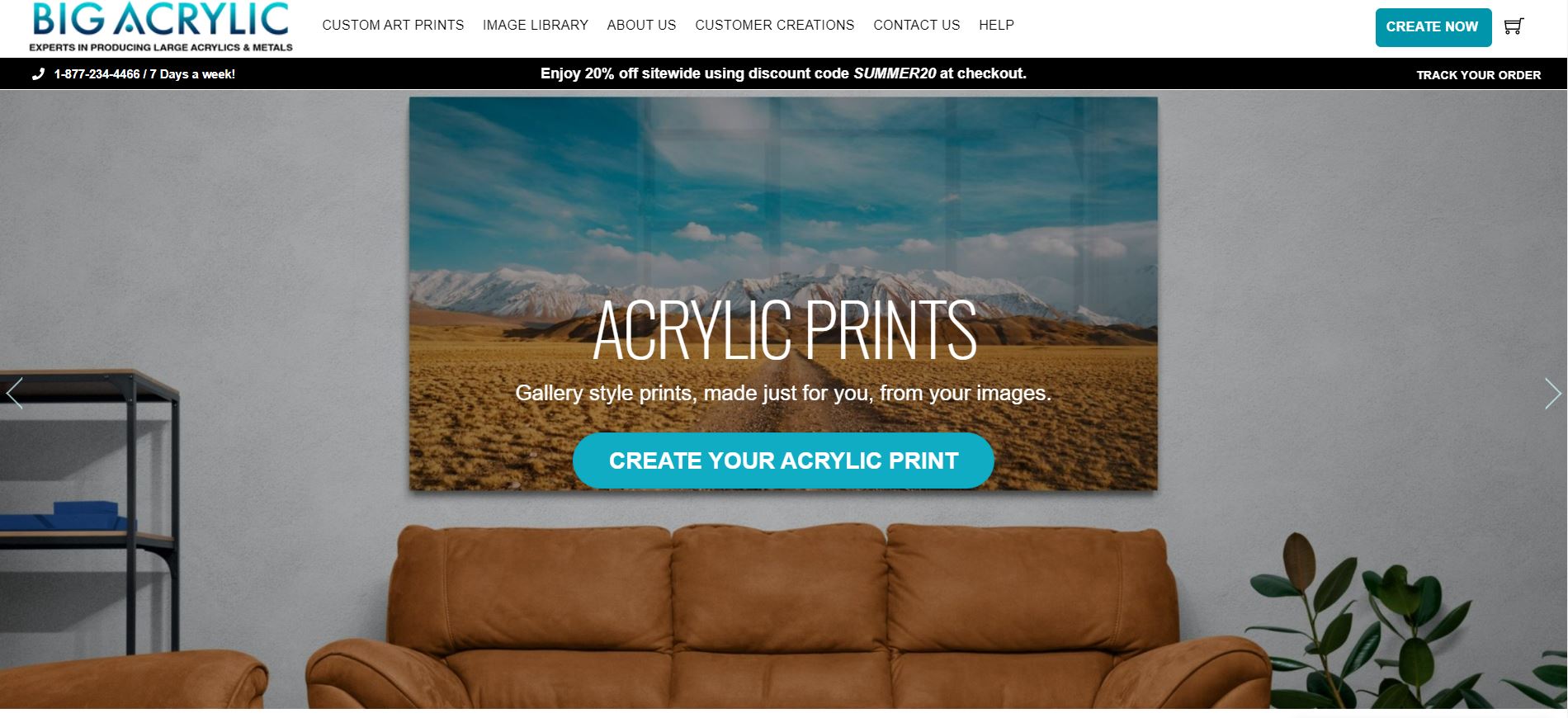 Big Acrylic is a leader in custom acrylic prints. They are a small group of creative professionals passionate in their craft. Pricewise, they provide boutique services without boutique prices.
Most of their transactions and clients are international. However, if you opt to visit their Montreal gallery, they'll assist you in knowing their vast array of products.
Big Acrylic offers four types of acrylic prints – standard acrylic prints, anti-glare acrylic prints, backlit acrylic prints, and acrylic tabletop prints. Anti-glare acrylic prints remove the glare caused by the reflective surface of standard acrylic prints. Backlit acrylic prints use a backlight to enhance the colors and quality of the standard acrylic prints. Lastly, acrylic table top prints are acrylic prints that are smaller in size and stand neatly on desks and tabletops.
Verdict
Big Acrylic has a lead time of 6-7 days before shipping. Their prices for a standard 16×12 inches acrylic print stands at $76.23. They offer a redo for damaged products at their own expense. Overall, the creative options for acrylic prints stand out the most for Big Acrylic. If you're looking for extraordinary customizations for your prints, this is the one for you.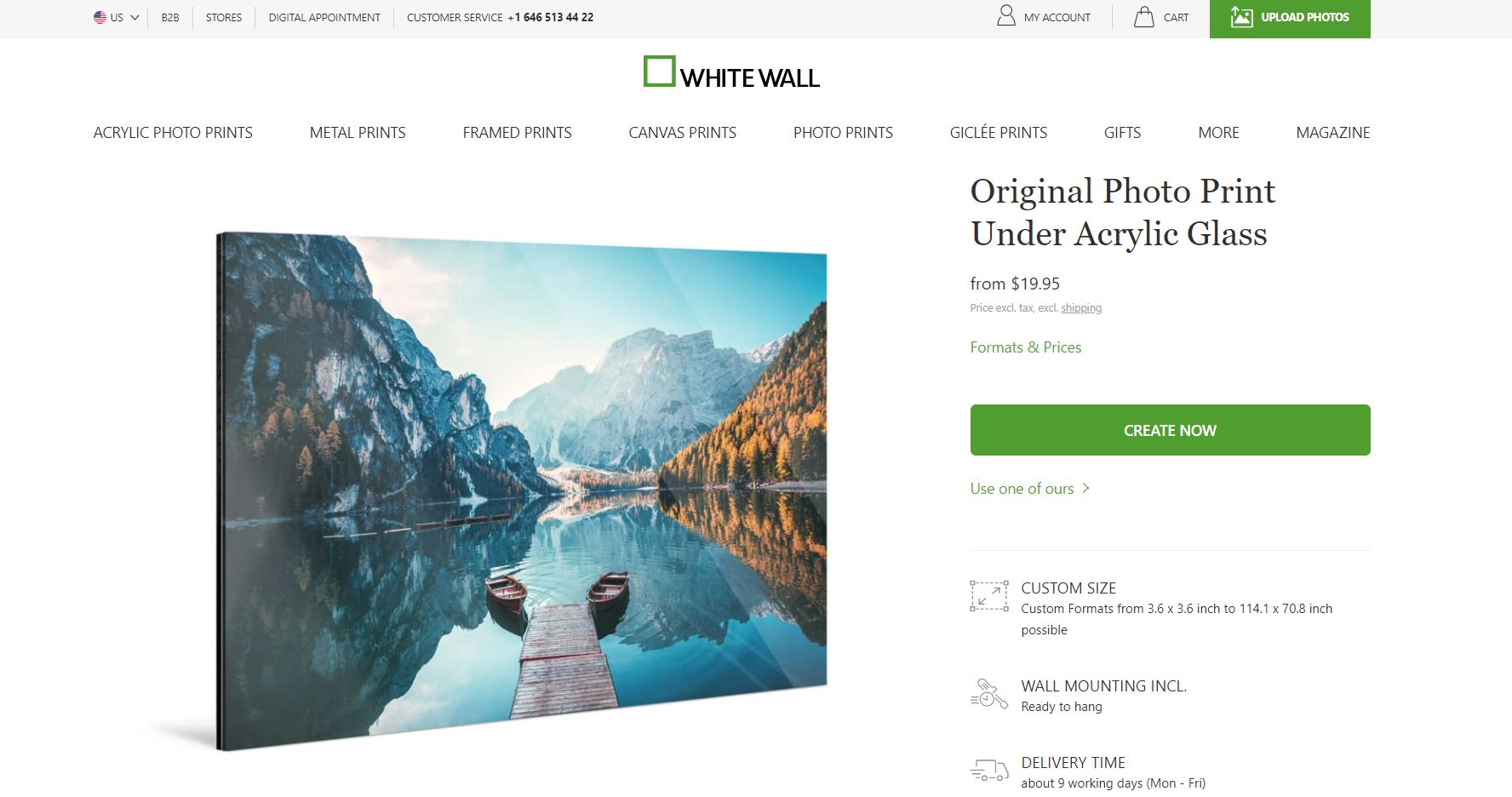 White Wall combines state of the art technologies with traditional printing methods. They have physical stores around the world such as New York, London, Paris, Berlin, Munich, and Hamburg.
White Wall offers multiple types of acrylic prints, each having their own trademark. First, the gallery standard uses the original photo print under acrylic glass. Next, the best in class utilizes ultraHD photo print using Fuji Crystal Professional Archive Maxima Paper under acrylic glass.
Lastly, they have two specialized products – the acrylic ultraHD metallic print and the original photo print under matte acrylic glass. The acrylic ultraHD metallic print doubles the resolution of your metallic photo – bright parts have a metal sheen under 2mm acrylic glass. Meanwhile, their second specialized product uses matte acrylic glass to reduce glare from the standard acrylic print.
Verdict
White Wall shipping takes up to 8 working days. The price point for a standard 16×12 acrylic print is $106.30. Undoubtedly, White Wall provides a high standard of printing but it comes at a higher price point. The range of variations they offer for acrylic prints utilizes distinct state of the art technologies. If choosing a world renowned company is your priority, go for White Wall. TIPA (Technical Image Press Association) awarded White Wall as the best photo lab of 2021.
Afterword
We hope that you found our tips for acrylic prints care and cleaning helpful. Thank you for reading and you're always free to leave a comment. If you find this article interesting, consider checking out one of our recently published posts. A few of them showcase advancements in technology such as AI Art Generators. On the other hand, if you're looking towards Photography, we also offer great articles for your inspiration. We also have multiple articles that talk about the various printing mediums for wall art. May these articles give you inspiration for your next print!
Find them here:
Scratch-resistant Acrylic – What You Need to Know
Acrylic vs Glass Printing – Which is Better?
The Best Metal Print Companies for 2023
The Printing Mediums of Wall Art
Stable Diffusion Tips and Tricks
Artbreeder : AI Art Generator Spotlight
Master the Art of Aerial Photography with Our Techniques