Metal Prints continue to rise in popularity after its release on the consumer market. Why is it so? Throughout the years, metal prints become a top choice for printed media. While there are multiple options for your printed media needs, this article shows why metal prints should be your go-to choice. This post shows a comparison between Metal Prints and the other choices.

Metal Prints are a great addition to any home. They provide great detail as display pieces for any part of your house. Turn your plain old wall into a creative display gallery of your most precious photos. Metal Prints are the highest form of wall prints. They provide excellent quality, durability, and life span. It really is worth investing in for cherishing your most precious memories.
Metal Prints Versus Other Printed Mediums
Jumping straight to it, here's why metal prints are the number one choice for your needs. There are four other wall art printed mediums – Canvas Prints, Mounted Prints, Acrylic Prints, and Wood Prints. This section details a brief description of each. A comparison of each between Metal Prints also follows.
Canvas Prints
Canvas prints are images printed onto a canvas with an inkjet printer. These are often stretched and gallery-wrapped then displayed. The materials used in Canvas Prints are strong and durable fabric made of hemp, cotton, or polyester.
In creating a Canvas Print, the gallery-wrapping technique is often used. The canvas is wrapped around stretcher bars and secured to a frame.
The gallery-wrapping technique offers a professional and elegant look. Printing on cotton polyester canvases offer more richness in hues and colors.
Estimates for the lifespan of Canvas Prints amount to a whopping 60 years for colors and 100-150 years for black and white.
Metal Prints are superior to Canvas Prints in terms of durability, appearance, and longevity. Metal Prints have the capacity to be used outdoors and still have a long lifespan. Canvas Prints on the other hand doesn't last very long when subjected to harsh weather conditions. Metal Prints are better visually because of their rich and saturated colors. These colors are unachievable with Canvas Prints.
Mounted Prints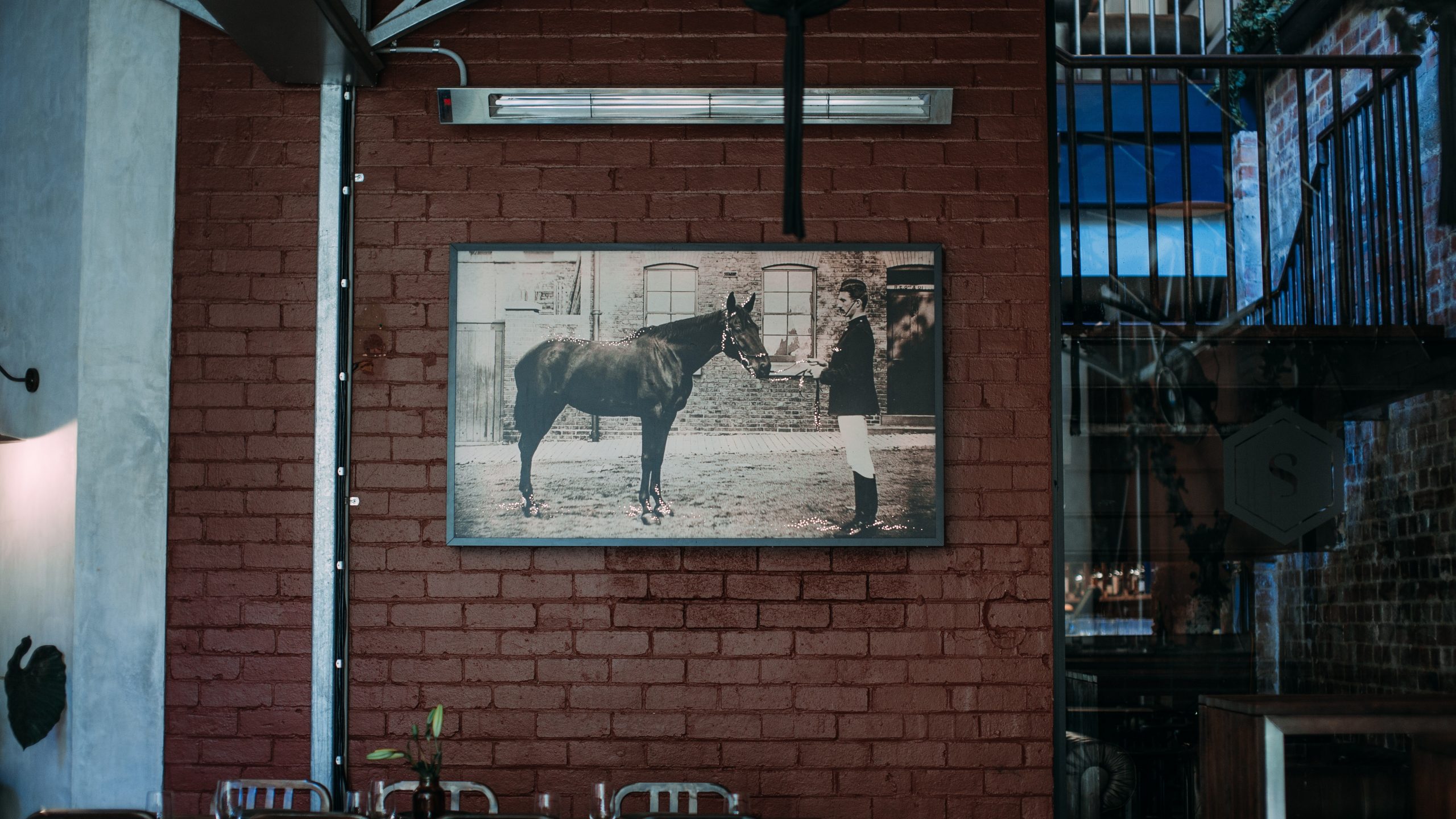 Mounted Prints are also known as framed prints. These are Wall Art that are printed onto paper for the purpose of framing. Mounted Prints usually use the color scheme of the image in connection to the color of the frame to convey coherence.
In mounted prints, the paper is attached to a backing board, so it can be framed or hung on a wall.
The frames play an important role in the appearance of Mounted Prints. Choosing a black or white frame brings the focus to the image itself. Some use stylized frames to bring a contemporary look to the Wall Art. Take note that the color of furniture should be considered so that the display pieces are not out of place.
Typically, mounted photo prints would start to fade in the 25-50 year mark. Ways to minimize fading and prolonging this wall art are available. As much as possible, avoid direct sunlight. If done, it could bring the lifespan to 100 years.
Mounted Prints are limited to wall hanging display options. Metal Prints outshine them because of the multiple display options available. They can be wall mounted or free standing with the help of an easel. There is also no need for frames when displaying Metal Prints. The durability of Metal Prints outclass the maintenance and longevity of a standard Mounted Print.
Acrylic Prints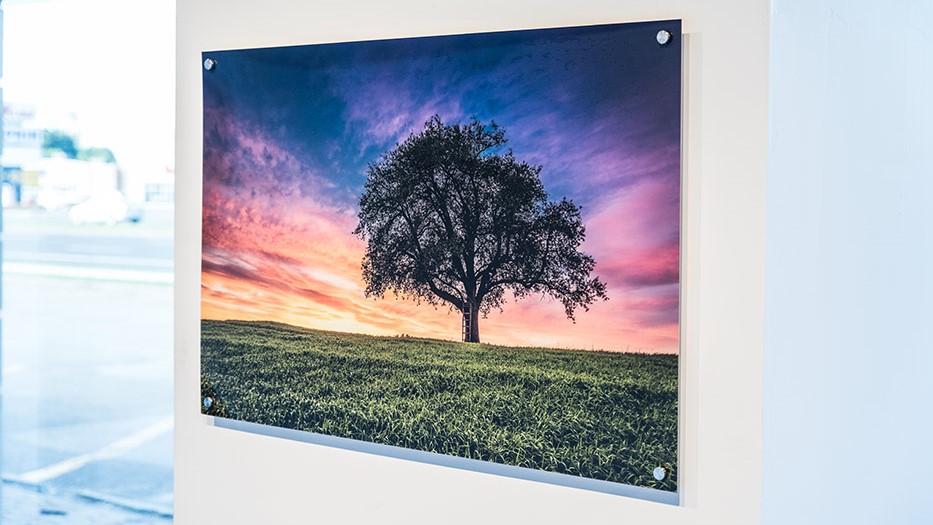 Next, Acrylic Prints are premium prints, coming at a slightly higher price point. These offer the highest image quality among all the wall art printing mediums.
Acrylic Prints utilize the use of photo paper. The print is then pressed between either plexiglass or acrylic sheets.
Colors on Acrylic Prints are vivid but in different lighting conditions could cause a glare. Glare appears because of the glass sheets of this wall art.
The material used in Acrylic Prints make them minimally resistant to scratch and wear. Strong scratching forces can really damage glass. They are also moisture resistant and are able to minimize the effect of wear due to light.
The top contender against Metal Prints are Acrylic Prints. They have high print quality and have outstanding visual appearance. However, a Metal Print is better than Acrylic Prints in terms of use. Metal Prints have the capacity to handle outdoor conditions.
Wood Prints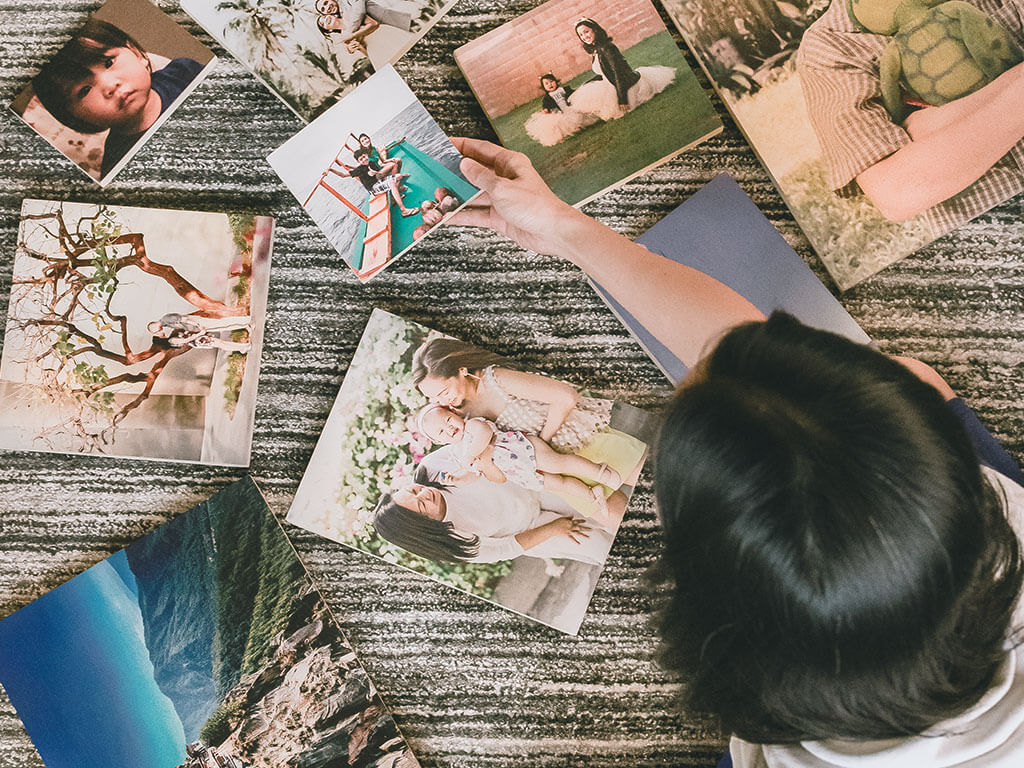 The Wood Print medium creates a unique photo style that also offers a long lifespan. No two Wood Prints are alike because of the unique grain patterns on each wood canvas. These are eye-catching pieces because of their distinct appearance. Involving nature with art is worth showcasing and displaying.
Wood Prints also use the process of dye-sublimation. Colors are infused to the wood grains. Wood Prints automatically are eye-catching because of their uniqueness. The most noticeable feature of this Wall Art is the wood grains. Most wood prints display a yellowish and warm hue. It affects the color of the photo but adds to the one-of-a-kind look of this piece.
Wood prints are water and heat resistant thus making sure it would have long life spans. Ultraviolet light is the main cause of fading in the colors of Wood Prints. Typically, the life-span of Wood Prints run from 100+ years if preserved correctly.
While both Wood and Metal Prints have distinct appearances, Metal Prints are superior to them. This is due to the fact that Metal Prints provide rich and exact colors to whatever image. Wood Prints somehow lowers the quality of an image because of their natural vintage color.
What are Metal Prints?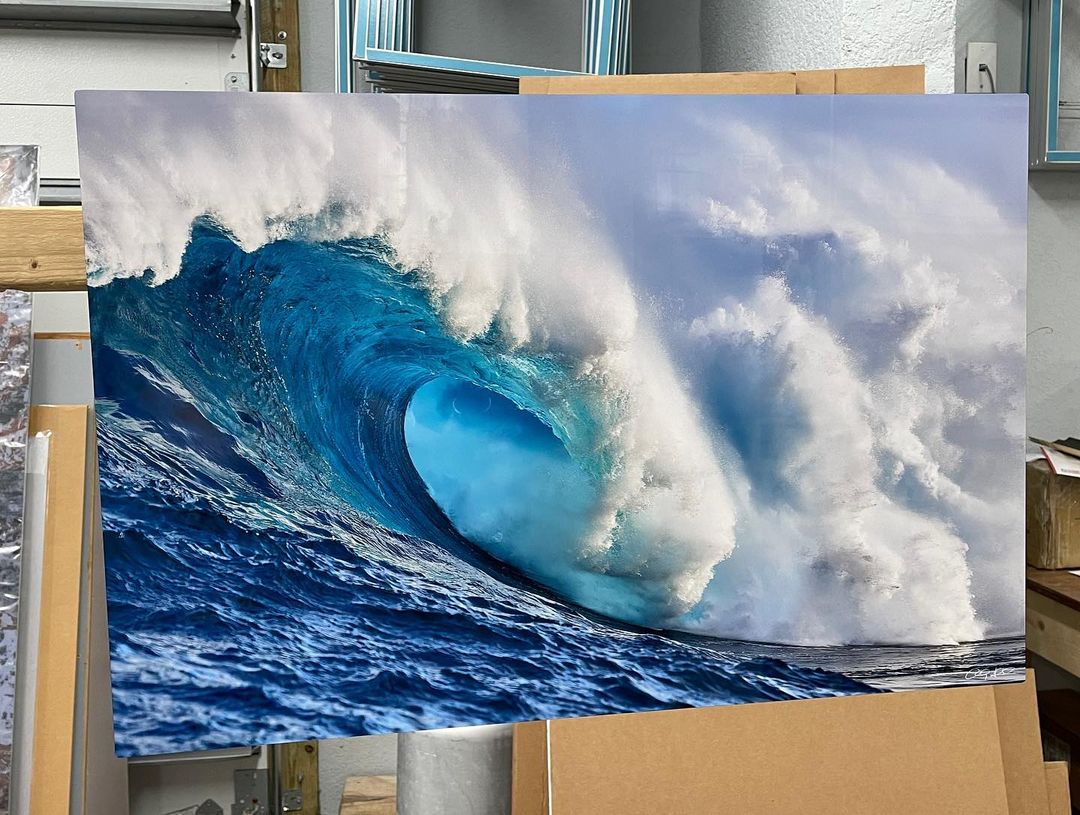 Metal Prints are modern and high definition pieces of wall art. These prioritize quality without compromising longevity. They are well known for being the toughest and most long lasting medium for Wall Art.
A metal print is a wall art piece that has a clean, modern, industrial, high-definition look. Metal prints utilize aluminum, with a variety of coats. This gives off vivid colors on any printed image. Metal prints are resistant to fading, moisture, and scratching. This makes metal prints the superior choice for both indoor and outdoor display.
These head-turning metal prints showcase your best photos in colorful hues. Printing photos on a metal piece gives your photo a striking industrial and modern touch to your walls. As a bonus, they do not require frames! Installation is a breeze, with a handy hanger attached to the back. This makes mounting these metal photo prints quick and simple.
These ultra-modern metal prints are the highlight of your wall art pieces and perfectly display your personalized photos. Make your wall art piece one of a kind with a variety of design options. Choose from a wide range of layouts, backgrounds, and custom texts.
Why Choose Metal Prints?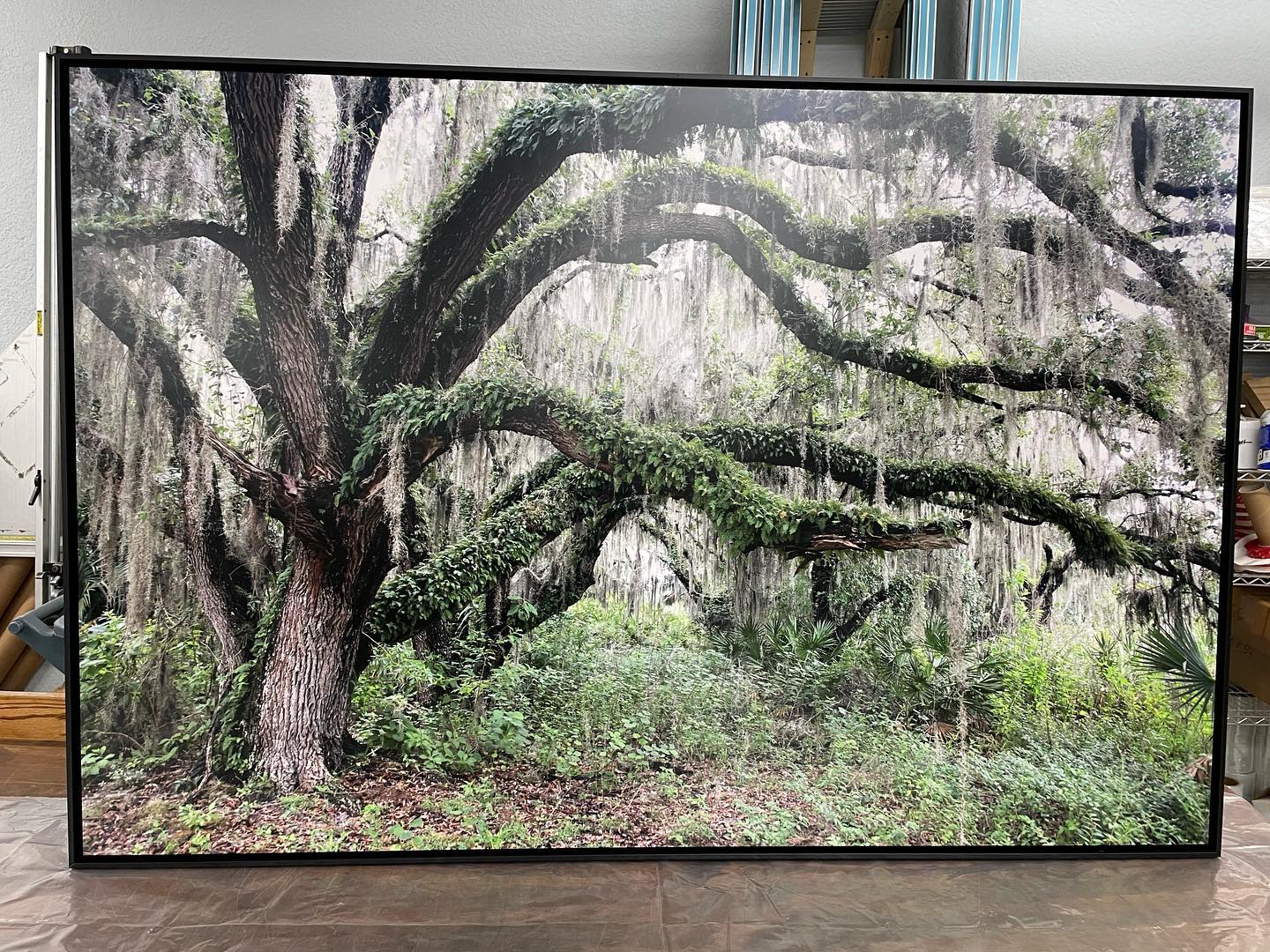 Designing your home with wall art is really a personal choice. However, metal prints stand above the other options because of their benefits. These include their appearance, life span, and most of all, durability. 
Appearance
When deciding on your metal print, there are multiple options for the surface finish. Finishing options are brushed, true color, glossy, or matte. All of these already provide vivid colors and hues. This makes it a perfect design choice no matter what surface finish you opt for.
First, a brushed metal surface allows a silver basecoat to peek through. This enhances the natural metallic elements of the canvas. This is perfect for that classy and industrial look for your wall decor.
Second, a true color surface provides a white base coat for the metal canvas. Adding a white base coat to a metal surface helps bring the colors more vividly. This is ideal for high color contrasting images. Ensure your wall decor pops with lively colors by choosing a white base coat.
Next, a glossy finish is an additional layer for either a brushed or true color surface. This makes the images on your prints crisp and vibrant. This further makes your images pop and provoke any viewer. Turn those emotions from your images to a reality with this striking addition for a finish.
Lastly, a matte finish is also an additional layer for either a brushed or true color surface. This offers a subdued and muted look. Turning down a notch? This is the perfect choice for accentuating your furniture. This makes your wall pieces blend in with all of your display. The metal print keeps the natural vibrancy from its material even with this flat coating!
Creative Design Options
Metal Prints work well as home, office, gallery, and outdoor pieces. They have extremely long lifespans extending for generations. The durability and appearance of a metal print make them the perfect print choice. Photos remain vibrant and brilliant through time. This makes way for creativity to have a part in metal print applications.
Firstly, split metal prints offer a creative and professional way of displaying photos. These pieces offer an extra artistic touch! Split your photos to multiple panels and create a unique gallery inside your home. Each panel hangs one inch apart from each other. This creates an elegant and dramatic effect through its floating appearance.
Next, Panoramic metal prints are perfect for showcasing locations. This option is best for those who travel. There are destinations that are just too jaw dropping. Consider printing them on a panoramic metal print and give them a permanent place in your home.
Lastly, there are shaped metal prints. May it be an oval, square, heart, or a circle; this is possible for metal prints. Make your images stand out from your wall by choosing an extraordinary shape! Not only does the vibrancy of the image make it head turning, but the shape also contributes to its uniqueness!
Read more about creative metal print ideas on : Creative Metal Prints Use for Your Home
Hanging Option
Customized metal prints use a frameless design. This gives your photos a clean and modern look. The art is ready the minute it arrives. There is no need for framing or matting leaving you worry free.
Lifespan and Longevity
Metal prints are the most scratch and wear resistant among all printing mediums. They fare well against humidity and heat, outclassing the other print mediums.
Afterword
We hope that you find this article helpful. Thank you for reading and you're always free to leave a comment. If you find this article interesting, consider checking out one of our recently published posts. A few of them showcase these AI Art Generators in extreme detail. On the other hand, if you're looking towards Photography, we also offer great articles for your inspiration. We also have multiple articles that talk about the various printing mediums for wall art. May these articles give you inspiration for your next print!
Find them here:
5 Best AI Art Generators
World Photography Day 2022
Guide to Product Photography
Guide to Toy Photography
The Art of Editing Photos
Best Outdoor Print and Signage Options
Best Wood Printing Companies in 2022
We enjoy reading your comments and insights with our posts! Should you have any questions or concerns, feel free to leave them below! -Mark