Looking for the best Jeff Wall quotes? Then you've come to the right place. Below we've put together a list of 26 quotes from the master of conceptual photography to inspire, motivate and help take your photography to the next level.
Jeff Wall Quotes
I like photographs that don't look altogether the way photographs are supposed to look. We don't really know how photographs are "supposed to look."
Painting has to do with touch… That's the eros specific to painting… Photography is about the distance, the inability to touch, maybe.
I'm not sure any of us has made photographs as good as Evans'.

Jeff Wall on Walker Evans
I see [photography] as a kind of untheorisable medium, a kind of polymorphic, multivocal and multivalent construction.
Most photographs cannot be looked at very often. They become exhausted. Great photographers have done it on the fly. It doesn't happen that often. I wasn't interested in doing that. I didn't want to spend my time running around trying to find an event that could be made into a picture that would be good.
For a long time it was necessary to contest the classical aesthetic of photography as too absolutely rooted in the idea of fact… I accept that claim, but I don't think that it itself can be the foundation for an aesthetic of photography, of photography as art. They way I thought I could work through that problem was to make photographs that put the factual claim in suspension, while still creating an involvement with factuality for the viewer.
A picture is something that makes invisible its before and after.
If you are capable of making good pictures it's immoral not to do so, for whatever reason or excuse you might give.
Because image traffic has become so heavy and so continuous, it now seems as if these millions of images came into being by themselves, without the agency of a person.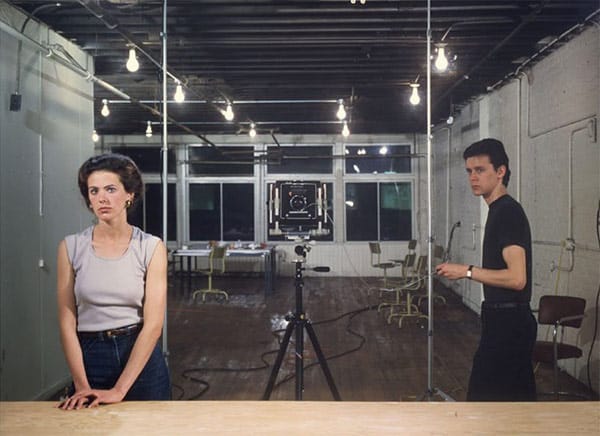 Subjects and Staged Photography
I don't find my own experiences very interesting. I find my observations interesting. Maybe that's why I'm a photographer. Maybe an observation is an experience that means more to you than other experiences.
My practice has been to reject the role of witness or journalist, of "photographer," which in my view objectifies the subject of the picture by masking the impulses and feelings of the picture-maker. The poetics or the "productivity" of my work has been in the stagecraft and pictorial composition – what I call the cinematography.
I'm struck by things I've seen, but I don't photograph them. If they persist in my mind, I try to recreate them.
Meaning does not interest me and has almost nothing to do with my decisions or judgments.
I guess you could say I'm like a film director but my movies have only one frame.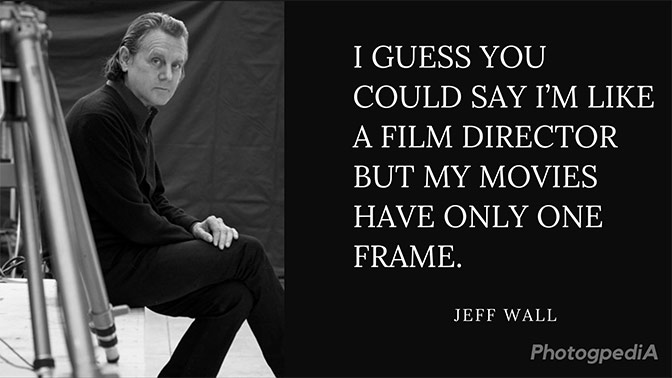 Wall on the Process
I begin by not photographing.
The essential model, for me, is still the painter, the artisan who has all the tools and materials they need right at hand, and who knows how to make the object he or she is making from start to finish. With photography this is almost possible.
… electronic image traffic has become present in the relation between the photographer and the picture he or she sees in a viewfinder.
Digital photography provides certain obvious technical advantages and allows you the freedom to do photography either as it has always been done or to do it in rather different ways, and to still be practicing photography.
One paradox I have found is that, the more you use computers in picture-making, the more "hand-made" the picture becomes. Oddly, then, digital technology is leading, in my work at least, toward a greater reliance on handmaking because the assembly and montage of the various parts of the picture is done very carefully by hand.
Jeff Wall Quotes on Art and Photography
Art inherently involves artistry. I prepare certain things carefully because I believe that's what's required. Other things are completely left to chance. Anything that is prepared, constructed, or organized is done in order to allow the unpredictable "something" to appear and, in appearing, to create the real beauty of the picture, any picture.
The spontaneous is the most beautiful thing that can appear in a picture, but nothing in art appears less spontaneously than that.
In my time, I've been accused of being afraid to go out into the world to take pictures, like a so-called 'real' photographer does, and I've been accused of making art with a capital A – as if that, too, was a crime.
Photography could emerge socially as art only at the moment when its aesthetic presuppositions seemed to be undergoing a withering radical critique, a critique apparently aimed at foreclosing any further aestheticization of "artification" of the medium. Photoconceptualism led the way toward the complete acceptance of photography as art – autonomous, bourgeois, collectible art – by virtue of insisting that this medium might be privileged to the negation of that whole idea.
What an artist could do with photography wasn't bounded by the documentary impulse – but that other part was underdeveloped. Painting could be topographical realism or it could be angels – in the same medium. Why couldn't photography do the same thing?
It is astonishing to remember that important art-photographs could be purchased for under $100 not only in 1950 but in 1960.
I've always felt that good art has to reflect somehow on its own process of coming to be.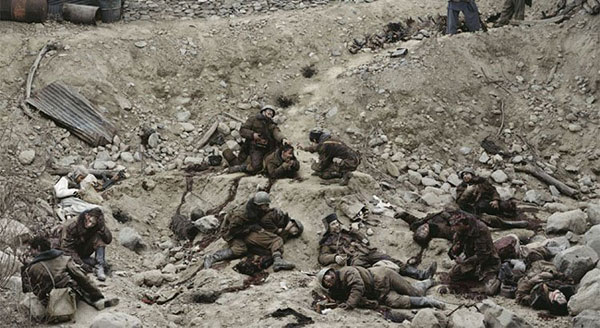 What's your Favorite Jeff Wall Quote?
Have a favorite Jeff Wall quote from the list? Let us know in the comment section below.
Don't forget to bookmark this page, or print it out, and refer to it next time you need some inspiration. If you've found the article helpful, then we would be grateful if you could share it with other photographers.
To see more of Jeff Wall's photography, check out his image archive on the Gagosian website.
Looking for more words of wisdom from master photographers? Visit the quotes section of Photogpedia for more great photography quotes.
Related Quote Articles: