If you're looking for the best Cecil Beaton quotes, then you've come to the right place.
Sir Cecil Beaton (1904 – 1980) was one of the leading portrait and fashion photographers of the early twentieth century. He was also the official court photographer for the British royal family.
Beaton was renowned for his images of elegance, glamour, and style and became Vogue's first star photographer. He took his first pictures for the magazine in 1924 and continued to work with them for over 30 years.
Although he's best known for his photography, Beaton was also a successful set and costume designer for stage and film productions, most notably My Fair Lady (1956) and Gigi (1958).
Below we've listed 14 quotes from the master photographer to inspire, motivate and help take your photography to the next level.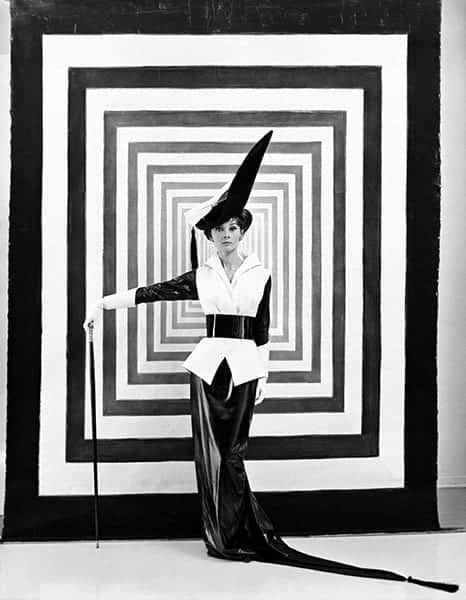 Cecil Beaton Quotes
You can't teach people photography, they've got to learn how to do it the best way possible for them. They can learn from looking at pictures… but they don't really get intimate with the medium until they've made a few bad shots.
Perhaps the world's second worst crime is boredom. The first is being a bore.
All I want is the best of everything and there's very little of that left.
[on Henri Cartier-Bresson] His cherubic, almost simpleton, appearance is most disconcerting – for it gives no indication of the far from simple character of this somewhat twisted artist of the secret, prying lens.
There is always something dramatic about the job of permanently recording the features of a human being, it is the theatre bought to everyday life; the ordinary routine of existence is broken and the tension is heightened.
I want to make photographs of very elegant women taking the lipstick off their teeth.
Be daring, be different, be impractical, be anything that will assert integrity of purpose and imaginative vision against the play-it-safers, the creatures of the commonplace, the slaves of the ordinary.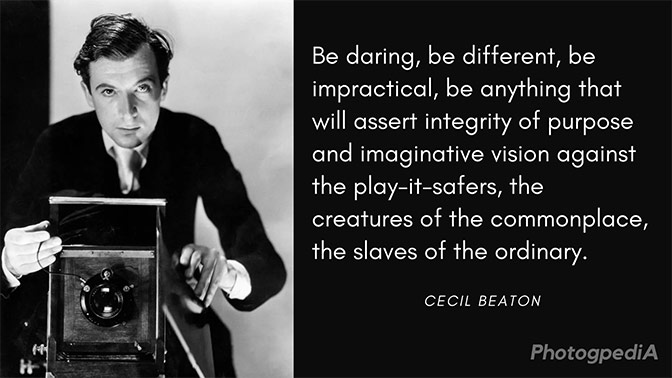 Beaton on Portraits and his Famous Subjects
Photography has provided me with a passport into many fields of interest which would otherwise have remained unknown. It has enabled me to meet, even if only once, a large number of famous people. Many an afternoon I have enjoyed in isolated intimacy with some personage whose path, but for my profession, I might never have crossed. Sometimes I was never to see them again; but photography has also been the means of discovering lifelong friend.
The telephone rang. "This is the lady-in-waiting speaking. The Queen wants to know if you will photograph her tomorrow afternoon" … In choosing me to take her photographs, the Queen made a daring innovation. It is inconceivable that her predecessor would have summoned me – my work was still considered revolutionary and unconventional.
I was able to bring out many of my familiar tricks, and also deciphered how easy, in comparison to photographing beautiful women of the world, it is to photograph men. The photographer of men has chosen an easy life.
Mrs Woolf's complaint should be addressed to her creator, who made her, rather than me.
Cocteau says, I am Malice in Wonderland and I have succeeded in spending my life in an unreality made up of fun, so much too much fun and my interests are limited to the joys of certain superficial forms of beauty.
I soon found I had fallen so much under Picasso's influence that I was seeing the world with eyes other than my own, with Picasso's eyes in fact. I began to realize that many ordinary objects, pieces of cork, metal and paper, even ordinary boxes of matches – yellow, blue and black – which one sees every day, when seen in his company, look as if they are the creation of the master himself.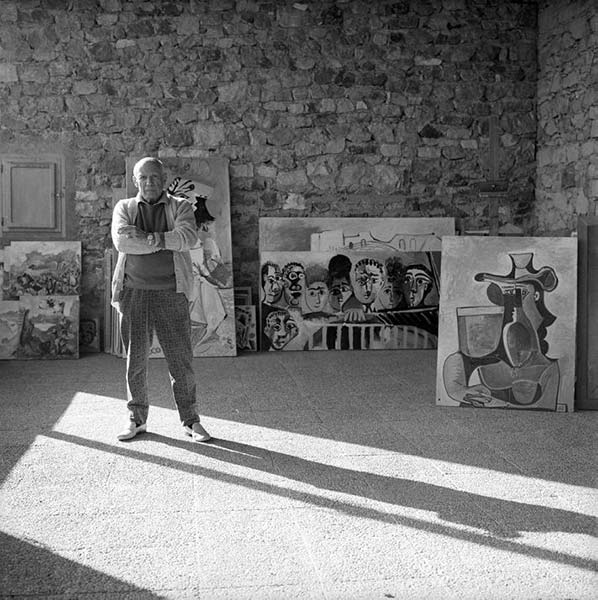 What's your Favorite Cecil Beaton Quote?
Have a favorite Cecil Beaton quote from the list? Let us know in the comment section below.
Don't forget to bookmark this page, or print it out, and refer to it next time you need some inspiration. If you've found the article helpful, then we would be grateful if you could share it with other photographers.
To see more of Cecil Beaton's wonderful photography, visit the Huxley Parlour and Victoria and Albert websites.
Looking for more words of wisdom from master photographers? Check out the quotes section of Photogpedia for more great photography quotes.
Related Quote Articles: