Artistic wall hangings have the remarkable ability to elevate the ambiance of any space. They add personality, character, and style. They're not just decorations; they're expressions of creativity and individuality.
Whether you're an art lover, a homeowner wanting to refresh your living area, or an interior designer seeking ideas, this guide is your go-to resource for all things about artistic wall decor. Let's explore how these pieces of art can completely change the places we live in.
Defining Artistic Wall Hangings
Wall hangings offer a flexible way for self-expression. They can easily change to match your moods, seasons, or life events. This adaptability lets your wall decor reflect your personal growth and evolving interests, like a visual diary.
These wall decorations offer a way to express your support for social causes or personal beliefs. Art with important messages can spark conversations and discussions on important topics. Your home becomes a place for self-expression and a space to connect with others who share your values and concerns.
In a nutshell, using wall hangings is like sharing a story with your decor. It allows you to weave your life's story and passions into your living space. When you choose or create wall decor that's meaningful to you, you can create a space that reflects your true self. Your walls do more than just support the roof; they hold stories, emotions, and dreams.
The Significance of Wall Art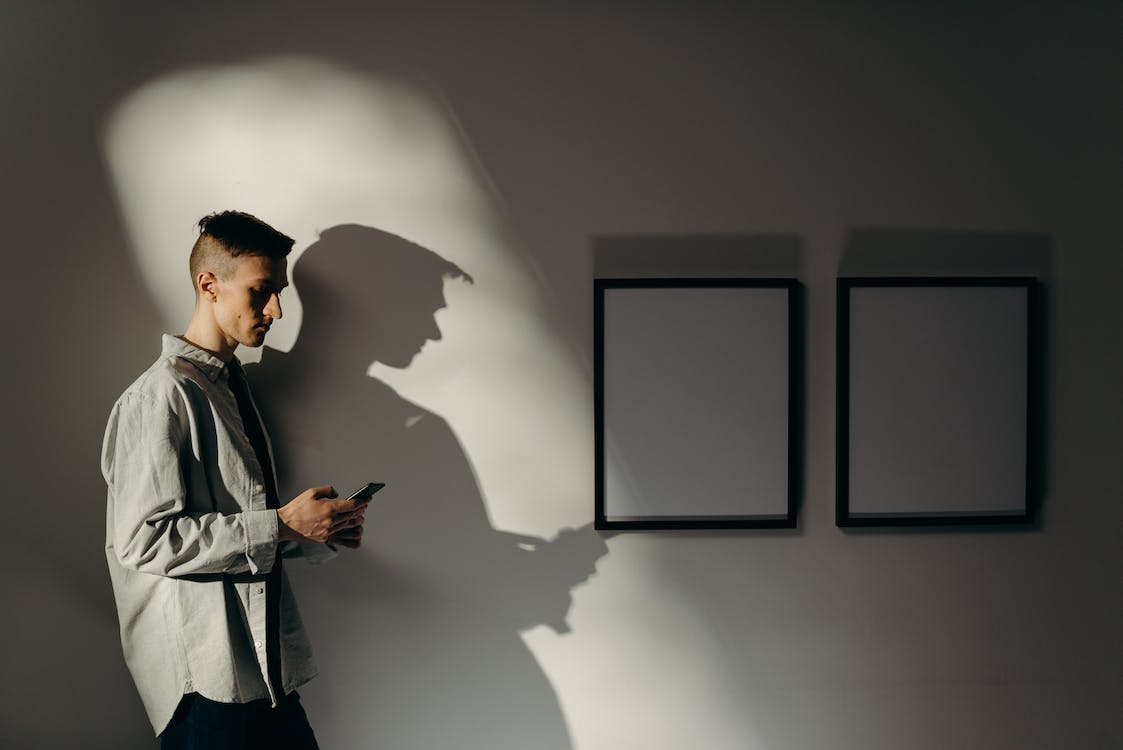 Wall art plays a significant role in the aesthetics and overall ambiance of an interior space. It serves as a reflection of one's personality, style, and taste. Ultimately, it offers a canvas for self-expression within the confines of a room. Whether it's paintings or wall sculptures, these adornments have the power of infusing life and individuality into an otherwise blank wall.
Bridging Architecture and Interior Design
Wall decor acts as a bridge between architecture and interior design, creating a harmonious balance that can influence the entire atmosphere of a room. The choice of wall decor can set the tone, convey a theme, and establish the mood of a space, making it a fundamental element of interior design.
Showcase Hidden Elements
Moreover, wall decor can define and emphasize key spots in a room. It directs your focus to specific areas or objects, like a fireplace, furniture, or a well-arranged gallery wall. Besides, wall hangings can serve practical roles. They can improve acoustics by reducing noise, help insulate to control room temperature, or even create the illusion of more space and light with mirrors.
The significance of wall decor extends beyond its immediate visual impact; it can also be a source of inspiration, nostalgia, or contemplation, creating a meaningful and immersive environment. Ultimately, wall decor is an essential tool in the world of interior design. It enables homeowners and designers alike to shape and personalize their living spaces.
Artistic Wall Hangings through the Ages
Wall hangings, as a form of artistic and decorative expression, have evolved through the ages, reflecting the changing cultural, artistic, and technological influences of each era.
Ancient TImes
Ancient civilizations, such as the Egyptians and Mesopotamians, used textiles and tapestries as wall hangings to adorn their temples and palaces. These early wall hangings often featured intricate patterns, symbolic motifs, and scenes from daily life, serving both a decorative and narrative function.
Middle Ages
In the Middle Ages, European tapestries became highly prized works of art. They were often commissioned by royalty and nobility and used to depict historical events, epic tales, and religious stories. These tapestries were both decorative and functional, helping to insulate cold stone walls in castles and manors.
Renaissance
During the Renaissance, wall hangings continued to be a symbol of wealth and sophistication. Flemish and French tapestries, in particular, were celebrated for their intricate detail and artistic merit. The work of renowned artists like Raphael and Leonardo da Vinci influenced the designs of these tapestries.
Baroque and Rococo
In the Baroque and Rococo periods, wall hangings became even more opulent. Elaborate tapestries featuring ornate patterns, cherubic figures, and floral motifs adorned the grand palaces and salons of Europe.
19th Century
The 19th century saw a revival of interest in medieval and Gothic styles, with Pre-Raphaelite artists creating tapestries that harkened back to earlier periods. These hangings often featured intricate, detailed scenes and were considered emblematic of the Arts and Crafts movement.
20th Century
The 20th century brought about a shift in design sensibilities. Abstract and modernist movements influenced wall hangings, which began to feature geometric patterns, bold colors, and innovative materials. Artists like Wassily Kandinsky and Piet Mondrian played a role in this transition.
At Present
Today, wall hangings continue to evolve, embracing a wide range of styles and materials. Contemporary wall decor includes everything from traditional paintings and tapestries to more avant-garde installations and mixed-media pieces. Digital technology has also made it possible to print intricate designs on various materials, further expanding the possibilities for wall hangings.
In summary, wall hangings have a rich history that reflects the artistic, cultural, and technological developments of each era. From their early use in ancient civilizations to the opulent tapestries of the Renaissance and the modern, diverse forms of wall decor today, these pieces of art have maintained their significance in interior design and self-expression through the ages.
Types of Artistic Wall Hangings
Artistic wall hangings come in a variety of types and styles, each offering a unique way to add character and personality to interior spaces. Here are some common types of artistic wall hangings:
Paintings
Traditional paintings on canvas or other materials are classic wall hangings. They can feature a wide range of subjects, from landscapes and portraits to abstract and contemporary art.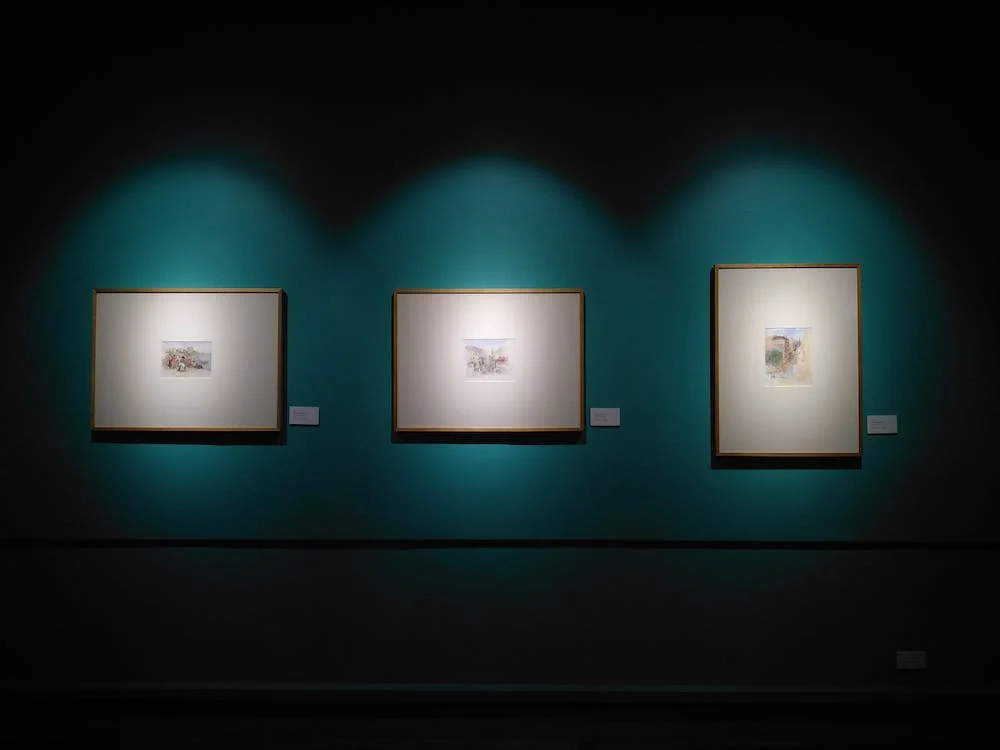 Tapestries
Tapestries are textile wall hangings, often woven or embroidered with intricate designs or scenes. They can be historical, cultural, or purely decorative.
Photographs
Framed or unframed photographs make for excellent wall decor, capturing personal memories, landscapes, or artistic compositions.
Prints and Posters
These are affordable options for adding art to your walls. They can feature famous works of art, vintage advertisements, or contemporary graphic designs.
Mirrors
Mirrors not only serve a functional purpose but can also be decorative. They come in various shapes and sizes, with frames that range from simple to ornate.
Wall Sculptures
Three-dimensional wall art, made from materials like metal, wood, or ceramics, can add depth and texture to a room. Sculptures can be abstract or representational.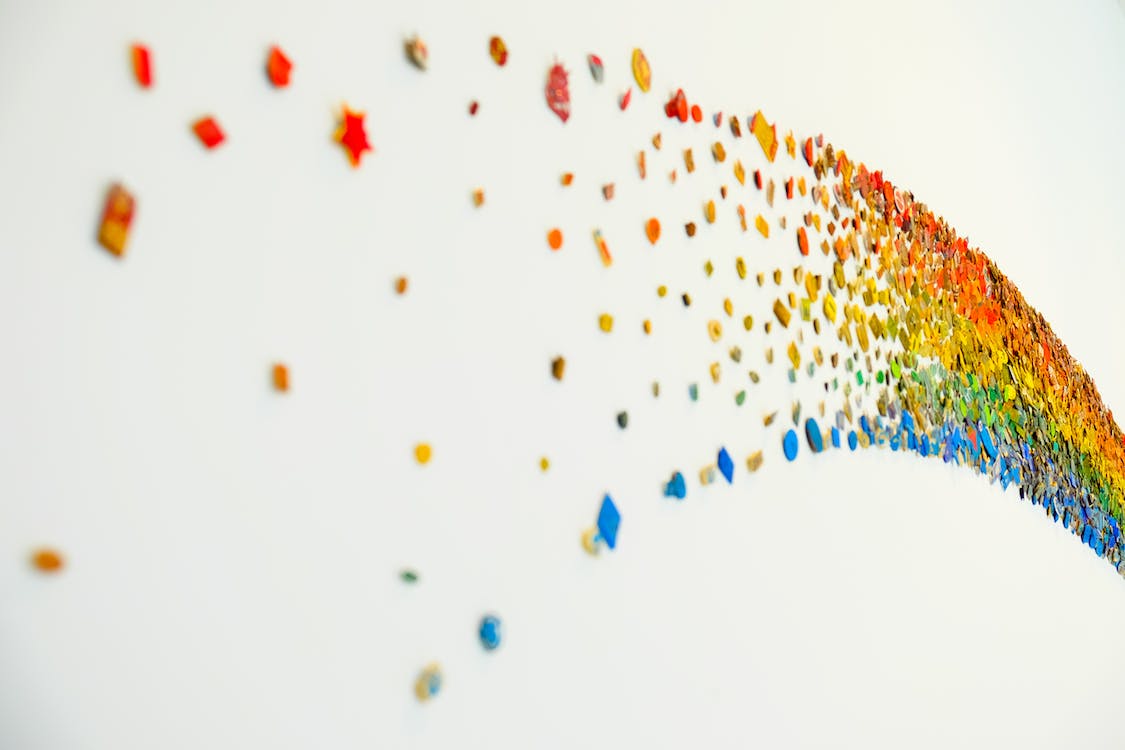 Textile Art
In addition to tapestries, textile art includes fabric hangings, quilts, and woven pieces. These can bring warmth and texture to a space.
Macramé
Macramé wall hangings have made a comeback in recent years. They are made from knotted cords and can add a bohemian or rustic touch to a room.
Collages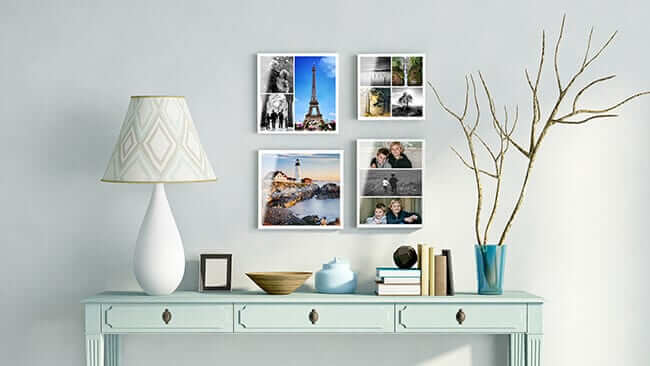 Collages combine various elements, such as photographs, magazine cutouts, and other materials, to create a unique and visually intriguing piece of wall art.
Ceramic and Porcelain Plates
Hanging decorative plates on the wall is a traditional and elegant way to add art to a space. They can be antique, hand-painted, or contemporary in style.
Shadow Boxes
These are shallow, framed boxes that display three-dimensional objects, such as seashells, collectibles, or miniature sculptures.
Wall Decals and Stickers
These are adhesive designs that can be applied directly to the wall, creating custom patterns, quotes, or decorative elements.
Metal Art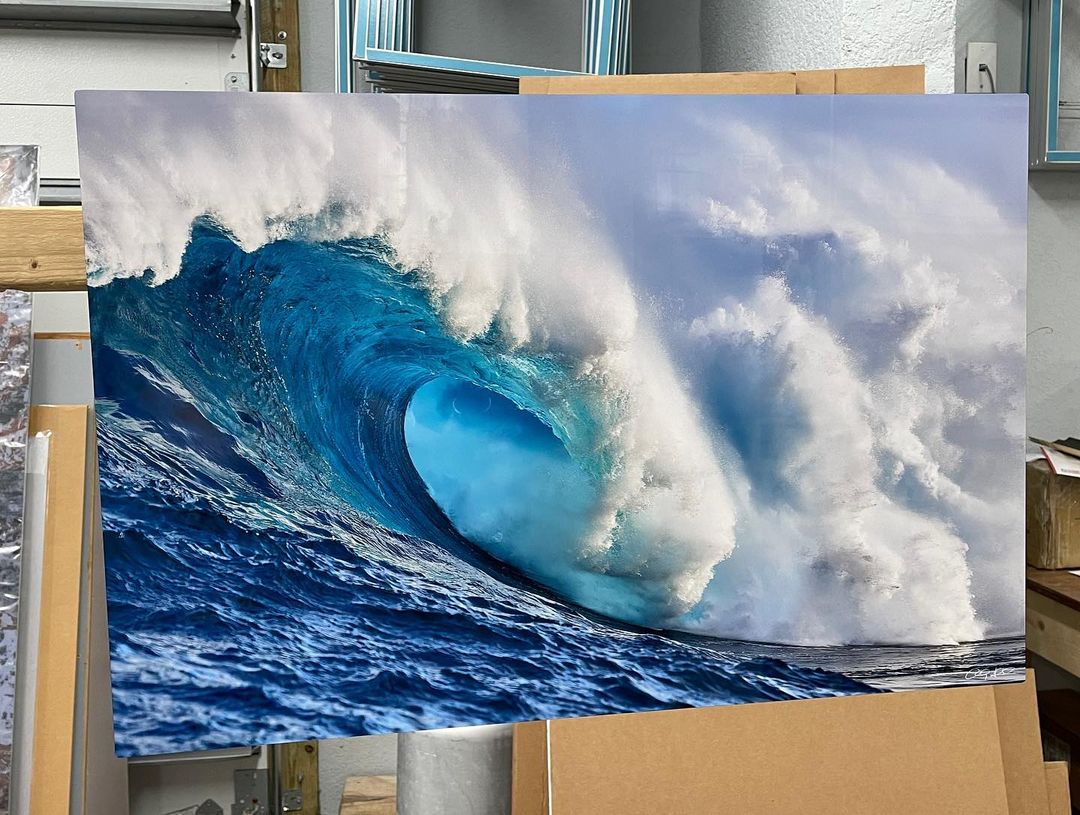 Metal wall hangings can be modern and abstract or more traditional. They can also feature intricate cutout designs and provide a metallic sheen to the decor. This is most present in metal prints. Make the most vibrant photos because of the innate luster of metal infused with various colors to bring your photos to life.
Wood Art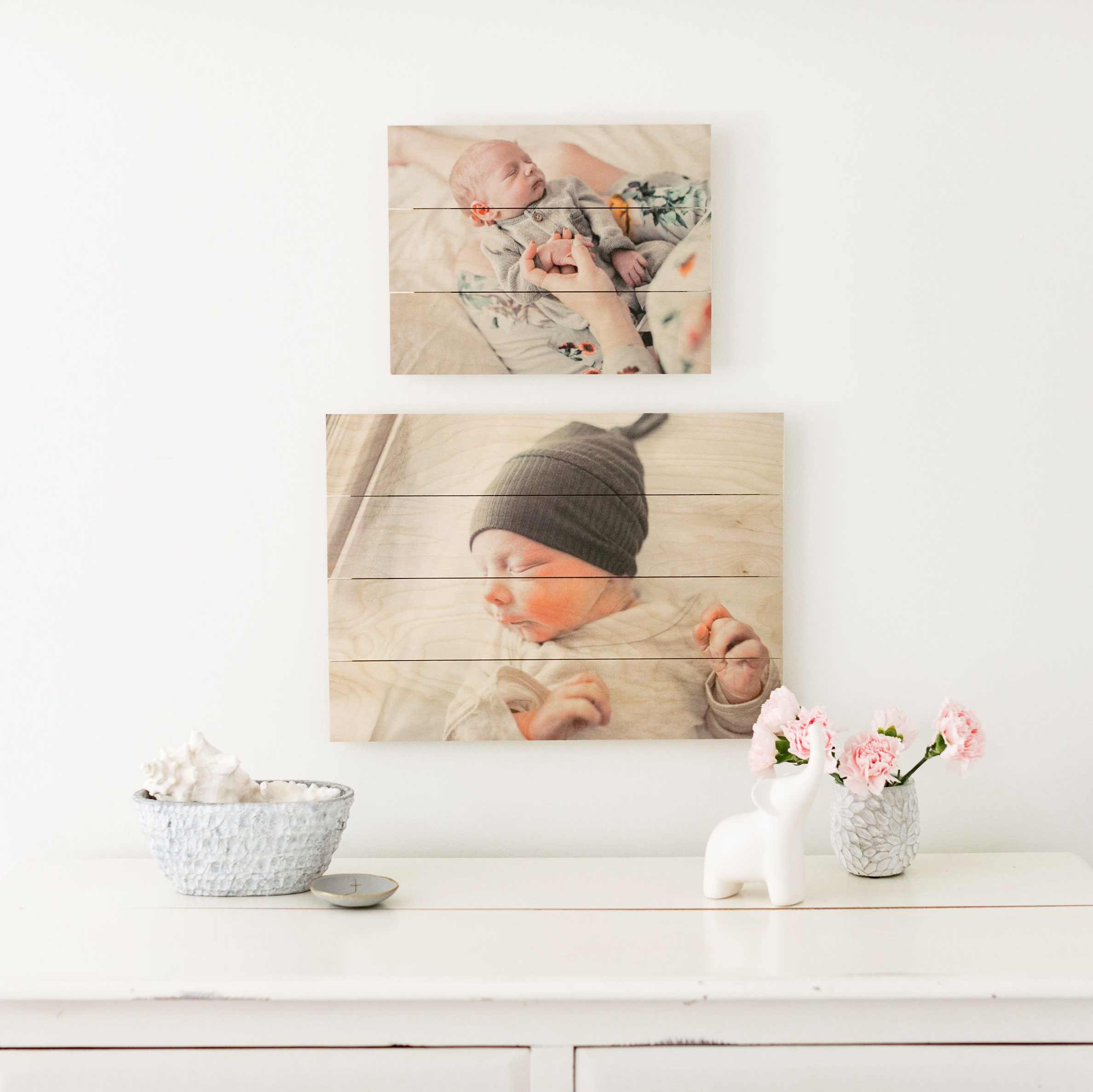 Carved wooden wall hangings, as well as reclaimed wood pieces, can bring a rustic or natural element to a space. Alternatively, photos printed on wood make for a creative feel to your most cherished moments.
The type of wall hanging you choose will depend on your personal style, the ambiance you want to create in your space, and the overall decor of the room. Mixing and matching various types of wall hangings can also add depth and character to your interior design.
Using Artistic Wall Hangings for Self-Expression
Wall hangings offer a flexible way for self-expression. They can easily change to match your moods, seasons, or life events. This adaptability lets your wall decor reflect your personal growth and evolving interests, like a visual diary.
These wall decorations can also be a platform for expressing your support for social causes or personal beliefs. Art with important messages can start conversations and encourage discussions about significant topics. Your home becomes not only a place for personal expression but also a space for connecting with others who share your values and concerns.
In conclusion, using wall hangings is like telling a story with your interior. It lets you weave your life's narrative and passions into your living environment. By carefully choosing or creating wall decor that means something to you, you can design a genuine, meaningful, and visually captivating space that's an extension of yourself. Your walls don't just hold up the roof; they hold stories, emotions, and dreams.
Afterword
We hope that you find this article helpful. Thank you for reading and you're always free to leave a comment. If you find this article interesting, consider checking out one of our recently published posts. A few of them showcase advancements in technology such as AI Art Generators. On the other hand, if you're looking towards Photography, we also offer great articles for your inspiration. We also have multiple articles that talk about the various printing mediums for wall art. May these articles give you inspiration for your next print!

Find them here:
Discover the Secret to High-quality Canvas Prints
The 9 Best Canvas Print Companies in 2023
Acrylic Prints: Add Vibrance to Any Space
The Top Food Photography Trends to Try Now
The Ultimate Guide to Continuous Lighting for Photography
Stable Diffusion Tips and Tricks
Best AI Art Generator for Android Phones 2023

We enjoy reading your comments and insights with our posts! Should you have any questions or concerns, feel free to leave them below! -Mark