Looking for the best Andre Kertesz quotes? Then you've come to the right place.
Andre Kertesz was a pioneer of street photography and a remarkable still life photogapher. In a career that spanned seven decades, he captured everyday life with poetic beauty and elevated ordinary objects to exquisite art.
Below we've listed 23 of our favorite quotes from one of the most influential photographers in the history of medium to inspire and help take your photography to the next level.
Andre Kertesz Quotes
The camera is my tool. Through it I give a reason to everything around me.
I can't talk about my style. It us kind of difficult for me. I don't like styles. I only like taking photos and expressing myself through them.
Photography is my only language.
I am not a surrealist. I am only a realist. All this group – surrealists – use my name. No, no, I am realist.
Of course a picture can lie, but only if you are not honest with yourself…
I attribute to photography the task of recording the real nature of things, their interior, their life. The photographer's art is a continuous discovery which requires patience and time. A photograph draws its beauty from the truth with which it's marked. For this very reason I refuse all the tricks of the trade and professional virtuosity which could make me betray my career.

As soon as I find a subject which interests me, I leave it to the lens to record it truthfully. Look at the reporters and at the amateur photographer! They both have only one goal; to record a memory or a document. And that is pure photography.
The most valuable things in a life are a man's memories. And they are priceless.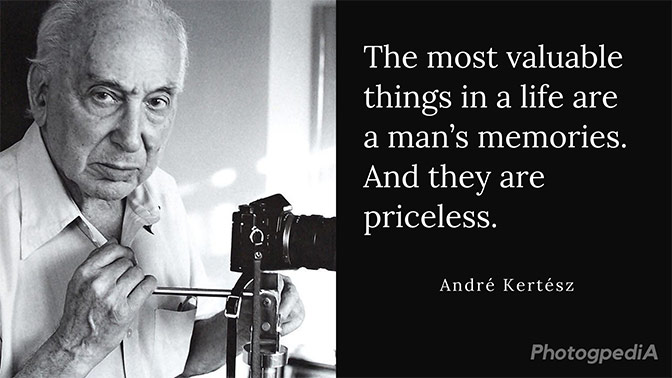 Kertesz on Subjects
I am a lucky man. I can do something with almost anything I see. Everything is still interesting to me.
You do not have to imagine things; reality gives you all you need.
Everything is a subject. Every subject has a rhythm. To feel it is the raison d'être. The photograph is a fixed moment of such a raison d'être, which lives on in itself.
Because I'm forever a beginner who discovers the world again and again.
I do not document anything, I give an interpretation.
People in motion are wonderful to photograph. It means catching the right moment… when one thing changes into something else.
The moment always dictates in my work. What I feel, I do. This is the most important thing for me, Everybody can look, but they don't necessarily see. I never calculate or consider; I see a situation and I know that it's right, even if I have to go back to get the proper lighting.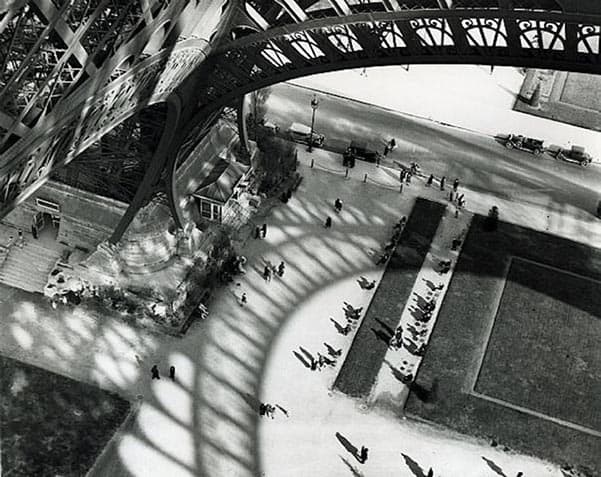 Kertesz Quotes on Technique
Technique isn't important. Technique is in the blood. Events and mood are more important than good light and the happening is what is important.
If you want to write you should learn the alphabet. You write and write and in the end you hava a beautiful, perfect alphabet. But it isn't the alphabed that is important. The important thing is what you are writing, what you are expressing. The same thing goes for photography. Photographs can be technically perfect and even beautiful, but they have no expression.
I am an amateur and I intend to stay that way for the rest of my life.
I do what I feel, that's all, I am an ordinary photographer working for his own pleasure. That's all I've ever done.
I like high shots. If you are on the same level, you lose many things.
Have confidence in the inventions and transformations of chance.
Seeing is not enough; you have to feel what you photograph.
I just walk around, observing the subject from various angles until the picture elements arrange themselves into a composition that pleases my eye.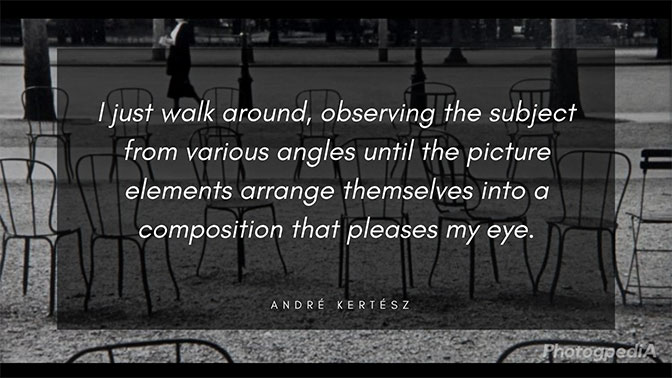 What's your Favorite Andre Kertesz Quote?
Have a favorite Andre Kertesz quote from the list? Let us know in the comment section below.
Don't forget to bookmark this page, or print it out, and refer to it next time you need some inspiration. If you've found the article helpful, then we would be grateful if you could share it with other photographers.
To see more of Andre Kertesz's photography, check out the Kertesz image archive on the Artsy.net website.
Photogpedia is a participant in the Amazon Associates Program and earns from qualiying purchases.
Recommended book: Andre Kertesz: His Life and Work
Looking for more words of wisdom from master photographers? Visit the quotes section of Photogpedia for more great photography quotes.
Related Quote Articles: