Picsart brings your endless imagination and creativity to life with its wide variety of tools and features. Ever have an idea you'd like to incorporate into a photo but it seems impossible? Picsart lets users add visual effects such as light rays, lens flares, fire dust, and many more to photos.
This article will feature a rundown of the key tools and features available in Picsart. Grab your phone, install Picsart and experiment as you read along!
What is Picsart?
Picsart is a free-to-use photo editing application available on mobile devices and recently on PC. It's an all in one editor capable of adding text, adding multiple exposures, making collages, and applying overlays.
Picsart also has a community that shares their previous edits and works. Users can explore created templates for future projects. Users can also take note of the editing process used in a certain photo.
Picsart Tools and Features
In this section, the tools and features of Picsart are given the spotlight. Learn how to navigate through the various tools and features of Picsart with the following subsections.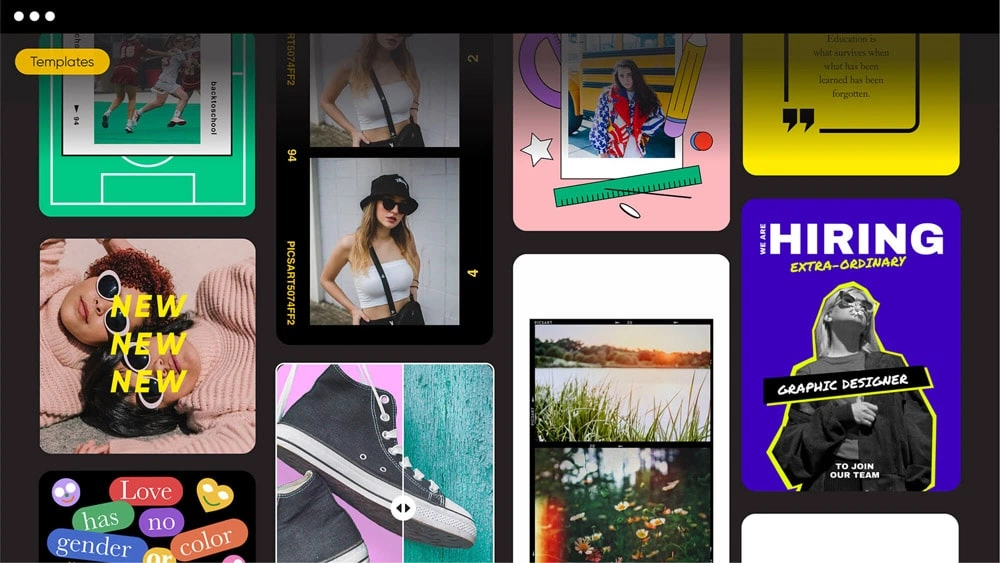 Home
Upon opening Picsart, a log in or register prompt appears. After logging in, various artworks of different artists are on display. Here you can opt to learn the process of their edits and make your own design using their templates.
The "+" button serves as the "Create" button. When tapped, your gallery will show together with other creative options. Some options available are: Photos, Videos, Replays, Collages, Templates, Backgrounds, Drawings, Free Photos, and Color Backgrounds.
Photos – These are photos in your storage.
Videos – These are videos in your storage.
Templates – These are ready made templates made by other users that you can use.
Backgrounds – These are backgrounds by Picsart that are free to use for your project
Drawings – Here, you can create canvasses when editing as well as create multiple layers
Free Photos – These are Picsart stock images
Color Backgrounds – These are plain colored backgrounds available to use for edits
Tools
In the tools section, some basic editing features are available. You can crop, rotate, resize and adjust your photo. Check out our Lighting Article to have a basic understanding of some of these properties.
Crop – Crop your photo to preset sizes for Instagram, Facebook, and Twitter. Rotation and Perspective tools are also embedded in the Crop tool.
Dispersion – Select an area and create a dispersion effect. You can manually toggle and adjust the Stretch, Size, Direction, Fade, and Blendmode of this effect.
Clone – Select a certain area of your photo to clone then manually brush your chosen area of application. The brush Size, Opacity, and Hardness are manually adjustable.
Stretch – The stretch tool allows you to Warp, Swirl, Squeeze, and Inflate certain areas of your photo. This creates a cool effect on colorful artistic scenes!
Motion – This tool lets the user select an area of the image then drag it to any direction to produce a motion blur effect. Manual settings such as Count, Opacity, and the Blending mode are adjustable.
Selection – This allows the user to select a certain area of the image to adjust and edit while keeping the other areas untouched. Upon selecting an area, you can either Cut, Copy, add an Effect, Crop, or Inverse the selection.
Curves – Adjust the RGB and Luminance values of your photo using the Curves tool.
Adjust – Toggle the Brightness, Contrast, Clarity, Saturation, Hue, Highlights,
Shadows, and Temp.
Enhance – This tool automatically adds combinations of property adjustments to the photo. This offers manual adjustments to Enhance and Saturation.
Tilt Shift – This offers a lens blur to photos. Options for which are Linear and Radial. The Radius, Orientation, and Amount are manual adjustment options for Tilt Shift.
Resize – This tool resizes your photo to either larger or smaller pixel dimensions. Note that when resizing your photos to a bigger dimension, the overall quality of the photo is sacrificed. Your photo may look grainy and blurred in doing so.
Effects
The effects feature offers multiple filters that can be applied to your photo. Categories that fall under this are Simple, FX, B&W, Blur, Sketch, Colors, Artistic, Magic, Canvas, and Paper.
These categories are pretty self-explanatory. It would be better to self-explore these filters! There are a great amount of filters under each that you can choose from. Each offers a unique and distinct style.
Sticker
The sticker tool in Picsart lets the user add stickers from the Picsart gallery to a photo. The tabs in this tool are Discover, Recent, and Collections.
The Discover tab showcases the trending stickers as of the moment. In the Recent tab, the stickers you used recently are on display. The Collections tab showcases your own created stickers through the Cutout tool. It also shows your saved stickers.
Upon selecting a desired sticker, this sticker's properties are adjustable. Treat it as another photo which has the same properties for edits (Adjust, Effects, Blend, Flip/Rotate, etc.)
Cutout
The Picsart Cutout tool can use AI to intelligently select either a Person, Face, Clothes, Sky, Head, Hair, or Background to select and cut.
Other tools for manual selection are Select, Outline, Shape, and Brush. Choose whatever is easiest and create some stickers!
The cutout images will be automatically saved to your Collection under the Stickers tool.
Replay
The Replay option allows you to browse the Picsart gallery to choose edits from others and do the same to your photo. This is extremely useful if you desire to copy a certain style or effect from another artist.
Text
The Text tool lets you add a text to your photo. Manual adjustments to Font, Colors, Stroke, Opacity, Blend, Shadow, and Bend are available to use.
Add Photo
Similar to the Stickers Tool, this feature lets the user add another photo. This added photo's properties are also manually adjustable.
Fit
The Picsart Fit tool allows your photo to be fit to a desired dimension. Choose the Ratio option to choose your desired dimension. The default background for the Fit feature is a plain color white. Other options for backgrounds are Color, Background, and Image. Explore the available stock backgrounds and images or add your own! A Shadow can also be casted to the fit with the shadow tool.
Brushes
The Brushes tool offers multiple brush styles for drawing or writing on your photo. These include Basic, Dotted, Glow, and Effects. The most striking of these is the Effects pen. It offers multiple designs to serve as your ink. Some of these are stars, dotts, flowers, and bokeh. Try adding these to add a wow factor to your photos!
Border
As the name implies, this tool adds a Border to your photo. The inner and outer border Color and Thickness can be adjusted. A Radius can also be implemented to have curves in the corners.
Mask
The Mask tool offers various textures to overlay on top of your photo. These are categorized as Folds, Dust, Shadow, Ripple, and many more! It's surprising how many overlays are available to choose from. Pick a subcategory and try them all!
Draw
The Draw tool brings you to the Drawings option from the Picsart Home. Here, you can add layers and objects as you edit. This is similar to editing in photoshop, being able to separate your edits in layers. 
Lens Flare
This Picsart tool offers many styles of lens flare you can choose from. Pair this up with a photo using backlighting or spice up your photos of sunsets with this feature!
Shape Mask
Similar to the mask tool, overlays are available in this tool. The great difference between these two are the objects to overlay. Here, shapes such as circles and polygons can be overlayed.
Frame
Next, the frame tool offers different frame styles to add to your photo. Making a birthday card? A Birthday category for frames is available and offers multiple designs to choose from.
CallOut
Lastly, the Callout tool adds text bubbles to your photo. Different designs and fonts are available to choose from. Add a comic text to your photos if you desire!
Picsart Membership
While Picsart is free-to-use, it also offers a paid membership. When using picsart for free, you'll notice some features, images, and stickers that have a crown icon on them. These items are unavailable because of a pay wall. This means that they are only accessible with the Picsart Membership. 
Foreword
The Google Play Store and Apple App Store showcases a lot of photo editing applications. It can be tedious to find the best editing software for your needs. Picsart stands above the rest with its capability to execute photoshop levels of editing. While others can do basic photo modifications such as property adjustments and color grading, Picsart takes it to another level.
Picsart offers photo manipulation by addition of photo elements with multiple blending options. This application is free-to-use but also offers a membership option. Even without paid membership, the wide array of free-to-use features is more than enough to make outstanding visual artworks.
Picsart also serves as a community hub for all kinds of visual artworks. Once you've signed up to Picsart, you automatically have the power to share your work with others. Your design process is also saved and can be used as a template for other creators. At the same time, you can browse through the Replay feature of Picsart to use the design templates of others.
Overall, Picsart provides artists a great avenue to realize their imagination and creativity. It also offers a bonus feature that artists will truly enjoy. The avenue for sharing your work is a great plus for this photo editing app.
Photos from : Picsart