Michael Kenna is known in the world of photography for his unique black and white abstract photographs of deserted landscapes.
His images capture the atmosphere and mood of a place rather than simply the details. He doesn't photograph people but rather explores landscapes that have the memory of their presence and the traces of what's left behind.
I often use the analogy of a theatre stage. I prefer to photograph the stage before the characters appear, and after they leave. At those times, there is a certain atmosphere of anticipation in the air. We can live in our imagination and our own stories on the empty stage, but as soon as the characters arrive, we begin to be caught up in their stories. It is a different experience.

Michael Kenna
Kenna's approach is all about patience, and he visits the same locations many times over, waiting for the landscape to open up and reveal themselves to his lens.
He takes his time and gets to know the landscape first, then builds a connection, before finally photographing it the same way you would take a portrait of an old friend.
I am not interested in describing and copying what I see. I am interested in a collaboration with the subject matter.

Michael Kenna
His use of long exposures (sometimes up to 10 hours) helps create unique and atmospheric images, while also allowing for unpredictability and chance.
Perhaps most intriguing of all is that it is possible to photograph what is impossible for the human eye to see – cumulative time.

Michael Kenna
The aim of this article is to provide a brief overview of Michael Kenna's work and photography style. If you find the article helpful, then we would be grateful if you could share it with other photographers.
Related: 52 Michael Kenna Quotes for Better Landscape Photography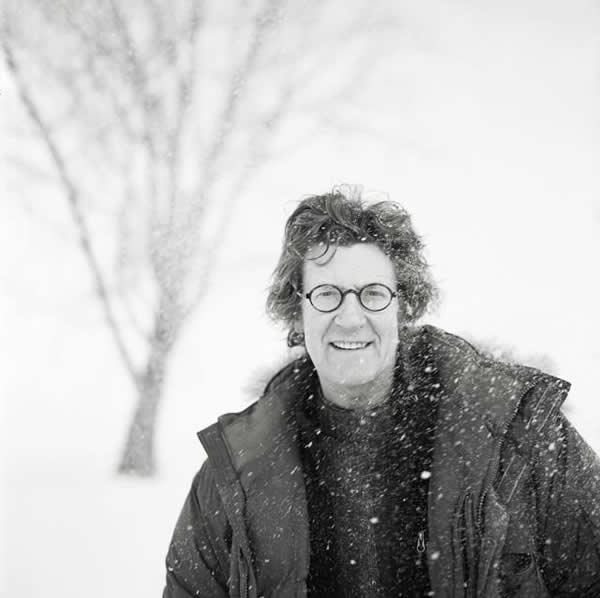 Michael Kenna Biography
Name: Michael Kenna
Nationality: British
Genre: Landscape, Travel, Commercial, Nudes
Born: 1953 (Widnes, Lancashire, England)
Resides: San Francisco, California, USA (Since 1978)
Michael Kenna's Style
Minimalism and simplicity (influenced by Japanese haiku)
Black and White
Abstract, Long exposures
Atmospheric, ethereal
Meditative, reflective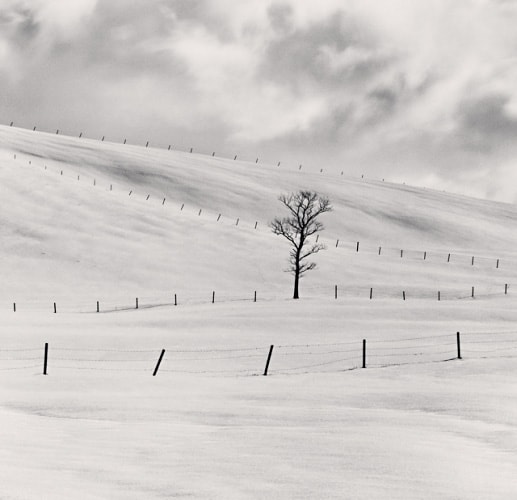 What Camera Does Michael Kenna Use?
Kenna uses a Hasselblad medium format camera. His lenses range from 40mm to 250mm. He first used 35mm Nikkormats and Nikons for fifteen years before switching to the Hasselblad in 1986. For some projects, he uses a Holga camera and even a 4×5 large format camera.
I have a backpack and that determines how many cameras I carry. I insist that I can carry what I use to photograph as I don't usually have an assistant. The backpack can hold two 120 camera bodies, two film backs, and two viewfinders. One is metered through the lens and the other one is a waist level.

I usually have five lenses with me ranging from 40mm to 250mm. All the equipment is Hasselblad. I also carry cable releases, a lightweight carbon fiber tripod, and sometimes a handheld light meter for the night. That's about it.

Michael Kenna
He often uses a red filter to darken the skies and add more contrast to his images. For his long exposures, he adds an ND filter/s to get the desired effect.
What About Film
Kenna's go to film is Kodak Tri-X 400. When he needs slower film to shoot during the day, he'll switch to something like Agfa 25. He always uses black and white film for personal projects, and sometimes color for commercial.
I use black and white film. For the most part, I use Kodak Tri-X. 400asa film. One of the nice things about this film is that it hasn't changed much since I first started 40 years ago. It's like an old friend; It's flexible and forgiving, and easy to work with. That's why I still use it. I also use other films depending on which country I am in and where I can buy the films. Tri-X is my old stand by.
I find black and white to be more malleable and mysterious than color; it is more an interpretation of reality than a reflection of reality.

Michael Kenna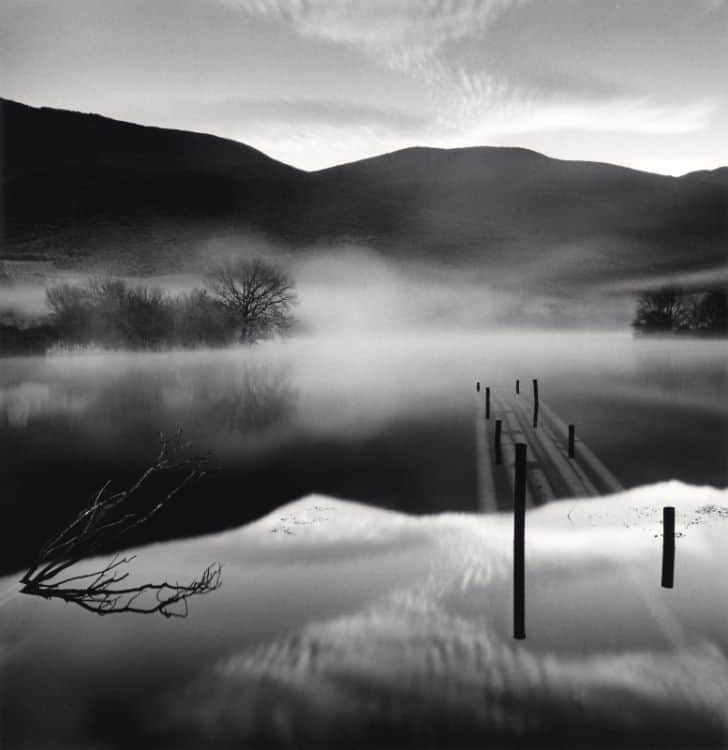 Processing Film
When it comes to processing film, Kenna always used the same formula regardless of light conditions and length of exposure:
I advise my students to develop their film about 10% less than whatever they normally do for daylight exposures. This is a good starting point. Serious night photographers may use any one of a dozen or so compensating developer methods to reduce the predictable contrast increase. Personally I've given up changing my developer times for different conditions. I now process everything 11 1/2 minutes, D76, 1:1, 68 degrees, and work out any adjustments at the printing stage. I've used this development process for as long as I can remember so I don't even think about it anymore. Sometimes I've substituted Rodinal when D76 was not available but otherwise, I don't experiment.

Michael Kenna
On a typical photoshoot, Kenna shoots between 15-20 rolls of film daily. Instead of processing all the film himself, he normally sends it out to a film lab and waits for the negatives to arrive in the post before printing his images (one of the most important stages of his process).
When photographing I probably average about 10-15 rolls of 120 film each day, which adds up after a few weeks. I have not processed my own film for many years and instead prefer to send them out to a reputable lab and keep my fingers crossed. I usually have two sets of contact prints made, one gets filed and the other I use to edit out images that look interesting. I cut out frames from the contact proofs and further edit before going into the darkroom to work on an enlarged print.
Darkroom and Printing
Kenna is a highly skilled printer (he began as a darkroom printer in the 70s). He uses Ilford Multigrade IV RC paper (neutral, glossy) and spends many hours in the darkroom dodging and burning to get his prints perfect.
Processing film is really one of the most boring parts of photography, but printing is another matter – a most important and often underrated part of the creative process. A good negative can be wrecked by a bad print – often is – a bad negative can rarely be redeemed, but there is so much potential for subjective interpretation and discovery in the middle. I can stay in the darkroom for many hours exploring a new negative.
I believe printmaking is a critical component of the photographic process and I will always try to do it myself. The negative is raw material, which a skilled and creative printmaker can mold in a thousand different ways. There are many technical and aesthetic decisions to be made along the way, the sum of which makes a print unique and very personal.

Michael Kenna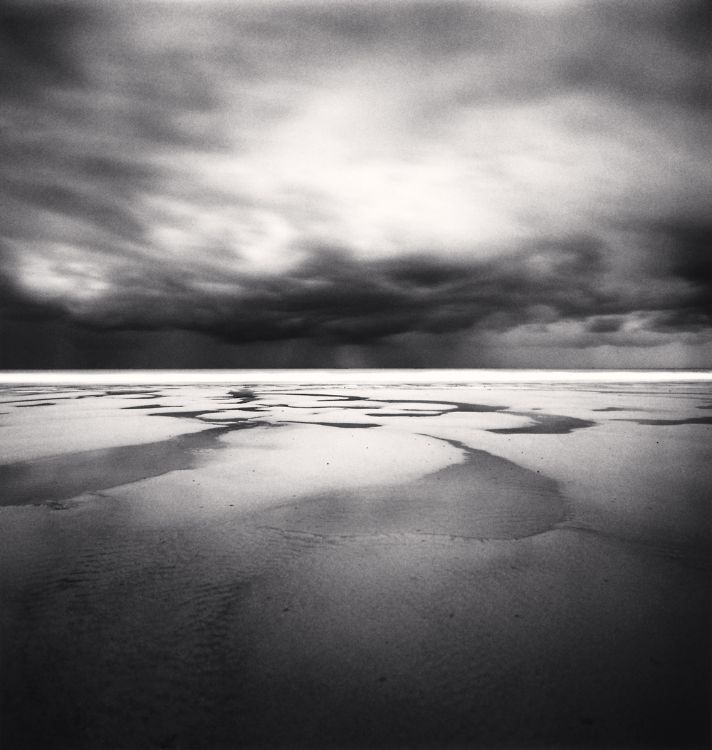 Print Size
He never prints larger than 8×10 because he likes the intimacy of a small print:
I prefer the intimacy of the smaller print. I experimented with 16×20 prints in the late 80s but later destroyed most of them. Some collectors really like them but they just didn't feel right for me. Apart from the more obvious technical and optical considerations, what is more important for me is the relationship that a viewer has with the print.

The eye comfortably views and focuses an angle of about 30 degrees. This translates into a viewer comfortably standing about 10 inches away from a 4x5inch print and 3 1/2 feet away from a 16×20 inch print.

Small prints have a greater feeling of intimacy – one looks into the print. Large prints are more awesome – they are something a viewer looks out at. I believe in fitting the print size to one's particular vision and prefer the more intimate engagement of the smaller image.
I highly recommend checking out the interview section on the Michael Kenna website for more darkroom and printing tips.
Related: Hiroshi Sugimoto: Capturing the Transience of Time
Other Resources
Recommended Michael Kenna Books
Disclaimer: Photogpedia is an Amazon Associate and earns from qualifying purchases.
Michael Kenna Videos
Michael Kenna: A Letter from Shinan, 2013
Hokkaido Documentary, 2006
Michael Kenna Photos
Looking for more Michael Kenna photos? Visit the image archive on the Michael Kenna website.
Fact Check
With each Photographer profile post, we strive to be accurate and fair. If you see something that doesn't look right, then contact us and we'll update the post.
If there is anything else you would like to add about Michael Kenna's work then send us an email: hello(at)photogpedia.com
Link to Photogpedia
If you've enjoyed the article or you've found it useful then we would be grateful if you could link back to us or share online through twitter or any other social media channel. This article took 3 days to research and write. Sharing the link takes less than 2 minutes and doesn't cost anything.
Finally, don't forget to subscribe to our monthly newsletter, and follow us on Instagram and Twitter.
Sources
Michael Kenna: A 20 Year Retrospective, 2003
On the Shoulder of Giants, Camera Darkroom Magazine, July 1995
In the Darkroom with Michael Kenna, Photowork, 1997
Interview with Michael Kenna, Photoforum, 2003
Michael Kenna Interview, Photo Review, 2003
Pro Cameraman interviews Michael Kenna, Dolby Chadwick Gallery, July 2012
Curiosity is important, Light and Land, 2019
Official Michael Kenna website
Michael Kenna: A Letter from Shinan, 2013
Hokkaido Documentary, 2006