Looking for the best Lee Miller quotes? Then you've come to the right place.

Lee Miller was one of the most remarkable photographers of the 20th century. She was a noted surrealist, studio and fashion photographer, and war correspondent whose work for Vogue during the second world war is considered her most important contribution to photography.

Miller first worked as a model and assistant to Man Ray in the 1920s before becoming an important photographer in her own right. Although she changed careers several times, Miller's enduring legacy can be found in her incredible images, as photography was the one passion she sustained throughout her lifetime.

Below, we've listed 16 Lee Miller quotes on life, surrealism, photojournalism, and World War II (including her famous Hitler bathtub photograph).
Lee Miller Quotes
I would rather take a photograph than be one.
There were lots of things, touching, poignant or queer I wanted to photograph…
I keep saying to everyone, 'I didn't waste a minute all my life' – but I know myself, now, that if I had it over again, I'd be even more free with my ideas, with my body and my affection.
It seems to me that women have a bigger chance at success in photography than men… Women are quicker and more adaptable than men. And I think they have an intuition that helps them understand personalities more quickly than men.
I'm no good with my hands, though I am good with a screwdriver – taking a camera apart. But sewing on a button? I could scream.
The personality of the photographer, his approach, is really more important than his technical genius.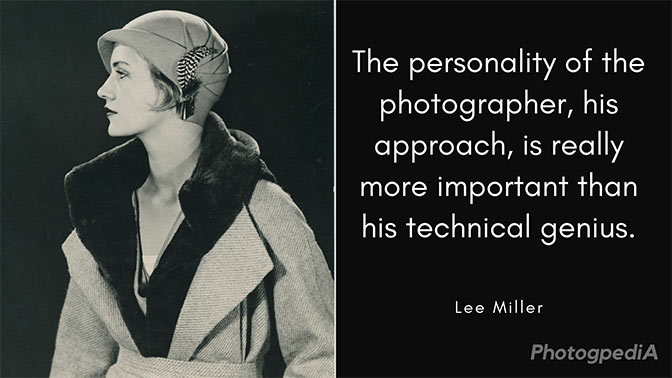 Quotes on the Work
[Being a great photojournalist is] a matter of getting out on a damn limb and sawing it off behind you.
Something crawled across my foot in the darkroom and I let out a yell and turned on the light. I never did find out that it was, a mouse or what. Then, I quickly realized that the film was totally exposed…Man [Ray] grabbed them, put them in hypo and looked at them later. He didn't even bother to bawl me out, since I was so sunk. When he looked at them, the unexposed parts of the negative, which had been the black background, had been exposed by this sharp light that had been turned on and they had developed and came right up to the edge of the white, nude body. But the background and the image couldn't heal together, so there was a line left which he called a "solarization."

Miller on the rediscovery of solarization technique
No question that German civilians knew what went on. Railway into Dachau camp runs past villa, with trains of dead or semi-dead deportees. I usually don't take pictures of horrors. But don't think that every town and every area isn't rich with them. I hope Vogue will feel it can publish these pictures.
I want the Utopian combination of security and freedom and emotionally, I need to be completely absorbed in some work or in a man I love.
Lee Miller and World War II
Women war photographers had to fight on two fronts: the bombs, and the men.
Paris had gone mad. The long, graceful, dignified avenues were crowded with flags and filled with screaming, cheering, pretty people. Girls, bicycles, kisses and wine, and around the corner sniping, a bursting grenade and a burning tank. The bullet holes in the windows were like jewels, the barbed wire in the boulevards a new decoration.
We heard bombers approaching over our shoulders… I had the clothes I was standing in, coupla-dozen rolls of film, and an eiderdown blanket roll. I was the only photographer for miles around and I now owned a private war.
I sheltered in a dugout, squatting under the ramparts. My heel ground into a dead, detached hand… I ran back the way I'd come, bruising my feet and crashing into unsteady piles of stones, slipping in blood… Christ, it was awful.
Nearly all the photographs I ever took have disappeared – lost in New York! Thrown away by the Germans in Paris, bombed and burned in the London blitz, and now I find Condé Nast has just casually scrapped everything I did for them, including war pictures.
I'd been carrying Hitler's Munich address around in my pocket for years and finally I had a chance to use it. But my host wasn't home. I took some pictures of the place and also I got a good night's sleep in his bed. I even washed the dirt of Dachau off in his tub.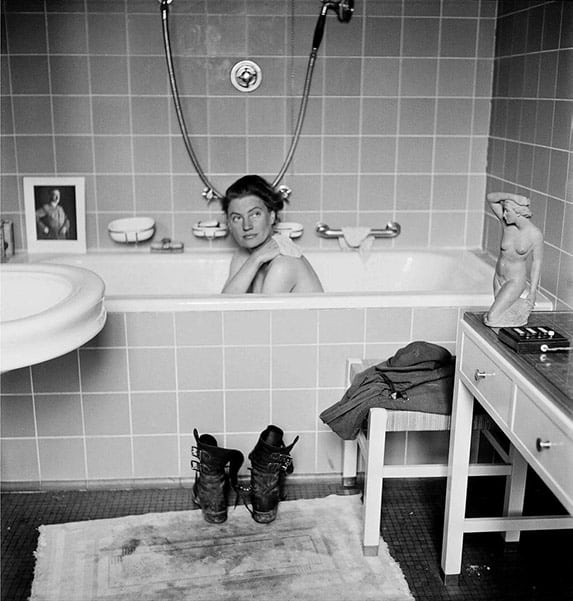 What's your Favorite Lee Miller Quote?
Have a favorite Lee Miller quote from the list? Let us know in the comment section below.
Don't forget to bookmark this page, or print it out, and refer to it next time you need some inspiration. If you've found the article helpful, then we would be grateful if you could share it with other photographers.
To see more of Miller's incredible photography, head over to the Lee Miller Archive website.
Looking for more words of wisdom from master photographers? Check out the quotes section of Photogpedia for more great photography quotes.
Related Quote Articles: