George Eastman is the founder of Kodak, the company that popularized the use of roll film, and brought photography to the mainstream.
He took his passion for photography and turned it into a new industry. In the 1880s, most people had never entertained the thought of taking pictures themselves. Eastman decided to do something about it and simplified the photography process so that the absolute amateur could take pictures.
When the Kodak camera was introduced in 1888, it came loaded with a roll of film with 100 exposures. After the photographer had finished the roll of film, they could send the camera to the Rochester factory where the film was developed, and prints were made and sent back to them along with the reloaded camera. The camera was a runaway success.
In the 1890s, Eastman continued the photographic revolution, developing several smaller, more efficient camera models culminating in the Brownie camera in 1900. The camera was sold for $1 and took rolls of film costing just 15 cents. Within a year, over 100,000 had been sold.
Part of Eastman's great genius was combining innovation, simplicity, and quality products with catchy slogans such as, "You press the button, we do the rest." Just twenty years after going into business, the company was the largest photographic business in the world.
In this article, we'll be sharing 18 of the best quotes from the great inventor and businessman. Hopefully, these George Eastman quotes will inspire you to think big and follow your dreams.
George Eastman Quotes
Photography is thus brought within reach of every human being who desires to preserve a record of what he sees. Such a photographic notebook is an enduring record of many things seen only once in a lifetime and enables the fortunate possessor to go back by the light of his own fireside to scenes which would otherwise fade from memory and be lost.
We were starting out to make photography an everyday affair, to make the camera as convenient as the pencil.
The Kodak camera makes possible a collection of photographs which record the life of its owner and which increase in value each day that passes.
Light makes photography. Embrace light. Admire it. Love it. But above all, know light. Know it for all you are worth, and you will know the key to photography.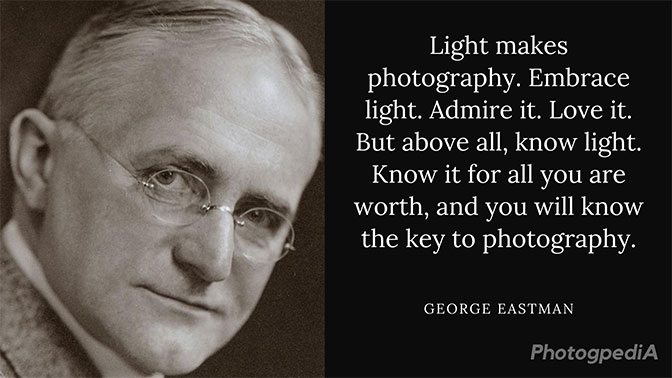 Eastman on Kodak and Business
Philologically, the word "Kodak" is as meaningless as a child's first "goo." Terse, abrupt to the point of rudeness, literally bitten off by firm and unyielding consonants at both ends, it snaps like a camera shutter in your face. What more would one ask.

George Eastman quotes on why he named his company Kodak.
The letter "K" had been a favourite with me – it seems a strong, incisive sort of letter. It became a question of trying out a great number of combinations of letters that made words starting and ending with 'K.' The word 'Kodak' is the result. To the British Patent Offi ce he wrote: 'This is not a foreign name or word; it was constructed by me to serve a definite purpose. It has the following merits as a trademark word: First, it is short. Second, it is not capable of mis-pronunciation. Third, it does not resemble anything in the art and cannot be associated with anything else in the art.
A trademark should be short, vigorous, incapable of being misspelled. It must mean nothing. If the name has no dictionary definition, it must be associated only with your product.
You push the button, we do the rest.
The world is moving, and a company that contents itself with present accomplishments soon falls behind.
The past and continued prosperity of our company is not due to the value of a patent or an invention. Quality can only be secured by extreme skill and alertness not only as individuals but as an organization. Many competitors make the same kinds of goods we do… We have to depend upon quality, which requires painstaking research, constant scrutiny, and improvement of the smallest details.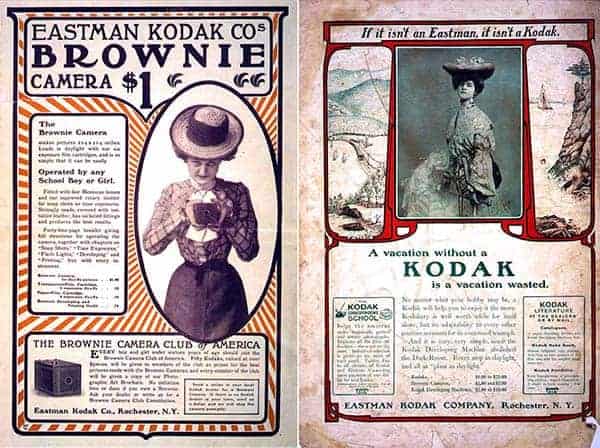 Quotes on Life and Making a Difference
I don't believe in men waiting until they are ready to die before using any of their money for helpful purposes.
If a man has wealth, he has to make a choice, because there is the money heaping up. He can keep it together in a bunch, and then leave it for others to administer after he is dead. Or he can get it into action and have fun, while he is still alive. I prefer getting it into action and adapting it to human needs, and making the plan work.
What we do during our working hours determines what we have. What we do in our leisure hours determines what we are.
I used to think that music was like lace upon a garment, nice to have but not necessary. I have come to believe that music is absolutely essential to our community life.
The progress of the world depends almost entirely upon education.
If anyone alone decides whether a man is to be promoted, it is the man himself.
To my friends, My work is done – why wait? GE

The note Eastman wrote just before shooting himself at the age of 77, after many years of ill health.
A good reputation is measured by how much you can improve the lives of others.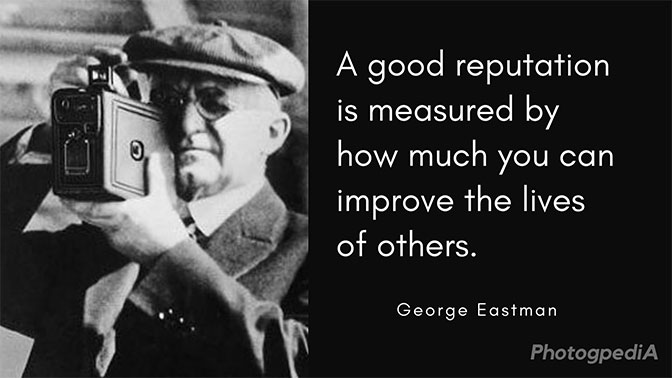 What's your Favorite George Eastman Quote?
Have a favorite George Eastman quote from the list? Let us know in the comment section below.
Don't forget to bookmark this page, or print it out, and refer to it next time you need some inspiration. If you've found the article helpful, then we would be grateful if you could share it with other photographers.
To learn more about George Eastman, head over to the George Eastman Museum website.
Looking for more words of wisdom from master photographers? Check out the quotes section of Photogpedia for more great photography quotes.
Related Quote Articles: