Looking for the best David LaChapelle quotes? Then you've come to the right place. Below we've listed 30 of our favorite quotes from the American photographer – known for his controversial and provocative images – that are guaranteed to inspire and help level up your photography.
David LaChapelle Quotes
I believe in a visual language that should be as strong as the written word.
I'm a photographer, period. I love photography, the immediacy of it. I like the craft, the idea of saying 'I'm a photographer.
My idea was that if I took a picture of somebody and years later, or whenever, they would die and if someone wanted to know who this person was, they could take one of these pictures and it would tell who the person was.
Pictures are an escape. They should be bigger than life. In the same way, celebrities provide an escape from the mundane. They are photographed so we can worship them – so they are worthy of our worship.
The key is to photograph your obsessions; whether that's old people's hands or skyscrapers. Think of a blank canvas, because that's what you've got, and then think about what you want to see – not anyone else.
David LaChapelle Quotes on Style
You just do what you love, and then a style happens later on. People put it together and decide it's yours. But some days you wake up and you're happy and some days you wake up and you're sad, some days you wake up and you're feeling angry about things… if you can translate that through your work, and express those feelings, that's okay as an artist.
I was working in this very bombastic style. I didn't really know about style. I didn't think about it:
I wanted it to provide an escape route, I wanted to make pictures that were fantastic and took you into another world, one that was brighter. I started off with this idea.
I did what I was interested in, what I was attracted to, what I was drawn to. I was drawn to color, and I was drawn to humor, and I was drawn to sexuality and spontaneity. It was all really intuitive. I never really thought, "Well this is the style…"
For me, it's easier to like more things than to dislike them; I'm not a critic in that sense. I find it easier to like more, to be more open and enjoy more things, which has given me more opportunities.
People say photographs don't lie, mine do.
I never want people to be repulsed with my pictures; I always want to attract people.
The minute you point a camera at something, you are manipulating the image, because you are cropping out whatever is to the left and right of it. The minute you put a light on someone, you are manipulating the image.
If you want reality take the bus.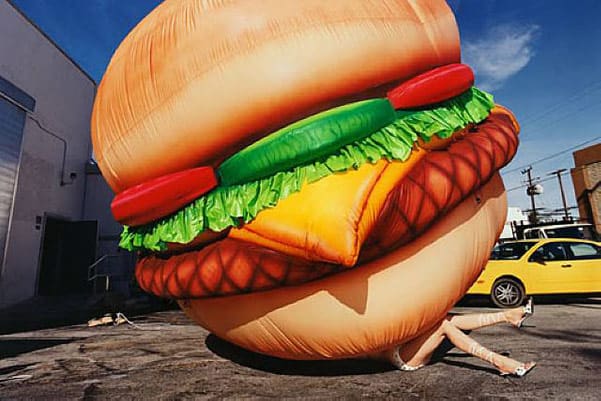 LaChapelle on the Art of Photography
I went to art high school and thought I'd be a painter. Unfortunately I didn't finish high school, but that's always been part of my work.
I was always painting when I was a kid. But then when I handled a camera when I was 17, that was it for me. I loved photography. I would work 4 or 5 hours a day. It was like a calling.
Just as Renaissance artists provided narratives for the era they lived in, so do I. I'm always looking beyond the surface. I've done that ever since I first picked up a camera.
My biggest advice would be to take the pictures you want to take. Don't think about the marketplace, what sells, or what an editor might say. And don't think about style. It's all bullshit and surface stuff.
Then I got this idea in my head that magazines were like a gallery and if you got your magazine page ripped out and someone stuck it on their refrigerator, then that was a museum – someone's private museum.
It's much harder to work for yourself, by yourself, than to create work for a gallery, because there are no limits and you can do anything you want. It's always easier when you have a parameter, when you have a limit. You can work within the limit and push it and walk the line, but when you're given absolutely no limits, it's harder. You must really think. It's more challenging.
I stopped working for magazines in 2006 because I felt I had said all I had to say in that world. I didn't want to work with celebrities or do fashion any more. It didn't occur to me that I could make photographs like this one for galleries. To be honest, I didn't think the art world would have me.
I didn't see any difference between being a photographer or being an artist. I didn't make those boundaries. If someone wants to think it's art, that's great, but I'll let history decide.
Fashion and the Business of Photography
I try to get the visual part of my brain turned on. It's like a muscle that you need to start working. Once I do that the ideas just start coming.
The tools I learned photographing celebrities, now I want to use them to sell ideas.
I have this idea that you can use glamour and still have it represent something that matters.
In the fashion world, I was always an outsider, but I made people look good, so I had a career.
I've never wanted to be part of an inner circle of any scene. I've always been an outsider looking to question and subvert.
When I shoot, the image has to be there first. And photographs have always been manipulated – [Richard]Avedon retouched all his American west portraits. I could take a photo of you now and crop it to make it look a certain way. But, with me, the image has to come first.
My work is about making candy for the eyes. It's about grabbing your attention. Even though my work is appearing in magazines I am trying to make a large picture. I want my photographs to read like a poster.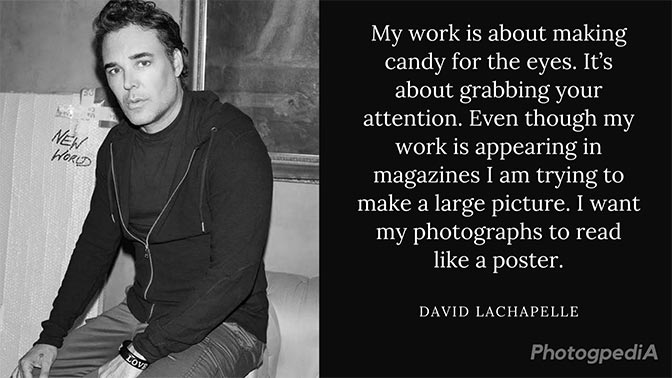 What's your Favorite David LaChapelle Quote?
Have a favorite David LaChapelle quote from the list? Let us know in the comment section below.
Don't forget to bookmark this page, or print it out, and refer to it next time you need some inspiration. Like the article? Share it with other photographers.
To see more of LaChapelle's brilliant photography, check out the image archive on his official website.
Looking for more words of wisdom from master photographers? Head over to the quotes section of Photogpedia for more great photography quotes.
Related Quote Articles: