Looking for the best Brian Duffy quotes? Then you've come to the right place.
Duffy, along with David Bailey and Terence Donovan, revolutionized fashion photography and helped define the visual style of the Swinging Sixties.
He wasn't just a remarkable fashion photographer though, he was also known for his innovative advertising work (long before the days of photoshop) and was a master portrait photographer too. He even shot the Pirelli calendar on two separate occasions.
Then at the height of his fame in 1979, Duffy did the unthinkable: he put away his camera and walked away from photography for good.
Below, we've put together a list of our favorite 30 Duffy quotes to inspire and help take your photography to the next level.
Brian Duffy Quotes
The thing about the photographs is that there is no smell or sound and in a sense it tells the truth and yet it is a lie.
One of the great problems with photography is that any twat you give a camera to can take a photograph – what that does to the photographer is immediately create an inferiority complex within him because anyone can do it, which of course they can. I worked this out very early on.
I can show anybody how to take a photograph, but I'm not sure how to show somebody how to take a Duffy photograph.
I never used a lot of film – it's like boxing; perfect boxing is 11 seconds: one second to get to the centre of the ring and 10 seconds to keep your hands up, but they were all done in camera – with absolutely no retouching.
I never wanted to be famous. Artists are always talking drivel, including moi, because the work is the statement.
[On how he'd like to be remembered, Duffy replied:] He wasn't as steady as a tripod.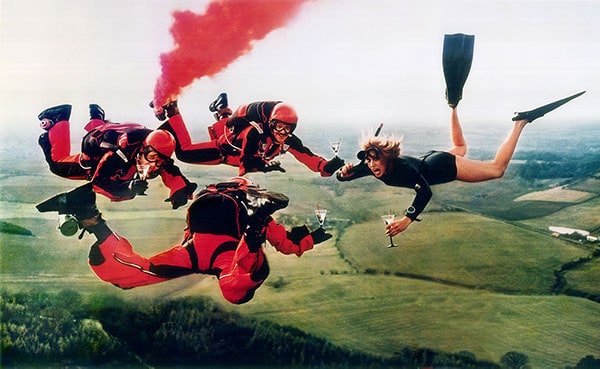 Duffy on Getting Started in Photography
I could paint and draw, but in my group were artists like Frank Auerbach, Joe Tilson, Bernard Cohen and Len Deighton – they were all my contemporaries and I realised that all these bloody people were geniuses. So I thought I'd knock that on the head. And the most attractive girls were doing dress design, so I moved to the fashion department, which had some lovely girls in it. You had to do fashion drawing, design dresses and make them, and it turned out I was an absolute bloody genius!
I was doing fashion drawings for Harper's Bazaar, and I was in the office of the art director, a woman called Gill Varney, and I saw sheets of contact photographs that all looked alike to me. I asked Gill why the photos were all the same, and she explained they were all slightly different.
I thought, 'Gawd this looks dead easy compared to the drawing lark. I'll give this a whiz. Take up photography as an easy way to make money. Just my sort of thing – women, gadgets, clothes – I must have a go at it.'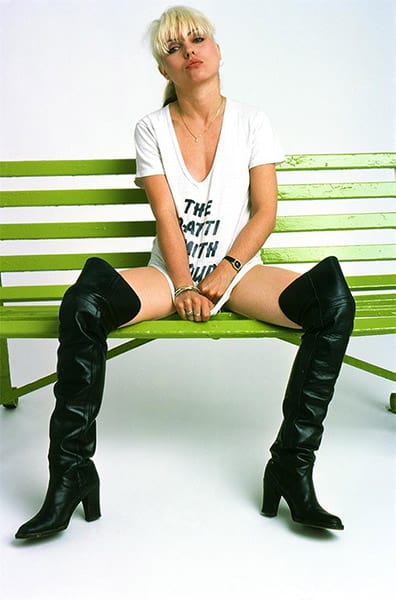 Brian Duffy Quotes on Fashion Photography
When I arrived at Vogue [in the late 1950s] it was virtually full of non-talented people, right the way through from top to bottom. These were people with s – taste; they were all phonies. You have to remember in those days it was very class-ridden. The girls on reception nearly always had double-barrelled names. It was very elitist – Lady Jemima Fawcett-Green, -Blue or -Pink – girls with fruitcake voices and thick legs, quite sweet, but not very bright, girls with pin-sized brains.
In all my time at Vogue I only did four trips. Other people did trips all the time – they wouldn't let me out of the cage, probably rightly so.
I wanted to make women look good. That really intrigued me. To make a model look as though she owned the clothes.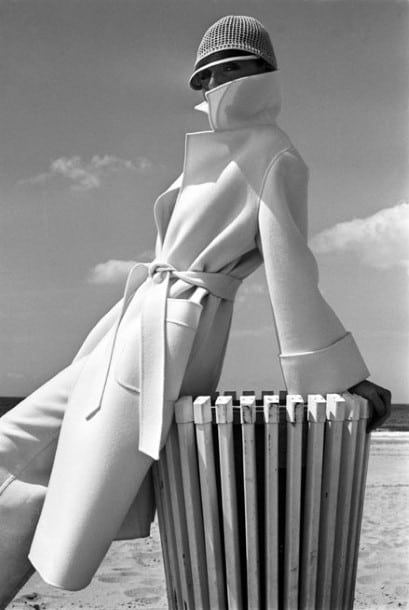 The Black Trinity
Most of the photographers of that period [the late 1950s] – Parkinson, John French, Dickie Dormer – had a slightly effeminate approach, and that was the way they got through. The way to be a successful photographer was to be tall, thin and camp – you were seen to be inside the tent, and we [Duffy, Terence Donovan, David Bailey] were not. I'm not saying they were all homosexuals but a lot of them were. I can never remember Terry calling someone darling, it might have been 'Oi, you, missus!'
Before 1960, a fashion photographer was tall, thin and camp. But we three are different: short, fat and heterosexual.
Bailey, Donovan and other photographers just didn't have that slightly feminised view; we would just talk to the girls and make them laugh. We probably said, 'Would you mind moving your hair back off your face?' or, 'All right love, hold your Bristols up more. That looks good.' Before that it would all have been obsequious toadyism, but our way seemed to work, and we were backed up by people who liked it.
We were great mates but also great competitors. We were fairly chippy and if you wanted it you could have it. We would not be told what to do.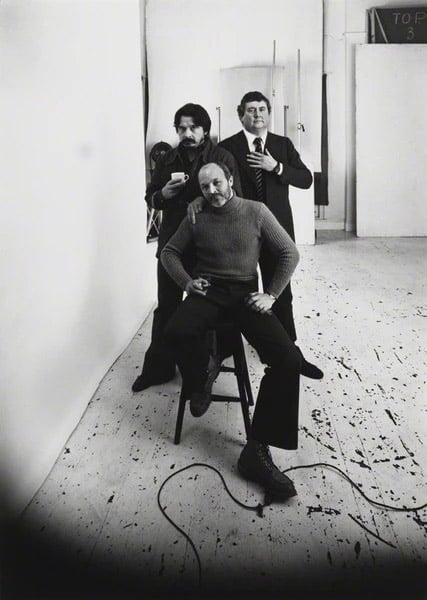 Duffy on Working for Elle France
I went over to Paris and worked for Elle in 1961, while I was still at Vogue , and I fell in love with them, hatefully of course. The French are the most dreadful people on earth – well, the Parisians – and I must have had some masochistic attraction to them. They were like a drug to me, and I just adored working for them. You never got anything right as far as they were concerned.
As soon as you did something, there was a dreadful, long, intellectual discussion, always a long pause, and a scratching of the head. They were never negative to the point of putting you down – some people look for negativity, but the Frogs always looked for the positive.
If all the photographs were out of focus the Brits would think, 'Oh God, he doesn't know what he's doing,' whereas the Frogs would think, 'Mmm, that's interesting. I wonder if this is an attempt to express visual perception in a different way?' And then of course they'd say, 'Well, it could be a broken camera!' But that's the difference.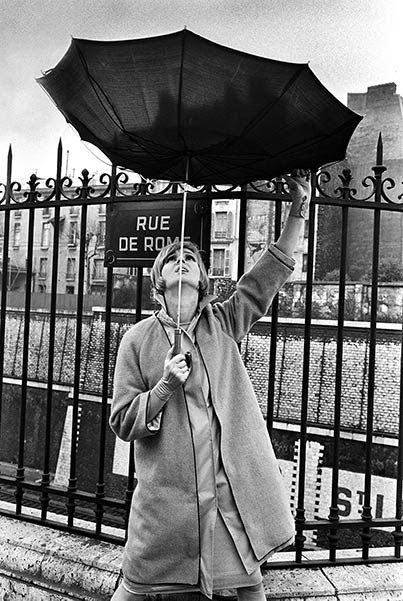 David Bowie's Album Aladdin Sane
The photograph was a die transfer, which I oversaw and it was all actual, no retouching.
Tony DeFries, his [then] manager, wanted to make the most expensive cover you could possibly get a record company to pay for. He couldn't have come to be a better con artist than my good self.

Dye transfer is a genius method of being able to spend the most amount of money to get reproduction from a colour transparency on to a piece of paper. And we went to Switzerland, the most expensive place to get a plate made.

Bowie was interested in the Elvis ring which had the letters TCB [taking care of business] as well as the lightning flash. I drew the design on his face. We used lipstick to fill in the red.

To me, it [the cover] was competent, very competent, but I wouldn't take it much beyond that.
I drew the zigzag onto his face. It was the trademark for National Panasonic – a red and blue zigzag that I took from a rice cooker. It also came from Elvis Presley, who had a ring with a lightning flash on it.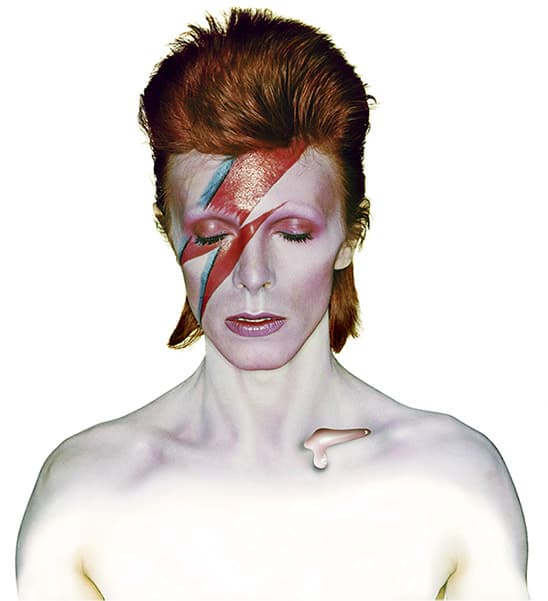 The Final Curtain
Photography was dead by 1972. Everything had been resolved between 1839 and 1972. Every picture after '72, I have seen pre-'72. Nothing new. But it took me some time to detect its death. The first person who twigged was Henri Cartier-Bresson. He just stopped – and started painting and drawing.
Ninety-nine per cent of my work was advertising and crap. The people who were hiring me I didn't like. Keeping a civil tongue up the rectum of a society that keeps you paid is an art which I was devoid of. I had nothing more to say in photographs. I'd taken all the snaps I needed to take. Maybe I didn't think I was good enough.
In the end I guess I was the ultimate prostitute. It felt like I was on the game, because I had no respect for the people who were giving me work. If you don't have any respect for them and you think they're a bunch of toerags, you'd hardly have any respect for yourself, so it's cyclical in the way that you think about yourself.
The Last Straw
I came into work, and an assistant said, 'We haven't got any lavatory paper, bog paper – you know, toilet paper,' and I said, 'Oh yeah,' and he said, 'We haven't got any.' I thought, 'I am either going to kill this bloke or I am going to kill somebody.' I realised in a flash that I'd ended up commander-in-chief, managing director, senior partner in charge of the toilet bloody paper.
Not only was I the senior stockholder, managing director, chairman of the board and top dog, I was now expected to get the toilet paper – the whole thing imploded. It was the straw that broke the camel's back.
And that's when I decided to knock it on the head, and that I would never take another picture. During the course of the morning I decided to burn all my negatives in the garden. Bailey happened to come round and could see what I was doing, and he stood there like a spare d – at an Italian wedding and said, 'I could look after those for you,' but I said, 'Don't bother,' and he went.
I felt everything I had to do and say in photography had been done. Later I wished I'd kept some negs. Looking back on odd things we've found, I'd love to have known the sequence of prints, only from an historical point of view.
You make decisions in one period that you wouldn't necessarily make in another. But it's stimulating to try something new, it's interesting to be crazy. The one thing I've never done is make a wrong decision as a single entity. They've all been wrong.
What's your Favorite Brian Duffy Quote?
Have a favorite Brian Duffy quote from the list? Let us know in the comment section below.
Don't forget to bookmark this page, or print it out, and refer to it next time you need some inspiration. If you've found the article helpful, then we would be grateful if you could share it with other photographers.
To see more of Brian Duffy's photography, check out his images on the Duffy Archive website. His fashion and portrait work is incredible. We also recommend watching the documentary, Duffy: The Man Who Shot the Sixties (opens in new tab).
Looking for more words of wisdom from master photographers? Visit the quotes section of Photogpedia for more great photography quotes.
Related Quote Articles: